Heroes from all corners of Star Wars meet as Leia puts her Mon Cala liberation plan in action in Star Wars #45.
This article discusses plot details for Star Wars #45.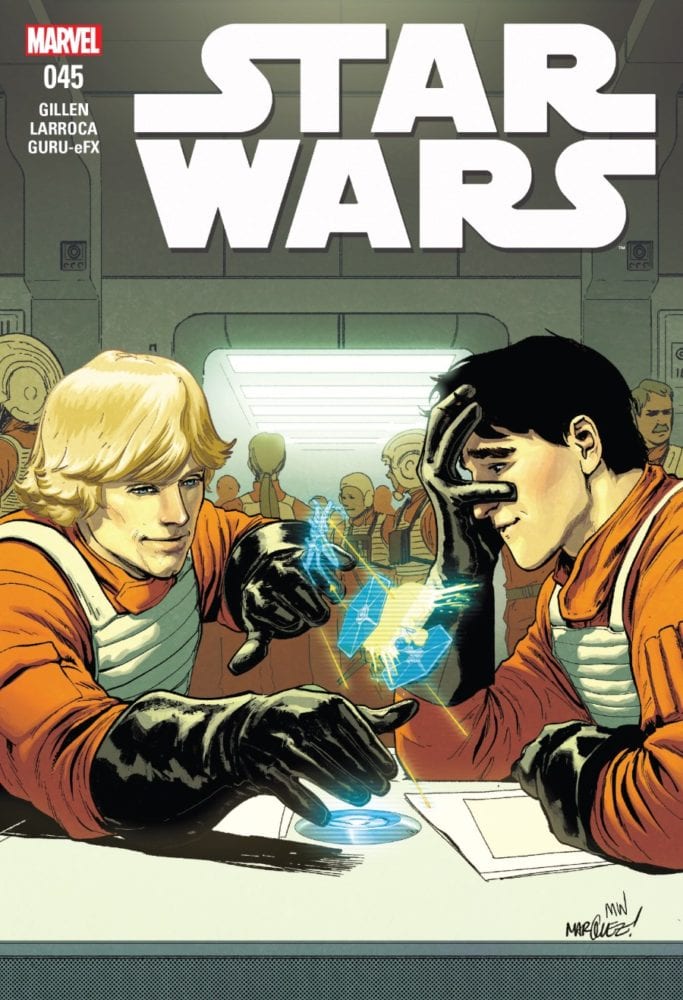 Star Wars #45
Writer: Kieron Gillen | Artist: Salvador Larroca | Colorist: Guru e-FX | Letterer: VC's Clayton Cowles | Cover: David Marquez & Mathew Wilson | Assistant Editor: Heather Antos | Editor: Jordan D. White
The "Mutiny at Mon Cala" story arc continues with part II in Star Wars #45. In the previous issue, Leia met with Grand Admiral Urtya on Mon Cala, but was unable to convince him to bring his fleet and Mon Cala into the Rebellion. Therefore, she devises a plan to rescue Mon Cala's king, Lee-Char as an incentive or motivation for Urtya. However, she needs support and the blessing of the Rebel High Council, and she goes about convincing them of the necessity of her mission in the pages of Star Wars #45.
The Rebellion Assembles
The Rebel High Council meets at Mako-Ta base. The composition of the members of the High-Council has expanded with the addition of content in the Star Wars in recent years. General Dodonna is there, and he reminds the readers of his role of ordering the assault on the Death Star in A New Hope. Other familiar faces, such as Admiral Ackbar and Mon Mothma are also present. Some of the new faces include General Draven. Readers may remember him as Cassian Andor's superior officer from Rogue One that ordered the assassination of Galen Erso. Draven doesn't seem to respect Leia much. After outlining her plan, Draven's comments about the impossibility of carrying it our are dripping with sarcasm.
Also present are a couple of members of the Rebellion from Rebels, Hera and Zeb. Wedge refers to Hera as General Syndulla during a conversation with Luke, Han, and other Rebel pilots. In addition, he lets slip in passing that Hera runs training exercises for Rebellion pilots, and Zev, another pilot, mentions she is training pilots to insure there are enough ready to operate from the Rebellion's cruisers when ready. Hera recently appeared in Doctor Aphra #17, and in that story, she was supervising the training of pilots. Zeb's current role with the Rebellion is undefined.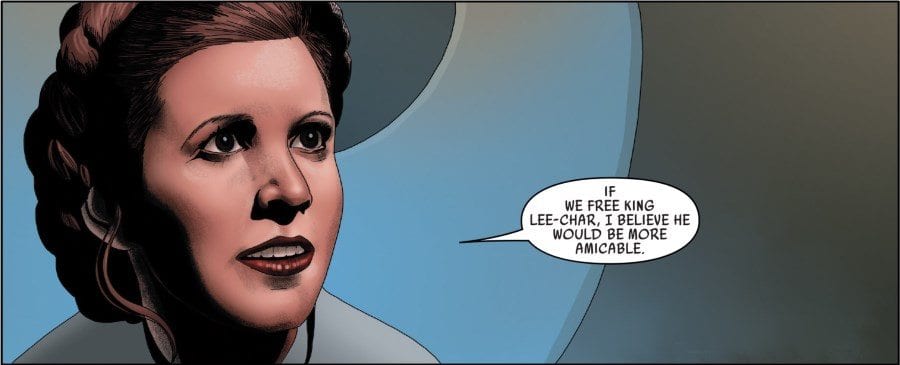 Imperial Clearance Required
Leia's plan requires the abduction of an Imperial Moff. Leia needs a Moff's Ultra-Security codes to rescue Lee-Char. However, she realizes that as soon as the Moff is missing, the Empire will cancel his clearance and security codes. Therefore, she needs a stand-in for her mission. Draven has a suitable asset in mind, but it will require an extraction.
The asset is a shapeshifter held by Dex Acquisitons, a group of kidnappers. Without even asking, Leia rounds up her team, and they head to the Dex Acquisitions Depot on Meor Ain. As an aside, it is a pleasant reminder of how close Luke, Han, and Leia are that she simply tells them they have a mission and they drop everything. After equivocating about his role with the Rebellion for so long, Han apparently dropped the pretense that he was just looking out for number one and joined the mission without question.
In a call back to Return of the Jedi, Leia and Chewbacca infiltrate the Depot under the ruse that there is a bounty to collect on. This time, Chewbacca is the bounty hunter Violent Bok and he has captured a high value target in Princess Leia. It is an interesting role reversal from Return of the Jedi where Leia played the bounty hunter Boushh and Chewbacca was the mark she was turning into Jabba the Hutt.
Mission Successful
Leia's mission is successful, and they recover Tunga, a Clawdite. Perhaps the most famous Clawdite in Star Wars is Zam Wessell. She was the bounty hunter that attempted to assassinate Senator Amidala on Coruscant and Anakin and Obi-Wan chased through the skylanes. For some deranged reason, he elects to toy with Leia during the rescue by taking the appearance of Bail Organa. It was a cruel move, but Leia is tough as nails and punches him out for the insult.
The rescue mission features a couple of additional touches worth mentioning. First, Leia calls for Han to blow open a wall on the count of ten, but he detonates the explosion early and brushes off Leia's rebuke with a wave of his hand and a humorous remark that it was "ten-ish, we're trying to be quick." It is the type of detail that makes Han who he is. Then when Artoo can't open a lock, Luke simply slices around it with his lightsaber before Chewbacca knocks the door in (similar to how he knocked in Luke's door on Ahch-To in The Last Jedi).

Concluding Thoughts on Star Wars #45
Star Wars #45 also featured camaraderie between Luke, Han, and Wedg. Biggs introduces Luke to Hobbie and Zev, and then they raise a toast to Red Squad. Luke can recount the name of every member of the squad that perished in the Battle of Yavin. Coupled with Luke's insistence on drinking milk despite Han's repeated offers of something stronger, and Luke comes off as every bit the idealistic farm-boy from Tatooine.
The "Mutiny on Mon Cala" story arc has a loose tie-in to the current story arc in Darth Vader. While this story appears to tell of the liberation of Mon Cala, The Darth Vader "The Burning Seas" arc focuses on how the Empire conquered the planet and subdued its people.
The "Mutiny on Mon Cala" story arc seems very structured. Issue #44 outlined Leia's objectives in recruiting the Mon Calamarians and the obstacles to doing so. That issue ended with a hint of her plan to overcome the Mon Cala resistance. Star Wars #45 now outlines her plan and sets up the road map for the rest of the story arc: 1) rescue the Clawdite, 2) kidnap the Moff with the Ultra-Security clearance, 3) replace him with the Clawdite, 4) use the Moff and his codes to rescue King Lee-Char, and 5) liberate Mon Cala and welcome the planet, its people, and their fleet to the Rebellion. This issue was a little light on action, but it was a necessary issue for the overall story arc and will undoubtedly read better in the collected trade edition assuming the remaining issue maintain the quality of the story so far.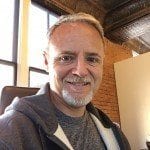 Dennis Keithly is a graduate of the University of Missouri, North Texas attorney, husband, father of two, and co-host of Starships, Sabers, and Scoundrels. In addition to Star Wars, Dennis is a fan of science fiction, fantasy, and super heroes in general. When not engaged in fictional universes, Dennis is reading a good book or watching the NHL, football, or studying the NFL draft.