Snowman and The Bandit have 28 hours to get from Atlanta to Texarkana and back with 400 cases of refreshments and we get a truckload of fun.
Smokey & The Bandit premiered forty years ago this week before opening two days after Star Wars.  Two stories featuring a smuggler on the run from the law became the top two money-makers in 1977 and Pontiac and Kenner reaped the benefits.
---
      
---
[iframe url="http://html5-player.libsyn.com/embed/episode/id/5356013/height/90/width/1000/theme/custom/autonext/no/thumbnail/yes/autoplay/no/preload/no/no_addthis/no/direction/backward/no-cache/true/render-playlist/no/custom-color/089efc/" height="90″ width="1000″ scrolling="no" allowfullscreen="allowfullscreen webkitallowfullscreen mozallowfullscreen oallowfullscreen msallowfullscreen"]
---
Smokey & The Bandit with Feedback on the CB
We've got a long way to go and just 77 minutes to get there.  And though we're not doing anything that they said can't be done, we're doing it fun, fast, and with (a little) flair… and having some laughs along the way.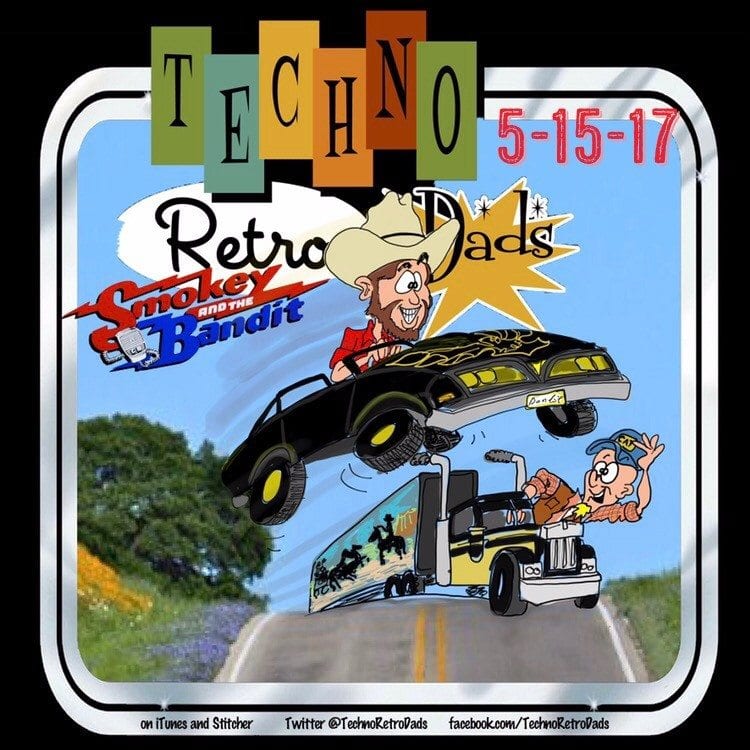 In the NEWS…
The Thing is making its way to the realm of board games with The Thing: Infection at Outpost 31 and Mondo Tees is offering a special edition of the movie-based game this October.  If you think that banana candy doesn't taste like bananas, you're bananas!  You just haven't tasted the right variety of banana — and neither have we — because they're extinct.  Dr. Ian Malcolm is coming back to the Jurassic Galaxy after doing a little dancing during the closing credits of Guardians of the Galaxy.  Blondie goes under the sea as Debbie Harry and Chris Stein become the queen and king of Coney Island's Mermaid Parade this year.
Smokey & The Bandit
From its premiere six days before Star Wars in 1977 to its wide release on May 27th, Smokey & The Bandit played second fiddle to the movie that changed everything forever.  The second highest grossing movie of the year, this comedic action adventure is as iconic to American pop culture as its 40 year-old counterpart.  Featuring Burt Reynolds, Jerry Reed, Sally Field, and Jackie Gleason, Smokey & The Bandit chases Bandit and Snowman from Texarkana to Atlanta as they bootleg 400 cases of Coors to win a bet with the loquacious Buford T. Justice in hot pursuit.  It's a ridiculous riot of racing and ramping in a black Pontiac Firebird Trans Am.  And if you've never seen it, you might be able to catch it in theaters next week!
Aftershocks of 1977
Although the Pontiac Firebird debuted a decade earlier and the Trans Am package had been in existence since 1969, the featured car from Smokey & The Bandit inspired a drastic increase in sales of Trans Ams by nearly 50% in a year to almost doubling sales by 1979.  The popularity of the car saw it featured more and more over the years including another black version of the ride being given artificial intelligence and the voice of Mr. Feeney as KITT in NBC's Knight Rider with David Hasselhoff driving (who just also happened to make a cameo in Guardians of the Galaxy Volume 2).  PLUS: shazbazzar avoids a horrific crash in a 1995 Trans-Am in a very unexpected (and unexciting) way.
Feedback on the CB
The past couple episodes of TechnoRetro Dads have generated loads of discussion on social media, voice messages, and electronic-M.  Thanks to the voices of Mark All, Scott Ryfun, Chris Black, Steve Glosson, Mike MacDonald, Steven Chopchik, Michael Goldtrap, Darth Taxus, and Michael Nipp, we enjoy more discussion about arcade games, cereal, '70s sci-fi TV, videotapes, and an amazing mini car racetrack.
Let us know what you're thinking by contacting us on social media or give us your feedback by calling our voice mail line at (209) 878-7323 or sending us a message or mp3 via electronic-M to podcast@TechnoRetroDads.com.  Don't forget to rate and review TechnoRetro Dads on iTunes and Stitcher.
Share and enjoy!
---
Join shazbazzar and JediShua each week for a look back at the '70s and '80s as they share the fun and also fandom of their youth with their families, friends, and EarBuds. Topics include TV, film, music, toys, and games of the '70s and '80s as well as franchises which have continued into the 21st Century, like Star Wars, TRON, and Battlestar Galactica. TechnoRetro Dads is a blend of new stories as old legends are then passed down from one generation to the next.
If you're a TechnoRetro Dad, the child of one, or appreciate the '70s and '80s, then this podcast is definitely for you!