Skywalking Through 2015 and Beyond! – Well, crack open a bottle of champagne cause it's time to celebrate the new year!
---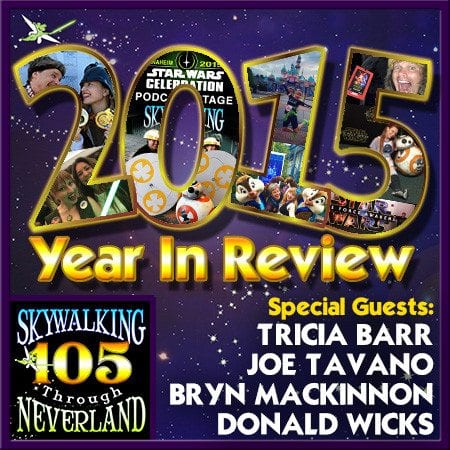 Joe Tavano, editor in chief of this very site Retrozap.com and host of Brews and Blasters makes his Skywalking Through Neverland podcast debut! He is joined by Tricia Barr (Fangirls Going Rogue, co-author of Ultimate Star Wars), and Bryn MacKinnon (Window To The Magic) as we look back at the Year Of Star Wars – 2015! (There was some pretty cool Disney stuff, too. Oh, and that little Star Wars Land announcement…) What's a new year without looking ahead? We share our bucket lists for 2016.
Then we talk with Donald Wicks of the Endorcast who tells us about the Holiday Time at Disneyland Tour. This year it includes a special Star Wars twist!
Ring in the New Year with songs we love, Skywalker shout-outs and our last Skywalker of the Week for 2015. Will it be you??
And remember, Never Land On Alderaan!
WHERE WE WILL BE (IN REAL LIFE)
1/16/16: Star Wars Half Marathon Birthday Meet-Up at Downtown Disney! Anaheim, CA Event Details
4/14-4/17/2016: Star Wars Half Marathon Meet-up at Walt Disney World!
SUPPORT THE SHOW
T-Shirts at TeePublic! Check them out HERE.
Shopping HerUniverse? Click here!
CONTACT US
tweet! tweet! @SkywalkingPod
Send emails to share@skywalkingthroughneverland.com and follow us on Facebook.
If you dug this episode, click over to iTunes | Stitcher | YouTube and leave us a review!
About Skywalking Through Neverland
Star Wars, Disney, Marvel fans, this is the podcast for you! Husband-and-wife team Richard and Sarah Woloski (plus LOTS of interviews with amazing guests) cover Star Wars, Disney and pop-culture fandom–the stuff that surrounds us, penetrates us and binds us all together as instantaneous friends! So grab a glass of blue milk and take the second star to the right straight on to this podcast. Become a Skywalker!