Matt Busch and Lin Zy have both been chosen to be official Star Wars Celebration Art Show Artists! Let's learn about their beautiful art.
While it's always fun talking with another married couple, it's especially exciting to talk to Lin Zy and Matt them about their SWCO Art Show pieces, both of which spoke to Richard and Sarah in different ways.
---
[iframe url="http://html5-player.libsyn.com/embed/episode/id/5240475/height/90/width/1000/theme/custom/autonext/no/thumbnail/yes/autoplay/no/preload/no/no_addthis/no/direction/backward/no-cache/true/render-playlist/no/custom-color/089efc/" height="90″ width="1000″ scrolling="no" allowfullscreen="allowfullscreen webkitallowfullscreen mozallowfullscreen oallowfullscreen msallowfullscreen"]
---
---

Skywalking Through Neverland #163: Matt Busch and Lin Zy – SWCO Artists
Lin Zy created a beautiful Japanese-inspired piece.

Matt Busch did a celebration of collectibles that looks like he went into Richard's bedroom as a kid growing up, and put it all on a massive painting.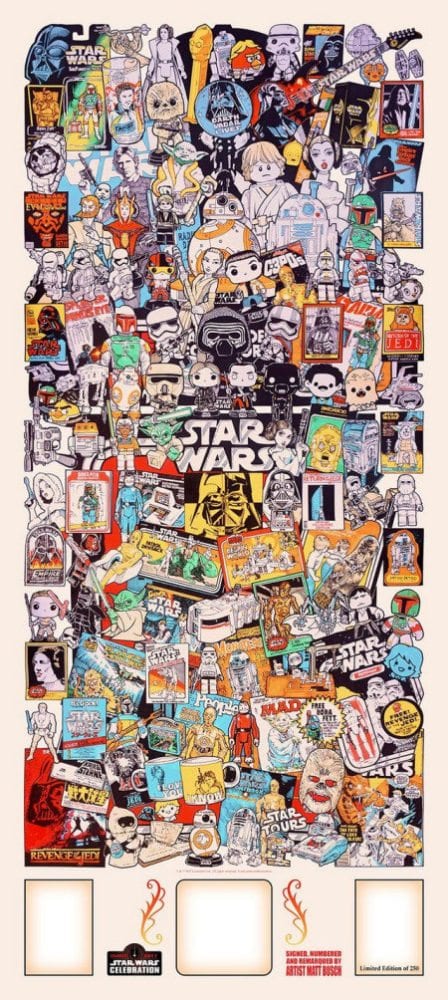 Sarah and Richard delve into the music of Star Wars Rebels where we will look and listen to cues from Legacy of Mandalore and Secret Cargo. This leads to some pretty heavy debate over tragic vs. heroic, Sabine's connection to the Force, and much more.
Also on this episode:
WHERE WE WILL BE (IN REAL LIFE)
4/14/17: GALACTIC NIGHTS at Disney's Hollywood Studios. A one-night Star Wars celebration during Star Wars Celebration Orlando. Details Here
4/15/17: Podcast Stage! Skywalking Through 40 Years of Fandom.
4/16/17: Hoojib Hop and Skywalker Roundtable at Star Wars Celebration Orlando. Details Here
4/17/17: Skywalker Meet-up at Epcot. Details Here
September 17-22, 2017: Skywalking HALLOWEEN ON THE HIGH SEAS Disney Cruise! To get more info, email Randy Crane at cruise@storiesofthemegic.com to get a free, no obligation quote. You're not committing to anything, just getting information with that request. In the Comments section mention "Skywalking Through Neverland" so Randy Crane knows you want to be part of our group.
CONTACT US
tweet! tweet! @SkywalkingPod.
Dug this episode? Click over to iTunes | Stitcher | YouTube and leave us a review!
Never Land on Alderaan!
---

click the banner for all shows and homepage
Star Wars, Disney, Marvel fans, Skywalking Through Neverland is the podcast for you! Husband-and-wife team Richard and Sarah Woloski (plus LOTS of interviews with amazing guests) cover Star Wars, Disney and pop-culture fandom–the stuff that surrounds us, penetrates us and binds us all together as instantaneous friends! So grab a glass of blue milk and take the second star to the right straight on to this podcast. Become a Skywalker!