Come with us on an adventure to the annual Rancho Obi-Wan fundraising Gala Event: The Gala Strikes Back! Nine Skywalkers recap this once-in-a-lifetime experience.
Skywalker Vineyards wine-tasting, Holocron Keeper and Richard discover they're twins, Dave Filoni tap-dances around Ahsoka questions; so much happened at Rancho Obi-Wan: The Gala Strikes Back!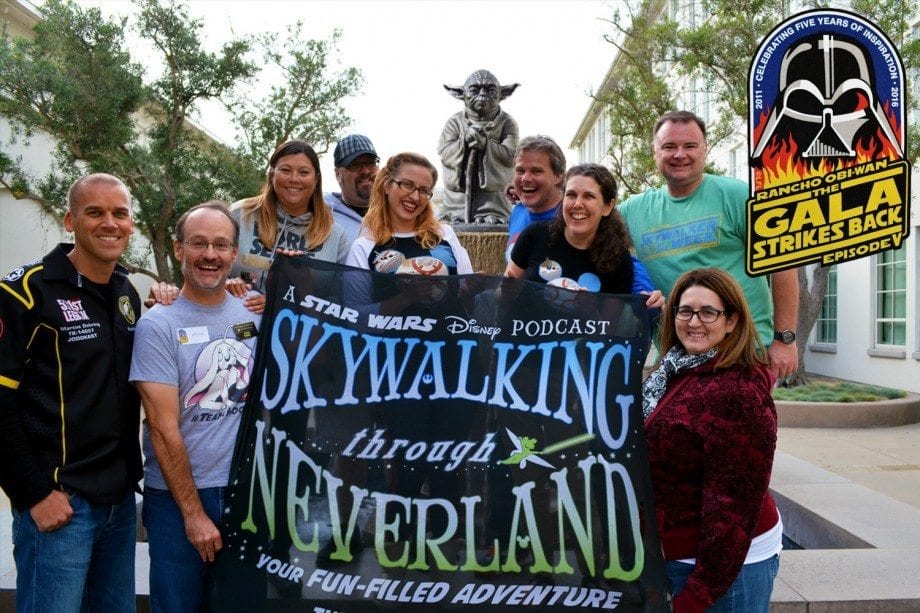 ---
[iframe url="http://html5-player.libsyn.com/embed/episode/id/4820026/height/90/width/1000/theme/custom/autonext/no/thumbnail/yes/autoplay/no/preload/no/no_addthis/no/direction/backward/no-cache/true/render-playlist/no/custom-color/089efc/" height="90″ width="1000″ scrolling="no" allowfullscreen="allowfullscreen webkitallowfullscreen mozallowfullscreen oallowfullscreen msallowfullscreen"]
---
---
Skywalking Through Neverland #143: Rancho Obi-Wan Strikes Back
The fun continued as Skywalkers met up the next day to tour the Walt Disney Family Museum in the Presidio in San Francisco, less than a mile away from where Gareth Edwards is finishing up Rogue One: A Star Wars Story. Learn some fun facts on Walt Disney's family history, the early animated shorts and films, and the theme parks.
Skywalking Roundtable Participants:
Marcus Dohring
Tesh Ewing
Jeff Long
Margaret Mays
Brian Sims
Donald Wicks
Roxanne Wicks
You have questions, she has answers. Margaret Kerry is back with her Ask Tink segment. The Tinker Bell animator's model is never shy about giving her opinion and advice, as well as delighting all of us with her stories.
Also on this episode:
WINNER ANNOUNCED from Episode 142's Funko Pop Contest
NEW CONTEST – win a swag bag from Rancho Obi-Wan. Enter to win with any amount of monetary donation to Joe Mignano.
Things We Want To Share – Help Joe Mignano – podcaster, Star Wars and Disney fan
Skywalker Shout-Outs and Skywalker of the Week
WHERE WE WILL BE (IN REAL LIFE)
September 17-22, 2017: Skywalking HALLOWEEN ON THE HIGH SEAS Disney Cruise! To get more info, go to storiesofthemagic.com/cruisequote and click on the orange "Get a Quote" button in the upper left to get a free, no obligation quote. You're not committing to anything, just getting information with that request. In the Comments section mention "Skywalking Through Neverland" so Randy Crane knows you want to be part of our group.