Star Wars Celebration Orlando (SWCO) is less than a year away. Tickets are on sale and excitement is in the air. What better time to look ahead than RIGHT NOW!
---
[iframe url="http://html5-player.libsyn.com/embed/episode/id/4394798/height/500/width/900/theme/custom/autoplay/no/autonext/no/thumbnail/yes/preload/no/no_addthis/no/direction/backward/no-cache/true/render-playlist/yes/custom-color/089efc/" width="900″ height="500″]
---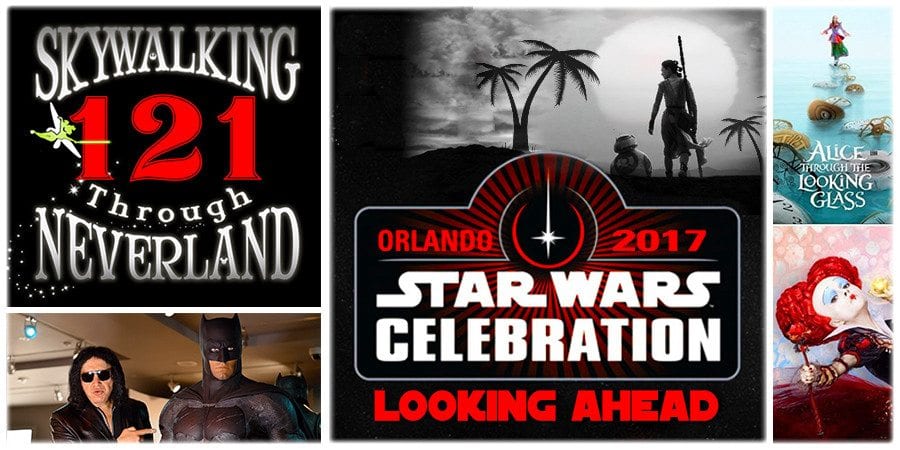 Celebration veterans Tricia Barr (Fangirls Going Rogue, Star Wars Insider), Ric Peralta (Liningup.net) and Eliza Peralta (the Chopper secret keeper) join us to discuss tips, what we are looking forward to and what we'd like change, with the help of comments from Skywalkers in our Facebook Group. (when we record at Disney Springs bring your running shoes since we may need to outrun security). (30:47)
Let's keep the Celebration going with our favorite warm-up host at Star Wars Celebration, Mark Daniel! He now has a new gig, the co-host for Inside Disney Parks, a NEW Disney Parks Blog-sanctioned YouTube show. We get some inside info on that, as well as what we can look forward to at SWCE! (1:33:52)
Drew Kaplan, the Skywalking book analyst, gives us his review on DK's 2016 Star Wars Character Encyclopedia and Star Wars: The Force Awakens Incredible Cross-Sections book. (2:08:54)
Also on this episode:
ALICE THROUGH THE LOOKING GLASS Movie Review (6:43)
DC Universe: The Exhibit – Review and interview about this new addition to the Warner Brothers Studio Tour. Head here for pictures of the exhibit. (17:20)
Skywalker Shout-outs and our Skywalker of the Week
We have a Facebook Group! If you want to connect with other Skywalkers and share in positive discussion, this is the place.
And remember…Never Land On Alderaan!
---
WHERE WE WILL BE (IN REAL LIFE)
5/29/2016: LIVE Podcast Interactive Show at Star Wars Reads Day – Rancho Cucamonga Library! Event Details
 If you dug this episode, click over to iTunes | Stitcher | YouTube and leave us a review!