Disney Infinity…CANCELLED?? We drown our sorrows with some special guests and a good discussion on where Disney gaming could possibly go next.
---
---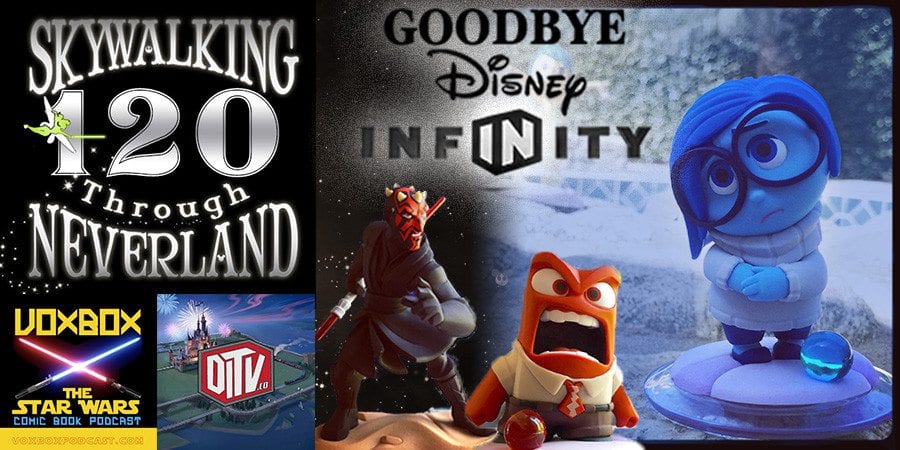 May 10, 2016. A sad day for fans of Disney Infinity and the Toys to Life gaming industry. Sarah is a HUGE fan, as many of you know, and we had to talk through our grief with respected members of the Disney Infinity community – Will and Lem of the Inside Infinity podcast. Why was Disney Infinity cancelled? Where will we go from here? Is the gaming industry gone forever!!?? These questions and more on this week's Skywalking Through Neverland.
Point 5 Past Lightspeed is a segment that highlights what fans are doing with their fandom. Michael Corley of Vox Box Star Wars Comic Book Podcast is our guest and he tells us about his podcast about the Classic Marvel Comic series.
WINNERS ANNOUNCED! The winner of our 2016 Star Wars Character Encyclopedia from DK Publishing is….listen and find out! We had a #secretgiveaway (or is it a #tangential giveaway?) in Episode 119 – and that winner is revealed as well.
Also on this episode:
Things We Want To Share – Inside Disney Park Newscast is being hosted by our friend and Skywalker, Mark Daniel! Congratulations!!
Things We Want To Share – Sarah got a new stylus for her iPad, which will really help in creating NEW art for all of you Skywalkers.
Things We Want To Share – Richard is excited to share our next episode's main focus: Star Wars Celebration Orlando! Do you have any questions about it? What would you like us to cover?
Skywalker Shout-outs and our Skywalker of the Week
We have a New Facebook Group! If you want to connect with other Skywalkers and share in positive discussion, this is the place.
And remember…Never Land On Alderaan!
---
WHERE WE WILL BE (IN REAL LIFE)
5/29/2016: LIVE Podcast Interactive Show at Star Wars Reads Day – Rancho Cucamonga Library! Event Details
 If you dug this episode, click over to iTunes | Stitcher | YouTube and leave us a review!