Remember those "Choose-Your-Own-Adventure" storybooks? This episode is all about that, with in-universe Star Wars Disney holiday suggestions!
---
[iframe url="http://html5-player.libsyn.com/embed/episode/id/4346675/height/500/width/900/theme/custom/autoplay/no/autonext/no/thumbnail/yes/preload/no/no_addthis/no/direction/backward/no-cache/true/render-playlist/yes/custom-color/089efc/" width="900″ height="500″]
---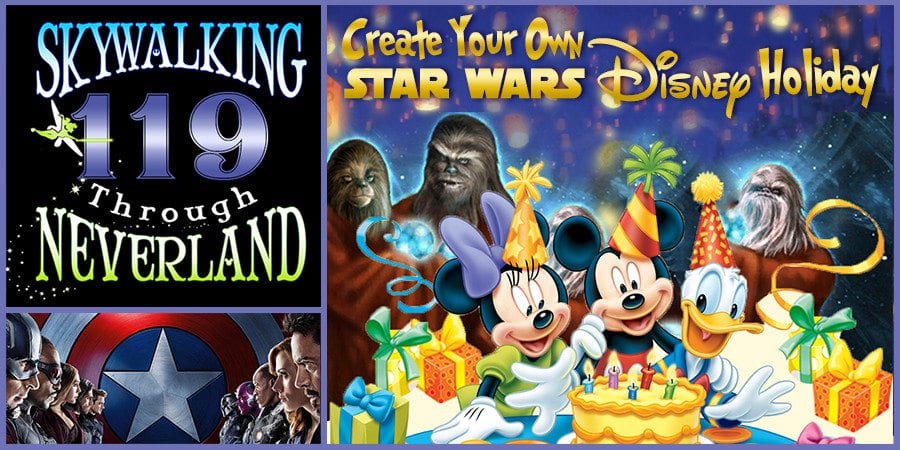 #MayThe4thBeWithYou! #RevengeOfThe5th! In honor of these dates, Richard and Sarah discuss fan-made Star Wars Disney holidays with the help of our Skywalkers. We've enlisted our New Facebook Group to come up with creative holidays that may happen in the Star Wars or Disney universe. Remember those awesome "Create-Your-Own" storybooks? It's a bit like that!
We debut our new segment, Skywalker Stories, with Alison Berrios – CosplayForJedi! She has a tale of woe and a tale of joy, so tune in and find out. You can submit your own Skywalker Story here.
Drew Kaplan is now our official book reviewer! This week he gives us a comprehensive review of "Star Wars: Tales From A Galaxy Far, Far Away: Aliens, Volume I". He will be back periodically with reviews of more DK and Disney-Lucasfilm Press books. If you'd like to read more about "Tales From A Galaxy Far, Far Away: Aliens", his written review can be found here.
Also on this episode:
Things We Want To Share – GIVEAWAY! You could win DK's 2016 Star Wars Character Encyclopedia! Details here.
Things We Want To Share – Captain America: Civil War review! It's fantastic, people. Go see it.
Things We Want To Share – The Monkees have a NEW ALBUM!
Skywalking On TV
Skywalker Shout-outs and our Skywalker of the Week
We have a New Facebook Group! If you want to connect with other Skywalkers and share in positive discussion, this is the place.
And remember…Never Land On Alderaan!
---
WHERE WE WILL BE (IN REAL LIFE)
5/29/2016: LIVE Podcast Interactive Show at Star Wars Reads Day – Rancho Cucamonga Library! Event Details
 If you dug this episode, click over to iTunes | Stitcher | YouTube and leave us a review!