PACKED Episode! Interview with Craig Miller, then Rogue One Trailer Breakdown followed by The Force Awakens Blu-Ray review.
---
[iframe url="http://html5-player.libsyn.com/embed/episode/id/4280729/height/500/width/900/theme/custom/autoplay/no/autonext/no/thumbnail/yes/preload/no/no_addthis/no/direction/backward/no-cache/true/render-playlist/yes/custom-color/089efc/" width="900″ height="500″]
---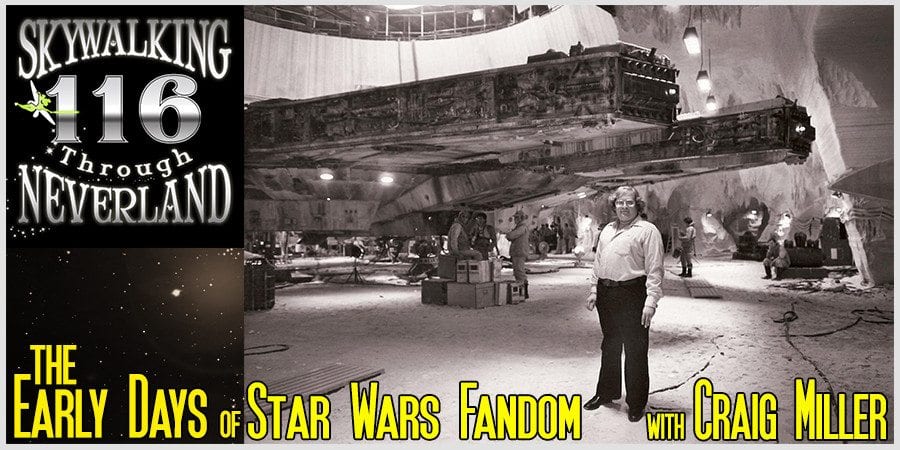 Our special guest Craig Miller was the Publicist and Director of Fan Relations for Lucasfilm during the hey-day of the 70's and 80's. Ever wonder how fans knew what was going on in fandom before social media? Whose job was it to tell the world about this new movie called Star Wars? Craig shares some awesome stories. Have a listen to the cast record promotional messages for an 800 number. The messages, recorded by Anthony Daniels, Harrison Ford, Carrie Fisher and James Earl Jones, crashed AT&T's 800-number system, and turned into more publicity than Miller could've ever envisioned, before social media existed to spread the word.
Now speaking of social media… SO MUCH STAR WARS this week! Rogue One teaser trailer dropped as well as The Force Awakens Blu-Ray with Special Features. We review some of the bonus features with Skywalker and blogger, Drew Kaplan. Then, Richard and Sarah dive in to the Rouge One teaser trailer. The music! The plot! AT-ATs!
Next week we'll take a deep dive into the documentaries including A Cinematic Journey, Crafting Creatures and Building BB-8.
Also on this episode:
Things We Want To Share
Disney California Adventure Food & Wine Festival
Superheroes Half Marathon – all signed up!
THE JUNGLE BOOK mini-Movie Review
Ode to Erik Bauersfeld
Skywalker Shout-Outs and Skywalker of the Week.
We have a NEW Facebook Group! If you want to connect with other Skywalkers and share in positive discussion, this is the place.
And remember…Never Land On Alderaan!
---
WHERE WE WILL BE (IN REAL LIFE)
4/14-4/17/2016: Star Wars Half Marathon Meet-up at Walt Disney World! Event Details
SUPPORT THE SHOW
Skywalking Through Neverland T-Shirts plus DESIGNS at TeePublic! Check them out HERE.
Shopping HerUniverse? Click here!
CONTACT US
tweet! tweet! @SkywalkingPod
NEW: Join us on Periscope each week for a Pre-Show Chat. We also bring you to Disneyland, Red Carpet Events and Theme Park Openings.
Send emails to share@skywalkingthroughneverland.com and follow us on Facebook.
If you dug this episode, click over to iTunes | Stitcher | YouTube and leave us a review!