LiningUp Wraps Up + TFA with Adam Bray – Two great guests join us this week on Skywalking Through Neverland!
---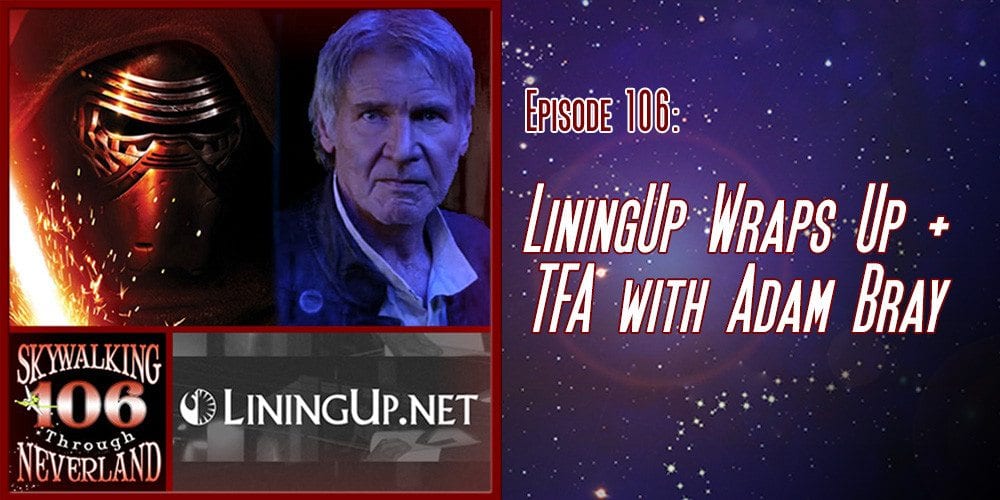 ---
[iframe url="http://html5-player.libsyn.com/embed/episode/id/4061881/height/500/width/900/theme/custom/autoplay/no/autonext/no/thumbnail/yes/preload/no/no_addthis/no/direction/backward/no-cache/true/render-playlist/yes/custom-color/089efc/" width="900″ height="500″]
---
LiningUp.net was able to raise thousands of dollars for Starlight Children's Foundation while providing us and almost 200 line members with the experience of a lifetime. Line organizer Craig Haasis joins us to give us all the wrap-up details. One of our favorite parts of the whole The Force Awakens madness in December was making new friends in this line. They organized, raised money and brought fans from all over the world together. How much did The Line ultimately raise for charity? We talk DRAMA in The Line! What are the plans for ROGUE ONE?
Ultimate Star Wars author Adam Bray was eager to talk The Force Awakens and his storytelling thoughts. We happily obliged and what follows is a very enlightening discussion about different aspects of character, story and cinema we all saw in The Force Awakens. Cinematic lighting, Rey's name and the storytelling process help us dig deeper into what is turning out to be an amazingly rich film. We were all stabbed in the heart by a certain scene involving Kylo Ren and Han Solo. But how does that one event affect all characters and events moving forward? We want to hear your thoughts in the comments.
Also on this episode:
Disney Infinity THE FORCE AWAKENS Playset Review! Sarah is obsessed, and shares her thoughts on the new playset. Can it get any better than playing Star Wars characters in the Toy Box? She reveals her favorite new character, and whether or not Maximus makes a good ride.
Kevin Smith talks his THE FORCE AWAKENS connection on Hollywood Babble-On
Skywalker Shout-Outs & Skywalker Of The Week
WHERE WE WILL BE (IN REAL LIFE)
1/16/16: Star Wars Half Marathon Birthday Meet-Up at Downtown Disney! Anaheim, CA Event Details
4/14-4/17/2016: Star Wars Half Marathon Meet-up at Walt Disney World!
SUPPORT THE SHOW
Skywalking Through Neverland T-Shirts plus DESIGNS at TeePublic! Check them out HERE.
Shopping HerUniverse? Click here!
CONTACT US
tweet! tweet! @SkywalkingPod
Send emails to share@skywalkingthroughneverland.com and follow us on Facebook.
If you dug this episode, click over to iTunes | Stitcher | YouTube and leave us a review!