Senior Writer at Entertainment Weekly Anthony Breznican joins us for Rogue One release week! Then, Donald Wicks takes us to world premiere & After-Party.
Senior Writer at Entertainment Weekly, Anthony Breznican gives us some behind-the-scenes details on the film to celebrate the Rogue One release.
---
[iframe url="http://html5-player.libsyn.com/embed/episode/id/4924669/height/90/width/1000/theme/custom/autonext/no/thumbnail/yes/autoplay/no/preload/no/no_addthis/no/direction/backward/no-cache/true/render-playlist/no/custom-color/089efc/" height="90″ width="1000″ scrolling="no" allowfullscreen="allowfullscreen webkitallowfullscreen mozallowfullscreen oallowfullscreen msallowfullscreen" width="1000″ height="90″]
---
---
Skywalking Through Neverland #148: Skywalking Through Rogue One, Part 1 with Anthony Breznican
We discuss whether or not the film is appropriate for kids and some thoughts on discussion points with your family after the film. And if you're asking, "does he give us an exclusive in our discussion?" Well, listen in for details!
If you were watching starwars.com's Rogue One world premiere live-stream, you probably saw some familiar faces like Gareth Edwards, Felicity Jones, Alan Tudyk and Donald Wicks. That's right! Donald Wicks (Rebel Legion & STN Admin) was able to attend the Rogue One World Premiere Red Carpet, Screening and After Party at the Pantages Theater in Hollywood on 12/10/16 as Jek Porkins. What an experience! He tells us all about it.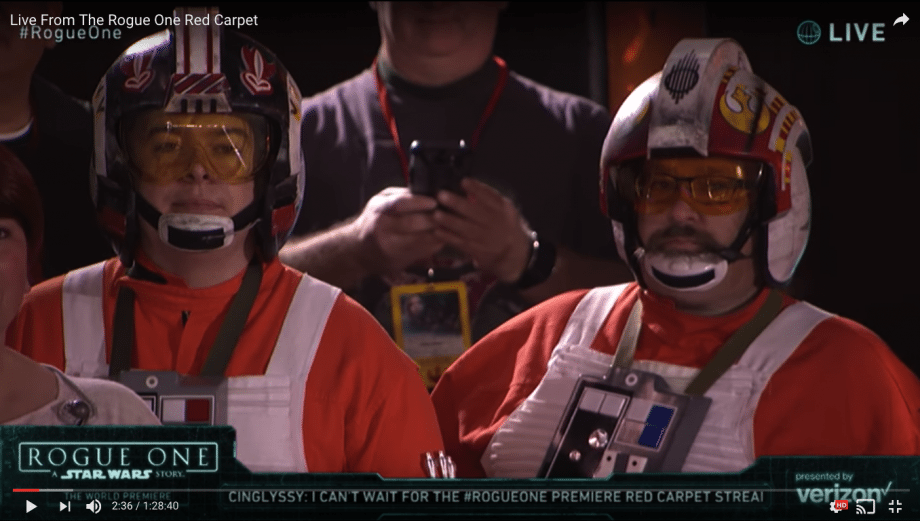 Also on this episode:
WINNERS ANNOUNCED of 4 $25 Fandango Gift Cards
Skywalker Shout-Outs, including a lovely poem by @lifestoydept
NeverLand on Alderaan!
WHERE WE WILL BE (IN REAL LIFE)
September 17-22, 2017: Skywalking HALLOWEEN ON THE HIGH SEAS Disney Cruise! To get more info, go to storiesofthemagic.com/cruisequote and click on the orange "Get a Quote" button in the upper left to get a free, no obligation quote. You're not committing to anything, just getting information with that request. In the Comments section mention "Skywalking Through Neverland" so Randy Crane knows you want to be part of our group.
SUPPORT THE SHOW
Skywalking Through Neverland T-Shirts at TeePublic! Check them out HERE. Shopping HerUniverse? Click here!
CONTACT US
tweet! tweet! @SkywalkingPod.
We have a Facebook Group.
Follow Skywalkingpod on SnapChat.
Join us every week on Periscope for a behind-the-scenes look at our show. We also bring you to Disneyland, Red Carpet Events and Theme Park Openings.
Send emails to share@skywalkingthroughneverland.com and follow us on Facebook.
If you dug this episode, click over to iTunes | Stitcher | YouTube and leave us a review!