Ahsoka, the novel, has arrived! Let's dig in. This episode also covers Mickey's Halloween Party at Disneyland and features Amy Ratcliffe's NYCC 2016 experience.
Ahsoka has arrived!! The novel by E.K. Johnston and audio version voiced by Ashley Eckstein has been making huge waves in the Star Wars fan community. Such a beloved character deserves our undivided attention. Let's dive into this novel in a spoiler-free fashion, with our resident book reviewer Jocasta Drew (Kaplan)!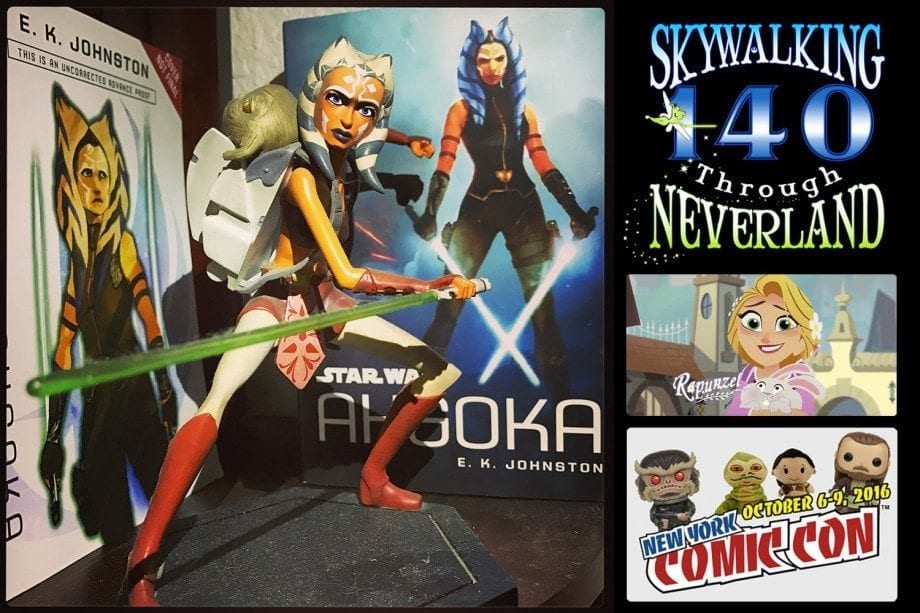 ---
[iframe url="http://html5-player.libsyn.com/embed/episode/id/4741409/height/90/width/1000/theme/custom/autonext/no/thumbnail/yes/autoplay/no/preload/no/no_addthis/no/direction/backward/no-cache/true/render-playlist/no/custom-color/089efc/" height="90″ width="1000″ scrolling="no" allowfullscreen="allowfullscreen webkitallowfullscreen mozallowfullscreen oallowfullscreen msallowfullscreen"]
---
---
Amy Ratcliffe (Full Of Sith / Nerdist / StarWars) gives us behind-the-scenes details about her NYCC 2016 experience. And if you're a Gilmore Girls fan, listen all the way through to the end of this episode…
Halloween approaches… Have you ever been to Mickey's Halloween Party at Disneyland? Want to go? Friend and Skywalker Louella Laureola takes us with her and her son as they tell us what's new this year. A NEW parade with Haunted Mansion elements?? Yes, please!
Also on this episode:
Star Wars Land – more rumored details about the rides
Tangled: The Series gets a Trailer!
Scum & Villainy Galactic Pop-Up Cantina in Hollywood – tickets available now.

Journal of the Rich

Skywalker Shout-outs and Skywalker of the Week
WHERE WE WILL BE (IN REAL LIFE)
November 5, 2016: Rancho Obi-Wan THE GALA STRIKES BACK Meet-up at 3pm, followed by the Gala itself that evening.
November 6, 2016: Disney Family Museum at 11am. Details coming soon.
September 17-22, 2017: Skywalking Disney Cruise! To get more info, go to storiesofthemagic.com/cruisequote and click on the orange "Get a Quote" button in the upper left to get a free, no obligation quote. You're not committing to anything, just getting information with that request. In the Comments section mention "Skywalking Through Neverland" so Randy Crane knows you want to be part of our group.
SUPPORT THE SHOW
Skywalking Through Neverland T-Shirts at TeePublic! Check them out HERE. Shopping HerUniverse? Click here!