On this episode, we continue our coverage of Star Wars Celebration Europe, then dive into SDCC 2016 and the HerUniverse Fashion Show.
On this episode, you'll find Hamill, Hoojibs, HerUniverse, and much more! If you watched the Mark Hamill panel from SWCE, our good friend Kevin Raidernerd Reitzel (Fandom Podcast Network) was the first one up to ask Mark a question. He was wearing a #TeamHoojib shirt! Well, Kevin comes on the show to talk Hamill, hoojibs and Running of the Wilrow Hoods.
---
---
[iframe url="http://html5-player.libsyn.com/embed/episode/id/4550075/height/500/width/900/theme/custom/autoplay/no/autonext/no/thumbnail/yes/preload/no/no_addthis/no/direction/backward/no-cache/true/render-playlist/yes/custom-color/089efc/" width="900″ height="500″]
---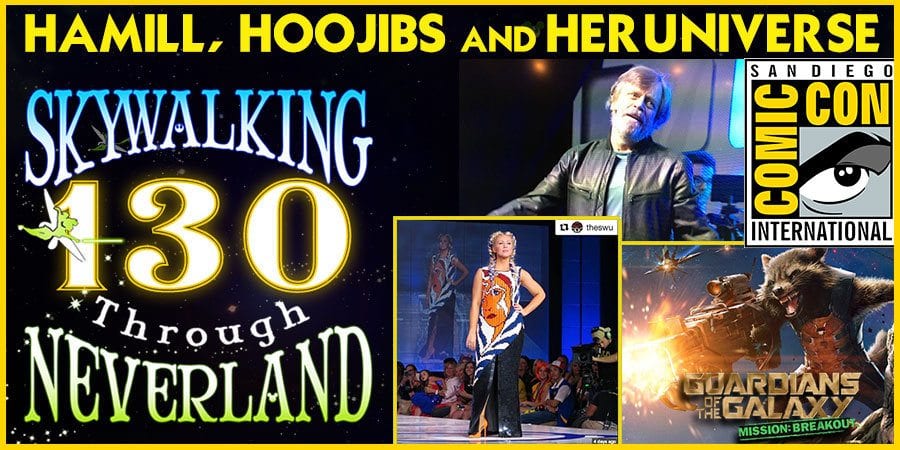 Skywalking Through Neverland #130: Hamill, Hoojibs and HerUniverse!
STN roving reporter Kai Charles (Fiction State of Mind) is back from San Diego Comic-Con 2016 and she has some great stories about the Star Wars panels and the 3rd Annual HerUniverse Fashion Show. Disney Lucasfilm Press is taking over the world!
Also on this episode:
Guardians of the Galaxy, "Mission: BREAKOUT" ride is announced for DCA. We go through our reactions and several other reactions. Just how split is the population?
Richard is finally watching FIREFLY!! What does he think of it?
Skywalker Story: Roon Marchant
Skywalker Shout-outs and Skywalker of the Week
We want to give a big Thank You to our family of Skywalkers who help us out on each show whether it's listening, posting comments and suggestions on our FB group or just spreading and sharing the positivity about our adventure through fandom!
And remember…Never Land On Alderaan!
Where We Will Be (In Real Life)
September 17-22, 2017: Skywalking Disney Cruise! For more info, go to storiesofthemagic.com/cruisequote.
Then, click on the orange "Get a Quote" button in the upper left to get a free, no obligation quote. You're not committing to anything, just getting information with that request. In the Comments section mention "Skywalking Through Neverland" so Randy Crane knows you want to be part of our group.
 If you dug this episode, click over to iTunes | Stitcher | YouTube and leave us a review!