The final confrontation on Scarif begins in Rogue One #5.
This article contains plot points for Rogue One #5.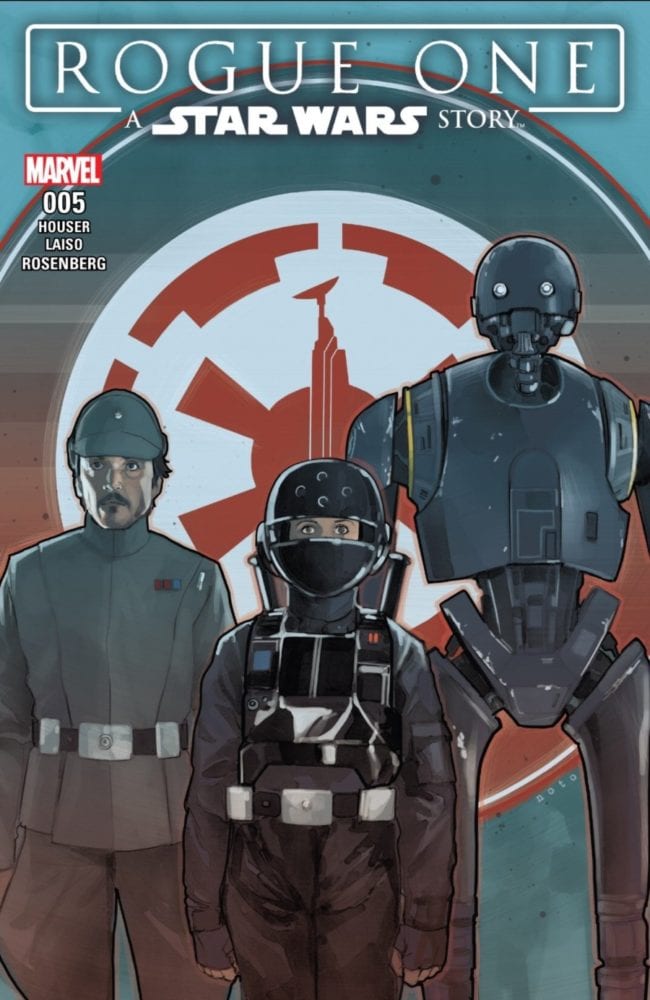 Rogue One #5
Writer: Jody Houser | Artist: Emilio Laiso | Colorist: Rachelle Rosenberg | Letterer: VC's Clayton Cowles | Cover Artist: Phil Noto | Production Design: Carlos Lao | Editor: Heather Antos | Supervising Editor: Jordan D. White
Rogue One #5 Takes the Battle to Scarif
Marvel continues the adaptation of Rogue One with Rogue One #5. As this issue and series are adaptations of the film itself, it is assumed readers are largely familiar with the story itself. Therefore, this review primarily discusses the additional material that makes Rogue One #5 a true adaptation. The story picks up with Rogue One's arrival and landing at Scarif and concludes with the opening stages of the battle there as Admiral Raddus prepares his fleet to attack.
Raddus Takes Action
In the film, Admiral Raddus takes his fleet to Scarif without the approval of the Rebel council. He makes that decision offscreen. However, in this adaptation, a Rebel soldier informs Raddus that Jyn Erso, her companions, a number of commandos, and the stolen Imperial shuttle are missing. This is exactly what Raddus hoped for. He next commands his subordinate to prepare for departure. Although it is always good to get more Raddus, this scene was unnecessary for the film. It is just thing that a comic adaptation can make good use of though.
Scarif Arrival Substitution
One scene notably absent is the exchange between Bodhi Rook and the control room of the shield gate in orbit around Scarif. Although a few details from the movie are lost with its omission, additional material fills the gap. First, Jyn prays over her mother's Kyber crystal in the film while Bodhi request clearance to land. While that specific scene is gone, Jyn's crystal still makes an appearance. In the adaptation, it is the focus of another conversation between Jyn and Chirrut. The blind Guardian of Whills remarks that the crystal served its purpose and provided he and Baze with another opportunity to safeguard the crystals that once belonged in the Temple of Whills on Jedha.
In addition, this revised scene sacrifices K-2SO's comedic line about everyone dying in the void of space but him. The film needed that moment of levity, but the adaptation is not in as dire need of it. Overall, this substitution works very well for the adaptation.
Jyn's Pep Talk
Also slightly altered is Jyn's pep talk to the Rogue One crew as they land on Scarif. The speech is largely the same. However, this time an images of Jyn's two fathers appear behind her. The first image is of Galen Erso. Galen appears to contemplate the schematics of the Death Star. The next image is of her adoptive father Saw Gerrera. A young Jyn walks next to the old Rebel, and they seem happy.
The image of Saw is natural. After all, Jyn quotes him at the beginning of her speech. The image of Galen is a little more curious. She doesn't mention him. Furthermore, he is unlikely to be of any inspiration to most of the Rogue One crew, Bodhi Rook excluded. Therefore, it seems likely that both these men were simply on her mind. One man designed the weapon they seek to destroy and told her where to find the plans. The other taught her the skills she needs to get the plans. These panels might have been better if Lyra somehow found her way in, but it is a good view of Jyn's thoughts regardless.

I'm the Pilot
In the previous issue, Bodhi and K-2SO had a heart-to-heart talk. During their conversation, Bodhi outlined how similar they were. Both were reprogrammed. Cassian Andor literally reprogrammed K-2S0 and changed him from an Imperial security droid into a Rebel operative. Similarly, Bodhi considers himself reprogrammed by Galen Erso from an Imperial pilot to a Rebel operative that can make a difference and stop the Imperial tyranny.
As Jyn, Cassian, and the other soldiers prepare to infiltrate Scarif, Bodhi and K-2SO resume their conversation. Attempting to ward off fear, Bodhi reminds himself, "I am the pilot" repeatedly. K-2S0 asks if he has trouble remembering who he is. Bodhi responds with an explanation that being brave is much harder when danger is on the doorstep. K-2S0's reassurance that he will be as brave as needed is remarkable for the droid.
Other Additional Material
Rogue One #5 provides other additional material. Some unique shots of the Rebels subduing the Imperial inspection team aboard the Imperial freighter follow K-2SO and Bodhi's discussion. Not long after that, K-2SO retrieves intelligence on the citadel on Scarif by confusing another Imperial droid. The scene adds some of the levity that was removed when his lines were cut from the arrival on Scarif. It is also reminiscent of his inability to effectively lie on Jedha. The issue concludes with a final additional scene of Raddus receiving the report of explosions on Scarif as his fleet prepares for battle. 

Concluding Thoughts on Rogue One #5
The next time Marvel plans an adaptation of a Star Wars film, they must assign it to Jody Houser. Her work in adapting Rogue One for a comic adaptation is brilliant. If Marvel wanted Emilio Laiso's art as well, they shouldn't receive many objections. Rogue One shines as a great example of a movie adaptation. This miniseries concludes with issue six.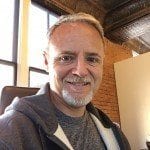 Dennis Keithly is a graduate of the University of Missouri, North Texas attorney, husband, father of two, and co-host of Starships, Sabers, and Scoundrels. In addition to Star Wars, Dennis is a fan of science fiction, fantasy, and super heroes in general. When not engaged in fictional universes, Dennis is reading a good book or watching the NHL, football, or studying the NFL draft.