Jyn, Cassian, and the rebels deal with the aftermath of the attack on Eadu.
This article contains plot points for Rogue One #4.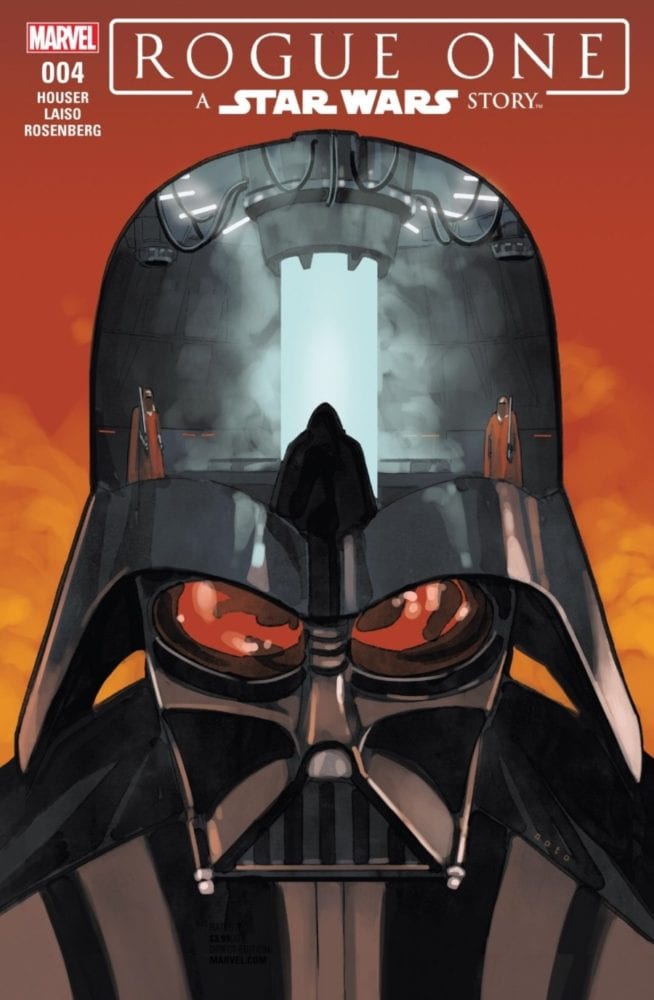 Rogue One #4
Writer: Jody Houser | Artist: Emilio Laiso | Colorist: Rachelle Rosenberg | Letterer: VC's Clayton Cowles | Cover Artist: Phil Noto | Production Design: Carlos Lao | Editor: Heather Antos | Supervising Editor: Jordan D. White
Jyn Becomes a True Rebel
In Rogue One #3, Jyn, Cassian, and the rest of the Rebels escaped from Jedha and made their way to Eadu. They arrived just in time to witness Director Krennic's arrival. Unfortunately, they crashed on the planet. Having lost touch with them, General Draven ordered an assault on the planet. Rogue One #4 begins with the aftermath of that assault.
Jyn's father, Galen, suffered critical injuries from the Rebellion's attack. Readers familiar with the movie know that Jyn then confronts Cassian once on board their stolen Imperial transport. They get past that and make their way to Yavin IV. Once there, the leadership of the Rebellion meets, but they fail to reach a consensus on their next plan of action.
Unable to abide by their decision, Jyn recruits Baz, Chirrut, Cassian, Bodhi, and K-2SO plus a large squad of soldiers for a mission to Scarif to steal the plans for the Death Star. Rogue One #4 ends with Bodhi dubbing their crew Rogue One as their ship heads off for their mission.

The Background to Eadu
As with other issues in this adaptation, Rogue One #4 shines particularly in respect to its additional scenes. The first such "scene" is interwoven with the attack on Eadu. As Director Krennic recovers from the Rebellion attack and Galen lies dying, this issue flashes back to points in their past. Each of these moments lead them to this moment. From Krennic and Galen discussing calculations to Krennic attempting to recruit Galen and Lyra, and ending with Krennic's retrieval of Galen from Erso, their relationship flashes past in the blink of an eye as Krennic makes his escape.
Bodhi and K-2SO
Another supplemental scene immediately follows Krennic's escape. Cassian tasked Bodhi and K-2SO with finding a new ship. However, K-2SO doesn't trust Bodhi, and won't let him lead. In response, Bodhi puts an end to K-2SO's complaining about Bodhi and their task by noting their similarities. Both wear the Imperial symbol. Cassian reprogrammed K-2SO to serve the Rebellion. Similarly, Galen Erso "reprogrammed" Bodhi to do the same. Bodhi's persuasive tactic work, and he convinced K-2SO to let him lead. This is one of the most brilliant additions to Rogue One. It is poetic and creates camaraderie.
The Rebels Assemble on Yavin IV
Rogue One #4 begins the Rebel conference scene on Yavin IV at a different point than the movie. The Rebel Council instructed Jyn and her companions to wait outside. While waiting, Mon Mothma departs the debate and approaches Jyn. Jyn is not interested in Mon Mothma's condolences, and Mon Mothma has none for her. Mon Mothma notes that condolences are usually for those that offer them. Instead, Mon Mothma notes that she will not forget what they did to her.
This conversation also appeared in the novelization of the movie. Therefore, it seems like it must have been in the original script. Perhaps it was filmed and cut from the final movie. Why it was cut (likely for time) is understandable. However, in a medium like a comic, that has extra room, this is a pleasant addition that demonstrates Mon Mothma's leadership capabilities.
Resurrecting a Cut Line
One of the most iconic lines from Rogue One never appeared in the movie. In early trailer, Jyn responds to General Draven with the line, "This is a rebellion, isn't it? I rebel." That line was not in the final film. However, the comic adaptation resurrects this line in a fashion. After Jyn's brief conversation with Mon Mothma, she decides to act. When she heads into the conference room, Bodhi intercedes and reminds her they were to wait outside. She responds, "This is a Rebellion, isn't it? Let's rebel." Nice touch and nod to the line from the trailer.

Conclusion
Rogue One #4 is another excellent addition to this strong adaptation. Also included in this issue is Krennic's meeting with Darth Vader on Mustafar and Rogue One's departure for Scarif. The Rebels assembling for their mission to Scarif is in montage style and has a cinematic quality. Although comics frequently suffer from a lack of motion, Rogue One makes up for it with excellently placed background scenes and emotion that leaps off the page.
Favorite Panel of Rogue One #4
In the movie, Jyn evolved from a loner seeking escape from the war between the Empire and the Rebellion to a true Rebel without whom the Rebellion would have died. That transformation emerged during the conference room scene on Yavin IV. Jyn argued that they had no choice but to act in the face of that much evil and that all they needed was hope. It truly marked the transformation of her character in the film. The same transformation emerges on the pages of this adaptation. I chose one of these panels as the favorite panel for Rogue One #4.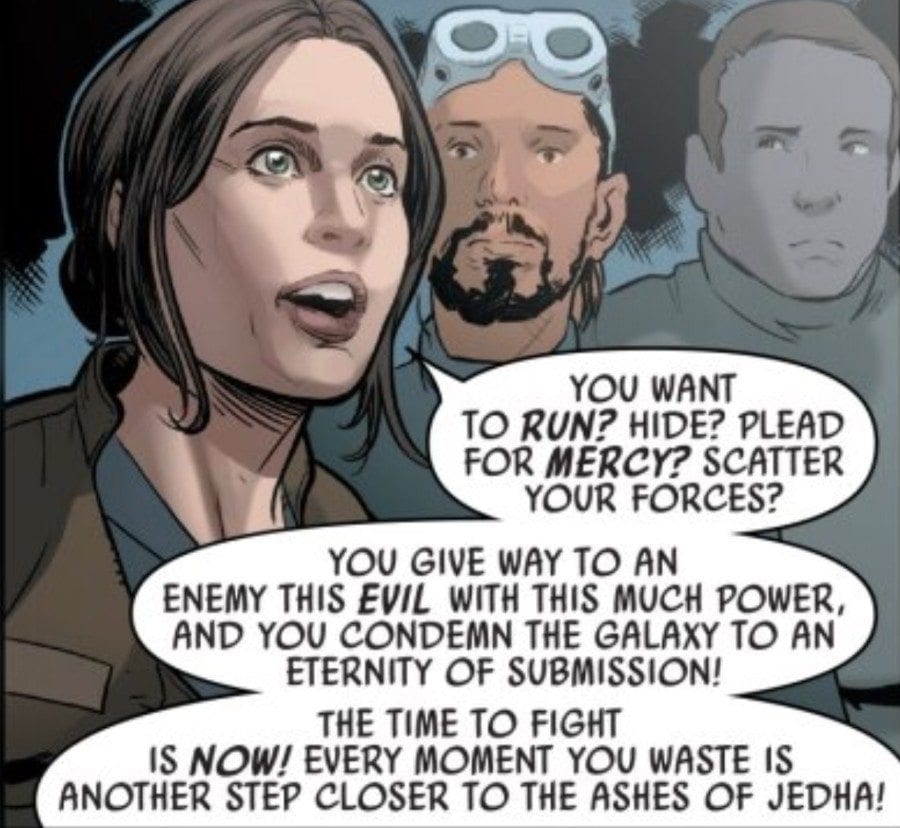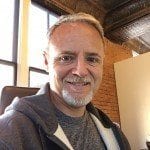 Dennis Keithly is a graduate of the University of Missouri, North Texas attorney, husband, father of two, and co-host of Starships, Sabers, and Scoundrels. In addition to Star Wars, Dennis is a fan of science fiction, fantasy, and super heroes in general. When not engaged in fictional universes, Dennis is reading a good book or watching the NHL, football, or studying the NFL draft.