Did you have a Darth Vader Collector Case from the vintage era? Do you want one? Check out Bill's "case study."
Remember when you were a kid and every time you opened up your Darth Vader Collectors Case your action figures would all come tumbling out?  Well it only took thirty years, but I believe I have found a solution.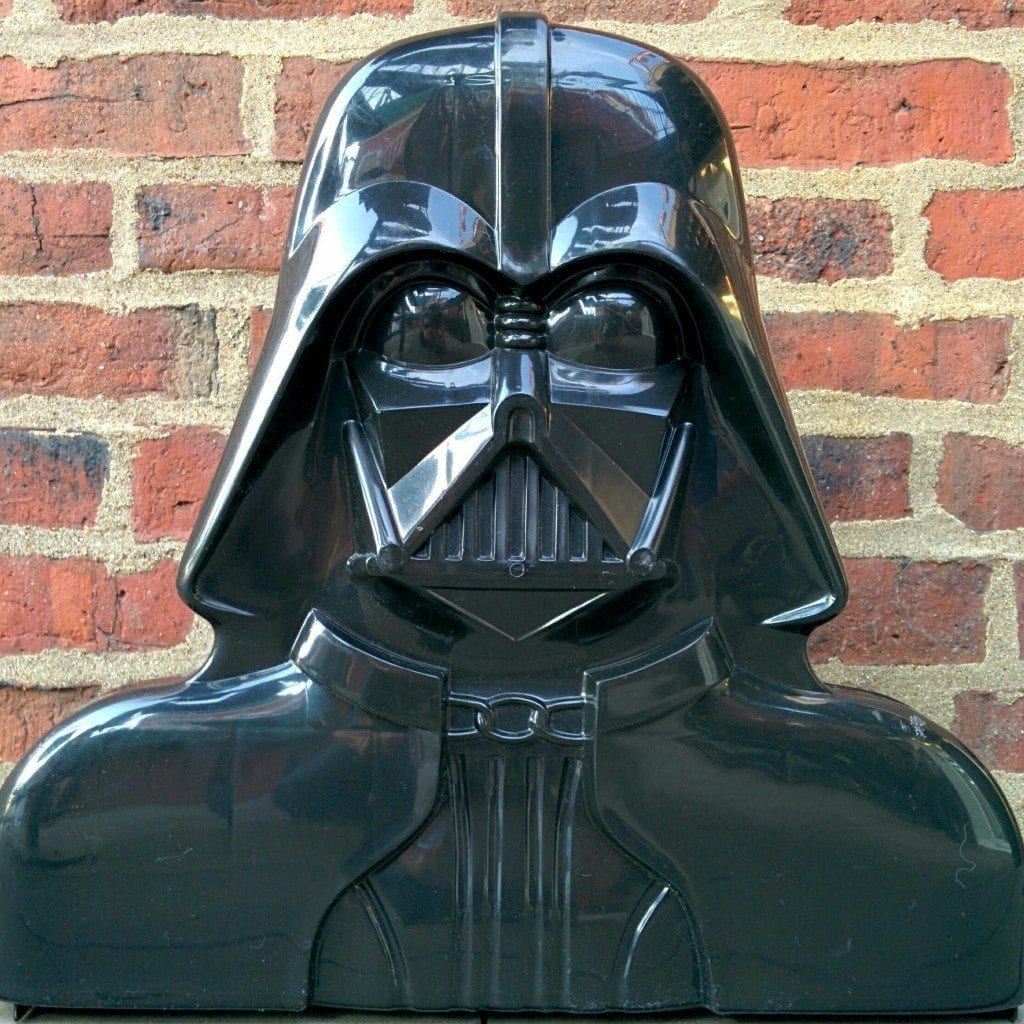 About a year ago, new fatherhood gave me the nostalgia bug and I purchased a vintage collection on craigslist.  I spent $200 for a dusty old garage haul that had about forty figures, two Vader cases, a handful of vehicles, a some 12″ figures, and a few random non-Star Wars toys, including a Transformers G1 Jetfire. Not the most amazing bargain ever, but it was a lot of really cool toys in one place.  And for someone who at the time was just beginning to collect figures, it was a great starting point.
Having spent decades in a garage, the toys were understandably filthy. So I set about cleaning them.  I used a soft toothbrush with some mild dish soap for the figures, which came out clean and shiny.  I also cleaned up the better of the two Vader cases, with very satisfying results.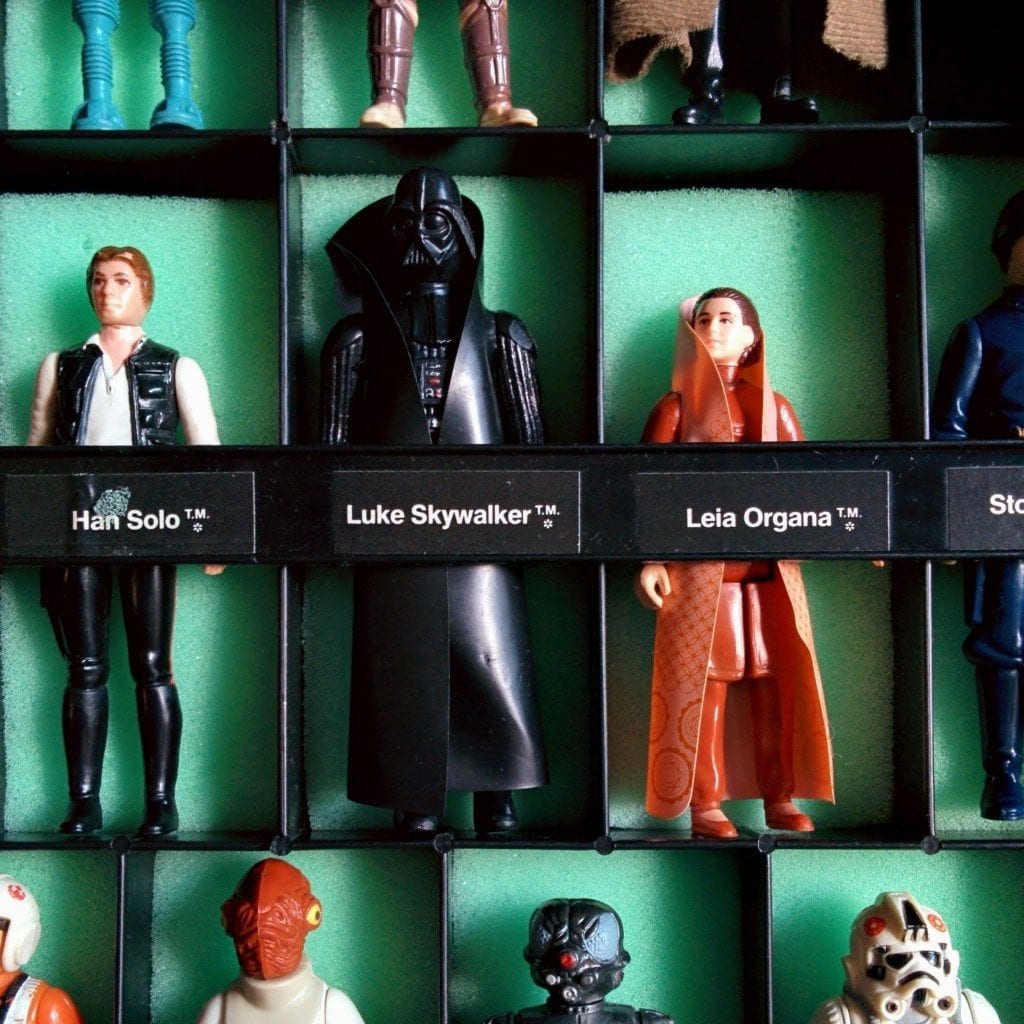 But one issue that presented itself was the age-old problem of figures tumbling out whenever I opened the case.  I considered separate plastic bags for each figure, but I wanted the option to display it opened or closed.  So I purchased some upholstering foam and cut it into strips that fit into the figure slots.  Not only did the foam keep the figures snug in their spots, but the green color added a little contrast and in my opinion improved the look of the open-case display option.
Note: Very few figures are correctly labeled here.  The problem here was that the eight year old who applied them many years ago didn't care that characters like Vader and IG-88 had to go in the taller slots. That combined with a fair number labels for which I didn't have the characters, led me to not really care about where they went aside from size considerations.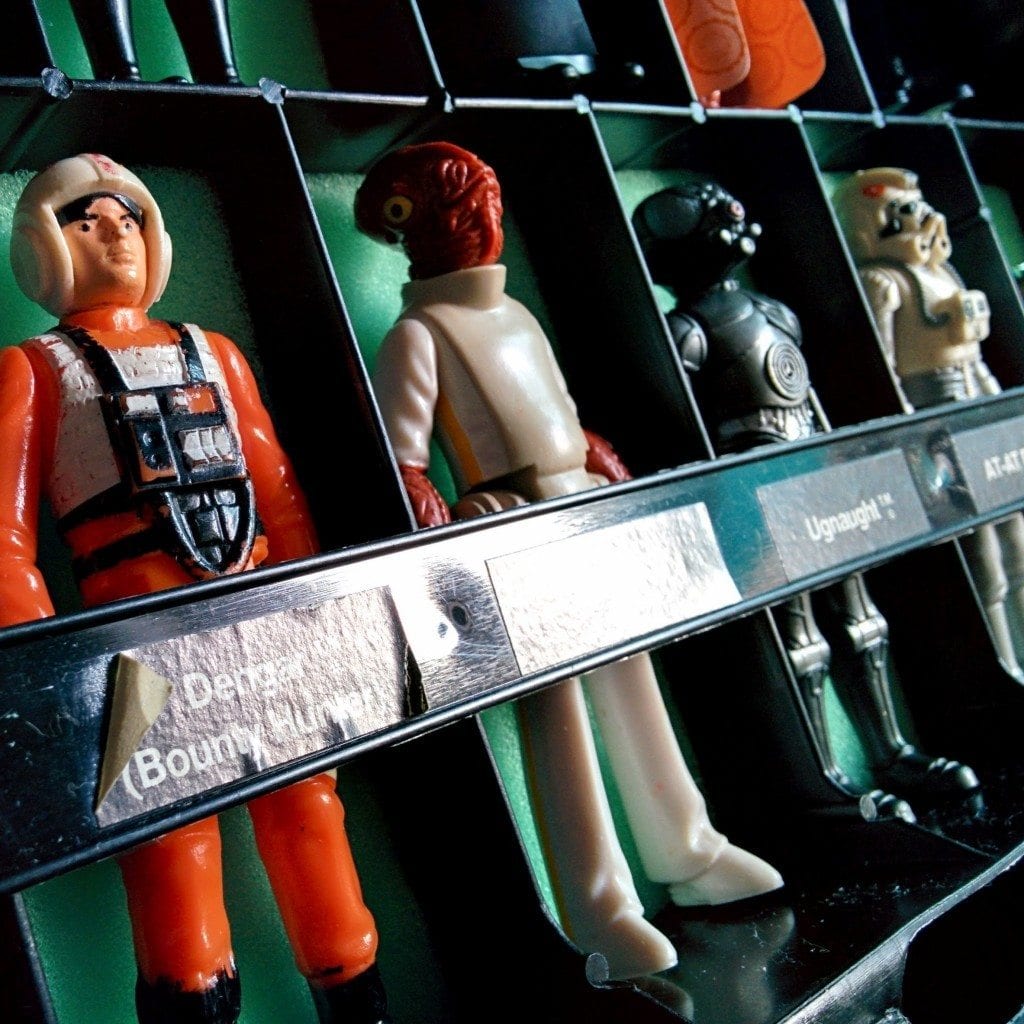 Born in 1976, Bill Drewnowski grew up surrounded by Star Wars, the likely reason for his love of a great story. Now a father living in New England, Bill teaches high school English, including courses in science fiction and fantasy. Bill enjoys collecting books, posters, action figures, trading cards (including a huge Magic the Gathering obsession), and of course all things Star Wars. His favorite book is Moby Dick by Herman Melville. You can follow Bill on Twitter @DorkLair and Instagram @TheDorkLair.