The PC gaming community recently received hope that Red Dead Redemption 2 would be released on PC, but why is this an exciting snippet of information?
Launched in 2010, Red Dead Redemption is a classic Rockstar game that became immensely popular with gamers – exceeding 15 million sales by 2013. For years, fans have been craving a sequel to the game after being treated to Red Dead Redemption's DLC, Undead Nightmare, later in the year of its release.
Since Red Dead Redemption, Rockstar has gone on to create the most profitable entertainment product of all-time with Grand Theft Auto V, which has exceeded 90 million sales since its 2015 release with $6 billion in revenue thanks to its thriving online community. Because of the longevity of Grand Theft Auto V, the cravings for a second Red Dead Redemption began to bubble up again, with rumours circulating for a follow-up in 2016 following Xbox making the original backwards compatible on the Xbox One.
Now, Red Dead Redemption 2 has been announced, and it's scheduled for release on the 26th October 2018. Fans are thrilled that the open-world cowboy adventure is returning because of the freedom within the game and chance to immerse themselves in the world through the many side quests and mini-games like the knife game and poker. But, a certain gaming community has been ravelled into the hype more than others. The PC gaming community recently received hope that Red Dead Redemption 2 would be released on PC, but why is this an exciting snippet of information?
The immense popularity of Red Dead Redemption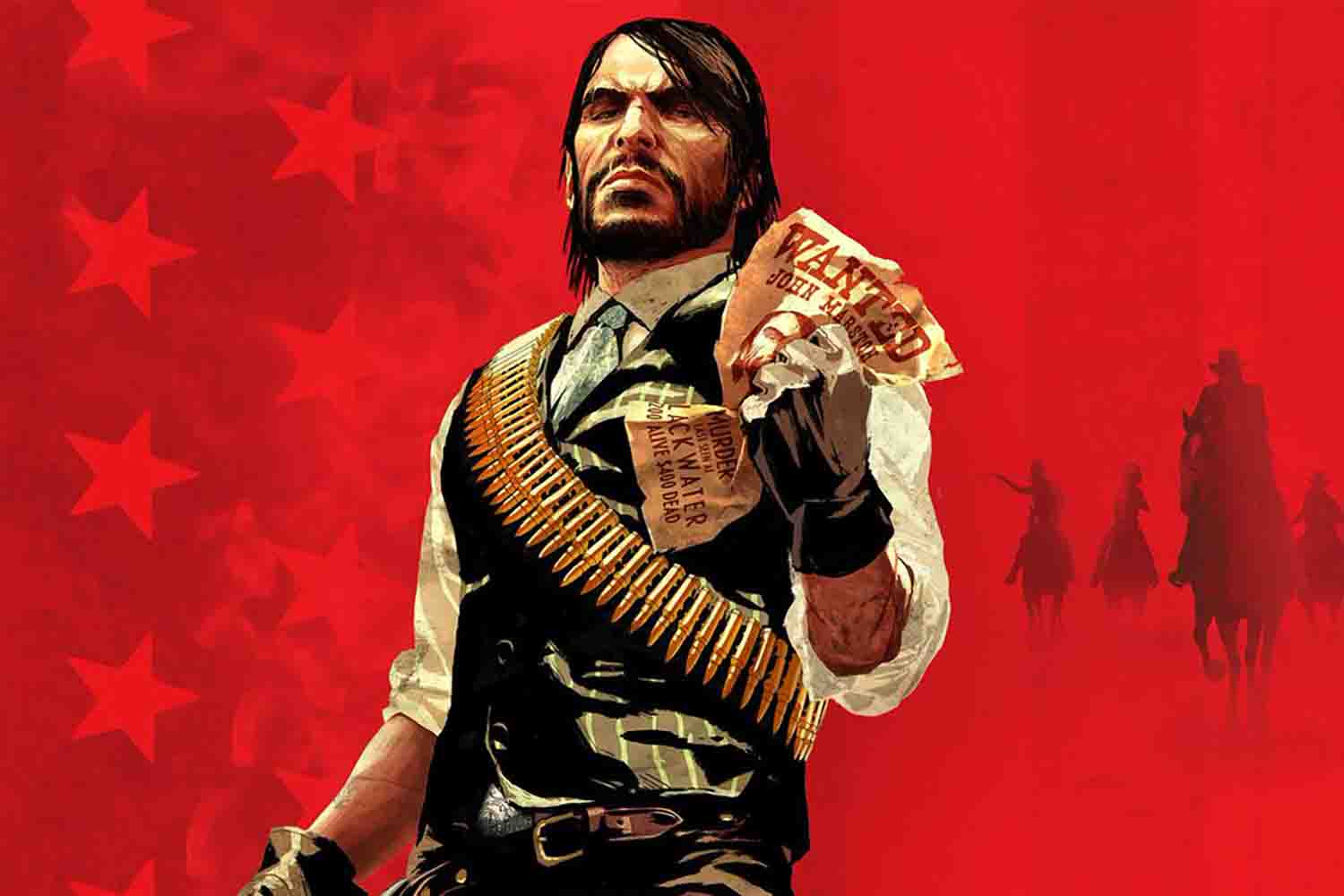 Promotional game image of the wildly successful Red Dead Redemption. Source: PlayStation Universe, via Twitter
Fans of Rockstar and open-world games have had to wait over eight years since the Undead Nightmare DLC for Red Dead Redemption was released. Its popularity spans from the fact that the player takes on the role of a cowboy, John Marston, and while there is a main storyline and missions to complete, a lot of the world is open for exploring from the start. As the player progresses through the main storyline, even more of the map becomes available for exploration. The map itself is huge, boasting 94 map locations and spanning two fictitious states in the USA and a state in Mexico.
The game offers days of fun across its huge map. The player can interact with NPCs to pick up side quests to complete whenever they see fit – even if they haven't completed the main storyline – as well as hunt wild animals and enjoy many mini-games akin to the period, such as poker in the saloon and horseshoes out back. It is in its depth of activities and interactivity with the world that Red Dead Redemption grew to prominence.
The secret is within the mini-games

In-Game image from Red Dead Redemption of the protagonist (James Marsden) playing poker in a saloon. Source: Outside Xbox, via Twitter
As with many other epic open-world games, like Rockstar's Grand Theft Auto series, Bethesda's The Elder Scrolls V: Skyrim and Guerrilla's Horizon Zero Dawn, the key to making a top-quality open-world game is in filling it with relevant side quests and mini-games to keep the player immersed in the world. It also helps to include some benefits that tie into the non-necessary mini-games so that the player will enjoy playing them.
Red Dead Redemption went one step further and made winning the mini-games a part of completing the game 100 per cent. Rockstar indulged its players in games that are synonymous with the Western period, none more so than poker. In the game, six different locations host tables for poker for the player to sit down at and play. While, historically, the most popular forms of poker have been draw poker or stud poker, Texas Holdem has become the most popular in modern play due to how easy it is for beginners. Red Dead Redemption was able to add some Western-gambling authenticity through playing cards and winning money through the game, while also opening the mini-game up to beginners in the form of Texas Hold'em poker.
It's not just Red Dead Redemption which has utilised poker to offer players an immersive in-game experience. Many games with a higher age-rating allow for some form of casino gaming, such as with slot machines and blackjack, but poker has emerged as the most popular with fans. Rockstar put out video poker machines in Grand Theft Auto: San Andreas' casino, as did the game Saints Row 2 in the casino hall. In The Sims 3, players can purchase a poker table for their house and host poker evenings to try and win money from their friends, while Far Cry 3 had playable poker tables dotted all over the map. One of the most enjoyable forms of poker in video games, however, has to be in Watch Dogs, where you can play with honesty to try and win the pot or use your advanced technology to cheat your way to victory.
Why are PC fans getting so excited?
A huge Western-themed open-world game is coming out, boasting impeccable graphics and hours of fun. This should be enough to get gamers of all formats excited, especially as the first game was so popular. But, this could be special for PC gamers for the simple reason that they'll be able to play the game.
Red Dead Redemption, for reasons unknown, was never released on PC. Given that PC gamers swear by their format being superior to all consoles, and the game being so vast, it's very odd that Rockstar chose not to create a PC version. So, any word that Red Dead Redemption 2 may be coming to PC is very exciting news.
Red Dead Redemption 2, PC release confirmed by Rockstar Employee?

Credit: https://t.co/CNuTXrK1Va pic.twitter.com/NqCL6aUHdN

— PlanetRockstar (@PlanetRockstar) June 21, 2018
The apparent leaked information from Rockstar concerning their need for a PC programmer to work on Red Dead Redemption 2. Source: Planet Rockstar, via Twitter
A supposed leak was discovered on LinkedIn, naming PC as one of the platforms that Red Dead Redemption will be released on – along with the Xbox One and PlayStation 4. The hope that the new game will be ported to PC is further enhanced by the success and popularity of Grand Theft Auto V on the PC.
Even now, five years after its initial release, Grand Theft Auto averages between 34,000 and 82,000 daily players, ranks number one in player ranks and number five in current players rank on Steam. It's immense popularity and sustained player base opens up many opportunities for Rockstar, especially as Red Dead Redemption 2 will have an online multiplayer mode and appears to be going down the route of Grand Theft Auto V by including a microtransaction model.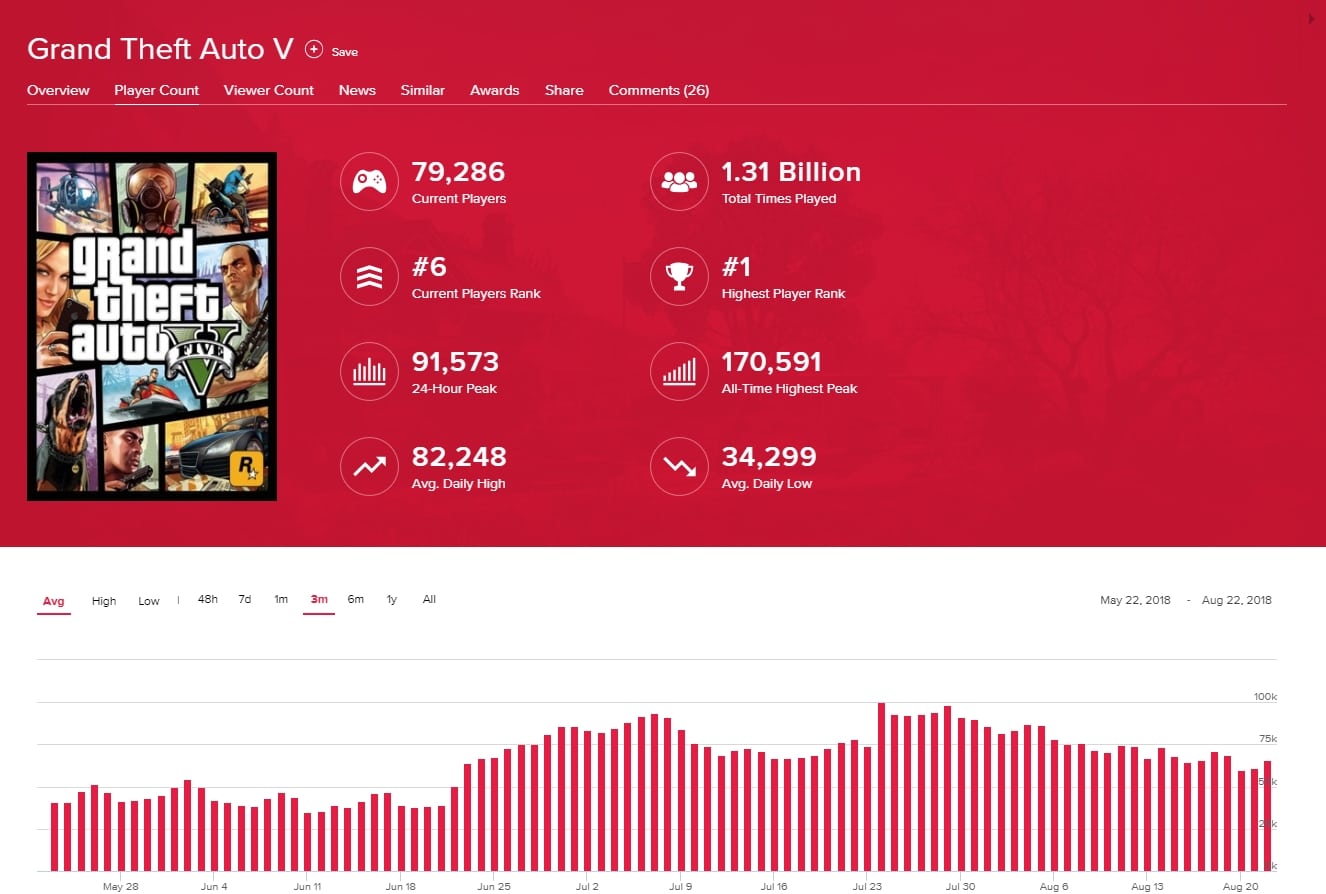 Screenshot from GitHyp showing the huge player base of Grand Theft Auto V and how it's still thriving to this day. Source: GitHyp.com
Red Dead Redemption 2 looks to be every bit as good as its predecessor, and then some. Rockstar will, without a shadow of a doubt, include all of the fans' favorite mini-games of poker, liar's dice, and arm wrestling, as well as deliver a larger and more immersive map. The hope is that the leak on LinkedIn proves to be true so that PC gamers can finally indulge in some Western action as a revolver-toting cowboy.