From Star Wars to Valerian and the City of a Thousand Planets, the artist known as Moebius helped shape the imagery of the modern sci-fi/fantasy genre. A closer look at the elements of his art reveal influences that can be seen on the pages of today's comic books and graphic novels, as well as the movie screen.
Jean Giraud may not be a familiar name among comic readers and movie-goers of today, but his art has influenced many comic artists and elements of his visual imagination has shaped some of Hollywood's biggest blockbusters. Comic book artists like Jim Lee (X-Men) and Mike Mignola (Hellboy) cite Giraud as a genius who left a lasting impression on their personal style. However, Jean Giraud was much more than a comic artist.  Sometimes referred to as the man with three names (Gir, Giraud, Moebius), Giraud created art with elements distinctive to each of his pseudonyms. But, it was his beginnings as a French comics artist that introduced the Western world to Giraud's genius.
The French Comic Scene
One of the most well-known comics to come out of the French scene was the series Valerian and Laureline by artist Jean-Clude Mezieres and authored by Pierre Christin. First published in 1967 in the French magazine, Pilote, Valerian and Laureline served as inspiration for Luc Besson's The Fifth Element (1987) and, most recently, 2017's Valerian and the City of a Thousand Planets.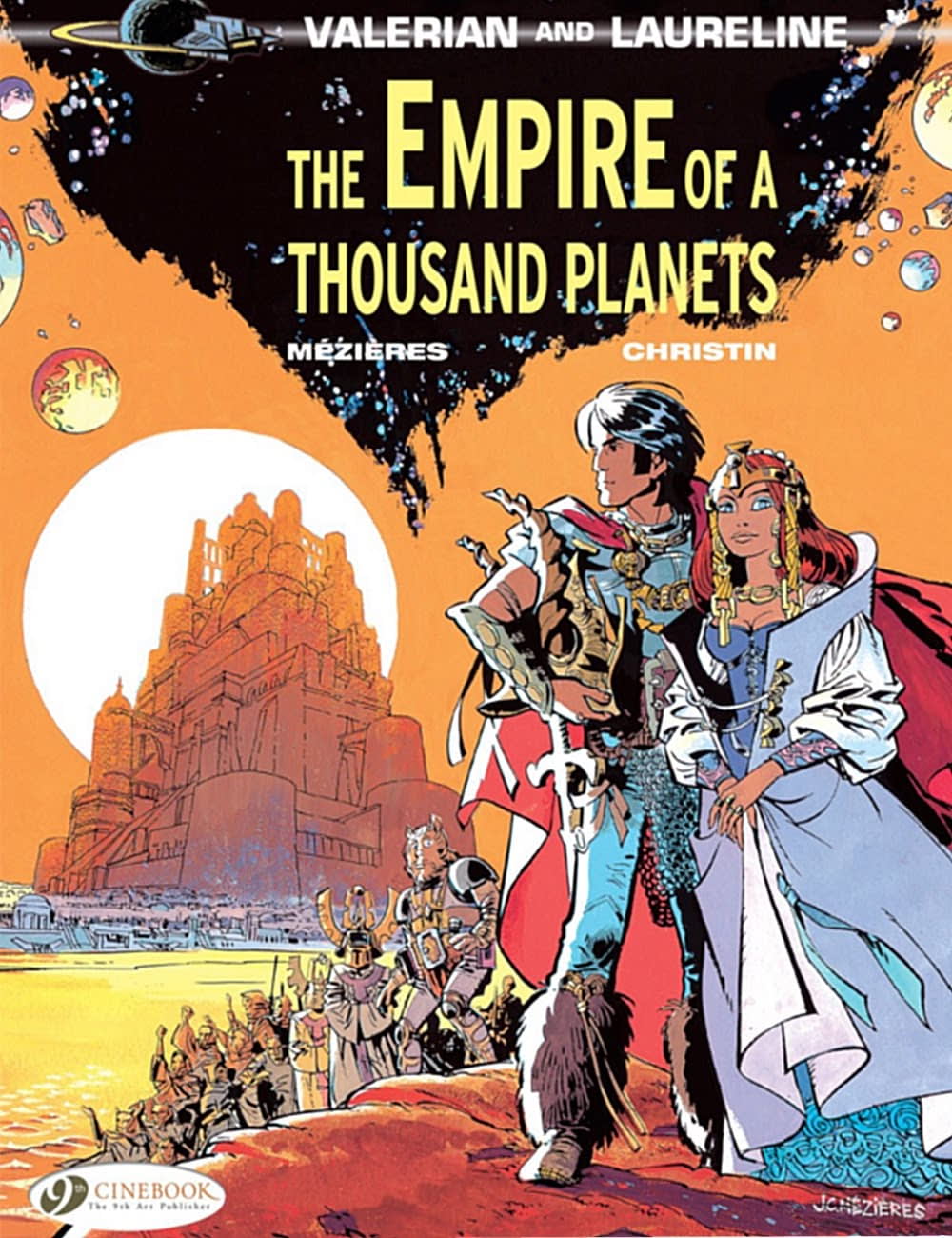 The Franco-Belgian bandes dessinees, (translated, "drawn strips" or "comic strips") tradition of the 1960s and 70s, displayed a distinctive art style. These BDs, as they were often referred, drastically contrasted the superhero depiction of traditional American comics at the time. Jean Giraud, an art school classmate of Mezieres, also came onto the scene in the 1960s with his own masterpiece, Blueberry. Written by Jean-Michel Charlier, Blueberry follows the adventures of Michael "Blueberry" Donovan, as he travels the American Old West. Giraud used the first of his pseudonyms "Gir" in creating the look of Blueberry, which was inspired by the artist's love of the American Westerns.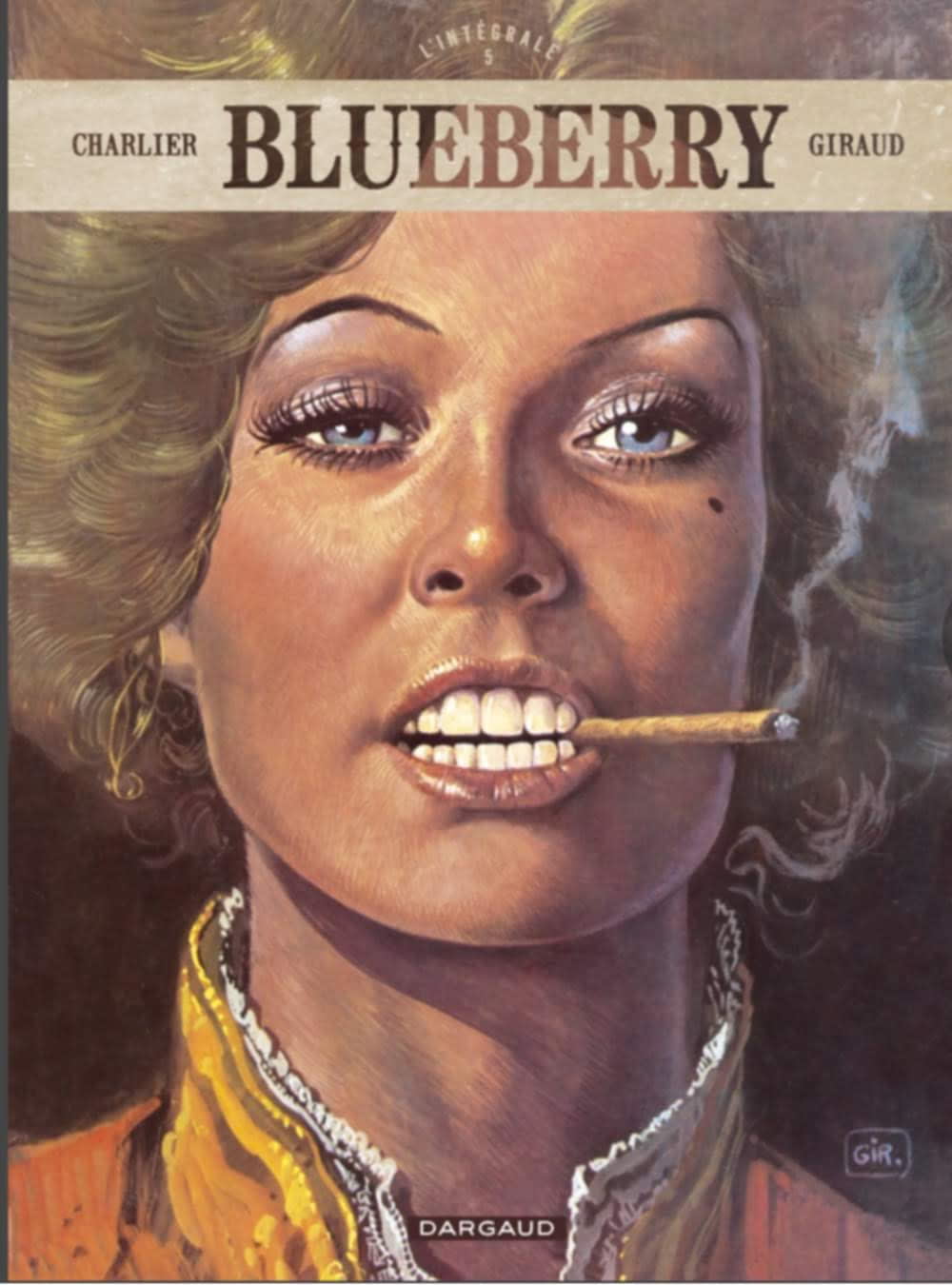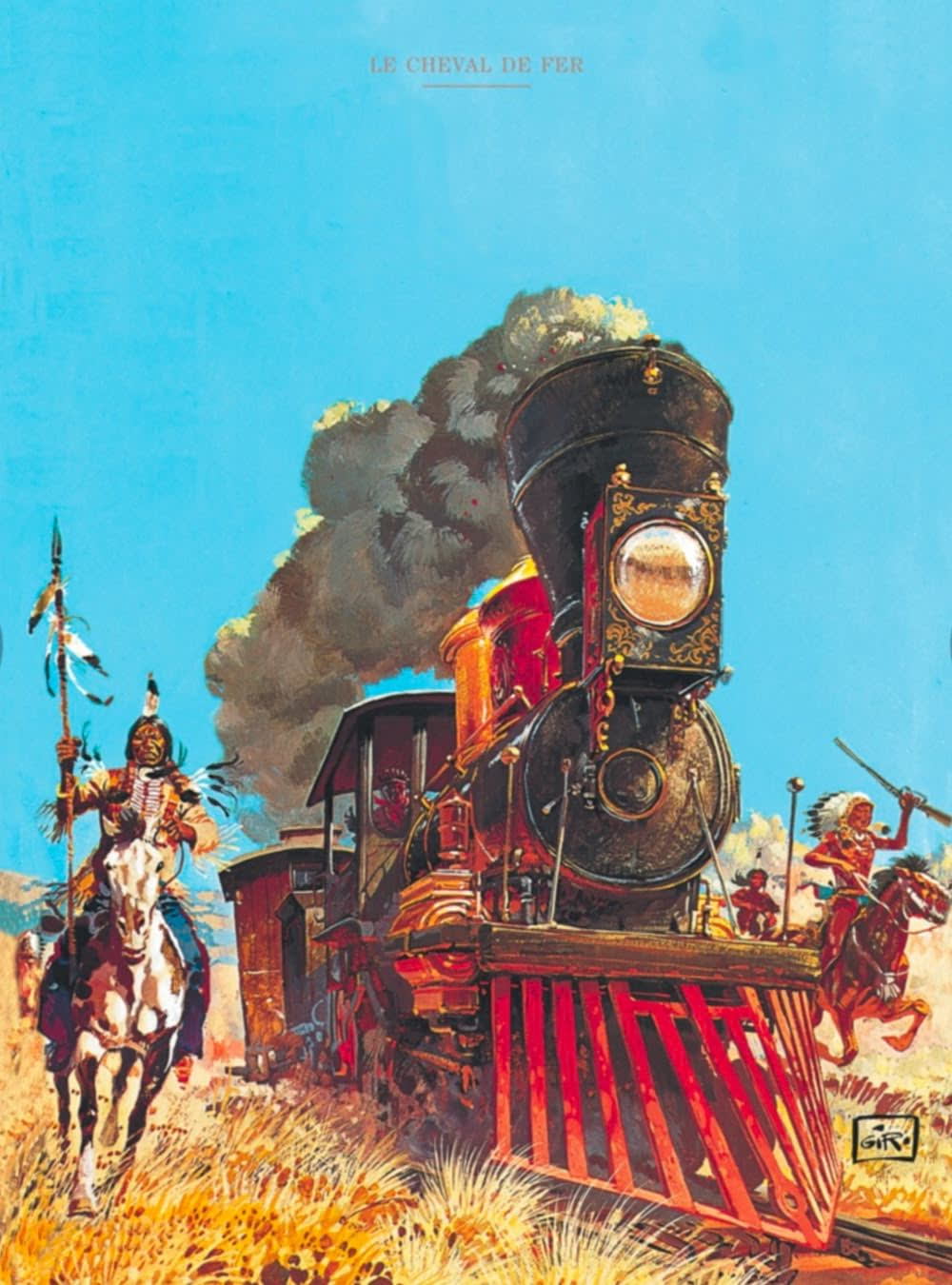 Discovering Moebius 
Marvel's Stan Lee, fascinated by the art of Blueberry, invited Jean Giraud to meet with him about collaborating on a project. It was Giraud who suggested one of his favorite characters, The Silver Surfer. Lee agreed and, in 1988, The Silver Surfer: Parable, a two-issue limited edition comic was born. The art was unlike anything the traditional Marvel comics had seen at the time. American audiences were introduced to a visually stunning portrayal of the gleaming superhero, thoughtful and contemplative, a distinct change from previous depictions. Likely due to the departure from tradition, it would unfortunately be the last time Moebius worked with Stan Lee.
Jean Giraud (1938-2012), who created art under the name Moebius and Gir, at that time had already made a name for himself in France and the United States. Comic book fans weren't ready for Moebius in the 80s. The simple, yet detailed artistry of Moebius captured the emotions of the characters. The dialogue served as a guide but was not needed to understand the theme. Revisiting it today, it still stands out among Marvel's traditional comic books. Moebius' amazing pen work captures the eye. The way he used line to depict scale brings Galactus off the comic pages. The realistic design paired with the fascinating angles of perspective brings the reader into the story.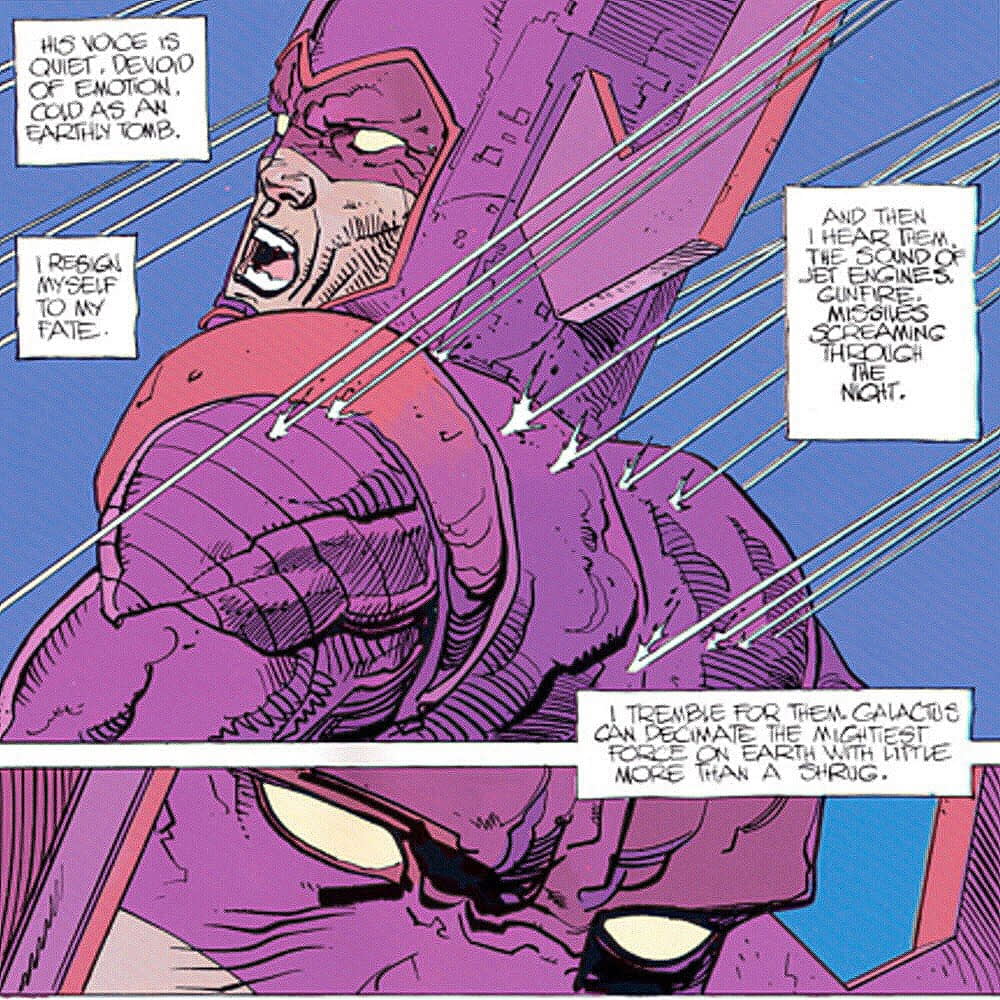 His Influence
Digging deeper into the man with three names, it's evident how his work has impacted generations of filmmakers since. As a concept artist, Moebius helped shape the fantastical imagery for such films as The Fifth Element, Alien, Tron, Willow, Blade Runner, and the ill-fated adaptation of Dune by Alejandro Jodorowsky, which is a story worth telling for another time. Moebius passed away in 2012, but his visionary influences can be seen still today from George Lucas to Ridley Scott. However, with the plethora of work Jean Giraud has accumulated over 50 years, to truly explore his genius, it's imperative to highlight the various elements of Giraud's abilities and styles as not only a great comic artist, but an influential master of art itself.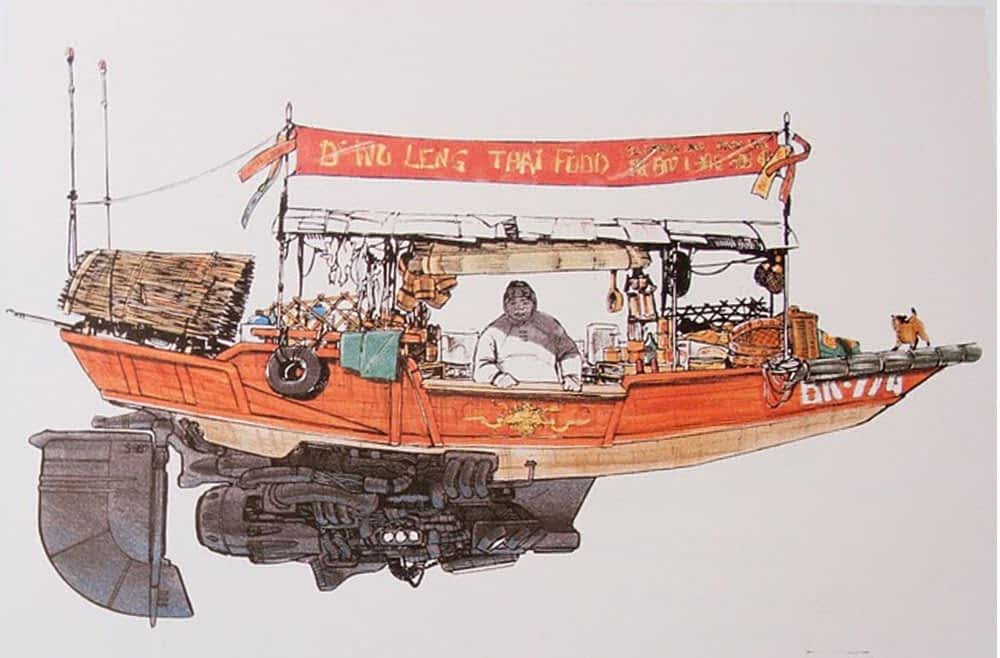 Creativity
In a speech given at a comic convention in Mexico, Jean Giraud delivered 18 tips for comic artists that are filled with years of wisdom only Moebius could compile. Moebius offers advise on creativity by stating, "When you draw, you must first cleanse yourself of deep feelings, like hatred, happiness, ambition, etc." Giraud felt that the creative process is hindered by these strong emotions, creating barriers. Speaking from experience, anyone who has ever had a creative block, i.e. writer's block, it can be very frustrating. Giraud believed that if the artist would free themselves from these powerful emotions, the art would flow. Under the pseudonym, Moebius, Giraud was known to create directly on the paper without seeming to stop and think. His imagery and detailed rendering of alien worlds brought these environments to life. There was a natural flow to his work as evident in his breathtaking landscape paintings from his sci-fi/fantasy comic, Arzach, a collection of wordless short stories originally published in the French magazine Metal Hurlant (translated, "screaming metal," an inspiration for the American comic, Heavy Metal.) Moebius also collaborated with Woflland Pictures in France on a television project of Arzach, entitled Arzak's Rhapsody.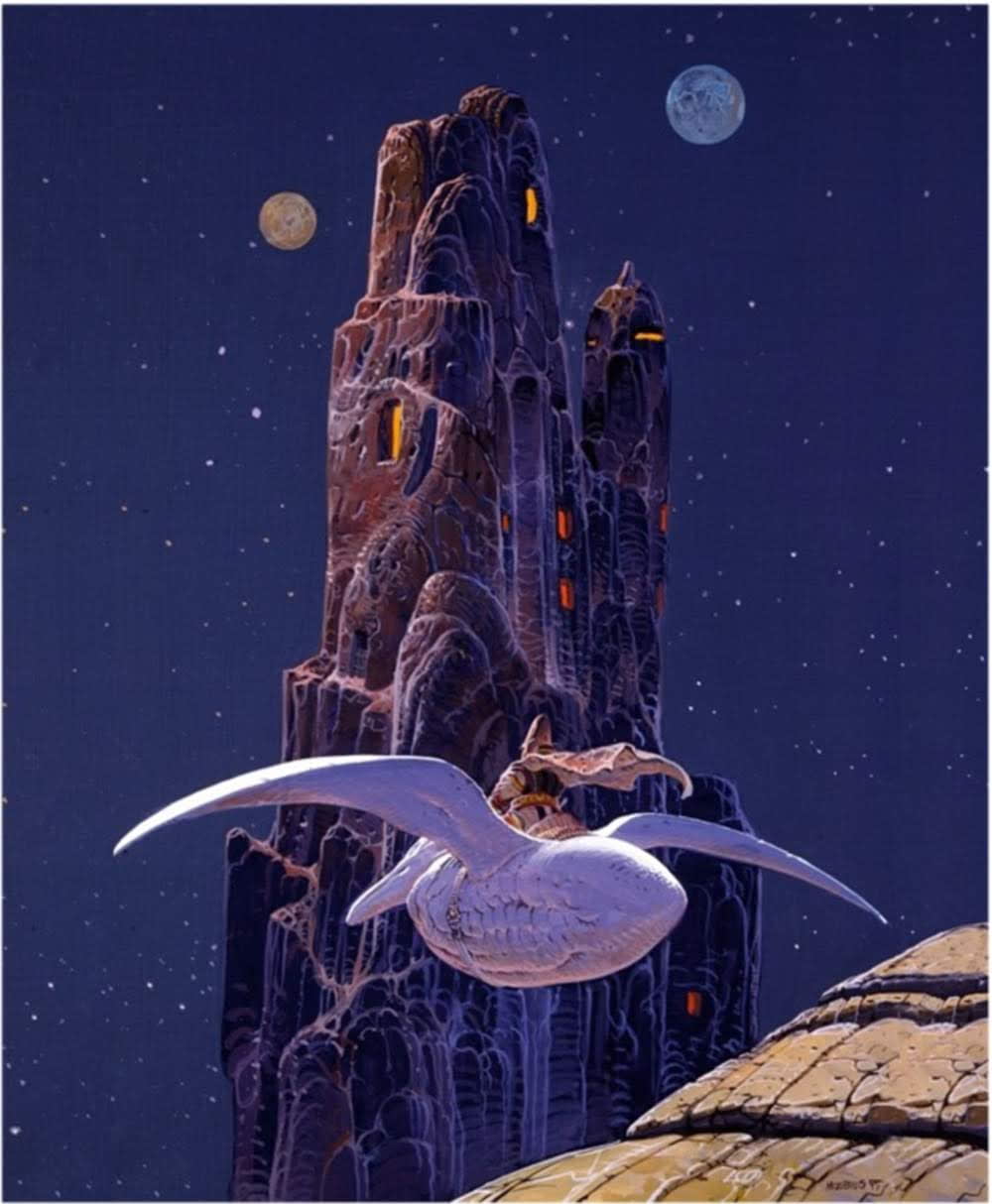 Perspective
An artist's knowledge of perspective is extremely important. Giraud knew this. He felt that depicting realism in art was only achieved if the artist put himself in real spaces, not relying on photographs to achieve the intended aspect. Many of Giraud's pieces look like they're 3-dimensional. The artist pulls the viewer into the artwork making them a part of the story. The print below is from one of Jean Giraud's first and most successful comics, Blueberry. This famous "BD," which he began in the late 1960s under his first pseudonym, Gir, appeared in the French magazine, Pilote. The reader becomes a character in the story, standing on a balcony looking down on the village street below. Giraud continued to work periodically on this comic until his death in 2012.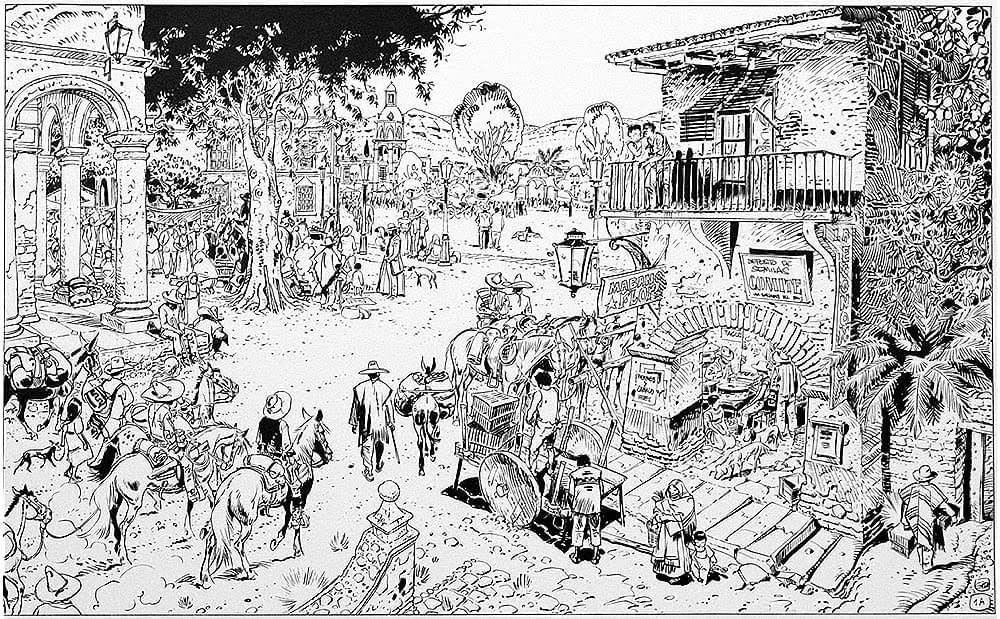 Characters
Whether one looks through Giraud's Western-inspired comic strips or gazes at his sci-fi/fantasy work, the characters within each seem to have a personality. They seem to evoke a story longing to be discovered, an adventure about to begin. Giraud expects the reader to participate in the story. He creates a vison for the characters' lives. From the clothing worn by each character to the details in the surroundings, Giraud brings the stories to life.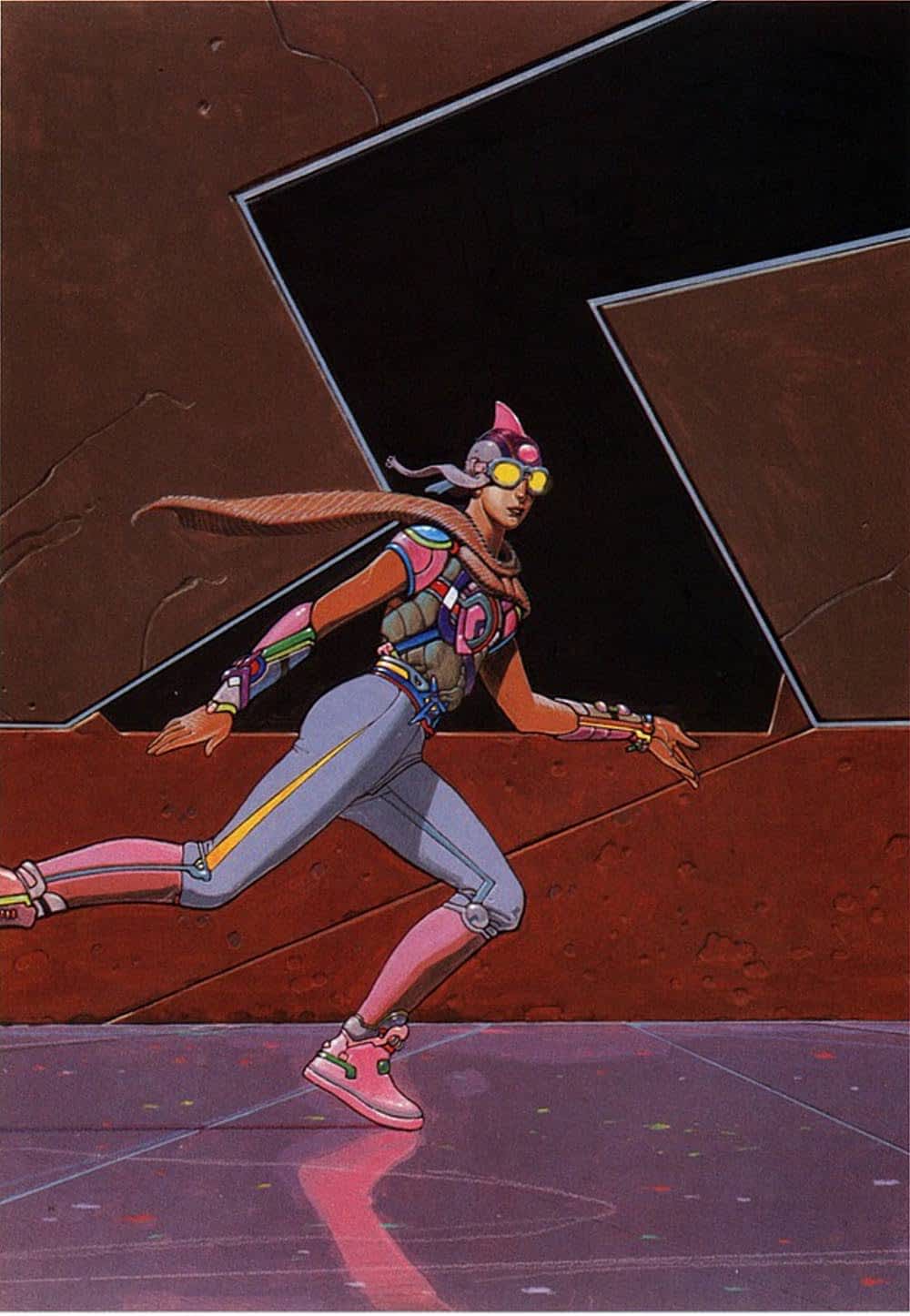 Giraud said, "The rhythm of your plot should be reflected in your visual cadence and the way you compress or expand time. Like a filmmaker, you must be very careful in how you cast your characters and in how you direct them."
Composition and the Importance of Story
Jean Giraud was a master of composition. In his 18 tips for comic artists, he said, "Compositions in our stories should be studied because a page or a painting or a panel is a face that looks at the reader and speaks to him." In his Blueberry comic, Giraud set the scene carefully in each panel, allowing the reader to move through the story effortlessly.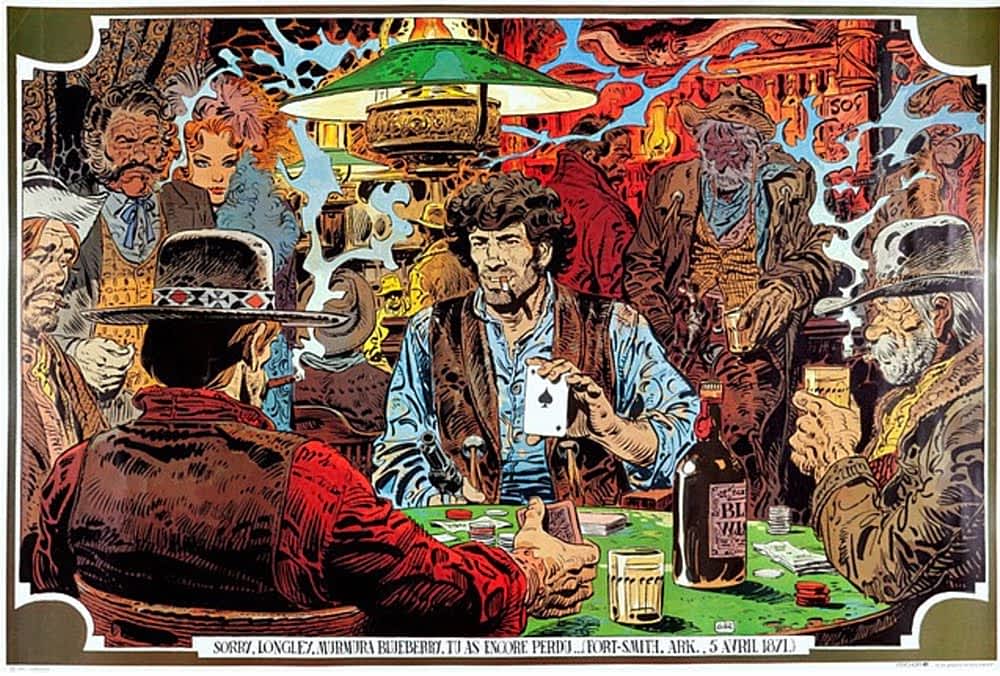 In his forward to The World of Edena, Moebius wrote, "I never give the keys to my stories. My stories are not like a box of spaghetti, and they don't come with instructions on how long you must put them in boiling water before you eat. I deliberately never help anyone, because if I do that, I feel I'm undercutting the pleasure of the reader." He continues, "Besides, if I'm so proud of my work, it must be allowed to stand alone." He leaves it up to the reader to bring their creativity to the story.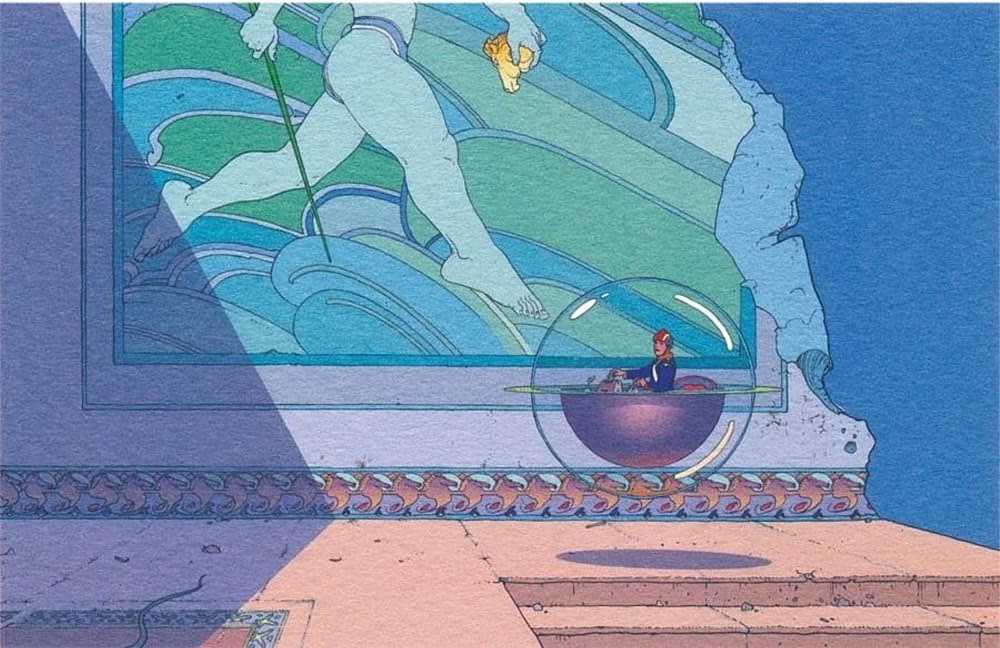 Giraud felt it was the artist's responsibility to capture the reader's attention, getting him "lost" inside the artist's world. "You must study the great painters," Giraud says, "especially those who speak with their paintings. Their preoccupation with physical as well as emotional composition must be studied so that you learn how their combination of lines works to touch us directly within our hearts."
Music and Art
Jean Giraud felt there was a connection between music and art. He used the connection to be open to new experiences and discoveries. As Moebius, Giraud painted several pieces of Jimi Hendrix. The artist's use of psychedelic imagery creates a music of its own. There is a story in Hendix' music as there is a story in Moebius' art. It'can be argued that both artists leave it up to the audience to create the story in their own minds.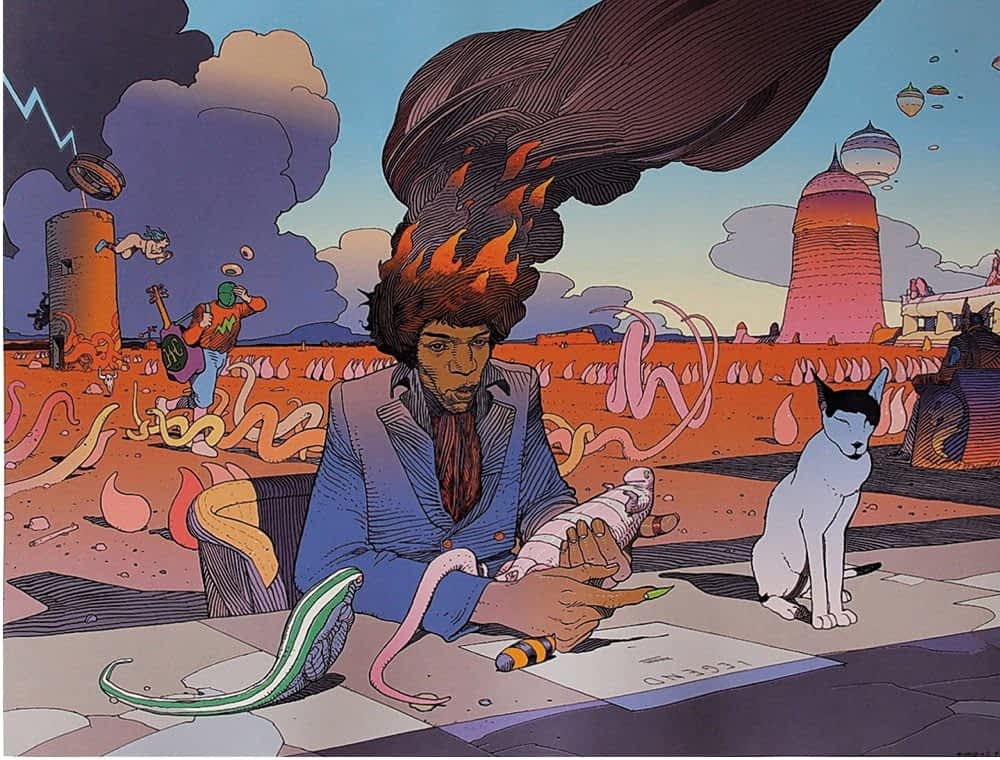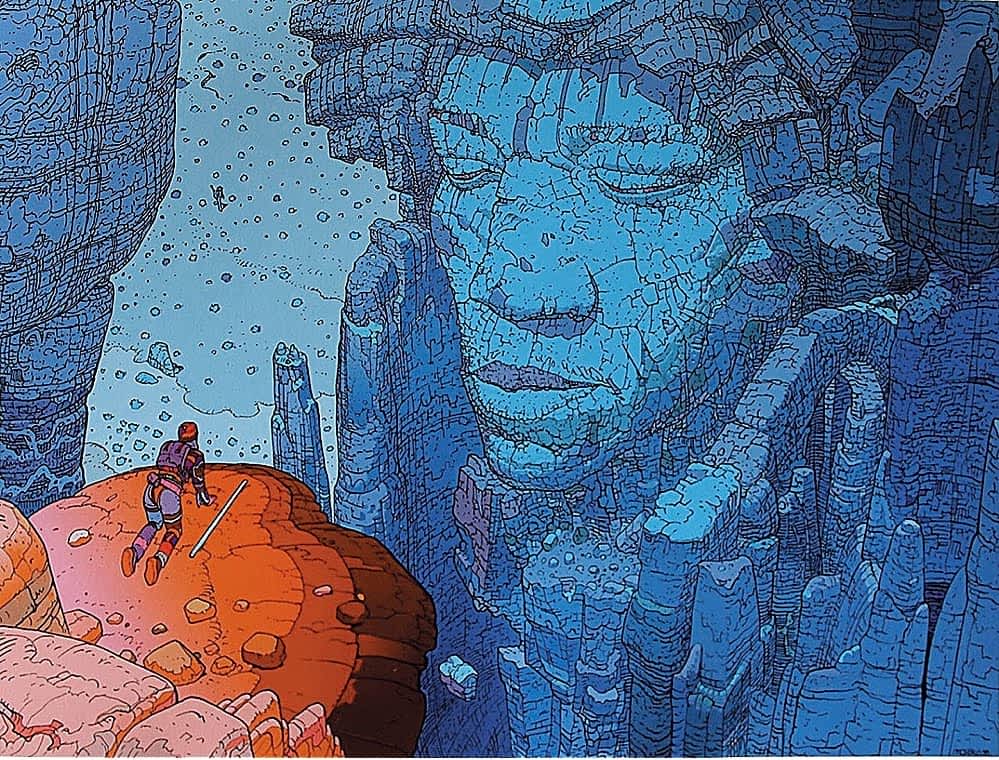 Color
Typically, color is used by the artist to create a certain emotion in the audience. Although, Giraud created many black and white line drawings over the years, it's his works of brilliant color that really stand out. Moebius' use of yellows, blues, reds, purples, and greens help create a beauty and language of their own. The varied colors of Moebius' art mesmerizes and brings life to each character or scene. Emotional depth pervades each piece. Giraud said, "The emotional states of the characters can change or influence the color from one panel to the next, as can place and time of day."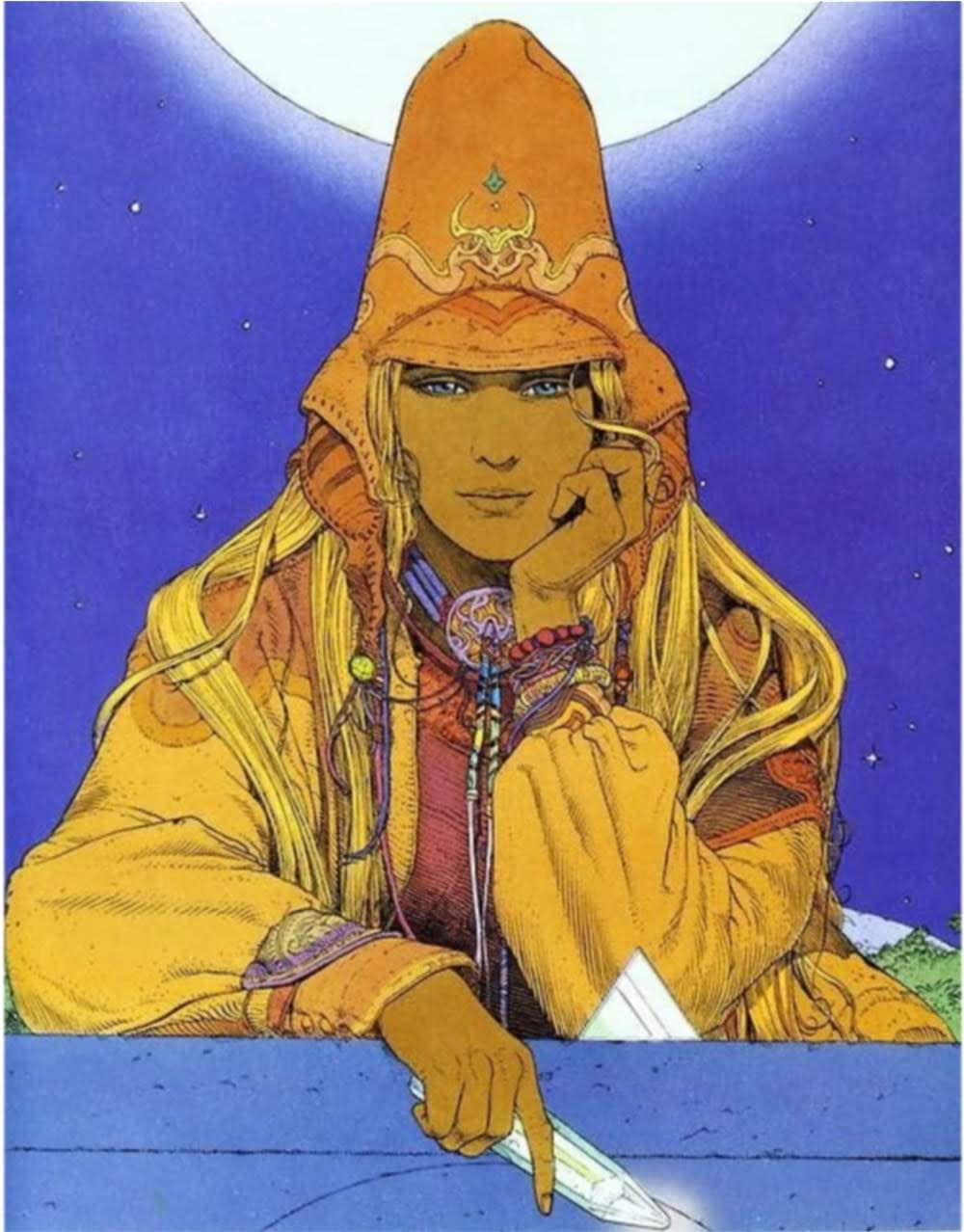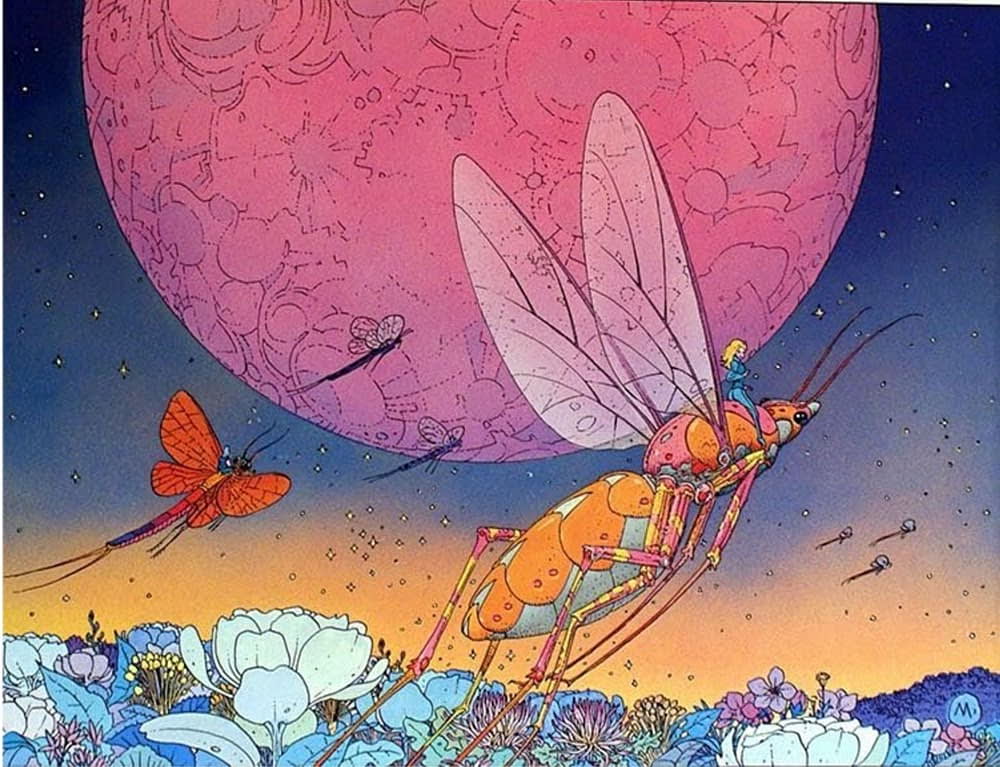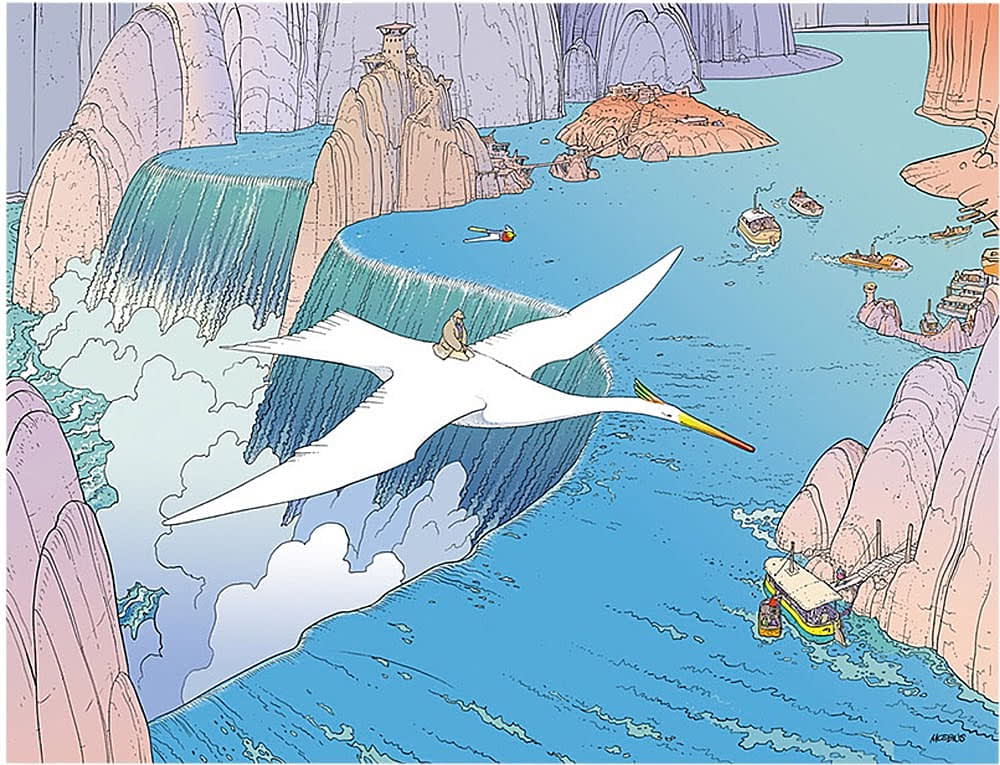 Themes
This quote by Giraud, is very Yoda-like: "By studying the reasons for our failure, only then can we begin to learn." All artists throughout their career struggle with feelings of failure. Sometimes that's due to the choices made. Maybe choosing a subject matter or technique that was beyond the capabilities of the artist causes this feeling. Attempting a project that is much bigger than the artist's ability level or taking on too many projects altogether may result in failure. This very state may be where the term "struggling artist" originated. It's an internal struggle. Additionally, it's a struggle that Giraud experienced but was not afraid to push the boundaries of his craft.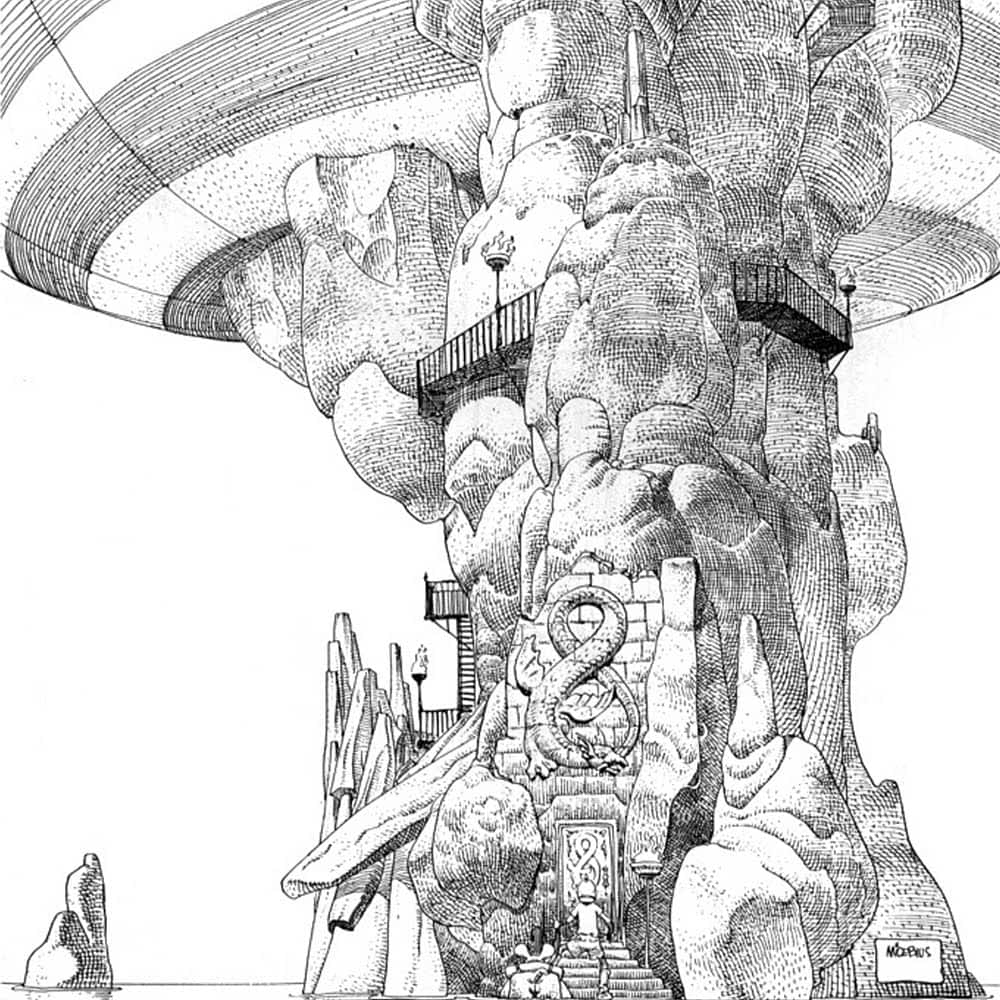 Art as Communication
Even though Giraud felt that art was a form of personal communication, he understood and realized the opportunity art can be used as a medium of communication for the world. His art carries a universal message that breaks down the barriers of language and culture. Art can be a universal language and Moebius, knew that.
Legacy
The impact Jean Giraud, Gir, and Moebius had on the creative culture can be seen in comics, graphic novels, video games, films, and traditional art. Moebius has influenced a generation of artists. Aquamarine, an online video game currently in development by Moebial Studios, is directly inspired by Moebius. Even the company name pays homage to the artist.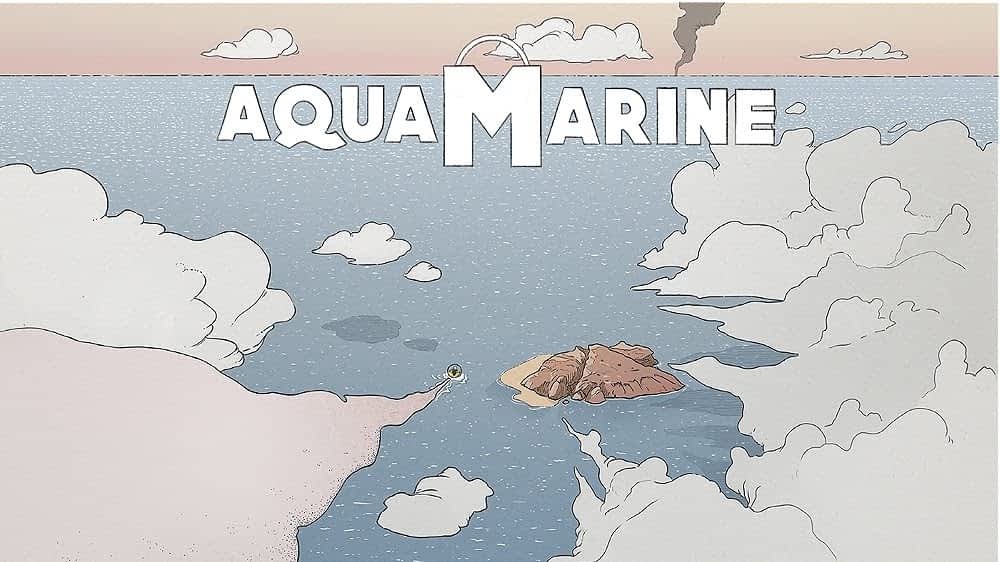 Sable, an online game by SHEDWORKS, also has direct elements of Moebius art.
To learn more about Moebius, the man and his art, BBC Four's In Search of Mœbius proved invaluable as research for this project.
Kendall Schroeder saw the original Star Wars in a small theater in the summer of his 10th birthday and immediately fell in love with the Far Away Galaxy. Pretending to be either Jedi Luke Skywalker or Colonel Steve Austin, the Six Million Dollar Man, Kendall always believed he had special powers. Maybe that's why he truly believes there is good in all people. And, he will stop at nothing to help rid the world of evil. When Kendall is not creating art, he is leading educators as the head of an online school. Kendall lives in West Michigan with his wife and two kids.