Tyrone Johnson and Tandy Bowen are linked through tragedy and pain, but their combined strength and connection make them stronger in Marvel's Cloak & Dagger.
This article contains plot points for Marvel's Cloak and Dagger Season One.
Marvel's Cloak & Dagger Season One, which aired on the Freeform channel, is loosely based on characters created by Bill Mantlo and Ed Hannigan. Cloak & Dagger made their first appearance in Peter Parker, The Spectacular Spider-Man #64 in March of 1982. The inspiration came to Mantlo from a visit to Ellis Island. According to Mantlo, they embodied all the fear, misery and hunger he encountered during a visit to Ellis Island. Unlike many Marvel characters, Cloak & Dagger did not battle costumed baddies like Green Goblin or Thanos, instead, they focused their attention on domestic threats like drug dealers. They sought to bring justice to those who were greedy enough to prey on anyone from children, the poor or the elderly by selling them drugs. No one was turned away if they were willing to pay. Gangs called themselves "equal opportunity drug pushers."
Marvel's Cloak & Dagger Season One, created by Joe Pokaski (Heroes, Underground), has a much different background than the ones portrayed in the comic. In the comics, Tyrone Johnson who is Cloak hails from Boston, and comes from a posh background, while Tandy Bowen calls Shaker Heights, Ohio her home. Tyrone ran away from home when a speech impediment prevented him from helping his friend getting shot by the police. Tandy also ran away, a victim of negligence from her supermodel mother. The two teens meet up in New York City. The television series throws that all out and inserts the story in New Orleans; using the history of the city as the setting in which the story feeds from.
What's Under the Cloak?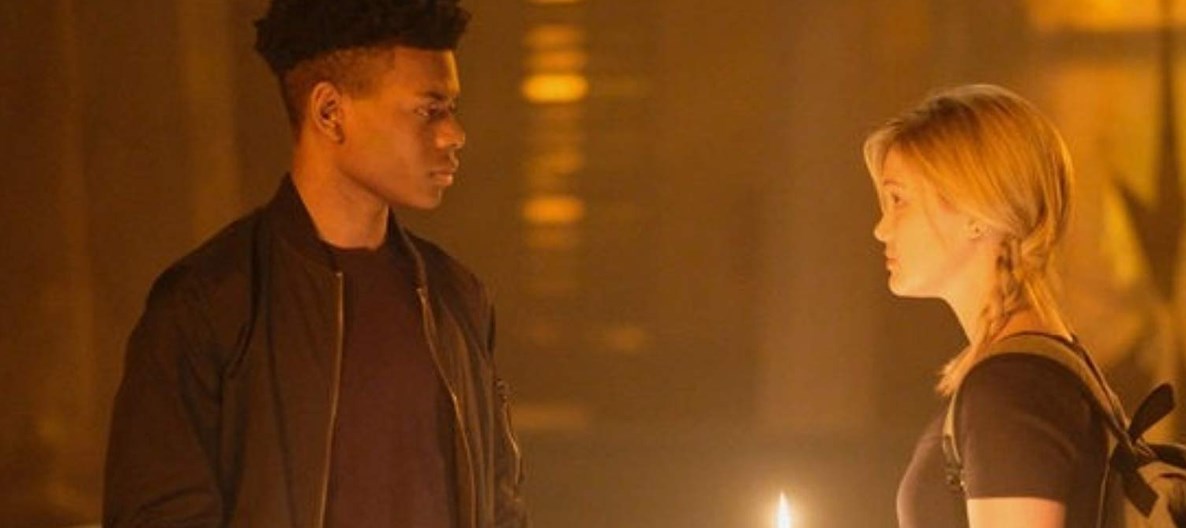 Tyrone Johnson (Cloak), is a 17-year-old honor student and star basketball player at St. Sebastian Prep. His parents Otis and Adina Johnson are hard working successful, loving parents. When Tyrone was a small child his family suffered a tragedy when his older brother Billy was gunned down by a corrupt member of the NOPD. Tyrone is determined to avenge his brother's death.
Tandy Bowen (Dagger), is a 17-year old whose father, Nathan Bowen, was tragically killed in a car accident when she was 6. Tandy's mother, Melissa, spiraled out of control turning to drugs to cope with her husband's death. Tandy, not wanting to deal with her mother ran away and survived by conning wealthy people out of their money or stealing. Tandy also dealt with an addiction to drugs and usually turned to them when things got real.
Evita Fusilier is a high school classmate of Tyrone's and a cheerleader. Evita has inklings about Tyrone's power but isn't quite sure if her feelings are accurate. Evita's aunt is an expert in New Orleans' voodoo history.
Father Delgado, is a school counselor and priest at St. Sebastian. Father Delgado seeks redemption for the choices he made in his past life.
Detective Brigid O'Reilly is a detective for the NOPD who is determined to help Tyrone find his brother's killer.
Is Cloak & Dagger Worth Watching?
Absolutely! From the start it is apparent, Cloak & Dagger means business. This isn't a light-hearted made-for-teens program where a strategically placed wisecrack lightens the mood just as the enemy is about to lay waste to Earth. No, Cloak & Dagger Season One delves deep into the darkest realms of human flaws and shortcomings, but it doesn't just do this once and lessoned learned. It pulls and twists at the insides of both Cloak & Dagger and doesn't relent. Cloak & Dagger are light and dark. While the comics characterize Cloak as the dark one and Dagger as a ray of light, this trope is turned inside out here. Dagger's light is tainted by a dark past and turns to dark deeds to earn her pay. Cloak, despite coming from a solid family, allows his brother's death to consume him.
The chemistry between Aubrey Joseph (Tyrone), and Olivia Holt (Tandy) has been lauded and deservingly so. Each actor possesses the ability to dominate any scene, but when they are in it together it's absolutely memorizing. Both at 21 years of age, Aubrey has a natural smokiness to his persona that fits right in with his character, while Olivia, can be sultry one moment and scheming the next. An issue that plagues some teen-oriented programs, is that of the older actors who tend to overact in some scenes. Other than a couple of moments early on, Cloak & Dagger was able to avoid this. Marvel's Cloak & Dagger aren't The Avengers or the X-Men, and because of that, the creators were allowed to blaze their own trail and a fine job they did.
Marvel's Cloak & Dagger Season One Episode Guide
"First Light" S01E01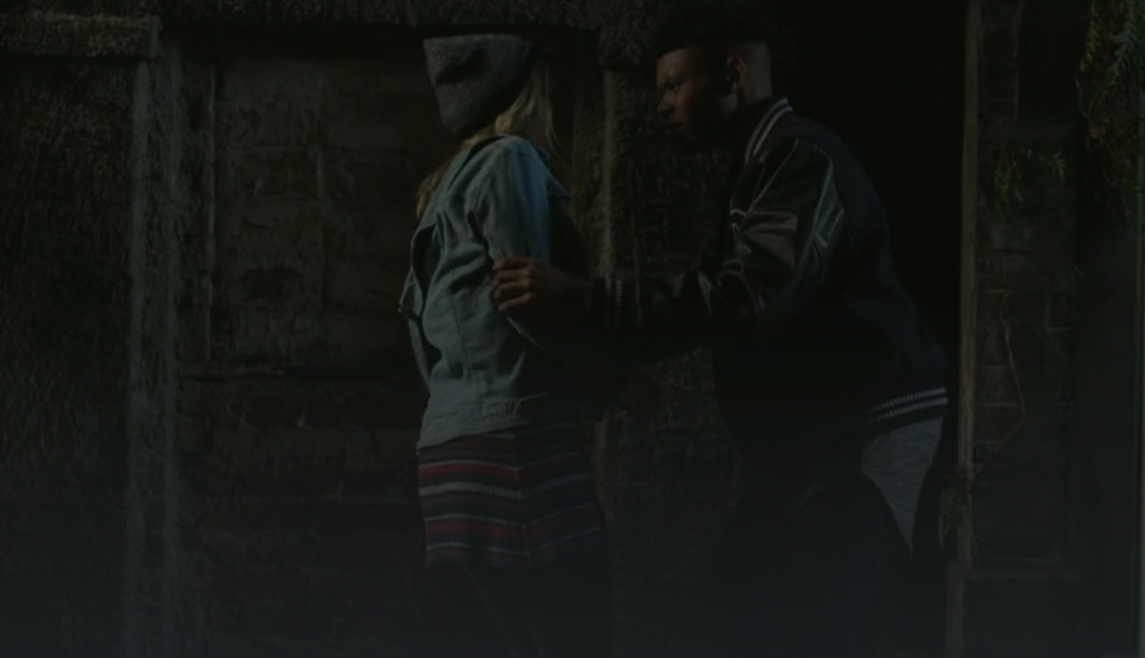 The series opens with Tyrone and Tandy as small children. Tyrone's older brother, Billy is friends with two other teens who are looking to steal back a car radio they feel is theirs. Meanwhile, Tandy is leaving her ballet lessons and waits in the rain for her workaholic father to pick her up. Trying to do his brother a favor, Tyrone steals the radio himself only for him and his brother to get caught by the police. Tyrone witnesses his brother get shot twice then fall into the water. Tandy's father gets into a car accident, and their car falls into the same water below, as a Roxxon rig explodes in the distance. Tyrone jumps into the water to save his brother but fails. Tandy, who is trapped in her father's car underwater struggles to get out. Several scenes throughout this first episode of Tyrone and Tandy cut back and forth and symbolizing how intertwined their lives are about to become.
Marvel's Cloak & Dagger has a much different tone than Runaways, so much so that if there was a crossover, it'd be interesting to see how well it takes. The acting is darker, more real-world, while Runaways is lighter and snarkier—Cloak & Dagger gears towards an older audience which is apparent in the subject matter. Namely, heavy drug use, alcoholism, death, coping with family tragedy, and sexual assault. Early on, Tyrone and Tandy's abilities are underplayed while bringing their human struggles to the forefront. When the two leads first meet at a party the chemistry between Olivia Holt and Aubrey Joseph is magnetic from the onset. Their encounter at the graveyard plants a seed that is about to blossom.
"Suicide Sprints" S01E02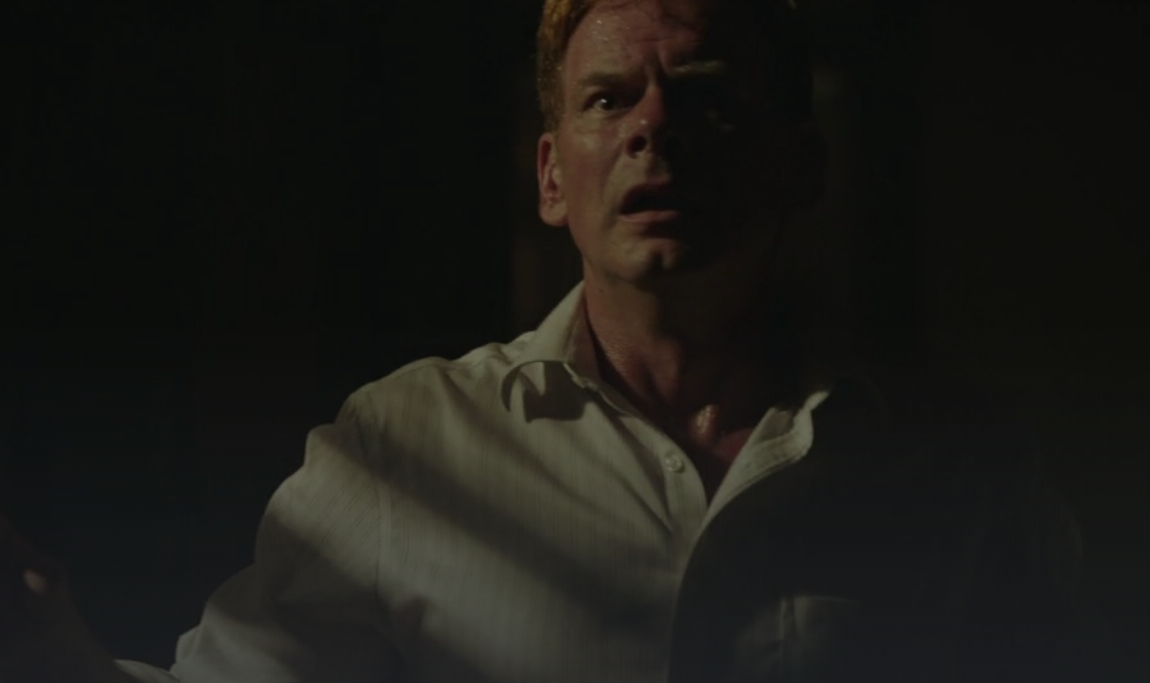 It's apparent from the get-go that the idea here is for the creators to emphasize how parallel the lives of Cloak & Dagger are in a bizarro-like way. Tyrone is desperate to track down the cop who scarred him so badly, while Tandy is scrounging up cash to buy a new identity to leave New Orleans. Tyrone shows up late for basketball practice, and to make it up he shows up after hours to redeem himself. To accomplish her goals, Tandy resorts to stealthily drugging the rich and taking their money or possessions—not afraid to snort her dose.
What one does to deal, the other does the opposite. Tyrone and Tandy's nicknames represent the opposite of their meaning, in turn, it is also a representation of their dual personalities. Tandy's only constant is her boyfriend/partner, Liam. Her mom, Melissa struggles with addiction after her husband's death. After Tandy has a flashback scene, she runs to the bathroom and is consoled by a woman, only for her to become her next robbery target. Just as it looks like Tandy could have a grateful heart, she steals from the one person who showed her compassion. Tyrone is trying to keep his life on the straight while he discovers his powers of transportation and visions of fears in others. He sees his mother's fear of losing both her sons and transports right when Tyrone is about to shoot Conners, the cop that killed his brother. After transporting, Tyrone reappears in front of Tandy as she's driving, pointing a gun at her, Tandy drives off the road. Their lives are chaos at this point, holding on to reality as best they can.
"Stained Glass" S01E03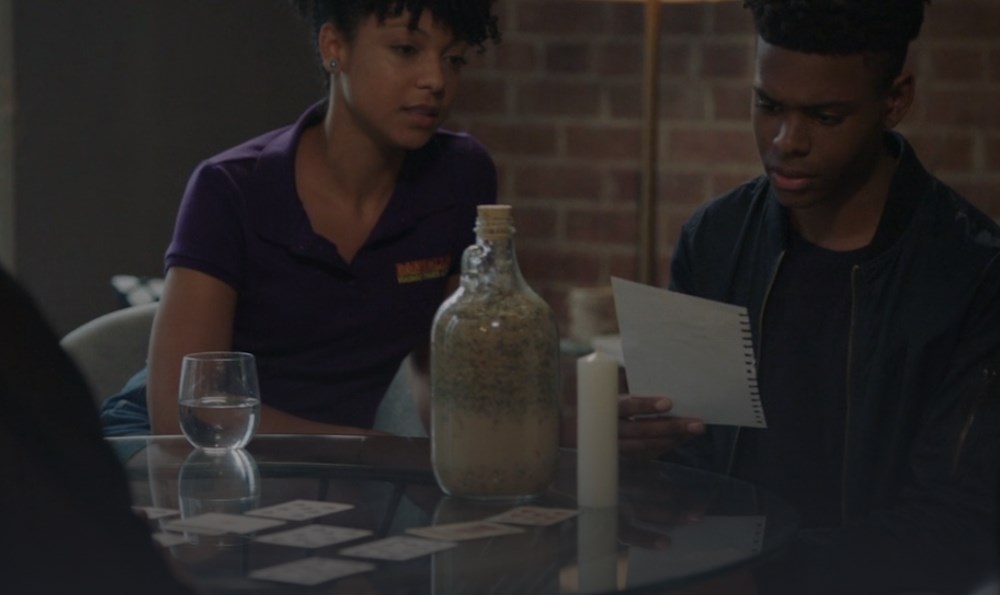 One thing Tandy is excellent at is running away from any situation where she doesn't feel comfortable. Detective O'Reilly arrives at her mother's house, to speak to Tandy but her mom stalls while Tandy sneaks out of the bathroom window. There are hints of the darkness in Cloak that appears in the comics, but he struggles with it; tries to fight it, to overcome it. The night of Billy's death blinds Tyrone. Whereas in the comics Cloak walks the thin line of vigilante and hero. Tyrone and Evita spend some quality time during a tour that Evita is giving on voodoo in New Orleans. Like Tandy and Liam, Tyrone finds stability in Evita. They represent a foundation in each of their lives among the chaos. The weirdness of voodoo and the way these two are linked is a creative way of bringing them together. When Tyrone witnesses Roxxon torturing Nathan Bowen, he attempts to help while Tandy remains motionless—frozen in indecision. Just as she's about to run away, Tyrone uses his cloak to restrain her, "You can't run. You have to try something else." Cloak & Dagger dares to get weird, and it works brilliantly. The idea to use New Orleans as the setting pays off as the history of New Orleans allows for some of the weirdness to become normal. Let the story flow. Because sometimes weird is necessary. By the end of the episode, Tyrone intercepts Tandy returning to her abandoned church and tells her that they need to talk.
"Call/Response" S01E04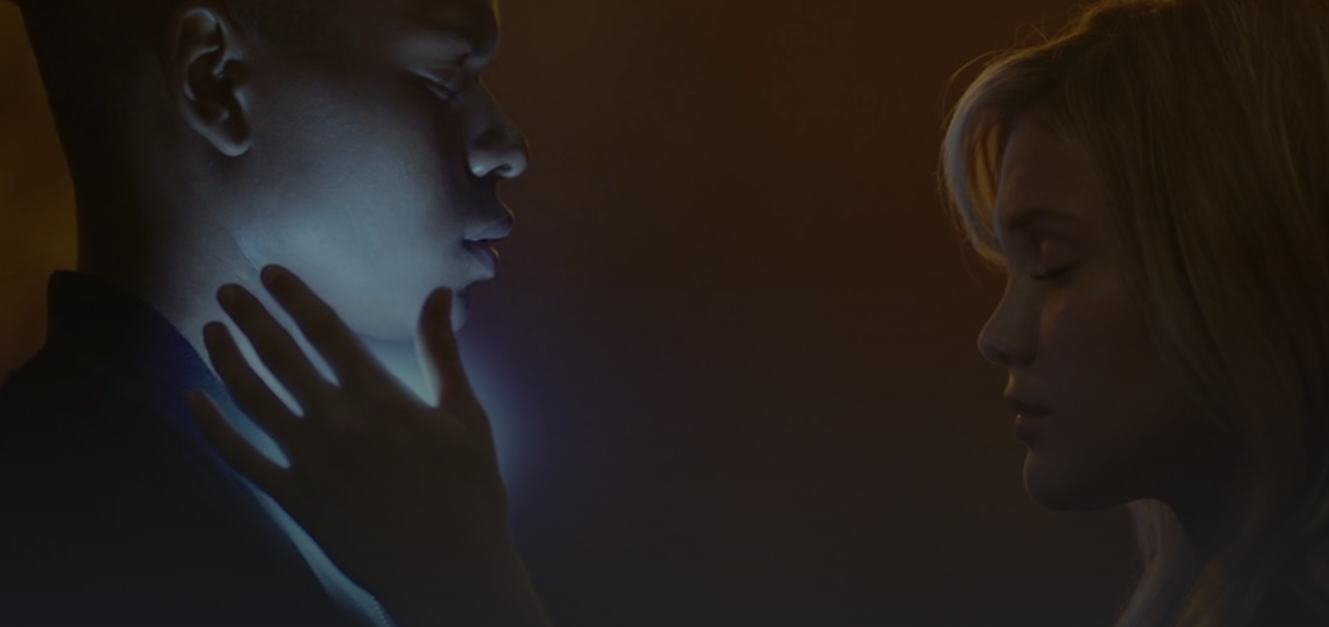 Tandy and Tyrone realize there is a connection between them and try to understand why. Tyrone admits that during the voodoo bath he saw Tandy's answers. Prompted by the responses, Tandy returns to her moms home to ask about her dad. She doesn't remember much of him. Tandy tells Tyrone that when there is skin contact with someone Tandy can see their hopes, which is very hopeful for someone with such a dark past. She sees Greg's dreams of being a chef. Maybe he's not so bad. Greg is a lawyer looking into the case involving Nathan Bowen's work at Roxxon. Tandy softens on him and wants to help Greg. In an attempt to learn more about their powers, Tandy tries to make contact with Tyrone. Before she does a powerful jolt sends them across the room. The chemistry between Olivia and Aubrey is the stuff of veterans. Like they've been working together for years. There's an immediate physical connection; almost a tension. Aubrey and Olivia have the potential of becoming the next famous acting duo. Aubrivia?
Continuing on their scene together there is a physical attraction between the two, with tons flirting going on, with lines like "you got to with those eyes." It's lines like "Can't have God without guilt or vice versa," that separate shows like Cloak & Dagger from the rest because it's smart. Tandy witnesses someone shooting Greg and setting his office ablaze. Tandy admits to Tyrone she's considered suicide. He's not buying it, explaining that as a black man, Tyrone has had to deal with things Tandy never had to. They split in anger and run to what they know for comfort — drugs for Tandy, a workout for Tyrone. The next morning Tandy ties a chain around her ankle and jumps off a pier only moments later to resurface having cut the rope with a dagger of light.
"Princeton Offense" S01E05

No one can ever say that Cloak & Dagger doesn't try to juggle its plotlines, it jumps across perspectives between Tyrone and Tandy. Sometimes it works. Sometimes it doesn't. Tandy is doing some detective work on Roxxon, where her father worked. Tandy shows up at Tyrone's school and tells him that she can control herself and make the dagger of light on command. Tandy acknowledges that she sees hopes in people, while Tyrone see fears. Tyrone transports to one of Billy's friends at his own business. Tandy gets a job as an escort to attend a gala where she knows the head of Roxxon will be. She's there to touch anyone to find the "mystery man at the center of everything." Tyrone transports from the locker room at halftime to the party where Tandy is. It seems they meet up like this when they both need each other the most. This invisible chain links them. Tandy discovers that the man she's been looking for is Peter Scarborough. She arrives at his house, pretending to have a flat tire. He offers to change her tire, and Tandy stands behind him and brands a light dagger. She touches him and sees Peter stealing ID's off of dead Roxxon employees floating in the water. One is alive, and so he kills him. Tyrone during the last seconds of the game comes in contact with opposing players and their fears. Tyrone purposely blows the game as a favor to them. It seems Evita knows Tyrone's power and what he did.
"Funhouse Mirrors" S01E06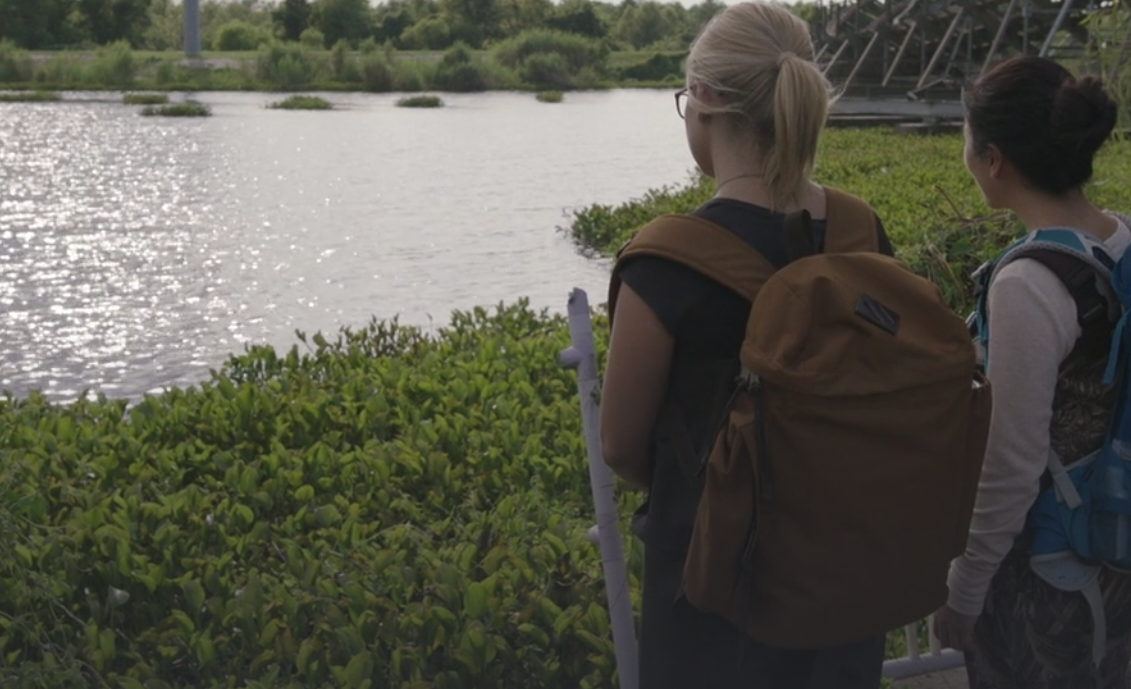 By the sixth episode, Cloak & Dagger Season One proves it can hang with any Marvel series on Netflix. This episode opens with Tandy going swamping to get close to Mina, whose dad survived the Roxxon explosion. Tandy has a way of making opportunities open up for her, while Tyrone is still new to this kind of life. Little by little Tandy obtains more knowledge which brings her closer to what happened in the Roxxon disaster. Cloak & Dagger is as much a comic book series as it is a detective series. It's invigorating to catch a superhero series that isn't devoted in the "super" or "hero" part of the equation; in several ways, Tandy and Tyrone's respective experiences of New Orleans is extraordinary enough.
In quick jolts, for the entirety of the episode and after a little bit of give and take, the conclusion they come to isn't great for Tyrone: "one will live, and one will die." However, there's no telling if the other "one" is Tandy. A more immediate question is what Evita will do with this newfound information. In more than a few ways, Mina and Duane are who Tandy and Tyrone could've been had it not been for their respective adversities. Cloak & Dagger has carved out a comfortable slot for itself. It's a superhero/drama that doesn't rely on the expectations of either genre. And if the show can continue its momentum, it'll be worth seeing where it takes us.
"Lotus Eaters" S01E07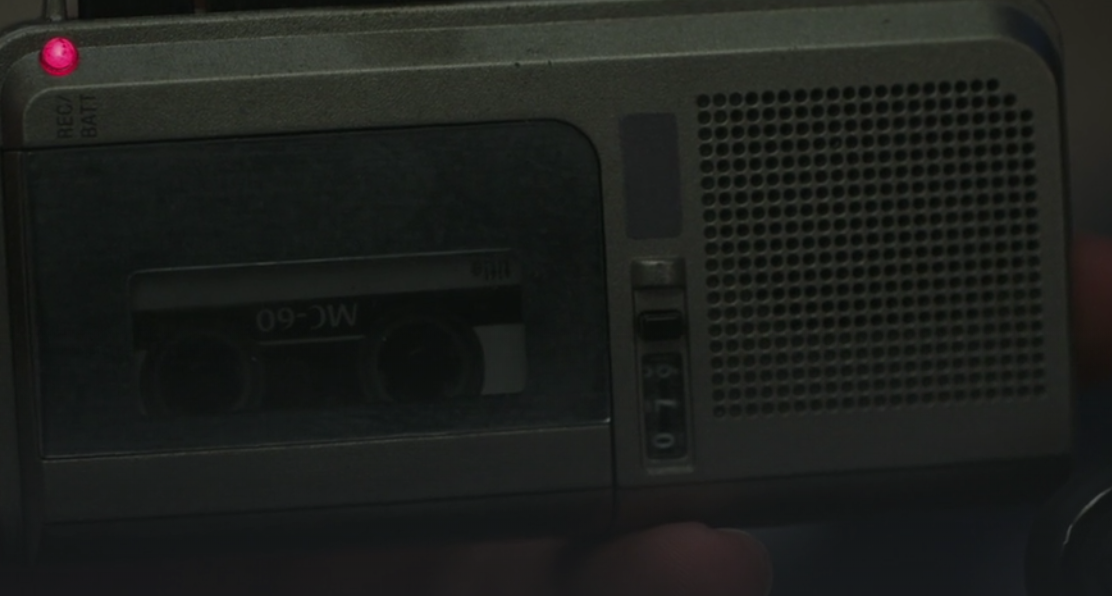 As impressive as Cloak & Dagger Season One has been thus far, there are some cringe-worthy moments. For example, the way Mina's father speaks to her comes off as patronizing. It's almost a given in shows where the main characters are teens or younger. It's very Hallmark Channel-ish. These moments are luckily few and far between. Tandy recruits Tyrone to help her peer into Mina's catatonic father. They transport to the night the platform blew up. Now that the season finale is only a few episodes away, it's safe to say that Cloak & Dagger has quietly rewritten the network television hero genre—but with an overt emphasis on a lack of extravaganza.
The handheld camera is a nice touch. It brings that documentary feel which is used extensively throughout the series. On the rig, they're in a time loop that resumes every time the rig explodes. Tandy won't leave because she's able to speak to her dad on the phone. Cloak & Dagger use this dream sequence to dig even deeper into the characters. It's all very subconscious. Up to episode seven, there haven't been any significant battles. The show's effects are minimal. Seemingly significant characters disappear for whole arcs at a time. There are no apparent love interest to be saved, or reputations to be earned or re-gained, and neither Tandy nor Tyrone is interested in protecting New Orleans—nor is New Orleans, as it's depicted, interested in being saved. However, what is seen time and time again, over the past few months, is a show about some messy teens who've acquired even messier powers.
The episode ends with a poignant moment between Tyrone and Tandy on the phone. Tyrone calls her after finding a recording of Billy, and when Tandy asks once, and then once again, why he's calling, Tyrone says, "I just needed someone to talk to, someone who would understand." (Someone who is, apparently, not Evita.) They both listen as Tyrone and Billy boombox with one another. When the recording ends, Tandy asks Tyrone to play it again. It's only a matter of time until their feelings spill out.
"Ghost Stories" S01E08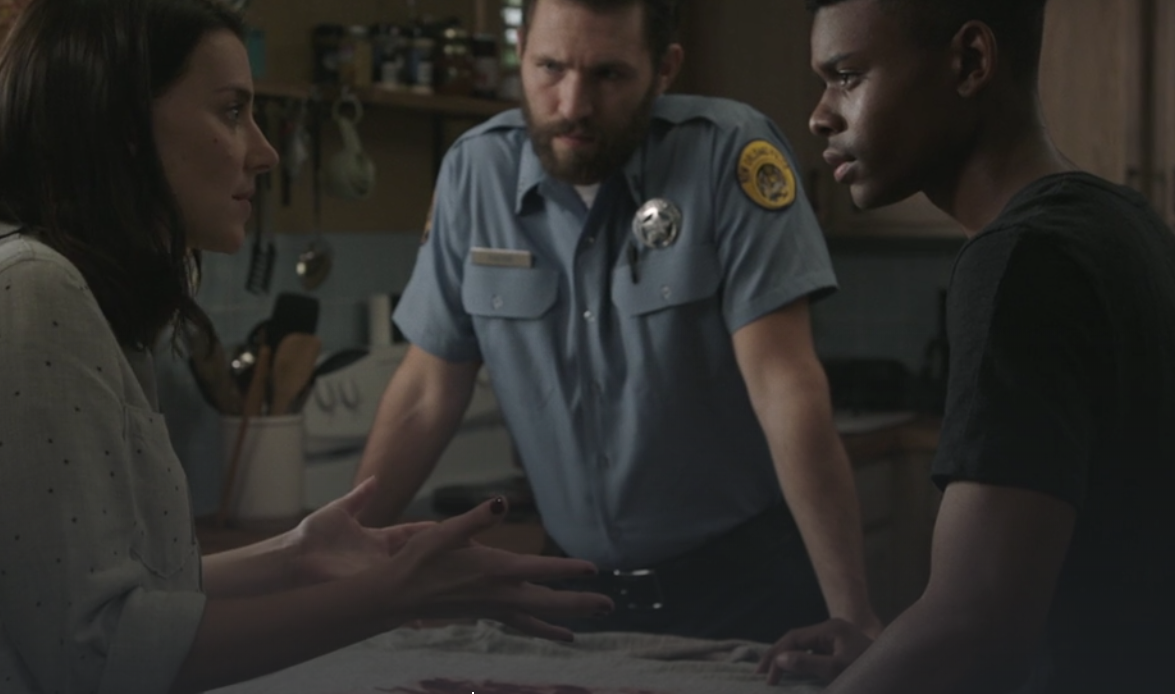 This week's episode is the eighth anniversary of the Roxxon rig's explosion — which means plenty of flashbacks, but also a look at the different ways that families deal with grief. However, because the setting is in New Orleans, there's no mention of death without ghosts attending to it. Melissa seems to have turned a new leaf and is attempting to clean up her life. Her and Tandy sift through old pictures of Nathan. The Johnson household is also dealing with grief. Otis invites his friends over for a Mardi Gras party as one of them explains the importance of a cloak. "A cloak hugs you. A cape is just an add on to a shirt." The cloak imbues the sensibilities of New Orleans. Tyrone's conversation with his father's friend is illuminating, and it's one of the more valid superhero explanations in a long time. Whether Dagger gets anything as touching remains to be seen.
Officer Fuchs has agreed to help Detective O'Reilly on her case. For once, it looks like she'll have a true friend to help her do her job. Tyrone tricks Conners into confessing to the murder of Billy, while O'Reilly gets it all on tape. Meanwhile, Tandy is engaged in a mission of her own. After breaking into Roxxon, Dagger finds the memo she's been searching for. However, once she runs into Peter, who is wandering around the building, Tandy is hardly as subtle as Tyrone with her victim. With both of their missions accomplished, Cloak & Dagger reconvene at the beach for the memorial with Tandy's mother. It was a very New Orleans episode. So it becomes rapidly apparent, very early, why the series doesn't rely particularly heavily on visual effects. However, where this might be a death blow for another hero franchise, it only forces Cloak & Dagger to lean on its writers who are very good, because it's a character drama at heart. Poor O'Reilly comes home only to find Fuchs stuffed in the refrigerator, bloody and quite dead.
"Back Breaker" S01E09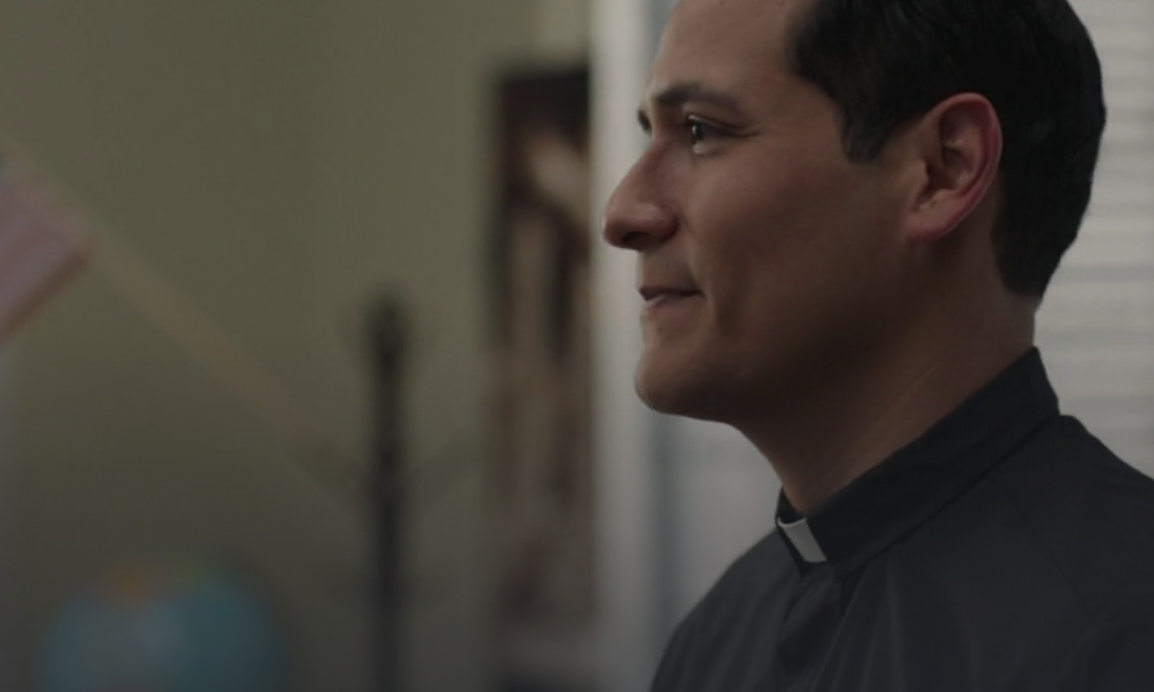 "Back Breaker" begins with Father Delgado teaching Evita's class about the hero's journey, narrating over scenes of Tyrone and his mother struggling with their demons. "If your hero is going to be an actual hero, it has to be born again, from nothing." On another part of the city, Detective O'Reilly looks on as the NOPD cleans the remains of Officer Fuchs from her fridge. Offhand, O'Reilly notices a bloodied police baton tucked (sloppily) under the sofa, but the NOPD immediately snatch it and hustle her out of the room. The cops gather at a bar and talk about Fuchs' death. Conners toasts Fuchs, just as O'Reilly whacks him on the back of the head with a club. He then commences to beat her. What's disturbing here is that the bar full of men cops who stand around and do nothing as they watch a male cop beat a woman. The killing of Fuchs would be on-brand for the NOPD in this series. On the one hand, Adina's sees what Tyrone is doing is putting himself in harm's way, but in Tyrone's mind if he doesn't do what he thinks he must, then Billy's death will be in vain. There are two very different points-of-view. Not only one of mother/son but of generations. Tyrone is young whose idealist mind envisions what's wrong must be righted without question. By the end of the episode, the same hired killer that killed Greg now shows up at Tandy's house and threatens to assassinate Melissa. Scarborough sends his regards. This "trained killer" is one of the weaker points of this episode. For a trained killer, she' rather easy to take out. "Back Breaker" was, in all areas, the best episode yet. Every (living) character was present. Every loophole came to a head.
"Colony Collapse" S01E10

The final episode of Cloak & Dagger's first season, "Colony Collapse," had a lot to achieve. Tandy and Tyrone had to save New Orleans from Roxxon's plague, and expose Roxxon for what they are and what they did. Tyrone wants/needs to clear his name. Tandy wants to clear her father's name once and for all. O'Reilly needs to get to work on her situation at the police department, Evita and her aunt are chronicling the city's plunge back into darkness, and Mina is burdened with saving what she could of her company. As it stands, resolving all of these arcs would've been a heavy undertaking for any series finale. However, as has been the case throughout this season, sometimes the franchise's ambition and penchant for weaving narratives get ahead of itself—which is precisely what happens here. However, threading the past with the present is how the finale attempts to weave all of its tangents together—stories from Evita's aunt glue each of the episode's scenes. O'Reilly and Tyrone get arrested, and the cop standing guard presumes to call Tyrone "boy." A very racist term.
Earlier in the season, Tandy discovers that strange energy that Roxxon was searching for had infected workers on the rig. Which also gave Tyrone and Tandy their powers. Now the rig workers act like zombies and are attacking the police station. That so-called professional killer pops up again; she is a bargain basement deal. Auntie says every time New Orleans has had a catastrophe it has come down to 2 people, called "The divine pairing." Cloak & Dagger finally show off their powers in full when they fight off some zombie rig workers. They've become a good team despite the little time they've spent fighting together. Conners confronts them, but make quick work of him as Cloak envelops him inside his cloak. Working together, they use their powers to discharge Roxxon's excess energy, and their efforts push it all out of the city leaving them sprawled on top of the Superdome. Just that quickly, maybe a little anticlimactically, the episode comes to an end. Tyrone goes on to live in the church with Tandy, that way they can watch over the city as superheroes do. In Marvel fashion, there is a scene after the initial "ending": O'Reilly emerges from a swamp across town after her "death," prompting the question of what here abilities are, and how much hold she has over them. Presumably, this is where Detective O'Reilly takes on the persona of Mayhem. The stakes established in the last episode were too high for any season finale to conclude in one event; however, Marvel's Cloak & Dagger's conclusion could've been worse, and the flashes of brilliance that surfaced throughout the season are reason enough to tune in for another season.
Marvel's Cloak & Dagger Season One—Verdict
Marvel's Cloak & Dagger Season One had little expectations going in. The characters were virtually unknown except to those diehard Marvel fans. Because of this, the creators were allowed free-reign to pretty much write their own stories without being chained down by their namesake. Cloak & Dagger is possibly the best comic book series not on Netflix. Not quite up there with Daredevil, but leaps and bounds over Iron Fist. With season two just starting, expectations are higher but with producer Joe Pokaski at the helm, there's no doubt Marvel's Cloak & Dagger is off to a strong start.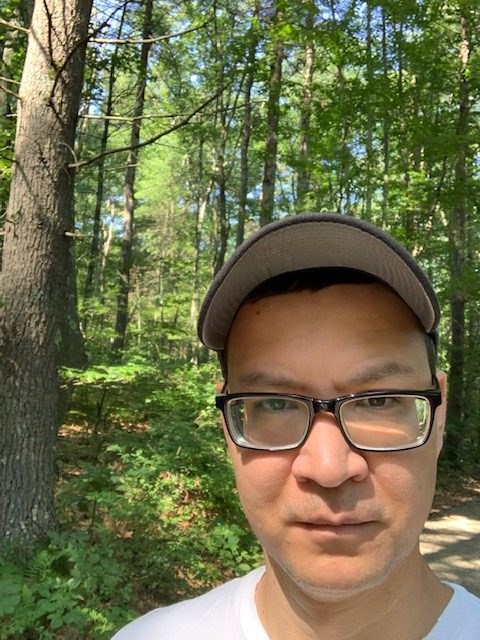 Once upon a time in a town no one's heard of, there lived a boy who enjoyed Star Wars from the quiet of his bedroom. A time came when a new comlink allowed the boy to hear that there are others like him. Overjoyed, the boy wanted nothing more than to join in the conversation. So he did. The rest is HIStory. Besides Star Wars I also enjoy Marvel and Game of Thrones (I dabble in all sorts of geeky fun). You can find me on the couch watching one of several streaming services, reading or writing. Let's go, Bruins!