Mace's adventure to Hissrich ends on a strong note in Mace Windu #5.
This article discusses plot elements of Mace Windu: Jedi of the Republic #5.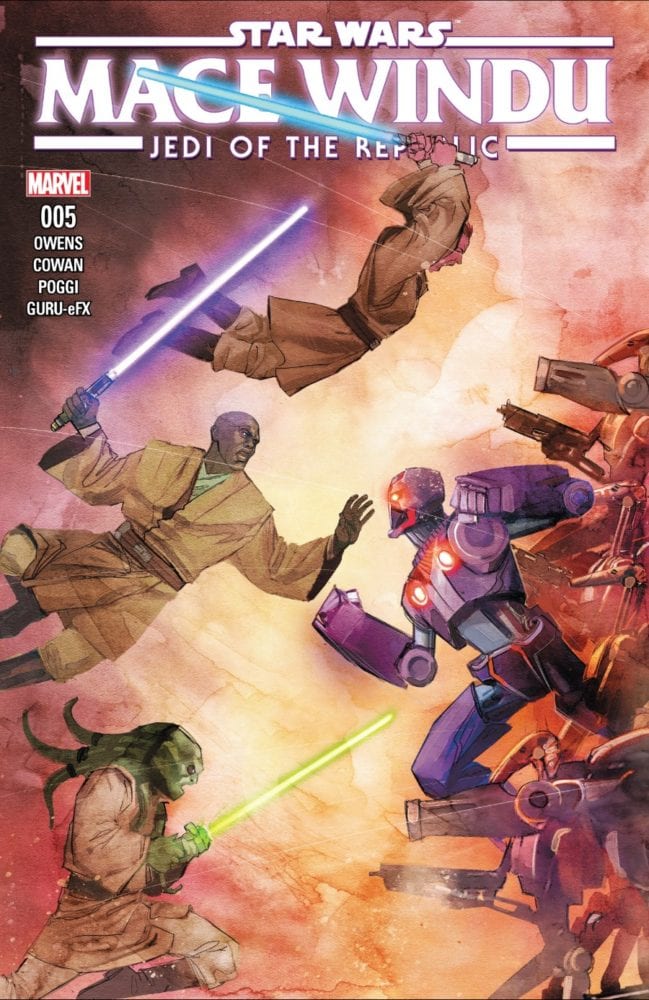 Mace Windu #5
Writer: Matt Owens | Penciler: Denys Cowan | Inker: Roberto Poggi | Color Artist: Guru-eFX | Cover Artist: Rod Reis | Letterer: VC's Joe Caramagna | Assistant Editors: Heather Antos & Charles Beacham | Editor: Jordan D. White
With the Star Wars limited series produced by Marvel, there have been stories that have been superior throughout, some that were average, and some that were weaker. Occasionally, an otherwise average story ends on a high note. Mace Windu #5 is an example. What started as a promising story with Mace Windu leading a Jedi strike team at the beginning of the Clone Wars found itself mired in an internal matter. However, Mace Windu #5 ties up the series nicely and offers a little redemption for the series as a whole.
Concluding the Mission on Hissrich
In the previous issue, Mace Windu and Jedi Knight Prosset Dibbs came to blows over a difference in Jedi philosophy. Windu ultimately won that battle and subdued his subordinate. With that behind them, Mace, Kit Fisto, and Jedi Rissa Mano conclude their mission. Kit Fisto distracts the many battle droids at the Separatist headquarters while Rissa sabotages their transport ship. Meanwhile, Mace confronts and defeats AD-W4, the mercenary droid and Separatist commander.
This was a fairly tidy end to the mission itself. Kit Fisto took advantage of his fight with the battle droids to offer a lesson on the wildlife of his home planet, Glee Anselm. There is a lesson in his lecture concerning a beast that secretes neurotoxins from its back. However, that lesson is likely lost on the battle droids.

AD-W4's Accusations
During their duel, AD-W4 admonishes Mace. The droid claims an understanding of the Jedi general. AD-W4 believes that Mace relishes his role as a general, and alleges Mace uses this role as an outlet for his anger and an excuse for violence. Naturally, once Mace defeats AD-W4, he refutes his claims. Mace believes in a definitive right and wrong, good and evil. AD-W4 picked the wrong side, and Mace made his pay. The question is whether AD-W4 was right.
The hubris of the Jedi lead to their downfall. The prequel trilogy taught Star Wars audiences that. However, Mace Windu is correct in this matter. Stealing the energy resources of the people of Hissrich is simply evil. That is what AD-W4 and the Separatists were doing. The Jedi put an end to it.
A Final Piece of Jedi Business
The Jedi's role in the Clone Wars is more appropriately questioned in the closing pages of the book. Prosset Dibbs faces trial by the High Council for his betrayal of Mace Windu and heresy. He offers no excuse and asks for no mercy. Instead, Prosset hurls his accusations at the Jedi Councel once again. He believes they "bastardized the teachings" he holds dear for their own means. Prosset goes so far as to point out that only a blind man can see it.
Although it is difficult to deny the Jedi of this time period had their faults, Prosset's accusations ring largely hollow. He cites no evidence for his claims in this series. Indeed, he largely disagrees with the role of the Jedi. Prosset fails to outline exactly what he thinks the Jedi Council's "own means" are. He simply believes them tyrants. Owens wrote him as bitter an angry, and he did well doing so. However, the bitterness doesn't seem justified. The source is elusive.

Windu's Judgment
Despite the Jedi Counceil finding Prosset guilty, Windu defends him. He claims that Prosset is a victim of the war and his anger and confusion got the best of him. Therefore, he moves that Prosset serve the Jedi in the library so that he might find his way back to the light of the Jedi Order.
In response, Prosset demands the Jedi kill him. Prosset seems determined in becoming a martyr. Of course, that is not the Jedi way. Indeed, Mace counsels Rissa that Prosset may yet come around, and if he does, they will need his help to face "what is coming."
What is Coming
Rissa asks the obvious follow-up question: what is coming? Windu responds, "Hardship. Trials like we have never faced before." He then consoles Rissa that they will do what they have trained for their entire lives. They will trust in the Force and defend all peoples, and not just the people of the Republic. If this doesn't sound like the duty of a Jedi, then what does? Prosset may be correct. The Jedi might have become blind to the threats of the galaxy. Their role in the war might be misplaced. However, Windu's speech demonstrates that their ideals are still pure. As for the execution, that is another story.
Final Thoughts on Mace Windu #5
Overall, Mace Windu was a series that could use some fine tuning. The Jedi adventure to Hissrich was an interesting idea. However, many readers are already familiar with the Clone Wars from the animated television show of the same name. Therefore, this series needed to be something different. It was, but it wasn't incredibly appealing.
Mace Windu #5 ends with an incredible montage of panels. As Mace outlines the Jedi responsibilities going forward, images of war, peace, and politics appear. The first panel features fan favorite Ahsoka Tano, Asajj Ventress, and Padmé Amidala. Anakin and Padmé share a tender moment in another panel, and Chancellor Palpatine addresses the Senate in yet another. These were some of the best illustrated panels of the series.
In conclusion, Mace Windu was a valiant attempt in telling a story of the Jedi during the Clone Wars and their internal conflicts. Unfortunately, it lacked the space and time to truly develop the narrative it needed.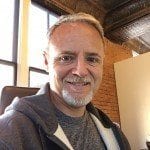 Dennis Keithly is a graduate of the University of Missouri, North Texas attorney, husband, father of two, and co-host of Starships, Sabers, and Scoundrels. In addition to Star Wars, Dennis is a fan of science fiction, fantasy, and super heroes in general. When not engaged in fictional universes, Dennis is reading a good book or watching the NHL, football, or studying the NFL draft.