The tables are turned on Lando and L3-37 as their smuggling run to Kullgroon gets complicated in Lando: Double or Nothing Part II.
Warning: This review includes plot points for Lando: Double or Nothing Part II.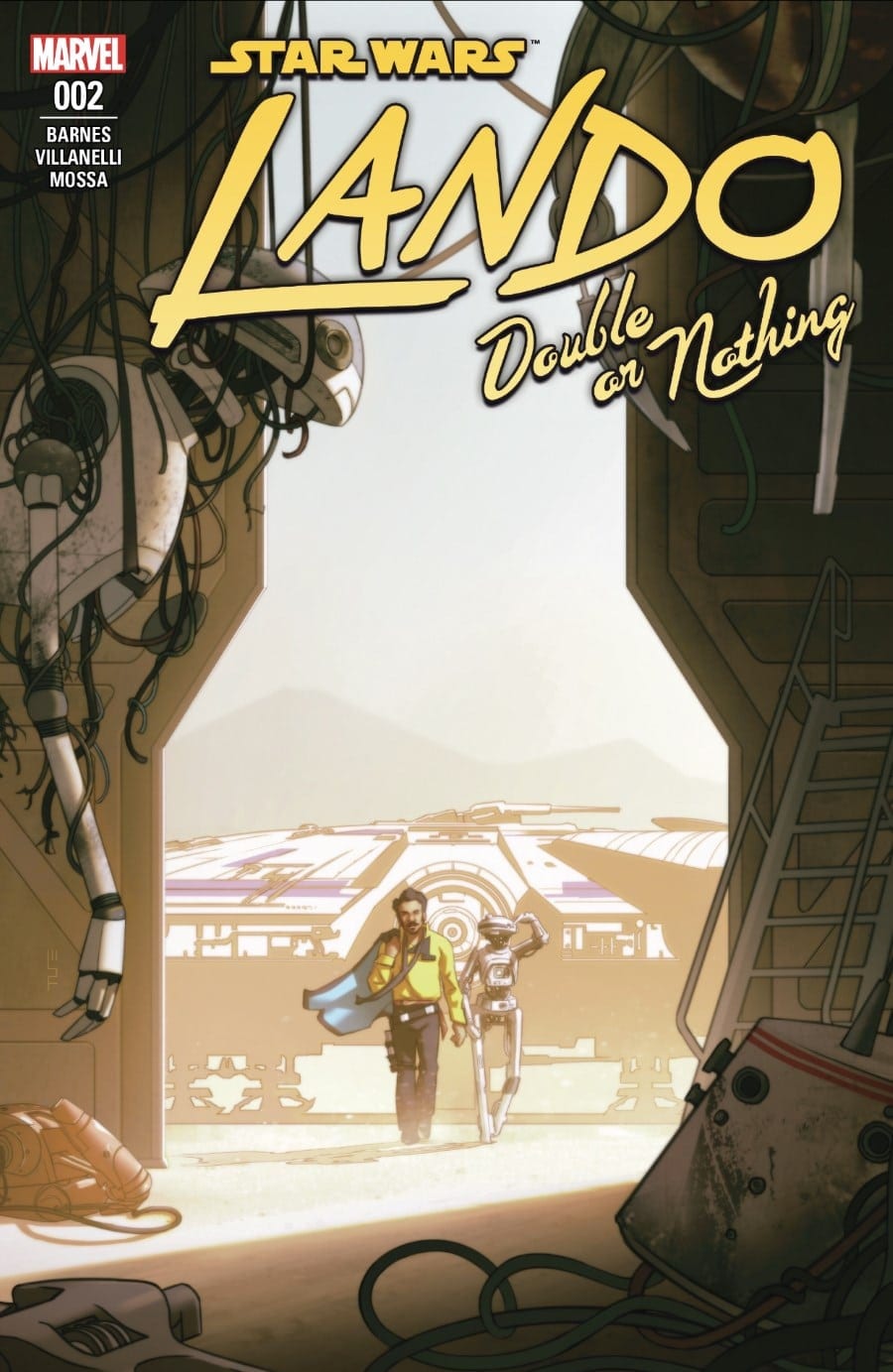 Lando: Double or Nothing Part II
Writer: Rodney Barnes | Artist: Paolo Villanelli | Colorist: Andres Mossa | Letterer: VC's Joe Caramagna | Cover Artist: W. Scott Forbes | Assistant Editors: Heather Antos & Tom Groneman | Star Wars Group Editors: Jordan D. White (with Mark Paniccia)
Lando proved himself as a shrewd negotiator in the previous issue and took a job smuggling weapons to Kullgroon. Hired by Kristiss, Lando agreed to the job on the promise of a big payday necessary to pay off debts. However, the Empire infests Kullgroon. The job just got much more complicated. Now, Lando has a choice to make: profit and loyalty or safety. In Lando: Double or Nothing Part II, Lando must use all his skills to deliver the cargo and collect his pay. Then everything goes wrong.
An Old Smuggler Trick
In a rugged and used galaxy, Lando stands out as polished. Don't let that fool you. Lando and L3-37 just out maneuvered the Empire in the prior issue. Now they need to get to the planet. In a nice nod to Solo: A Star Wars Story, Lando records an episode of the Calrissian Chronicles before plotting his next move. That next move is an old smugglers trick. Lando powers down the Millennium Falcon to avoid Imperial detection and then drifts into Kullgroon's atmosphere. This maneuver seemed familiar. It is similar to Han's maneuver in The Empire Strikes Back when Han powered off the Falcon and floated away with trash the Empire was dumping. It also was reminiscent of a maneuver Hondo Ohnaka advised Hera to use in the final episodes of Rebels to slip past an Imperial blockade.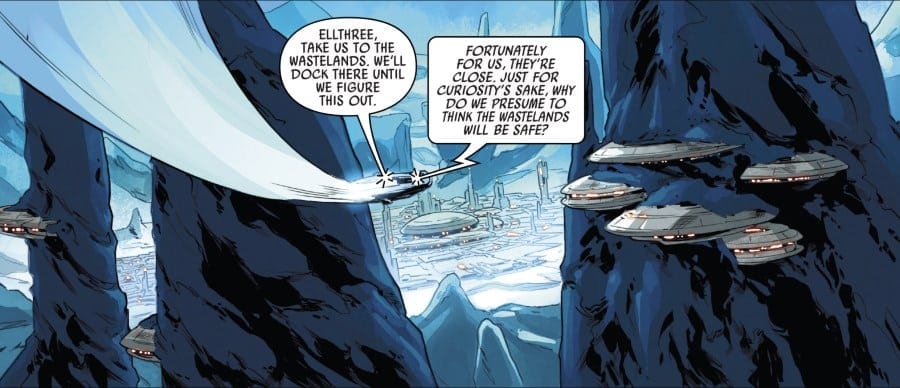 The Wastelands of Kullgroon
Kullgroon fits into the Star Wars galaxy naturally. The first views of the planet offer glimpses of cities and structures built into rock spires. Kullgroon fits in nicely with the look of Vandor from Solo or Eadu from Rogue One. They can't land here though and need someplace to reassess their situation and plan their next move. So, they head to the Wastelands. The Wastelands look like some sort of graveyard for obsolete or damaged droids. It is a nice touch and recalls the used look of the original trilogy. Kristiss and L3-37 each have a plan for getting into the camp where Kristiss's father is held, and Lando asserts his authority by electing to do both. After some frustration, L3-37 encourages the trio to split up after they nearly come to blows.
Splitting Up is Hard to Do
Perhaps splitting up wasn't their best plan. The Empire apprehends Kristiss quickly. Lando considers abandoning her and taking off with the weapons. However, L3-37 reminds her that such a course won't cover their debts and the weapons would be hard to move. Their conversation highlights their personalities. Lando is an opportunist. This job first offered easy money. It isn't the case now. Therefore, he is ready to skip on the plan. But, as audiences saw in The Empire Strikes Back, he has a conscience. Much like Chewbacca does for Han, L3-37 coaxes him into making the right choice and demonstrates her practicality.
Lando soon finds himself pursued by raiders. Again, his personality rises to the surface as he wisecracks and tells an amusing story meant to demonstrate his swagger and toughness. After subduing the first batch of ruffians on foot, he finds an old speeder and takes to the sky. Things start well, but he ends up crashing his ship, which is followed up with being taken into custody by the raiders.

Concluding Thoughts on Lando: Double or Nothing Part II
Double or Nothing Part II continues the excellent story begun by Rodney Barnes in Part I. Lando isn't the only one in trouble. The Empire focuses on Kristiss in her cell. Plus, L3-37 finds that the droid entry into the camp wasn't as harmless looking as it first appeared. All three members of this mission have serious obstacles to overcome before this series is over.
Another word on Kullgroon: this planet bears the scars of the Clone Wars. Droids from that era litter the Wastelands. Buildings in that area bear the scars and damage of war. Paolo Villanelli's art shines throughout the issue, but his work on Kullgroon stands out. In addition, the leader of the raiders confronts Lando at the end of the issue. Shackled to a wall, Lando bemoans the arrival of the leader on an AT-RT, a common Clone era walker.
Barnes does wonderful work capturing Lando's personality from Solo. Although Han might call him the respectable one, Lando really is looking out for himself. This is apparent in his willingness to leave Kristiss behind and look for a better deal. The Calrissian Chronicles were a nice touch. His ego emerges clearly in those panels. Furthermore, Lando's banter with nobody in particular while he roams the Wastelands and fights the raiders sounds like Donald Glover and Billy Dee Williams wrapped into one.
There is a lot going on in Lando: Double or Nothing Part II. This issue works well on its own, but it begs to be reread at some point, and will likely fit in perfectly in a collected trade paperback.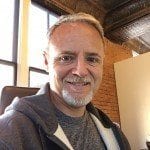 Dennis Keithly is a graduate of the University of Missouri, North Texas attorney, husband, father of two, and co-host of Starships, Sabers, and Scoundrels. In addition to Star Wars, Dennis is a fan of science fiction, fantasy, and super heroes in general. When not engaged in fictional universes, Dennis is reading a good book or watching the NHL, football, or studying the NFL draft.