One of the most iconic Slasher franchises seemingly comes to a close in Jason X. Is it worthy? No, it's not. Should you watch anyway? Absolutely!
Let me set the scene. The year is 2455. Aboard the space vessel Grendel, students run and hide in terror after unwittingly reanimating the corpse of Jason Voorhees. Also, he's been upgraded and is stronger than ever. Sounds ridiculous, right? Well it is. It's also so bad it's good. It's…..Jason X.
Released in 2002, nine years after the previous entry, Jason X would be the tenth and final Friday the 13th, at least as far as the numbered films are concerned. After the much anticipated Freddy vs. Jason in 2003 and the rebooted attempt in 2009 the franchise sits in limbo currently, with no apparent road forward. It's a shame; that famous slasher Jason Vorhees has terrorized Crystal Lake and movie screens for close to forty years.
Cold Open
Jason X opens in the Crystal Lake Research Facility. Yup, it's a thing. Jason has been imprisoned here for a couple years but a government agency descends on the facility with plans to move him out for further research.
Jason has been nothing if not resilient through the years; surviving multiple stabbings, beatings and shootings so what if that "genetic" trait could be tapped into and harnessed?
Voorhees manages to break free and begins doing what he does best; slashing.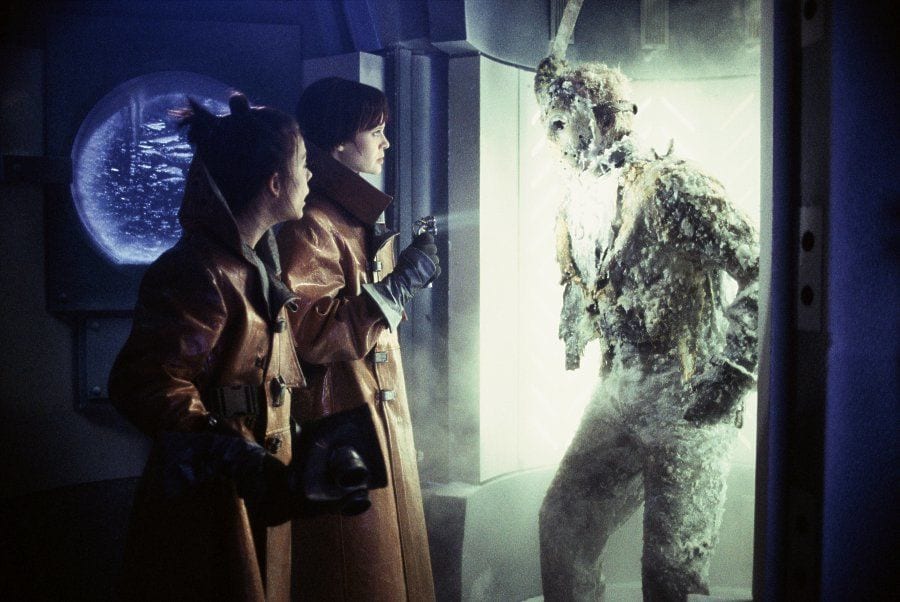 With only Chief Scientist Rowan Lafontaine (Lexa Doig) remaining, she lures him into a cryopod and attempts to trap him in stasis. Jason is locked away but manages to stab Rowan through the door, spilling cryo fluid out and freezing them both for hundreds of years.
The Friday the 13th series has had more than it's fair share of silliness over the years, so what seems like a far-fetched idea is really just par for the course. What's interesting is that it was the first and only pitch for the tenth film. It was a way to progress the story in a new and more modern direction and they just went with it. And it works.
But for all the sci-fi aspects brought in it sticks to the tried and true formula that has propelled the series thus far.
A Summer Camp In Space
The movie then leaps forward to the year 2455 as a ship descends into a polluted and desolate wasteland.
Earth.
The inevitable has happened and the world is now uninhabitable. Humanity has left and colonized another planet, Earth 2, and are just here on a research mission. On board the Grendel is Professor Lowe with several students in tow and some hired muscle. It's basically a future summer camp. As with most films in the genre most of these characters are pretty shallow. No depth at all.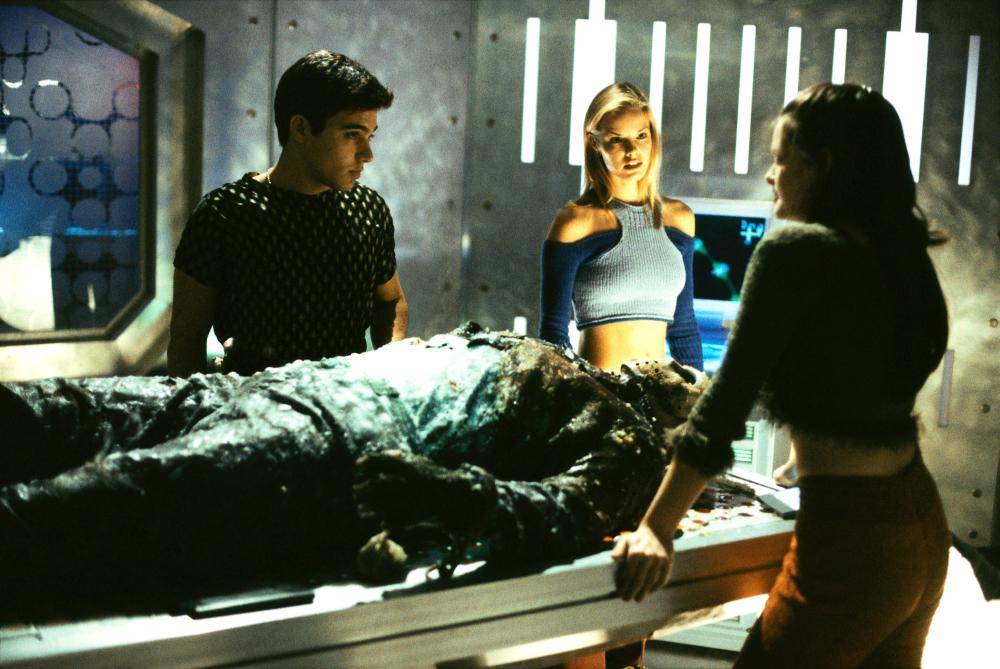 A closer look however reveals that they embody the same character types seen in most of the other films. You've got the "Tough Guy" the "Geek" and the "Heroine". Disregarding the outer space setting, it's just like all the others. It still feels very much like a Friday the 13th film. Which is one of it's strengths. These characters are never too fleshed out, as with other genre films, to cultivate an indifference to them and their eventual slaughter.
Recovering the frozen bodies of Jason and Rowan, the students bring them aboard and depart Earth. Rowan is reanimated, the professor states that Jason is beyond their ability to revive.
Yea, right.
Resurrection
The horror genre can seemingly be summed up in several various tropes.
Teenagers having sex is first and foremost.
It's the cornerstone of the Friday the 13th series especially. When Jason regains his consciousness, the movie intercuts the scene with another scene of a teenage couple having sex elsewhere on the ship. Almost as if the act so ingrained in the franchise is the spark that revives him. A great scene, it is a very self aware moment, one of a few in the movie.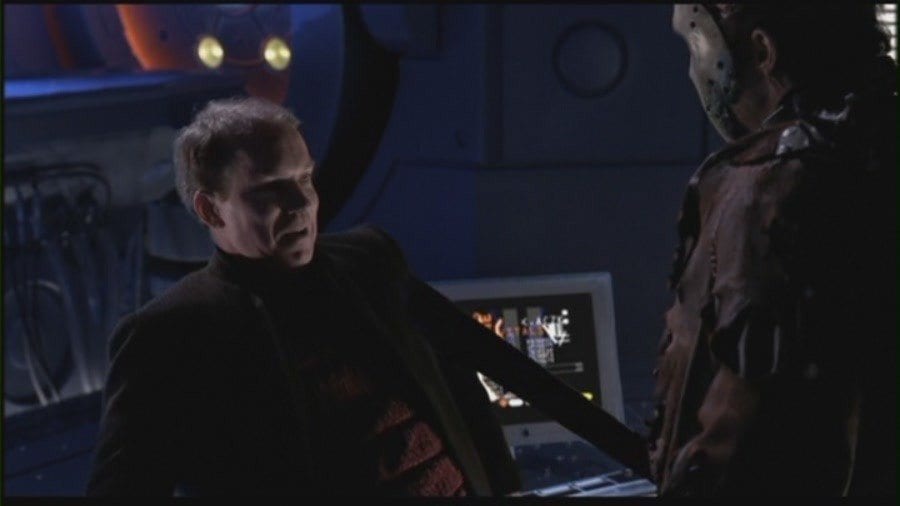 What follows is also traditional of Jason Voorhees; a murderous rampage. Complete with some pretty gruesome death scenes for several of the poor students. With the help of their android KM-14, Jason is finally blown apart and the students live happily ever after. Right?
No.
This is where the films tagline comes from. "Evil gets an upgrade".
Uber-Jason X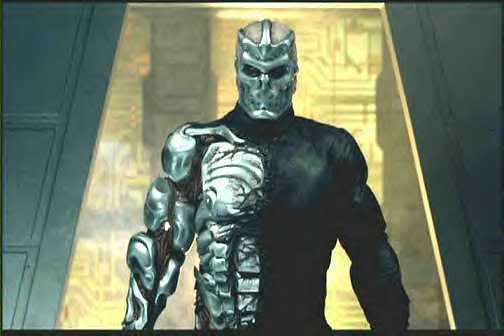 The remains of Jason's corpse are reassembled with other materials to make up for the loss of some "missing parts".
Of course.
What now stands before the survivors is this hulking man, machine, monster hybrid. He's bigger and badder than ever before. Now they're really in trouble.
Unfortunately, not much time is left in the film, so they are able to dispatch this upgraded slasher relatively quickly. As the ship self destructs, one of the surviving soldiers grabs hold of him and they both free fall into the atmosphere of Earth 2. On the surface, a teenage couple sees this "falling star" and decides it would be a really good and smart idea to go check it out. And so concludes Jason X.
And that's it. Or is it? Friday the 13th Part 13 was planned to release today, October 13th, 2017 but was canceled by Paramount back in February. However, just days ago script writers Damien Shannon and Mark Swift revealed that it was still possible. It would be a conclusion to the franchise and would be called Friday the 13th: Camp Blood – The Death Of Jason Voorhees.
Only time will tell, but here's hoping!
Mike Harris hails from the suburbs of Chicago and has been a fan for most of his life. Working as an industrial radiographer and raising a family with his wife take up most of his time, but there's always room for Star Wars books and podcasts! Just looking to give back to Star Wars and the fan community, it's been a source of fun and learning for him for so long.