Every October, artists from around the world take the Inktober drawing challenge. Retrozap! artist, Kendall Schroeder, shares his journey.
Every October, artists from around the world take part in the Inktober drawing challenge by creating one ink drawing for each day of the month. Artist Jake Parker created Inktober in 2009 as a challenge to improve his artistic skills with pen and ink while developing a positive drawing habit. Since then, many artists around the world have taken part in the challenge. Now, it's an event that is eagerly anticipated by professional and amateur artists alike. Every October, Twitter and Instagram are flooded with ink drawings based on specific, one-word prompts for each day of the month. The rules are simple.
Make a drawing in ink based on the daily theme
Post it online using #inktober
Repeat each day of the month of October
Some artists follow a theme throughout the month, others do not. Since Star Wars is an inspiration for most of my art, my Inktober submissions feature characters from that galaxy.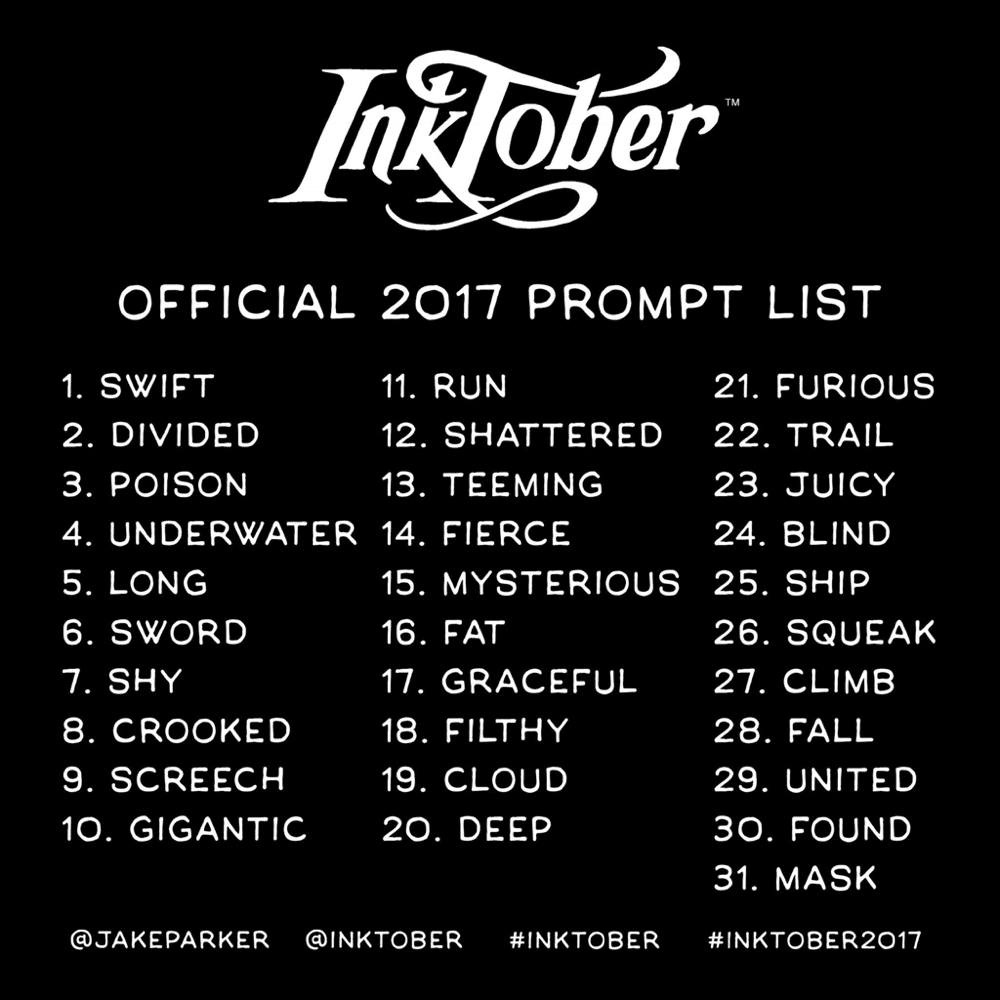 The Goal
I set three goals for myself for Inktober 2017. First, the theme had to be Star Wars regardless of the prompt. Second, I need to stay as consistent as possible, helping to develop a positive habit of drawing every day. Third, and probably most important, I would use this challenge to grow and improve my drawing and inking skills.
I have been creating most of my work lately on my new iPad Pro using the Procreate app and Apple Pencil. I really enjoy using the digital media and have started to rely on some of the features within the app. If I make a mistake, I can easily click the undo button. If I need to move or adjust part of the image, I can select it and make the necessary corrections. Creating drawings digitally allows the artist to craft a project that is as close to perfection as possible.
The Inktober challenge was an opportunity for me to break free of the failsafe mechanics of working digitally. I can approach this event as a means to trust my skills as an artist and push myself to become better. Throughout the month, all three of my goals were put to the test.
The Inktober Challenge
The first challenge for me was to find a Star Wars reference that fit the prompt for each day of the month. Some prompts posed no problem at all. Others were extremely difficult.
For example, put yourself in the Star Wars universe for a moment. What comes to mind when you hear the word "united?" That's a tough one! I chose to draw Edrio and Benthic Two Tubes from Rogue One, who are united as eggmates.
I couldn't resist uploading the line drawing into the Procreate App on my iPad Pro and adding a bit of color. The result takes on a very different feel. Frankly, I like the black and white line drawing much better. Nevertheless, I digitally colored several of the original pen and ink drawings to provide a varying effect.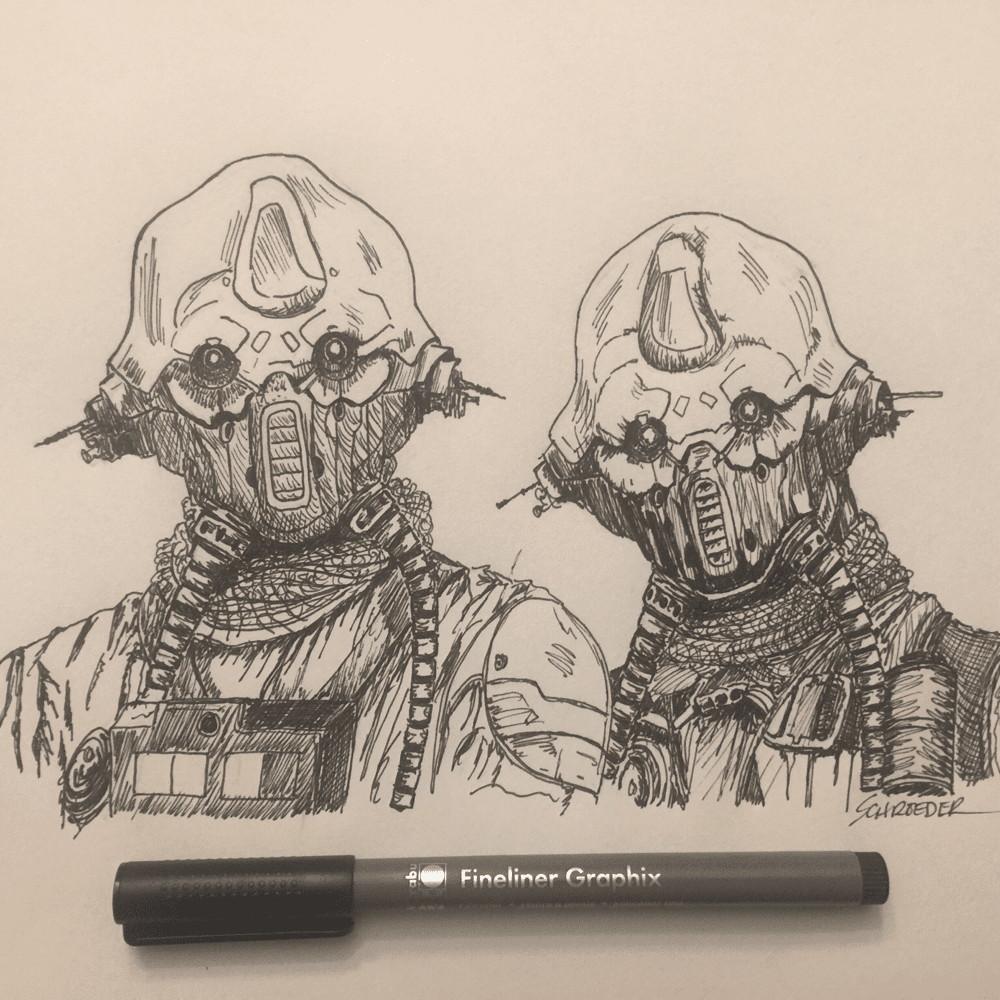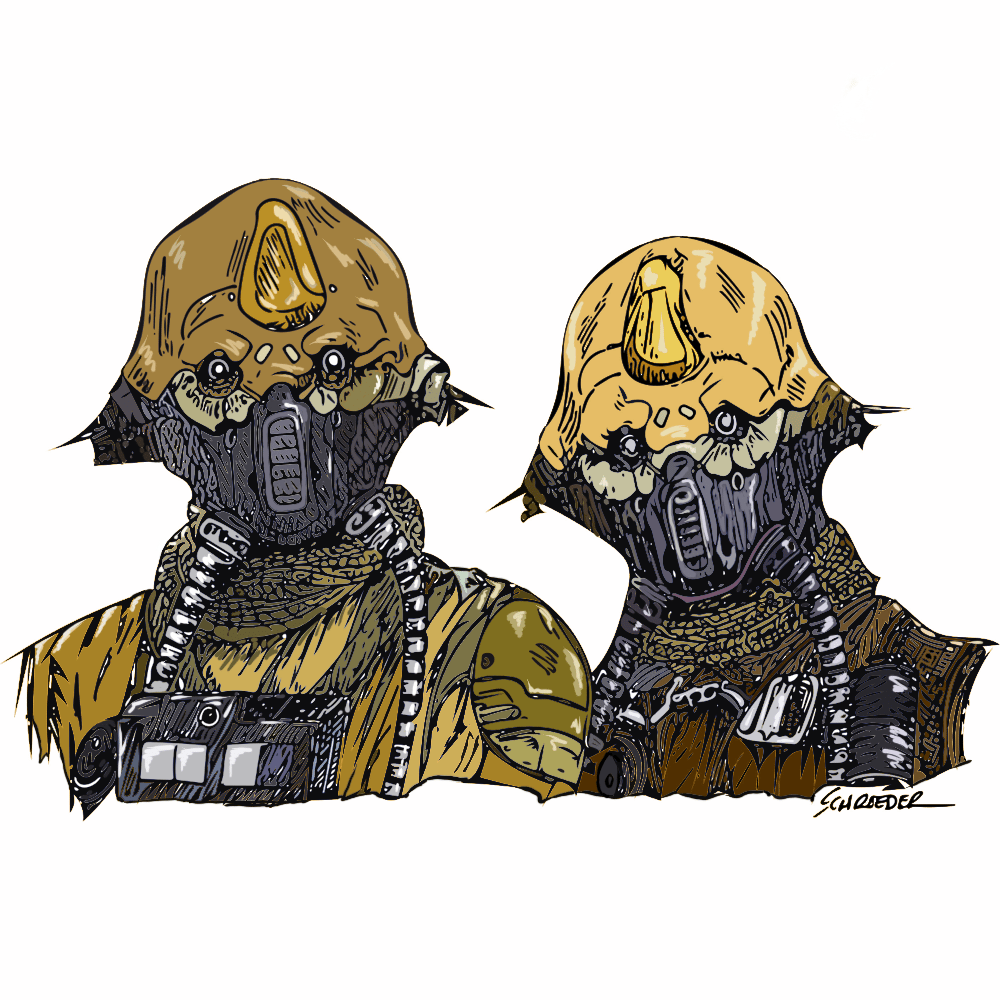 Tools
Most of my Inktober drawings were completed using the Fineliner Graphix black ink pens from Marabu. This 4-pack set comes with varying widths, from 0.2 mm to 0.8 mm with a brush pen included. However, I didn't limit myself to just a black pen. I experimented with colored ink and an ink wash, as well. The paper I used ranged from medium weight watercolor paper to lightweight drawing paper.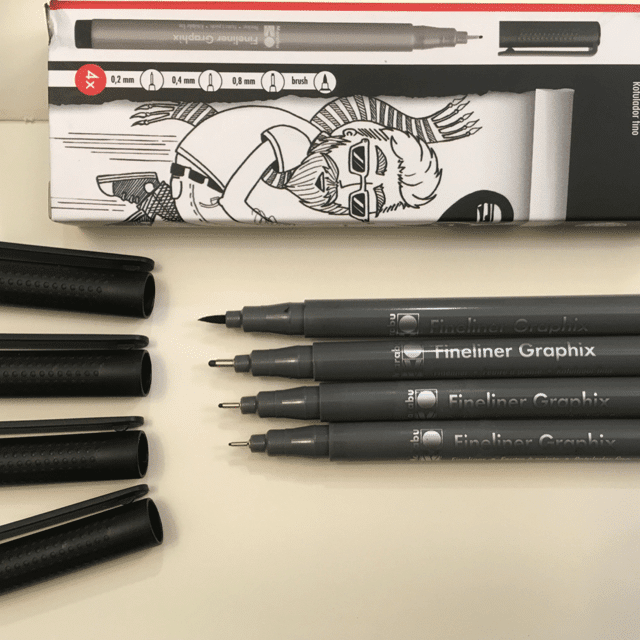 More Prompts
The Inktober prompt "long" inspired me to draw the long-necked Kaminoan, Taun We, one of the characters Obi Wan Kenobi meets when he visits the world of Kamino in Episode II: Attack of the Clones.
The prompt "divided" made me think of the Dark Side and the Light. The new ball droid from The Last Jedi, BB-9E, seems intriguing. I imagined BB-8 and this new First Order droid facing off on divided territory.  Using an ink wash definitely tests my abilities of control. By adding too much water the ink can bleed out of control.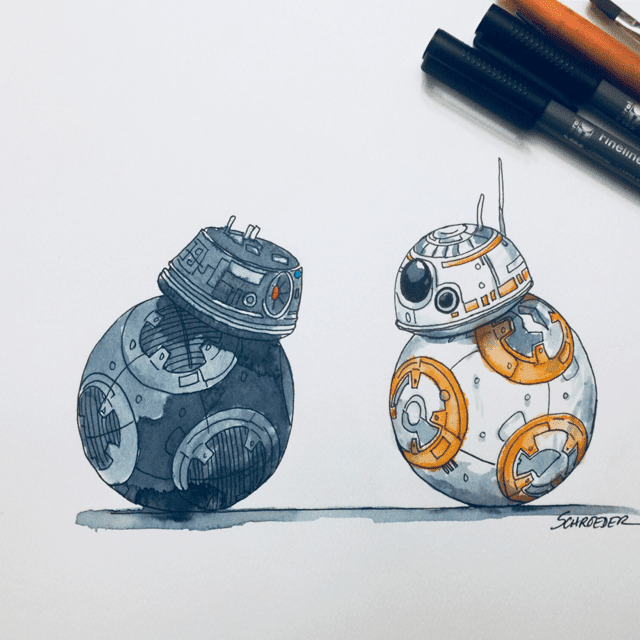 The prompt "filthy" had me scratching my head. What character in the faraway galaxy embodies this term? After some thinking, I settle on the filthy, slobbering Gamorrean Guard from Return of the Jedi.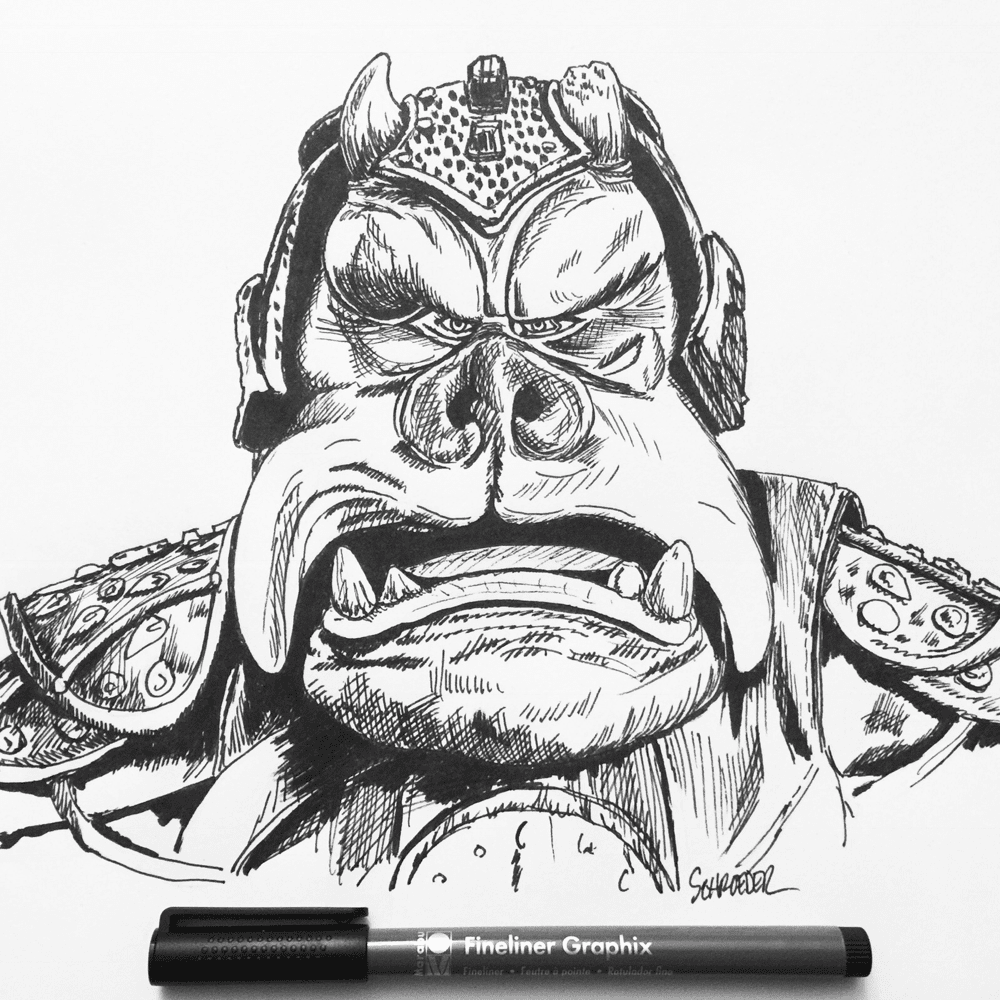 For the Inktober prompt "underwater," I immediately thought of the Mon Calamari and Admiral Ackbar. After the month of October was over, it has been fun to revisit these sketches by digitally applying color.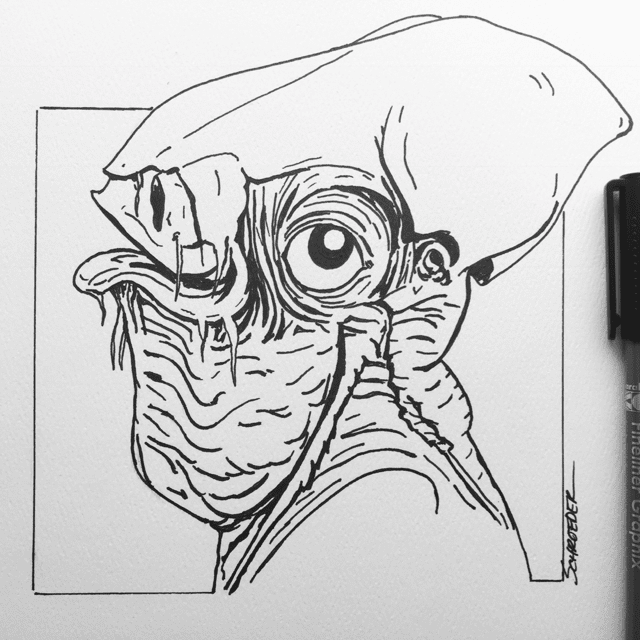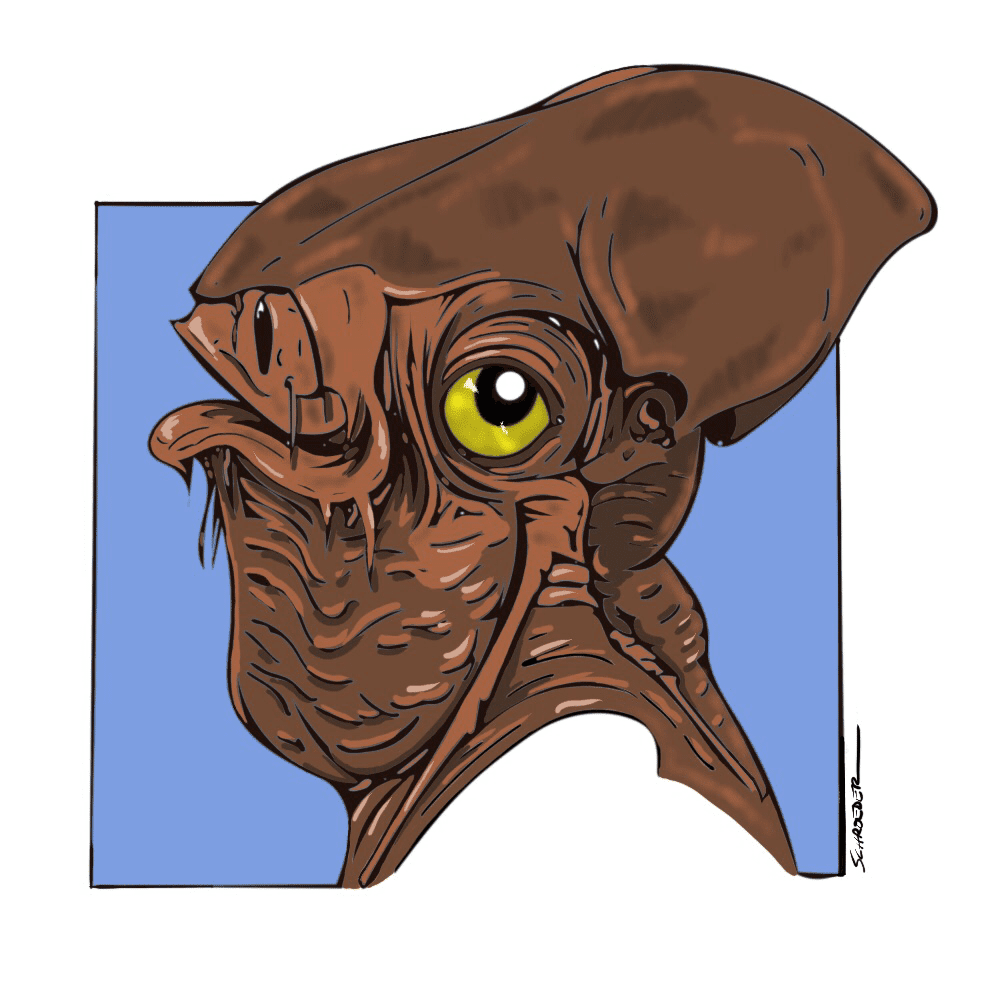 It's not difficult to imagine Kanan Jarrus from Star Wars Rebels and Chirrut Imwe from Rogue One: A Star Wars Story teaming up at some point. Actually, they occupy the same timeline. For the prompt "blind," I took the opportunity to bring them both together on paper, at least.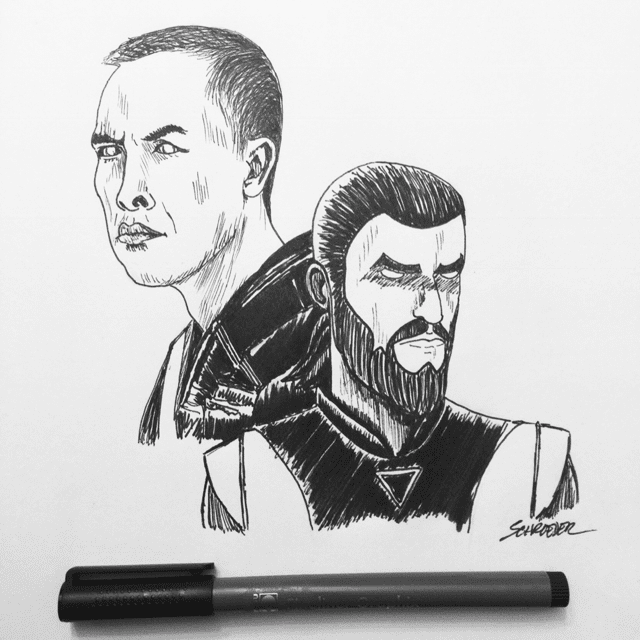 From the light back to the dark, the Inktober challenge allowed me to explore characters on both sides. For the prompt "crooked," I instantly think of the crooked, and evil Snoke, introduced to us first in The Force Awakens. Digitally, adding a little red makes him a bit more sinister.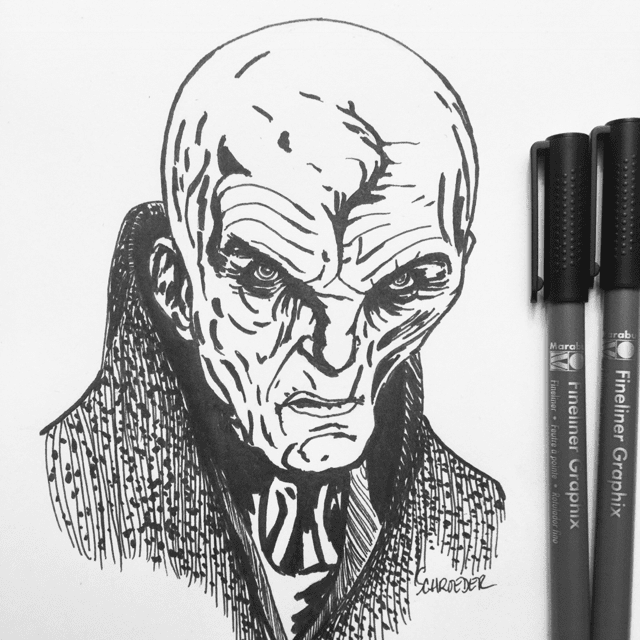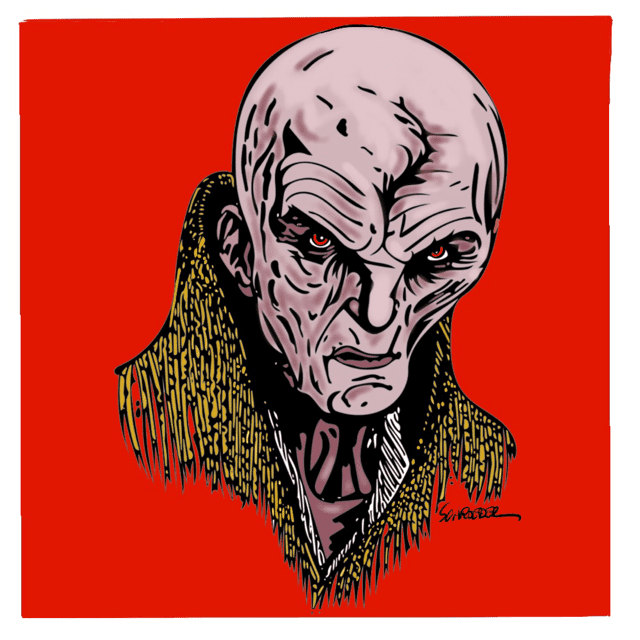 When you hear the word "fat," who do you think of in the Star Wars universe? Why, none other than Jabba the Hutt, himself!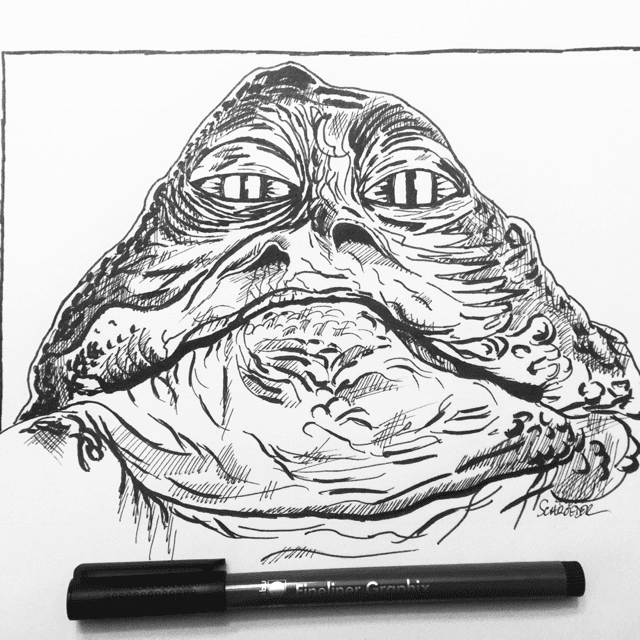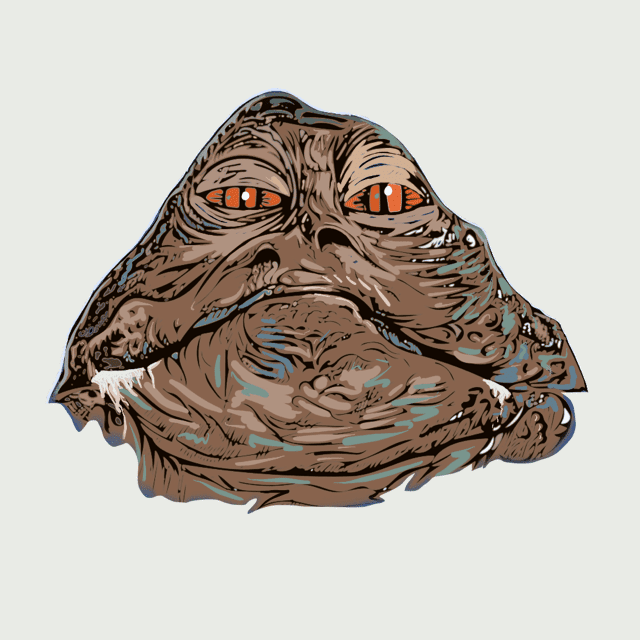 For the prompt "ship," there is only one ship in Star Wars that I really wanted to draw. The Millennium Falcon is that ship.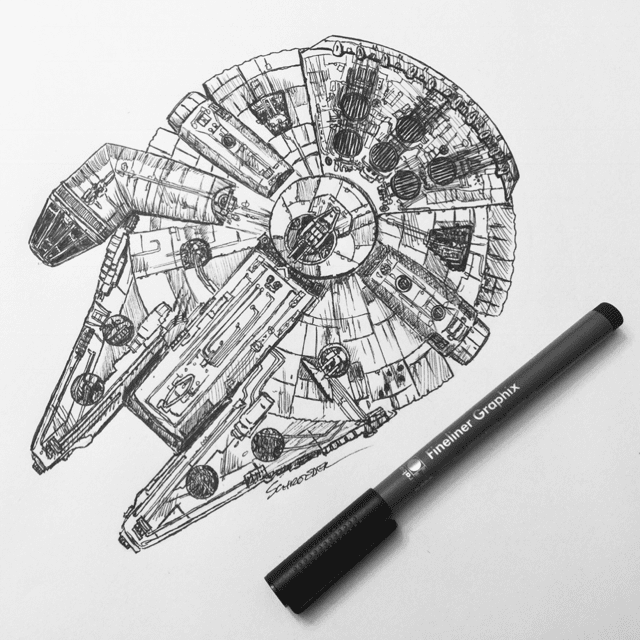 The featured image for this article is shows a group of gonk droids gathered together to represent the Inktober prompt "teeming." I think there's a story to be told with these characters.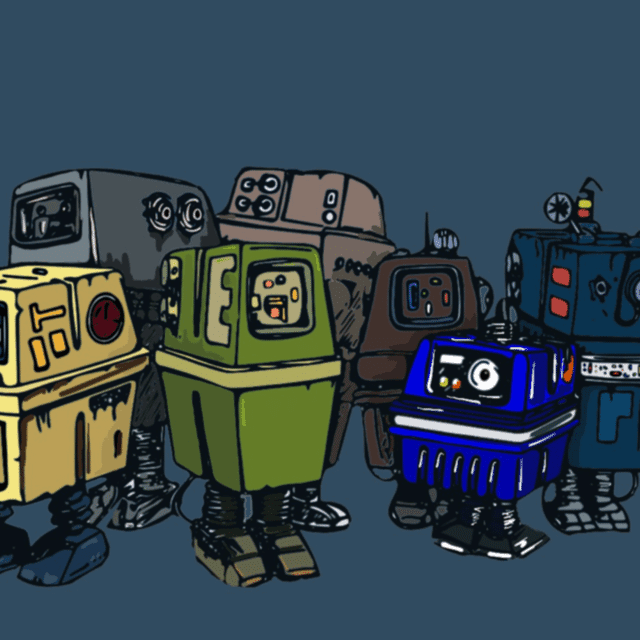 Lessons Learned
I created 24 drawings out of the 31 possible Inktober prompts using only characters from the Star Wars universe. I utilized references from the prequels to the sequels, from comics to the expanded universe. This was my first diligent effort in participating in the challenge and throughout the month, I learned three important lessons.
Drawing daily strengthens my skills as an artist. Being persistent and forcing myself to draw each day was a challenge with which I struggled. Building the habit is important.
I can do it anywhere. It doesn't matter what type of paper or pen I have. I can just draw.
Don't worry about perfection. I can be a perfectionist when it comes to my own art. Working digitally, I can correct my mistakes easily and try to make the finished piece as perfect as I can.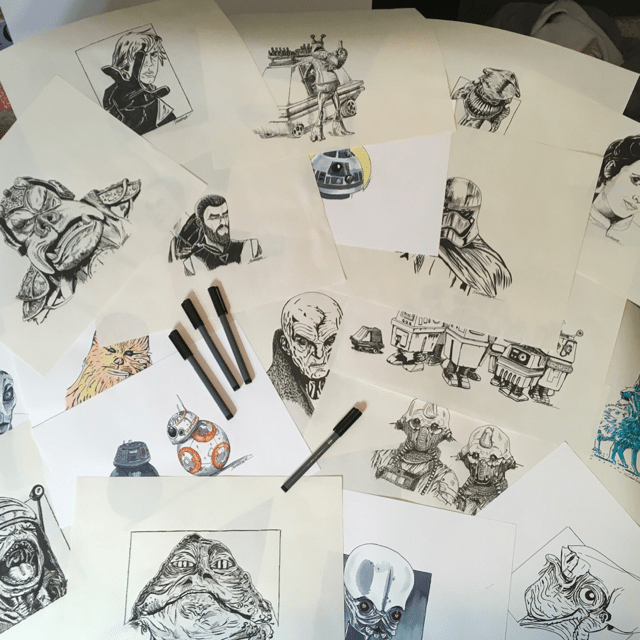 Sketching with pen and ink is surprisingly a freeing exercise. I had to let go and not worry about making every line straight or smooth.
The Inktober challenge is a great exercise for beginning and professional artists. I know the habits I developed throughout the month of October has helped me strengthen my skills as an artist and I look forward to the next project that puts them to the test.
Check out these drawings and more of my Inktober submissions on my Instagram page @runkendallrun.
Kendall Schroeder saw the original Star Wars in a small theater in the summer of his 10th birthday and immediately fell in love with the Far Away Galaxy. Pretending to be either Jedi Luke Skywalker or Colonel Steve Austin, the Six Million Dollar Man, Kendall always believed he had special powers. Maybe that's why he truly believes there is good in all people. And, he will stop at nothing to help rid the world of evil. When Kendall is not creating art, he is leading educators as the head of an online school. Kendall lives in West Michigan with his wife and two kids.