Nearly two decades have passed since I built my last model. Influenced by a galaxy far, far away, I decided to revisit an old hobby.
My work station is either the kitchen table or the couch with a tv table (not great for my back). The lighting doesn't shine where I need it to. The brushes I use are dollar store quality, I'm an amateur in the strictness sense. Despite all that, I love building models. I build models to relax, to be creative, and to keep my mind active. I love putting things together and seeing the results of my work.
When I was a teenager, I'd fly through them. Not giving a second thought as to maybe I should paint them or let the glue dry. Nope, I'd slap them together per the directions (my dad would yell at me in Dutch not to use so much glue) and most likely apply the decals, and that's it. One even got sacrificed in a raging fire. Thankfully, I've grown up a little. Two decades later, and influenced by a galaxy far, far away I decided to revisit an old hobby.
Now that I'm older, I've learned to slow down, take my time, and enjoy the process. I've also changed my taste in what to build. Whereas it used to be muscle cars, WWII aircraft, and battleships, now I tend to lean towards sci-fi based models such as the C-57D from Forbidden Planet, the Martian alien from War of the Worlds, The Voyager ship from Fantastic Voyage, a vinyl kit of C-3PO that I modified into Triple Zero from the Doctor Aphra comics, Captain Phasma, and currently, I'm building Anakin's podracer from The Phantom Menace.
Be Prepared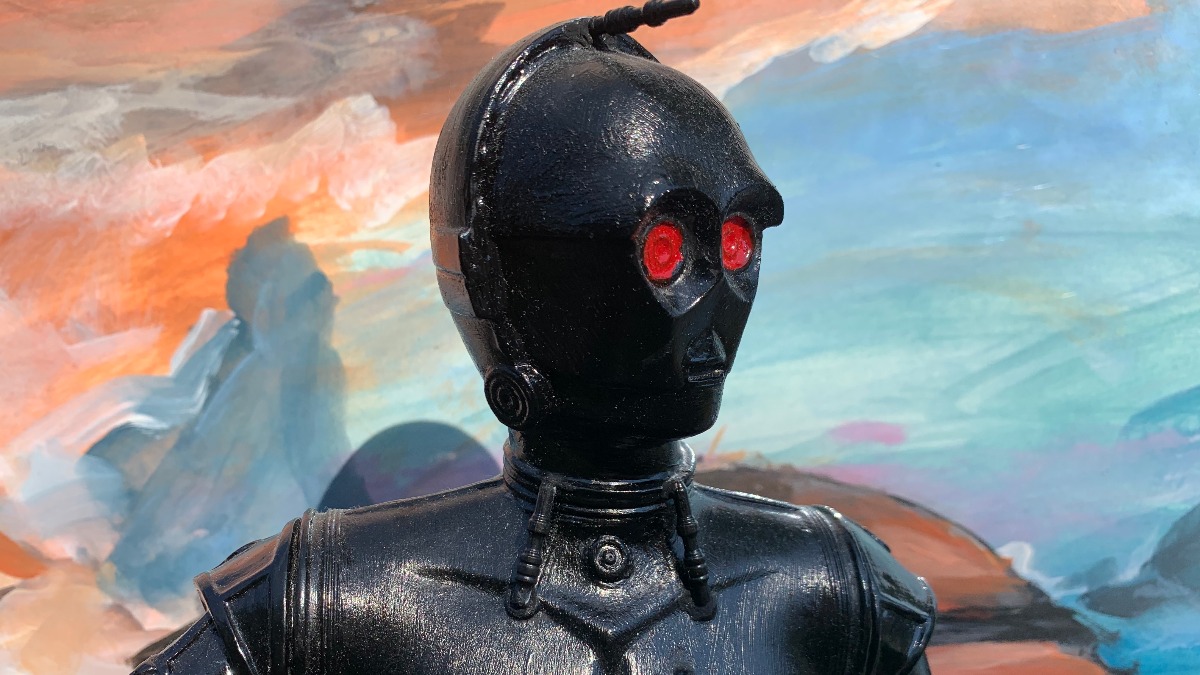 The first one I built was the ¼ scale C-3PO vinyl kit from Screamin', which I bought years ago. This would be my first vinyl kit, all of my previous kits were the usual plastic model kits. Going into it, I already knew I wanted to do this right, so I read the instructions on how to prepare before starting. What would I need for tools, paint, and the overall process of how this would go together. It's good to read ahead to get an idea of how things are going to fit, and I also like to plan out how many sections I would build in a day. Depending on how complex each step is, I'll typically build 1-2 steps a day. Sometimes if painting is required plus time for it to dry, I'll only build half of a step.
Because this was a vinyl kit, it required a hairdryer to warm up the excess material, which softens it and makes it easier to cut off. Beware when doing this though (besides the sharp knife), because the hot air can melt the vinyl if it's blowing in one place for too long. So be sure to cover the entire area. Another aspect that was new to me was after removing the excess material, the parts didn't always fit as well as I'd like. To fix this, I'd sand the conjoining pieces with light grit sandpaper. It won't be perfect, but close enough is all that's needed. To join the pieces together, this model required super glue, not the regular tube of Testors model glue that most models use.
Planning It Out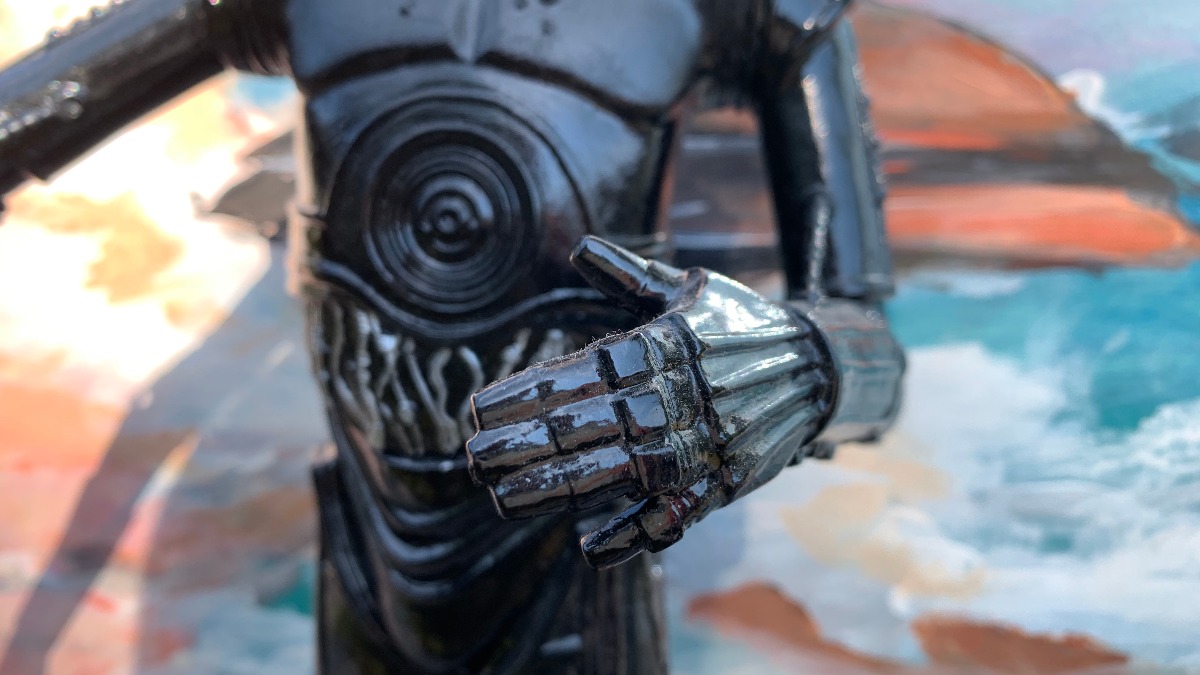 When building this model, I chose to assemble one arm at a time. In other words, I'd spend a day on each arm, and then another on the torso and the head. The legs needed a little more work. The directions called for the hollow legs to be filled with plaster, to give 3PO a secure base with some added weight, Once the plaster dries, it's solid. It would take a strong nudge to knock 3PO off his feet. Once the limbs are attached, it's time to start painting!
From the beginning, I fully intended to make a C-3PO as the picture on the box shows. I bought gold and silver paint, and I was ready to go. But I thought I could go the expected route but why not go in a different direction, something more unique and creative. That's the whole point of doing this, right? To be creative, to use your imagination. So I decided to make 3PO into Triple Zero (0-0-0) from the Doctor Aphra comic book series.
Be Creative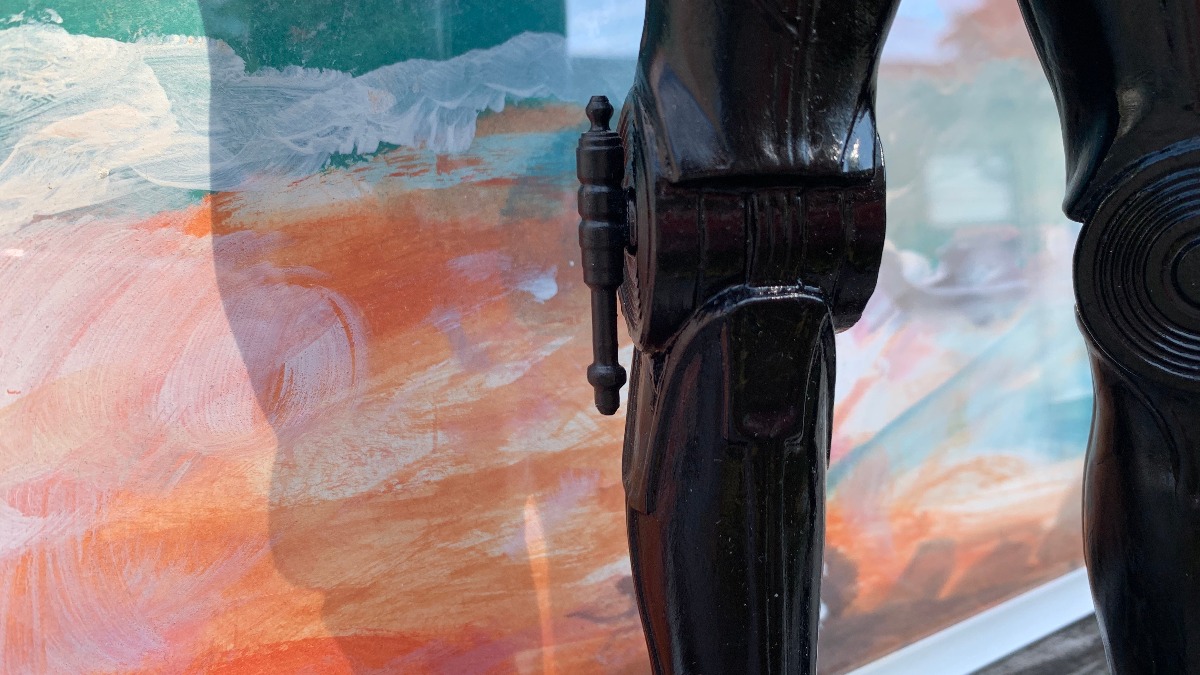 I referred to the comics to make sure I had the correct sheen of black for Triple Zero's metallic body. The problem I ran into was the comics show him to be more dark grey than black. I decided to go right to the source. I tweeted Salvador Larroca, the original artist who drew Doctor Aphra. I told him what I was doing and asked him which sheen is Triple Zero, flat or gloss? Surprisingly he answered me: gloss. So I knew I needed a lot of gloss black because his entire body is gloss black except for his eyes (red) and the wires in his midsection (silver).
Looking Back
Overall, for my first serious build, I felt the ¼ scale 3PO was the right choice. It had comprised of newer techniques and different materials, with some conventional methods as well. There are some things I would do differently, including using new blades to cut the excess material. I tend to reuse the same edge for too long, and using a dull knife can lead to accidents. In general, I'd like to have a larger working space, better quality brushes, and better lighting. With more experience, I definitely intend to improve my tools, which will make each subsequent build that much easier and more enjoyable.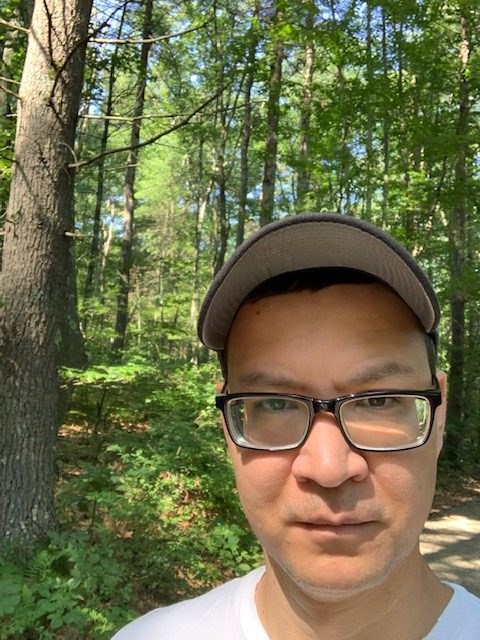 Once upon a time in a town no one's heard of, there lived a boy who enjoyed Star Wars from the quiet of his bedroom. A time came when a new comlink allowed the boy to hear that there are others like him. Overjoyed, the boy wanted nothing more than to join in the conversation. So he did. The rest is HIStory. Besides Star Wars I also enjoy Marvel and Game of Thrones (I dabble in all sorts of geeky fun). You can find me on the couch watching one of several streaming services, reading or writing. Let's go, Bruins!