The galaxy's favorite pirate turned respectable businessman shares a story connected to Batuu in Star Wars: Galaxy's Edge #3.
Warning: This article contains plot points for Galaxy's Edge #3.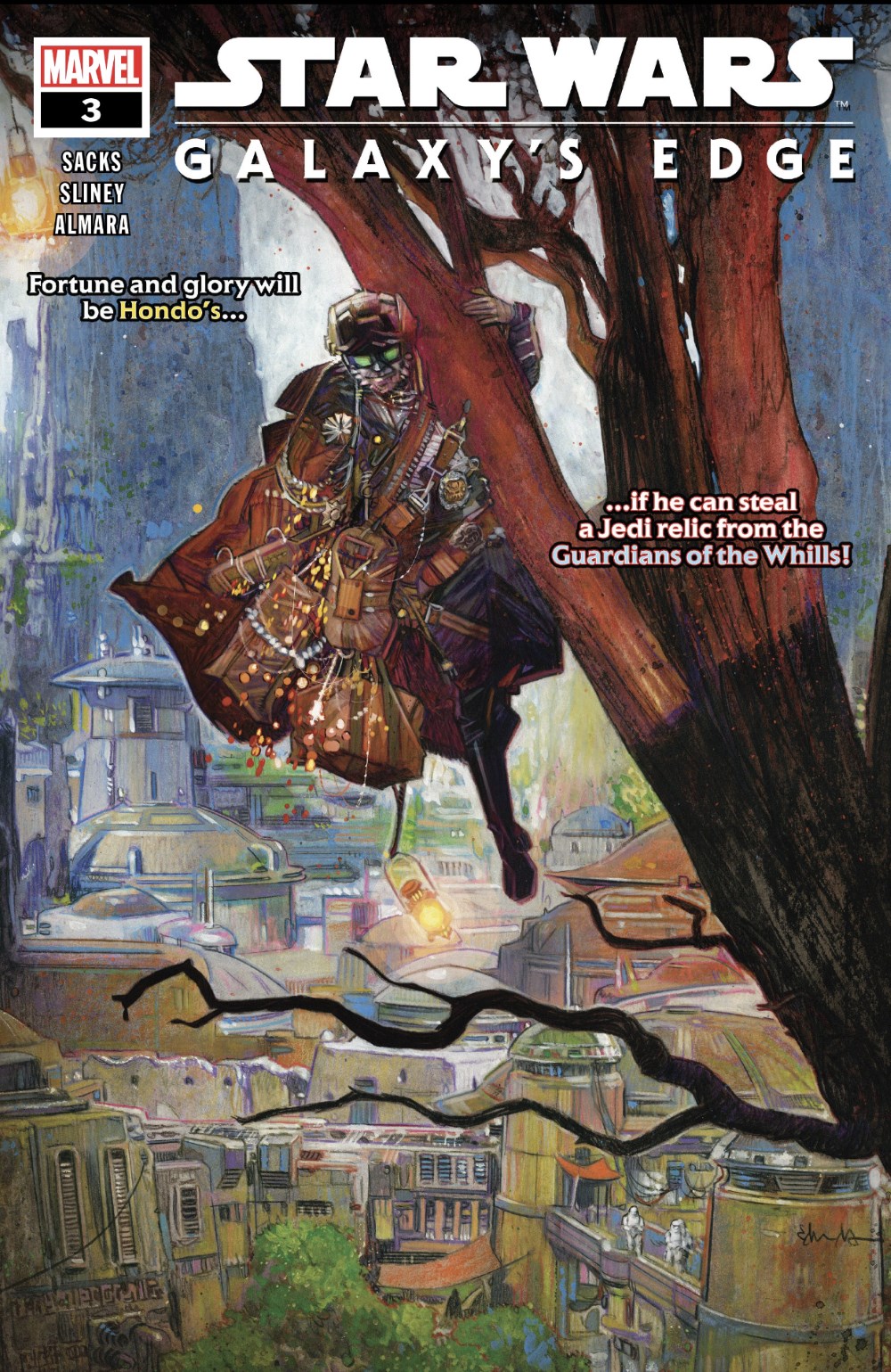 Galaxy's Edge #3
Story: Ethan Sacks | Art: Will Sliney | Color: Dono Sánchez-Almara with Protobunker | Lettering: VC's Travis Lanham | Cover Artist: Tommy Lee Edwards | Production Designer: Anthony Gambino | Assitant Editor: Tom Groneman | Editor: Mark Paniccia
Since the commencement of the Galaxy's Edge miniseries, the first theme park has opened in Disneyland. Dok-Ondar's den of antiquities has opened with it, and Star Wars fans have seen the Ithorian up close. When designing Galaxy's Edge, Disney elected to go with a new, unexplored world, and the park is a breeding ground for the imagination. In Galaxy's Edge #3, Marvel continues to build up intrigue and backstory for the newest edition to the Star Wars galaxy. In this issue, a fan favorite from The Clone Wars and Rebels makes his series debut with a story of how he assisted Dok-Ondar acquire a rare relic from the Temple of the Kyber on Jedha.
Hondo Ohnaka Makes New Friends
As with Galaxy's Edge #1 and #2, Blackspire Outpost and Batuu serve as  framing device for another story. This time, Kendoh, a human scoundrel, meets with Hondo. She wants Hondo to smuggle the artifact she and her team hope to steal from Dok-Ondar off-world. However, Hondo is already in league with the Ithorian. In the prior two issues, it was Dok-Ondar that did the storytelling, this time around, Hondo has the honors in Galaxy's Edge #3.
Hondo tells Kendoh about a job he pulled on Jedha. He and Dok-Ondar looted a statute carved from Kyber from the Temple of the Kyber. In the process, Dok-Ondar did battle with the Guardians of the Whills while Dok-Ondar secured their prize. Just as they are making their escape, they come face-to-face with none other than Chirrut Îmwe. Although Hondo and Chirrut exchange blows, Dok-Ondar finally wins over the Guardian by explaining that the statute is key to him solving the murder of his parents. Chirrut is moved, and he allows them to leave.
As fun as Chirrut's appearance in Galaxy's Edge #3 is, it does kind of evoke a sense of "small galaxy" syndrome. So far, the Galaxy's Edge series has featured Han Solo and Chewbacca, Greedo, Jabba the Hutt, Hondo, and now Chirrut. This syndrome is only heightened when Doctor Aphra appears at the end of the issue. Regardless, everyone that has appeared in this series is the type of person one would expect to show up at Blackspire Outpost at some point. In addition, Dok-Ondar is the type to know everyone. So, it seems natural. Besides, Chirrut hasn't received a lot of attention outside of Rogue One, so this is a welcome development.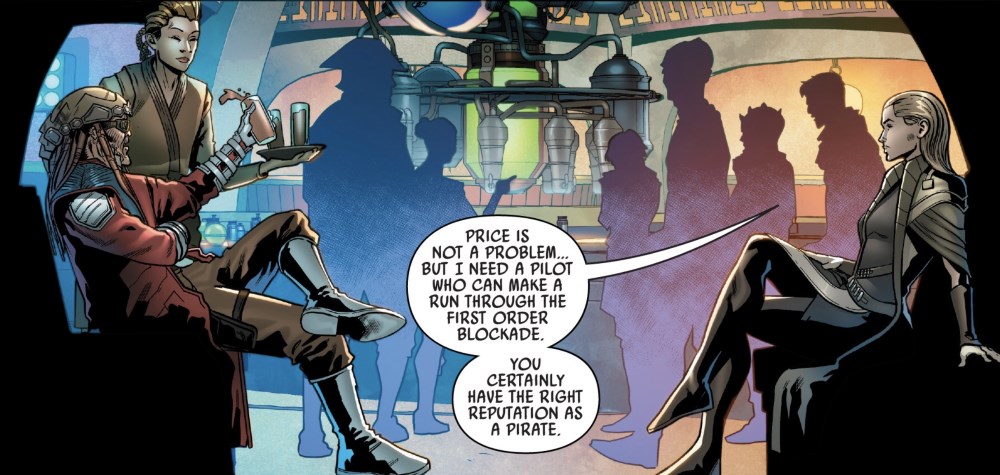 The Plot on Batuu Thickens
The larger story concerns Kendoh and her team's efforts to smuggle a Sith artifact off world. They have to steal it from Dok-Ondar first. This artifact was first mentioned in Galaxy's Edge #2, but it is in Galaxy's Edge #3 that it is identified. Kendoh shows an image of a sword to Hondo, and he recognizes it. He then mentions that the last time he saw it was a long time ago when they left "a damn good archaeologist" behind. Aphra then appears in a flashback on the last page of the issue attempting to get Hondo to agree to get her a ship.
With each issue of Galaxy's Edge, the mystery of the artifact becomes a little clearer. The First Order is on Batuu, but apparently they are unaware of the existence of this artifact. Dok-Ondar fears that it could fall into Kylo Ren's hands. Also, Triple Zero appears behind Aphra on the final page. This likely sets the next issue of Galaxy's Edge well before the current story in Doctor Aphra. Triple Zero hasn't been subservient to Aphra for some time.
Theme Park Nods
Galaxy's Edge #3 contains a number of nods to the theme park beyond the location (Blackspire Outpost on Batuu). First, is of course Hondo Ohnaka himself. He is a fixture at one of Galaxy Edge's main attractions, Smuggler's Run. The next is Oga's Cantina, a popular watering hole in the park. Inside is Rex. This droid is the former Captain for Star Tours, and now serves as the cantina DJ. The Galaxy's Edge series has done well working in references to the Disney theme park without turning the series into one large advertisement.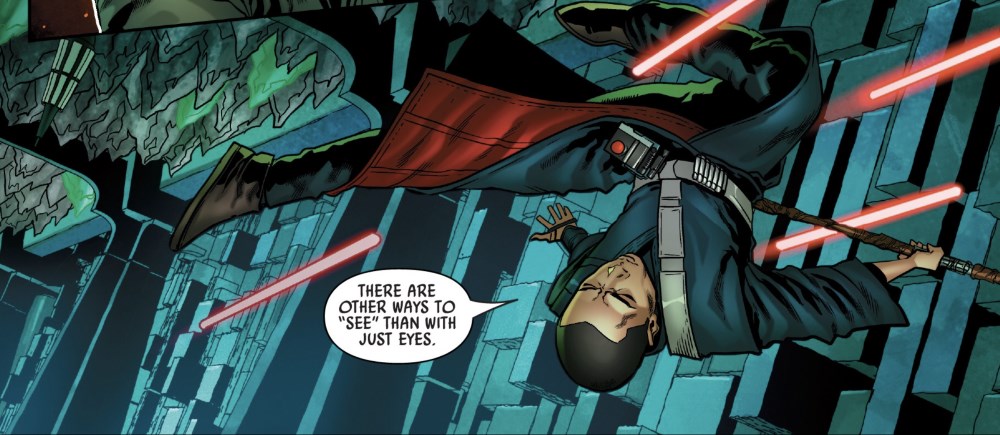 Final Thoughts on Galaxy's Edge #3
Galaxy's Edge #3 is another fun entry into the series. Although there is a larger story occurring across all five issues, Galaxy's Edge is more of an anthology of stories. It seems similar to the Age of Republic and Age of Rebellion series in that regard. This is a fun story about the underworld in Star Wars that breathes life into a corner of the galaxy that is just beginning to accumulate lore. Galaxy's Edge #3 brings one of Blackspire's most celebrated residents into the story in a big way and demonstrates that he is a bigger player in the galaxy far, far away than he sometimes gets credit.
Dennis Keithly is a graduate of the University of Missouri, North Texas attorney, husband, father of two, and co-host of Starships, Sabers, and Scoundrels. In addition to Star Wars, Dennis is a fan of science fiction, fantasy, and super heroes in general. When not engaged in fictional universes, Dennis is reading a good book or watching the NHL, football, or studying the NFL draft.