Funko celebrates the 40th Anniversary of Star Wars with the latest Smuggler's Bounty 40th Anniversary box!
Welcome back to another edition of the Funko Pop! Star Wars Guide, this week features the Smuggler's Bounty 40th Anniversary box! A lot of heat on the interwebs regarding this box, people calling in a major letdown and disappointment. I am not one of those people. Prepare to enter the Dengar Dan spin zone! Let's get to it!
The Box
Jeez. This box was huge. HUGE. Biggest sized box to date. Which I think led fans to expect more contents in the box and then led to the disappointment of some. The box featured Princess Leia which was a nice touch. If anyone has come up with a creative idea for storing these boxes let me know, if not they are one step closer to the trash compactor.
The Pin and Patch
As I have said before with all the past boxes. I very much enjoy the pin and patch in each box. This box featured a Luke Skywalker X-Wing Pilot patch. It's fantastic. The pin features Chewie, and it is equally great. Two very solid additions to the pin and patch collection.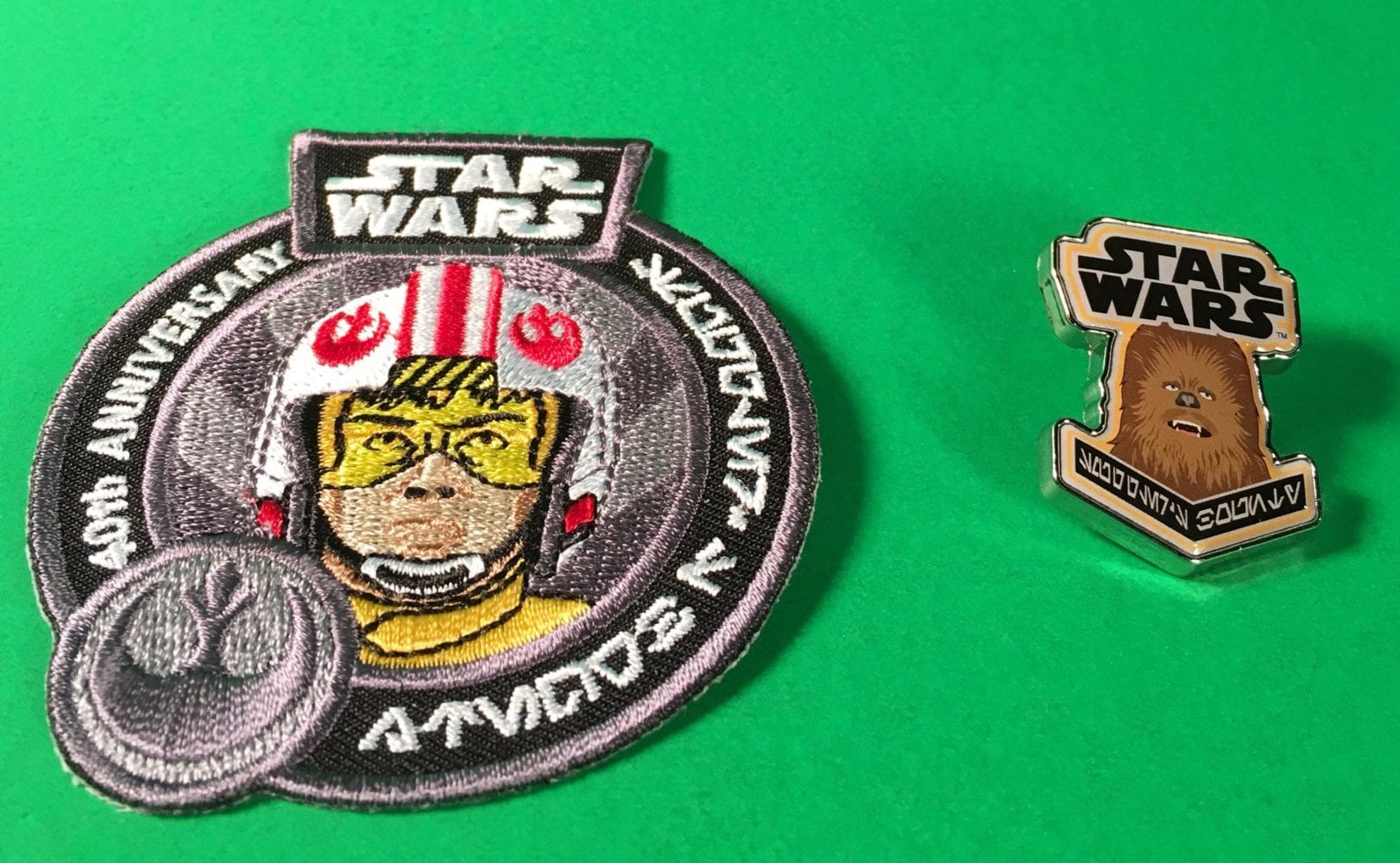 The Sweatbands?
Ya I am not sure on these. Star Wars sweat wristbands. Spin zone time. 40 years ago, sweatbands were an essential piece of sports uniforms. This was a throwback to converse high tops, tiny basketball shorts, and high socks with stripes at the top. I like sports so  I must like these. I am wearing them now as I write this and not one drop of sweat has hit the keyboard. Thanks Funko.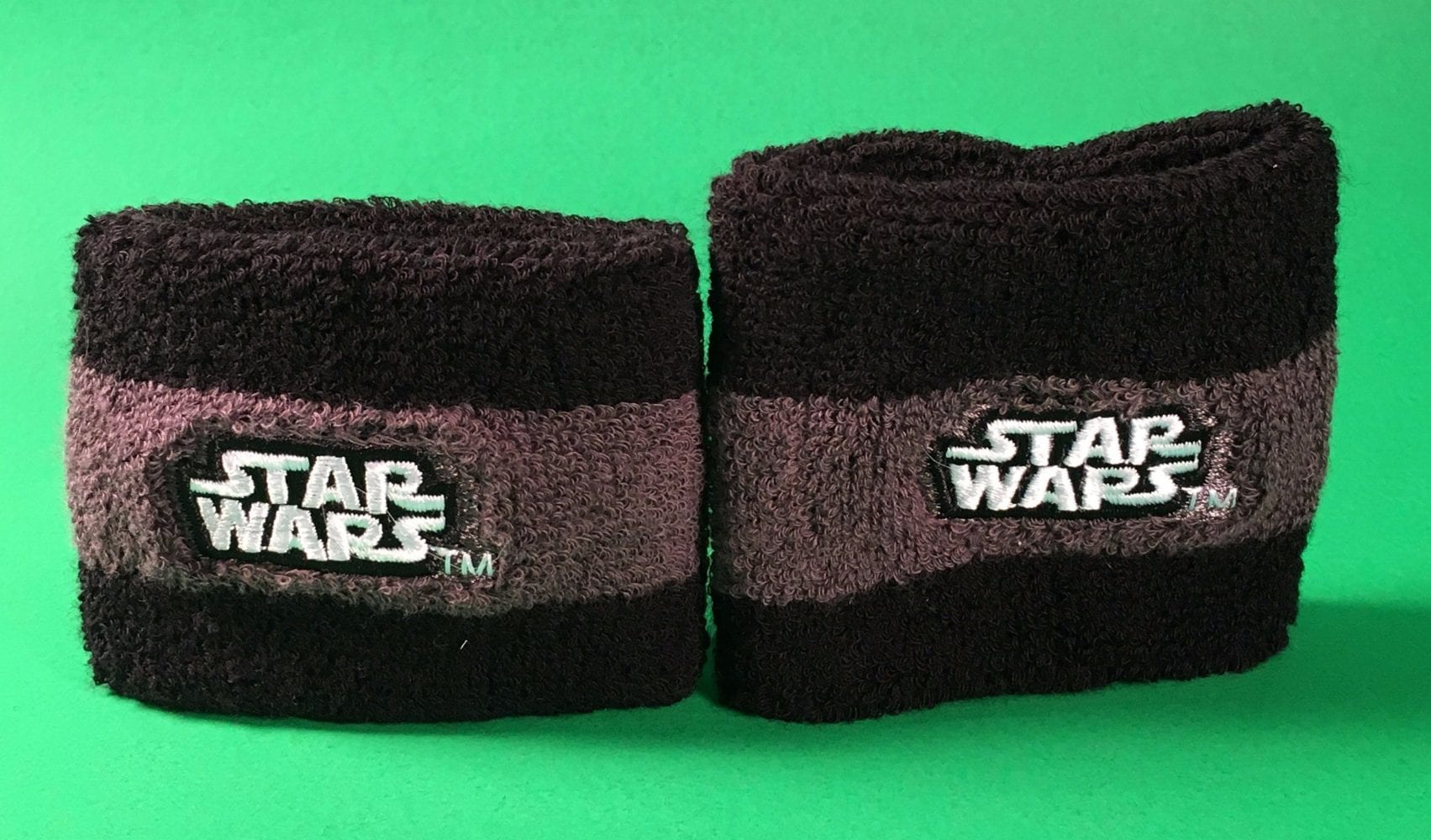 The Salt and Pepper Shaker
Alright. There is zero space for these among my collectibles. This is unfortunate. Did I have a need for salt and pepper shakers that look like Greedo and Han Solo in Pop! form? Nope. Spin zone time! Right now Star Wars stuff is strictly in my basement that I finished. The first lady controls the decor of the rest of the house, and while she likes Star Wars, it has no place in her house. Well guess what, that changes now. Han and Greedo salt and Pepper shakers are now in the kitchen/dining room table. This is how it starts, a small and cute item to get called up to the big leagues. Baby steps. Once the Duchess gets comfortable with these, I will strike with another item to go in the main living area. Funko is doing me a HUGE favor by providing me with items that I can use to take over the rest of the house.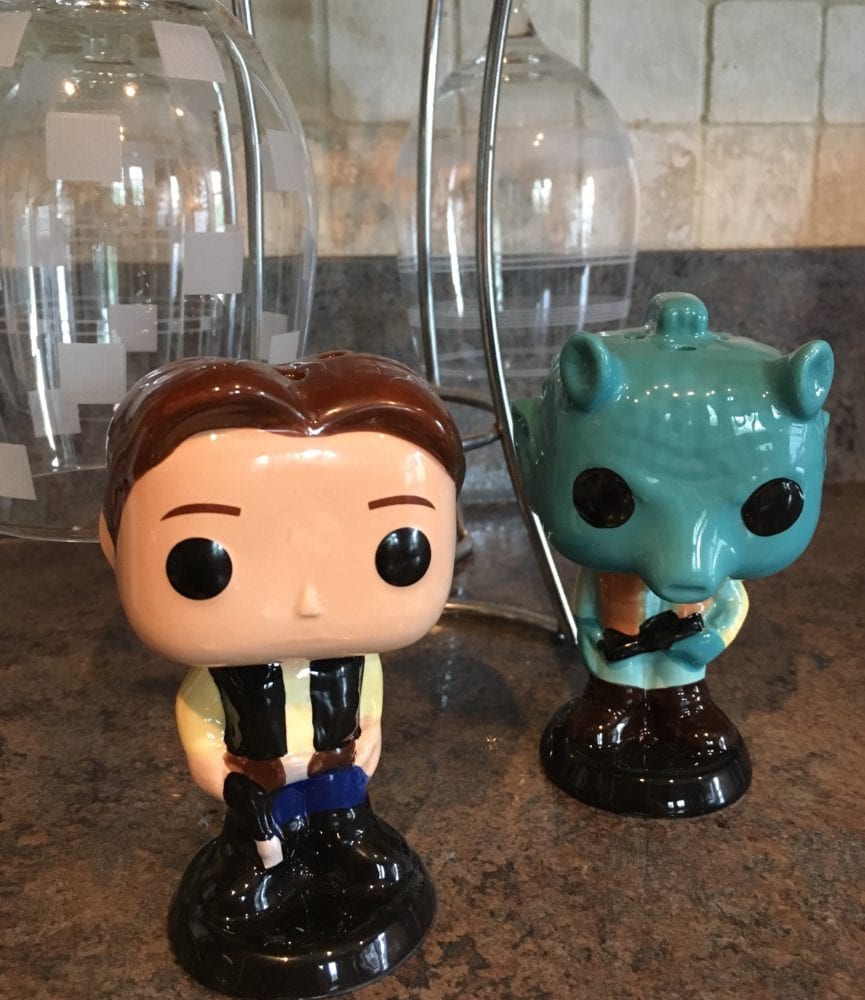 For the record Han is the salt and Greedo is the pepper shaker. I could probably crank out 1000 words on why this choice was made. I am fairly certain nobody wants to read that. Han is salt bae. Just sayin. That makes irrationally happy. [embedyt] https://www.youtube.com/watch?v=J5GGG0PaSe4[/embedyt]
I don't care that this was viral a long time ago, this guys is a professional. Nobody cuts and respects the meat game like he does.
The Pop!
The main attraction. I have been waiting for this to be in my possession since I first saw it revealed. Luke Skywalker with Landspeeder Pop! Deluxe! This baby is a premium collectible. If you ordered this box, the price you paid was worth it for this alone. This would have easily cost 20-25 bucks in stores. Look at it this way, all the other stuff in the box were extra gifts. The box was all about this amazing Pop! Deluxe. I love the Landspeeder, my favorite vehicle in all of Star Wars. Luke looks great and the detail on the speeder is first class. I love the big bases that the Pop! Deluxe are attached to, really makes for a nice centerpiece in a collection.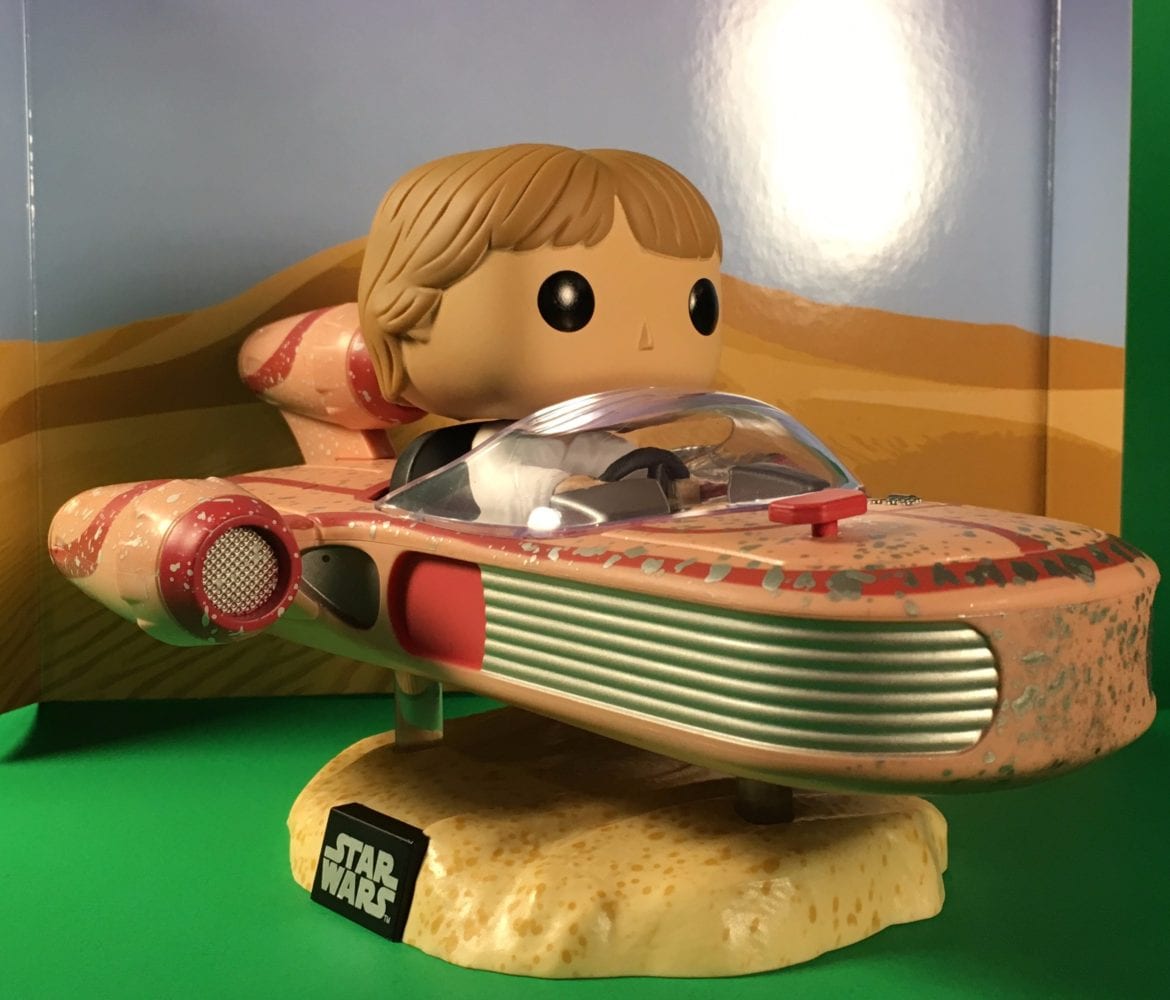 Lots of complaints and threats about cancelling subscriptions after this box. I don't quite get it. To be honest, I don't really want to get into it. I enjoyed this box. Remember this is the ONLY way you could get this Pop! This isn't a Pop! you want as an empty box in the checklist.
Thanks for reading my recap of this month's Smuggler's Bounty box. If you have any questions, please find me on Twitter @DengarDan. The next box theme will be droids! Happy 40th anniversary everyone! Until next time, happy hunting!