New paint and new mold, but the same Chewie we all love!
Hey there Funko fans! I am back to bring you another edition of the Funko Pop! Star Wars Guide! This week features the beloved wookiee, Chewbacca.
There are two versions of The Force Awakens Chewie that hold number 63 on the checklist. Regular release Chewie, and Flocked Chewie that was a Smuggler's Bounty exclusive. I have already covered the Smuggler's Bounty Flocked (furry) version here. Take a look; this was written a long time ago, and I have changed how I have done these quite a bit since then.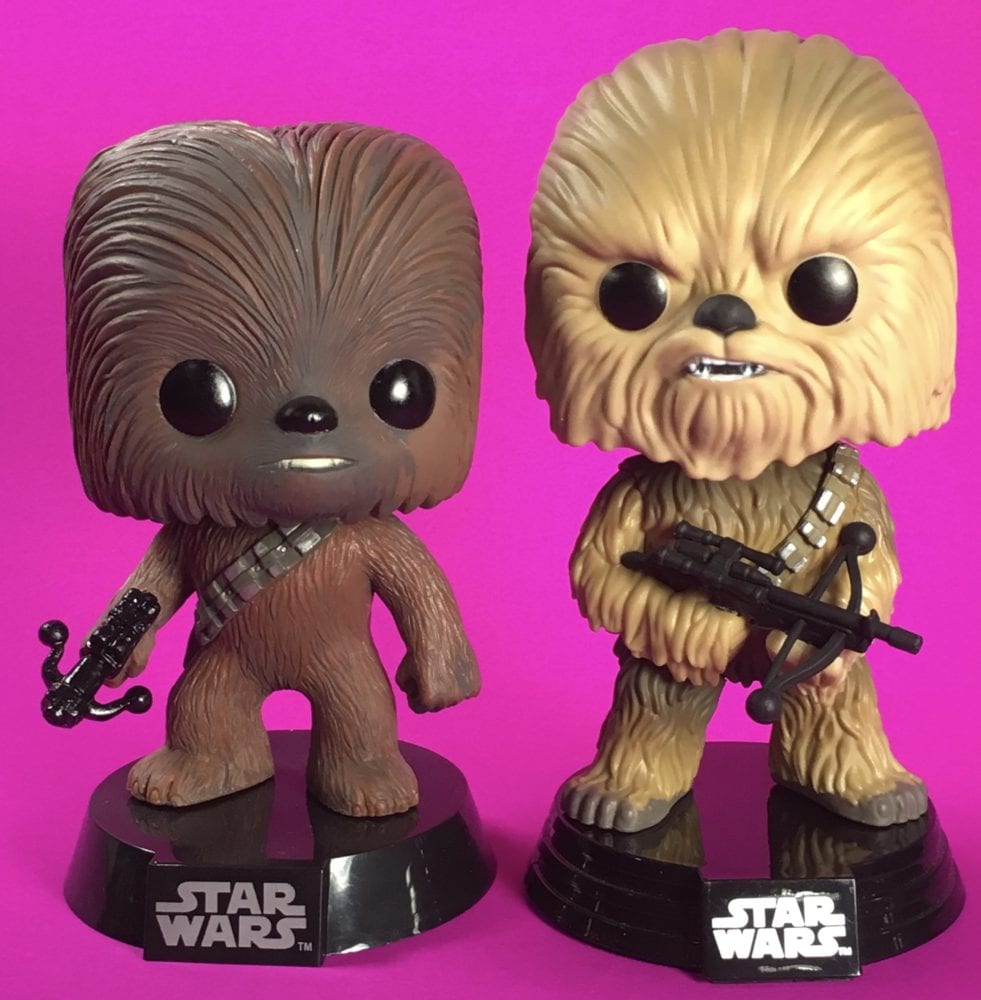 The Deets
As you probably can guess, yes this was part of that famous Force Friday release that I hold so close to my heart. This obviously isn't the first Chewbacca Pop that Funko has done. It is drastically different from the original release. The paint application and the mold are completely different and being totally honest, I prefer this version over the OG. Sorry.
So, if you were on the fence about grabbing the TFA version because you already have Chewie, hop over the fence! This is a completely different and rad Pop! If you haven't picked up Chewie yet, he is still sitting on some retail shelves and the prices on the secondary market are around ten bucks.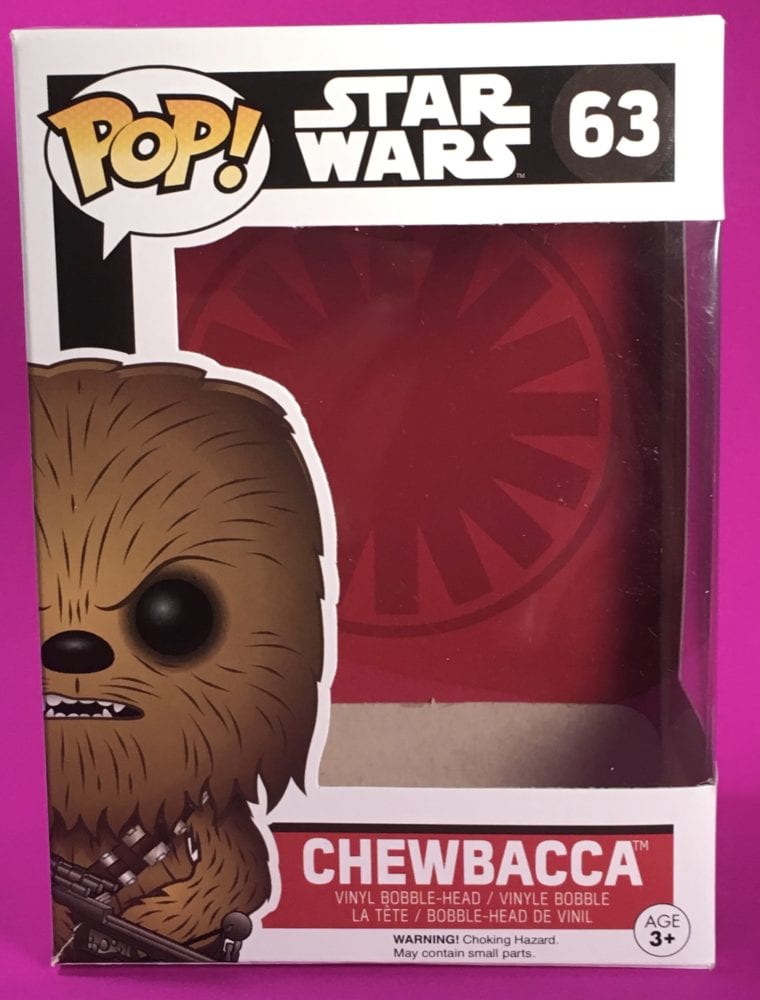 The Pop!
I am a big fan of the new and improved mold and paint on this version of Chewie. The bowcaster has been changed from the original as well, for the better. It's hard not to like anything Chewbacca related. The super jumbo size Chewbacca Pop! that Funko uses at their booths for conventions is even more amazing. I want it. Great Pop! and a great update to an essential character, it's a must-have.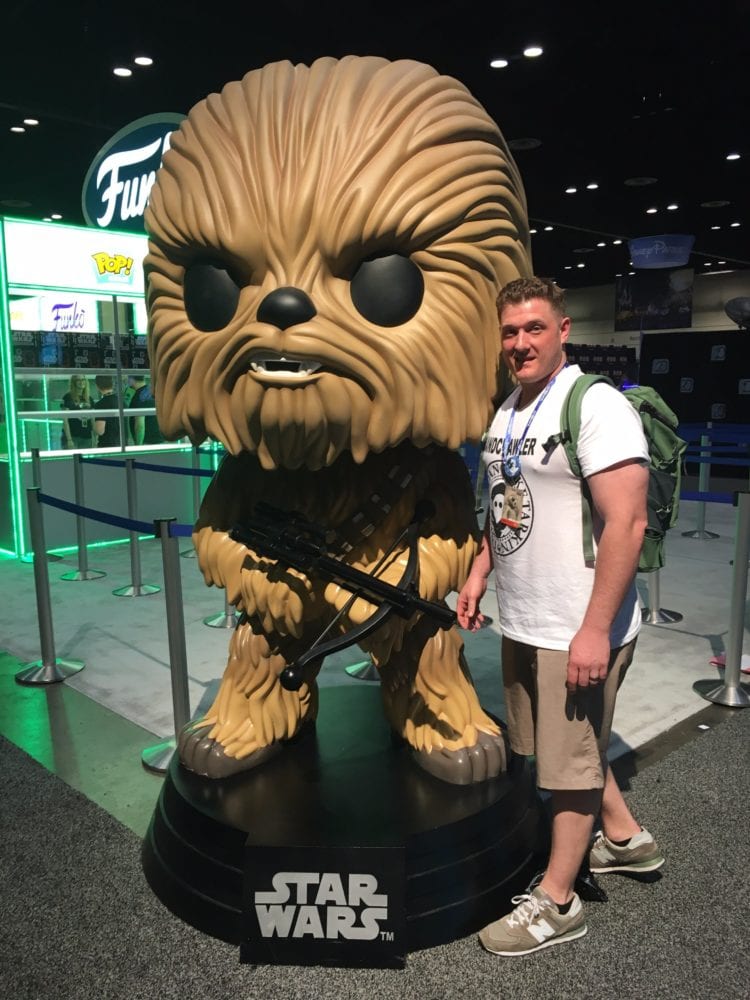 Random Thoughts
Some thoughts I have had in regards to Chewie in The Force Awakens
Not including the scene where Chewie rips Unkar Plutt's arm off for the final cut of the film was a huge mistake. HUGE mistake. Never knew how much I needed that in my life, till JJ gave me just a little taste.
I saw Chewie hurt and sad way too much in the film. Shot and a broken heart. Not how I want to see my favorite Wookiee.
Seeing Chewie put the moves on Harter Kalonia was hysterical, and an underappreciated moment in the film.
Why does Rey get to be in charge of the Millennium Falcon now? I am sure she would make a great captain, but that is his ship now. Chewie put the time and hours in on that ship. It had to be left to him in Han's last will. Captain Chewbacca. Rey has to go end the Jedi.
I need to see a funeral for Han Solo in The Last Jedi, and Chewie just carries the space casket himself. Nobody else is allowed to handle that. Yes, I know, there would be no body in the casket. I just need closure. 
Welp, that will do it for this week's Funko Pop! Star Wars Guide! If you have any questions or comments please find me on Twitter @DengarDan. Next week, the guide will feature a character that you may or may not recognize. Until next time, happy hunting!