Dan reviews the Snowtrooper. Then talks about Patriots and Star Wars. A big win for the good guys.
Welcome back Funko fans to another edition of the Funko Pop! Star Wars Guide! This week I'll be talking about the #56 Snowtrooper.
This week has been tough for me. As most of you may know, the New England Patriots, led by the great Tom Brady and Bill Belichick won Super Bowl 51 in dramatic fashion. So, why has this week been tough for me you ask?
Where do I start. OK. Being a Super Bowl champion is not easy, being a 5 time Super Bowl champion is almost impossible. The haters, the doubters, the jealous all want to see this crown removed from my head. I have had to stay up late all week and watch Super Bowl champion Patriots players rub elbows on the late night talk shows. Watching a four-hour victory parade from my couch was exhausting. Booing my TV when Roger Goodell handed over the Lombardi trophy and making Roger crawl into a hole was tough.
I'm still here though. Everyone hates us, but they still want to be us. Who has it better than me? Star Wars every year and I'm celebrating Super Bowl Championships left and right. The answer is, nobody has it better than me. I am well aware that some of you reading this want to punch me right in the mouth. I get it. Jealousy is a powerful thing. Just try to stay classy and imagine how good it must feel to be me.
Now I suppose I'll reach down deep and muster the energy to write about a Pop! that I truly do love. This week is about Tom Brady #56 Snowtrooper. Let's get to it!
The Deets
This Pop! here was a 2015 Walgreens exclusive. It was part of a four-Pop Walgreens exclusive wave that was absolutely fantastic, like Julian Edleman's catch. The wave also consisted of Holo Yoda, Royal Guard, and Prototype Boba Fett. The good news is that if you don't have the Snowtrooper, I have still seen him on shelves as recently as last week.
Check your local stores before you hit the secondary market. If you end up needing to use eBay, plan on spending 15-20 bucks. Not ideal when they are still sitting on shelves. Speaking of not ideal, did you see the Atlanta Falcons owner celebrating ON the field in the third quarter of the Super Bowl? Quite possibly the most ludicrous way to jinx your team that I have ever seen. Watching his heart get ripped from his chest on the field Temple of Doom-style with millions and millions of people watching was must-see-TV.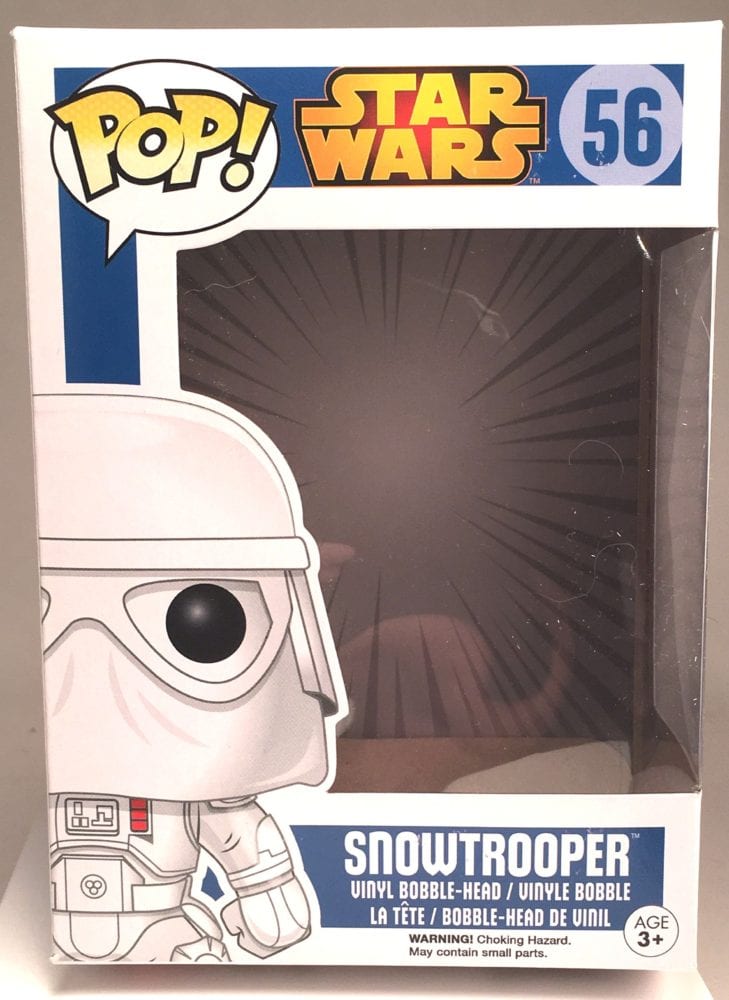 The Pop!
This Pop! is on my favorite Pop list, for sure. The snowtrooper is by far my favorite of the Imperial troopers and Funko locked down the snowtrooper likeness. The job Funko did on this Pop is almost as good as the Patriots defense allowing the 8th best offense in NFL history to score only 21 points. Just great people doing their jobs at a high level everywhere you turn.
The mold is awesome and I love the fact that the paint app is not all white. The actual suit is dirty, grey, and tan looking in the movie, and the Pop holds to that as well. Does anyone know if the snowtrooper was the inspiration behind Cobra Commander?
If you combine the two different Cobra helmets he wears, you end up with a snowtrooper helmet. Neato. This is a great bobble, go and find this one and add it to the collection, it is 100 percent worth it.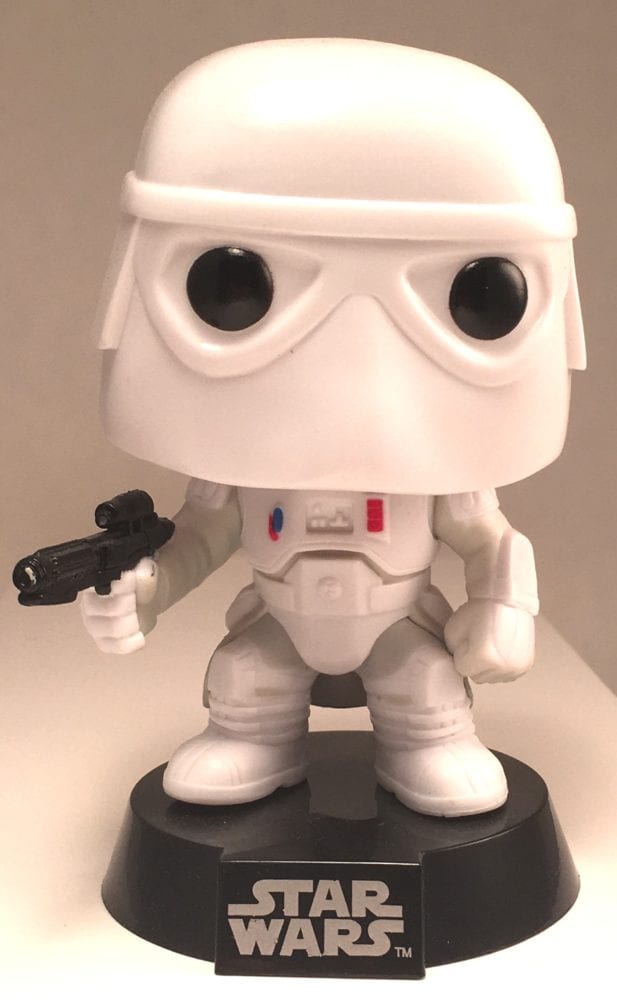 Random Thoughts 
25 points. The Patriots were down by 25 half way through the third quarter. It was like going up against the Death Star. The odds were against them. Han Solo is whispering in Coach Belichick's ear, " Never listen to the odds Bill." Brady is slinging laser beams to undersized and undervalued wide receivers, an easy Rebellion comparison. All the while Roger Goodell is sitting in his Emperor Palaptine throne. The evil that surrounds that man is unbelievable. Lies, deception, propaganda, all from the office of Emperor Goodell. Saw Gerrera would be going nuts. This was a win for the good guys and a win for justice.
I know that there is a zero percent chance that anyone enjoyed this unless you reside in the greatest geographical location in America, New England. Heavy is the head who wears the crown, friends. If you have any questions or comments, please find me on Twitter @DengarDan and check out @FunkoSWGuide. Until next time, happy hunting!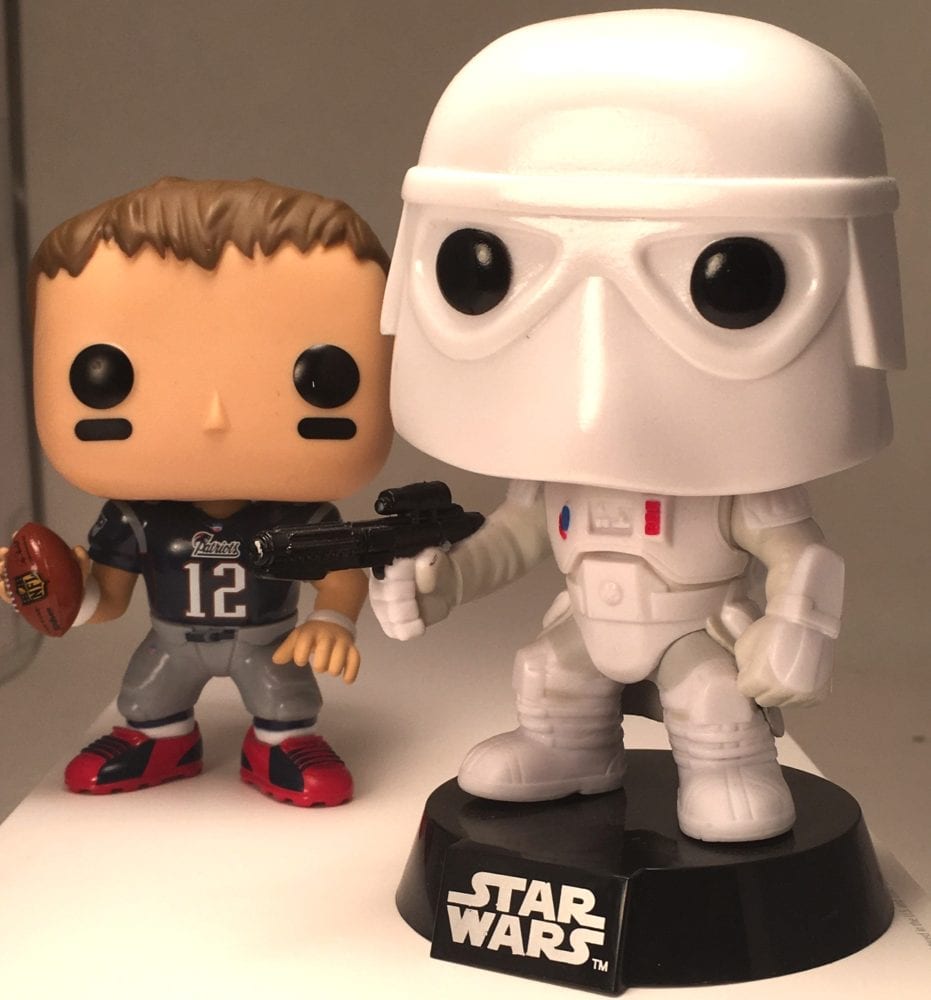 ---
---

Click the banner to visit FunkoPopStarWars.com for all issues of the Guide!
"Dengar" Dan Lizotte is an extraordinary guy with an extraordinary Funko Pop collection, and he's ready to share it with the world. Save for a very specific few, he's acquired EVERY Funko Pop Star Wars bobble-head figure ever released, and one by one he's reviewing them all. Check back for extensive reviews on each figure, including analysis, opinion, unique facts, and the best tips on the Internet for completing YOUR Funko Pop Star Wars collection.