DC aims to steal some of Marvel's thunder this week with the release of their own classic superhero team film; Justice League! The team that will be seen on screen have a long and rich comic history spanning over 50 years!
This Friday, DC Films will give Marvel's The Avengers a run for its money with the release of their latest film in their own cinematic universe; Justice League. Actually pre-dating Avengers by three years, the Justice League is one of the most iconic superhero teams out there. And their roster comprises some of the heavy hitters that DC comics has to offer.
Superman. Wonder Woman. Cyborg. Aquaman. Flash. Batman.
Only half of which have been seen so far in DC's several films. But none of these characters are new if you're one of the many fans who have been following their adventures for the past several decades.
A little history run-down is in order!
Batman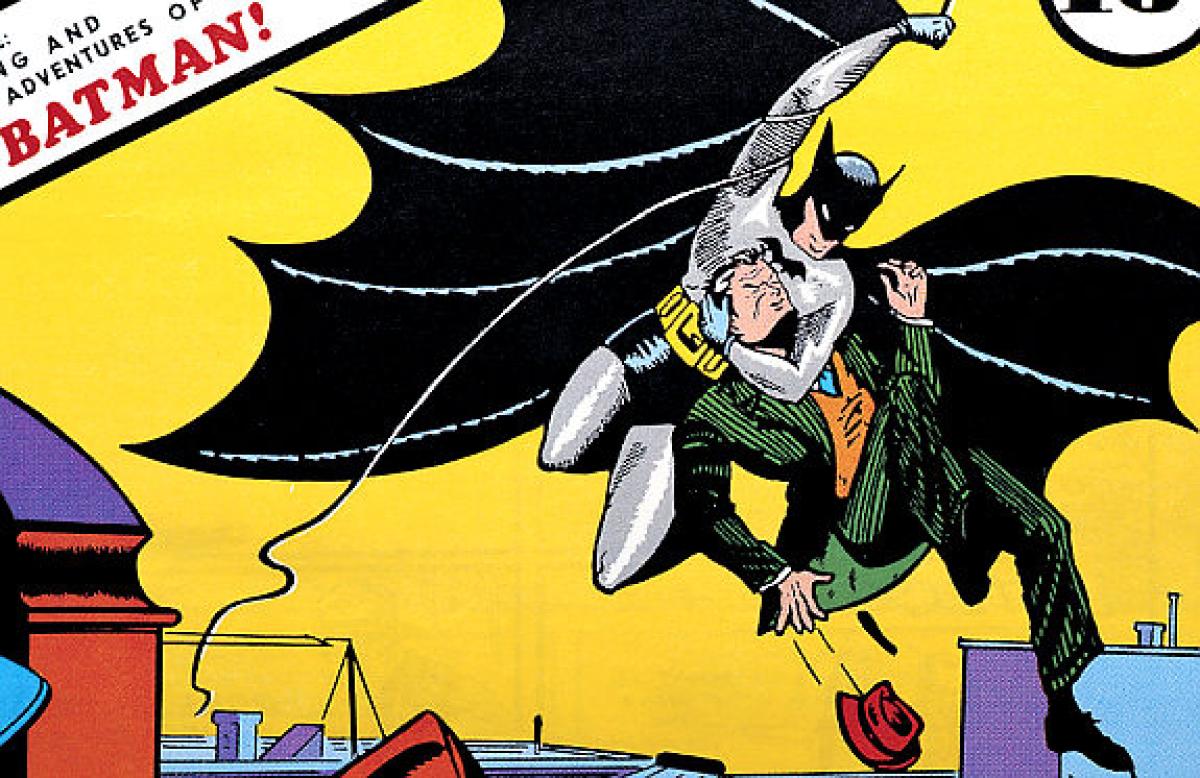 Certainly one of the most recognizable is the Dark Knight himself; Batman. Debuting in 1939, Batman is the creation of legendary comic icons Bob Kane and Bill Finger and first appeared in the pages of Detective Comics #27.
Batman aka Bruce Wayne is the vigilante who patrols and protects the streets of the fictional city of Gotham from your run of the mill crime all the way up to some seriously deranged villains that make up an impressive and extensive Rogues gallery. It was the heyday of pulp comics and in a bid to bring more superheroes into the books Batman was born.  A combination of superhero and detective in the vein of characters like Dick Tracy and The Shadow with a healthy dose of Zorro as added inspiration.
It took off and his own title has run since 1940 and is still going strong. He has gone through many changes over the years but the core of the character has remained the same. His is a hero whose powers are not supernatural or alien in origin. His physical prowess is only rivaled by his brilliant mind. A billionaire mask worn by day falls to reveal the real Wayne by night. As famous as Batman has become, his many enemies are almost equally as popular. The Joker. Penguin. Riddler. The list is too long to go over here. He's also known for an impressive array of technology and weaponry from the Batmobile to the flying Batwing thanks to his bottomless bank account.
It's a character who has fascinated children and adults alike and over the course of his history has made the jump to television, both animated and live action, and to the big screen. Most recently portrayed by Ben Affleck in Batman V Superman, the Batman that DC Films is focusing on now is a slightly older and wiser version of the character. Now with the knowledge of a great threat to the Earth, Batman is the person responsible for getting a team together in Justice League.
Aquaman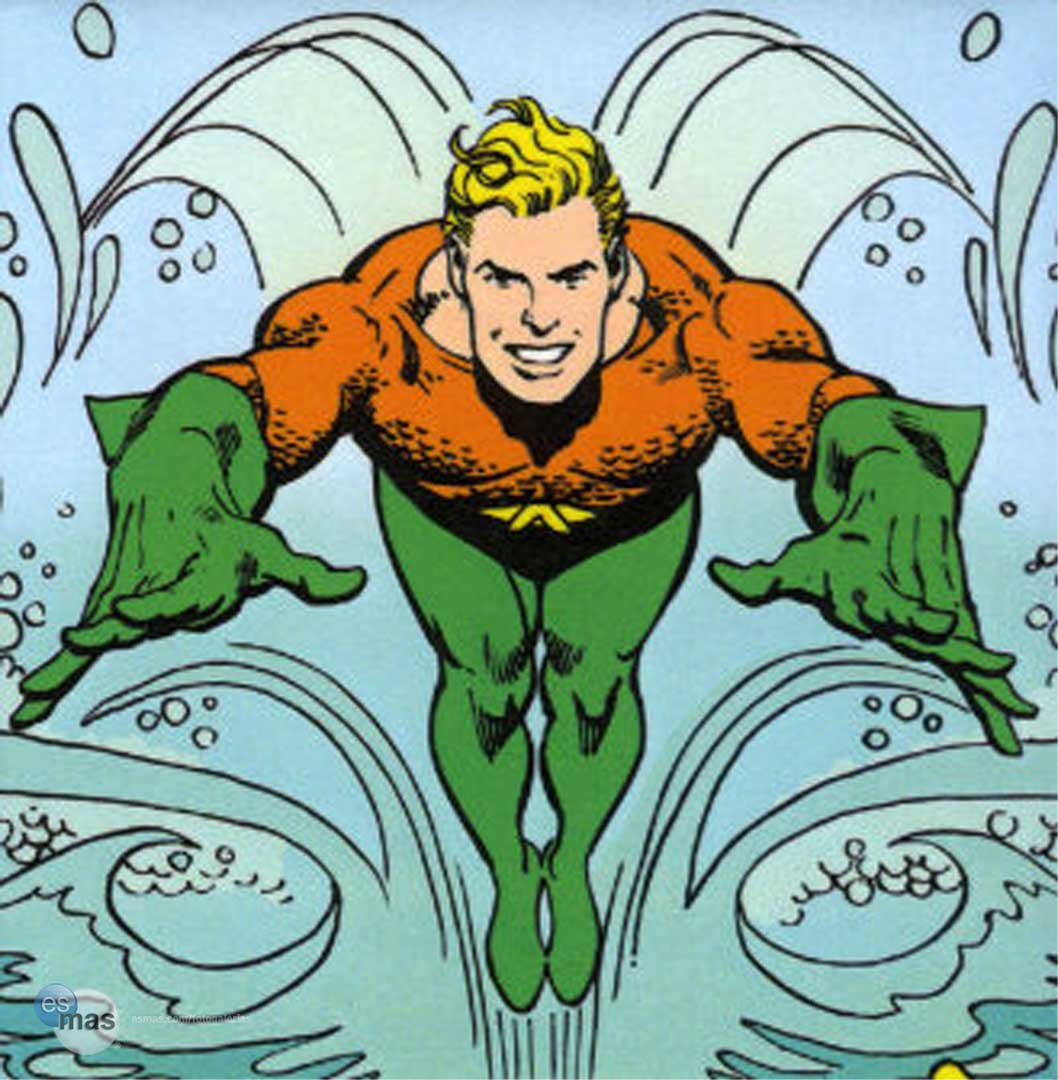 Another old timer Aquaman, the King of Atlantis, is also one of the founding members of the Justice League and is making his screen debut.
His first appearance was in an issue of More Fun Comics from 1941. The son of an ocean biologist, Arthur Curry was raised in the sunken city of Atlantis by his father and as such is endowed with a variety of often ridiculed powers. Telepathy with sea life, the ability to breathe underwater and super human strength among some of the more "normal" abilities. As World War II was just getting under way that year, some of the first villains he faced were Nazi's and other Axis forces. It's similar  to Marvel's own Captain America in a way. At least in the more fantastic nature of the characters evolution.
Aquaman's friendly and somewhat silly portrayal in the comic books has earned the character a lot of ridicule over the years. He's been at the brunt end of a lot of superhero jokes. DC has made changes to the character in various story arcs, giving him a harder and tougher edge during his later years. He's received a bad rap but still is an easily recognizable hero.
Justice League seems to be going with the edgier option as the intimidating Jason Momoa is the actor holding the trident here. Hopefully bringing some respect to the role and spiking renewed interest in this classic superhero.
Wonder Woman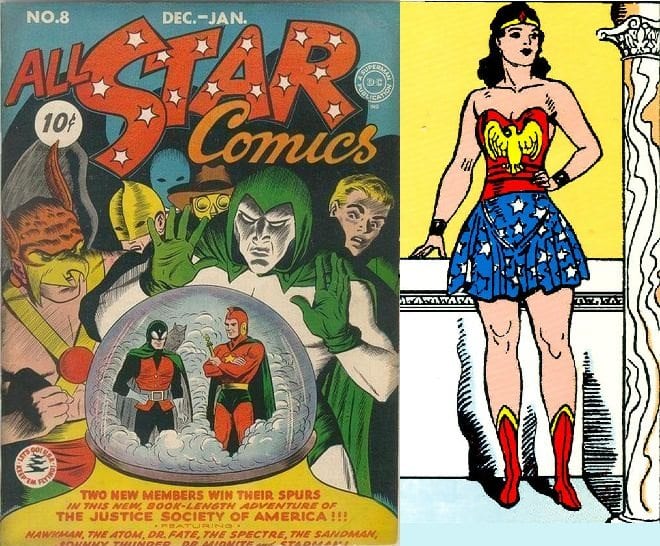 Fresh off of her own successful stand alone film, Wonder Woman will be founding the Justice League to save the world from destruction and Gal Gadot will be reprising her role.
Her creation is an interesting one. William Moulton Marston was trying to create his own superhero in 1941 and with the urging of his wife decided to create a female hero. The character they crafted was to be a strong and fiercely independent warrior who leaves her hidden home to join the outside world and fight evil. A stoic leader, whose aim was to instill in humanity a sense of right and compassion. Her signature weapon, the Lasso of Truth, was based off of the polygraph that Marston is also credited with creating.
Blessed from each of the Greek gods with special abilities, Wonder Woman would spend her early years also knocking down Nazi's and more WWII styled villains with her Lasso and bulletproof gauntlets. Eventually she would join the other heroes in taking on the more fantastical threats of the DC universe.
The intent was to be a model of feminism, introducing strength and independence in an industry rank with misogyny. Unfortunately the creative teams through the years didn't always hold to Marston's original concept of the role. It wasn't until the 1970's that feminist icon Gloria Steinem sparked off new interest in her that paved the way to a more positive portrayal of Wonder Woman. It was also in the 70's that the beloved television series of the same name premiered with the incredible Lynda Carter playing the part.
Wonder Woman is an amazing character who should stand as a role model for everybody.
Cyborg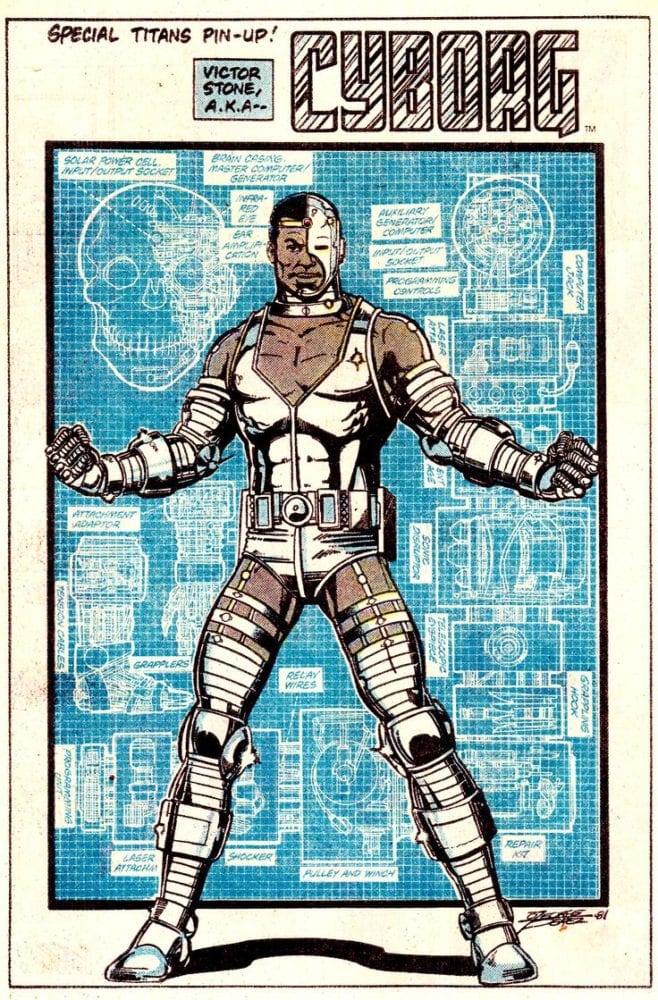 Victor Stone, Cyborg, is the newest hero relative to the others here. Not debuting until 1980, Cyborg was originally not a member of the Justice League at all but of a completely different super team. The Teen Titans.
A product of his parents experimentation with intelligence enhancement and robotics, Cyborg is the ultimate melding of man and machine. Sorry Darth Vader. With the ability to interface with computers and an arsenal of various gadgets and weapons contained in his mechanical body, he is a stand out amongst his peers. Spending much of his history fighting alongside the Titans, it wasn't until the DC Reboot in 2011 that Cyborg became a founding member of this new multiverses Justice League.
Being a combination of man and machine has been used extensively as a reason to consistently blow him up and rebuild him.
One of the most popular iterations of the character is from the Teen Titans and Teen Titans Go! animated series and he also appeared on the Superman-centered Smallville series.
In the upcoming Justice League film, the role will be played by actor Ray Fisher who is also slated to star in his own stand alone Cyborg film in 2020.
Flash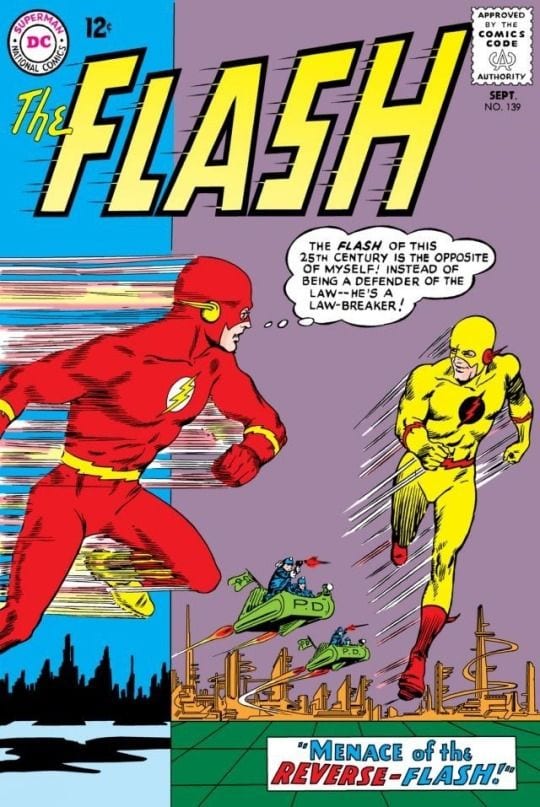 The fastest man alive, the Flash, debuted technically twice, once in 1940 and then again in 1956.
Here's how that happened.
In 1940 in the pages of Flash Comics, Jay Garrick held the mantle of Flash and was a member of the Justice Society of America. It ran for 10 years but was cancelled in 1951. A few years later, DC relaunched the character with a new origin and is the one that is technically still going today.
In a freak accident, forensic scientist Barry Allen is gifted with superhuman speed and a whole host of other abilities and takes on the moniker of The Flash (based off of his favorite childhood comic hero, Jay Garrick). Guarding Central City, Flash has gone up against foe like Reverse Flash, Captain Cold and the Trickster.
A storyline called Flashpoint was an important moment for his character and was the explanation behind DC rebooting their entire lineup in 2011 with "The New 52". With the introduction of The Flash DC began introducing the concept of other universes, the multiverse, and time travel into their stories. It has also been a role that has gone beyond the original Barry Allen. Wally West, who was once Kid Flash, took on the mantle for a time, and continues to go back and forth through various reboots.
He has been further popularized by his own primetime show on CW spinning off of Arrow also on the CW where he is played by Grant Gustin. The film version however will see Ezra Miller in the role who has made small cameos as Flash in Batman V Superman and Suicide Squad. It's a separate incarnation from the television series thanks to the theory of the multiverse.
Superman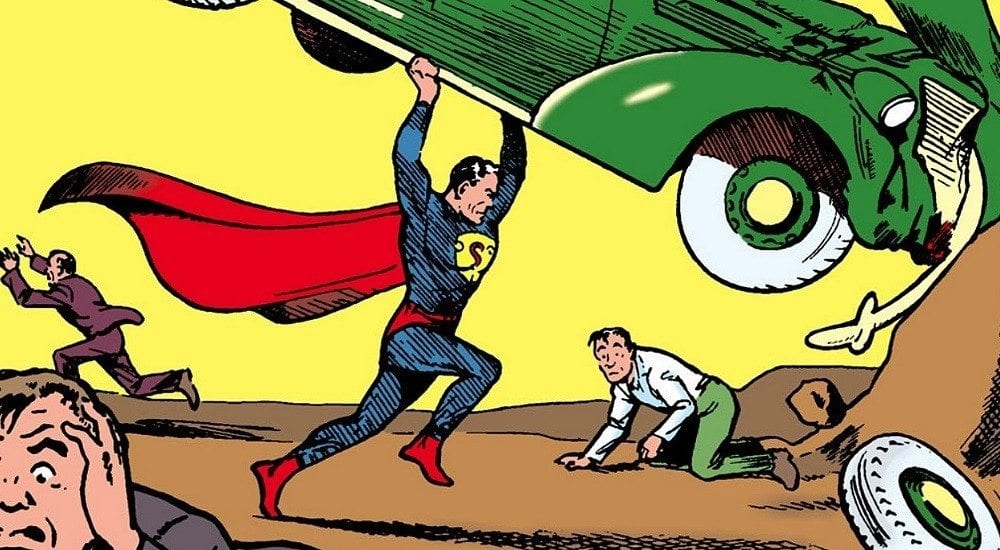 The Man of Steel himself.
Originally created in 1933 by Jerry Siegel and Joe Shuster, the first incarnation of Superman shares no resemblance with the beloved character known today. He was originally a nobody who gained psychic powers and used them selfishly until he lost them and was left with nothing.
Thankfully, no publishing company picked it up and the duo were forced back to the drawing board.
In 1938 a new variation of the Superman was published by DC and was an instant success. Superman, an alien from the planet Krypton under the Earth alias Clark Kent, resides in Metropolis after growing up here on Earth. His biological parents, knowing that their world was about to be destroyed, saved him by sending him as an infant to Earth. Raised in the rural countryside by "adoptive" parents, he learns to control his powers along with learning about responsibility in wielding them. Once employed at the Daily Planet, he hides his super alter-ego underneath a mild-mannered exterior.
For years he has fought for the human race, setting an example for humanity to aspire to and as a warning to others for threatening his new home. He is referred to as the first superhero and has influenced a whole generation of fans. Several different television series' and radio dramas and a number of feature films have paved the way for the Superman of today played by Henry Cavil. It's a long way from the original comic strip but Superman is still a symbol for truth and justice, one that is needed today now more than ever.
Having "died" in Batman V Superman, will Justice League see his resurrection?
Justice League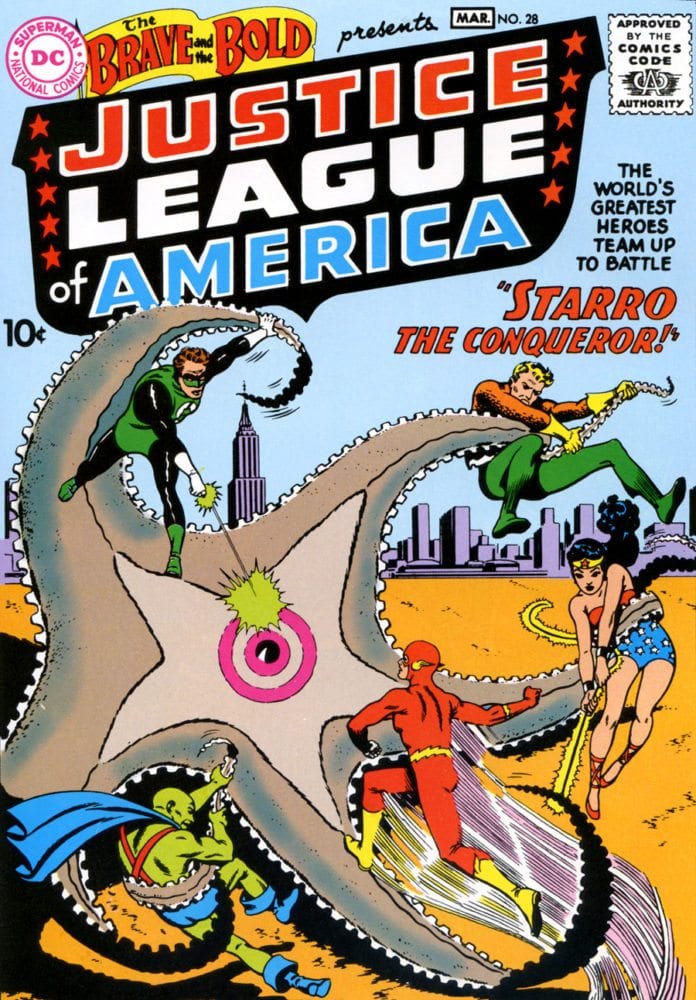 When even the toughest superhero can't do it on their own, there's the Justice League.
Formed in 1960 the original lineup consisted of Superman, Batman, Wonder Woman, Aquaman, Flash, Green Lantern and Martian Manhunter. But over the next several decades the lineup would shift and members would come and go, there would even be several different versions of the team including the Justice Society and JLA.
Justice League would tackle threats that not only plagued the planet Earth but the entire universe. Or universes. In the upcoming film Justice League, Batman and Wonder Woman form a team to take on a major threat to the planet. Enlisting Flash, Cyborg and Aquaman, they will attempt to defeat the villain Steppenwolf in his quest for domination. It will also deal with the aftermath of Superman's death and hopefully his return.
Justice League soars into theaters on November 17th.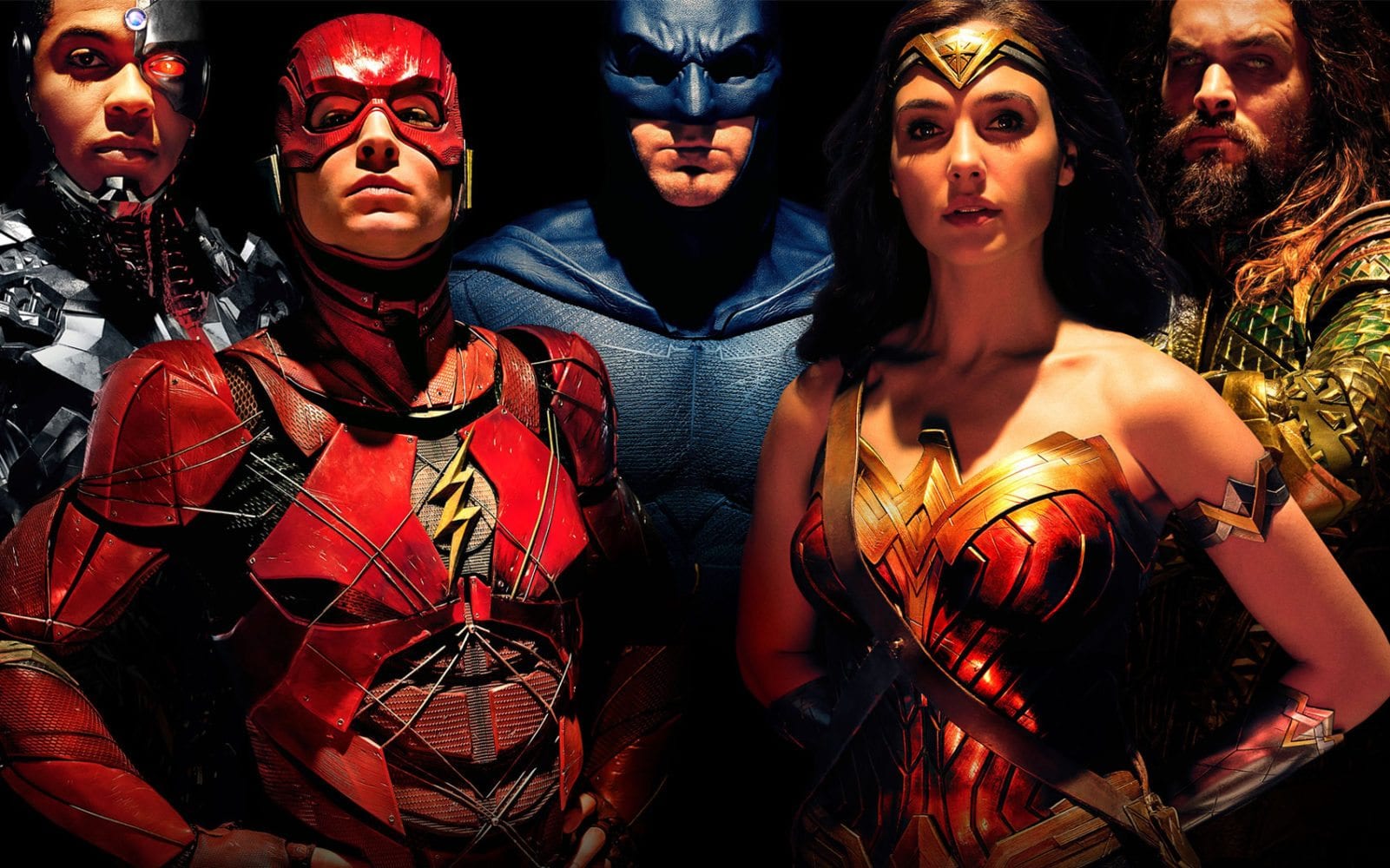 Mike Harris hails from the suburbs of Chicago and has been a fan for most of his life. Working as an industrial radiographer and raising a family with his wife take up most of his time, but there's always room for Star Wars books and podcasts! Just looking to give back to Star Wars and the fan community, it's been a source of fun and learning for him for so long.