Fan Expo Dallas 2019 had something for everyone from nearly and fandom. Three RetroZappers share their experience.
The first weekend of May saw the return of Fan Expo Dallas. The three day pop culture convention took over the Kay Bailey Hutchison Convention Center in downtown Dallas for an extravaganza devoted to Star Wars, Star Trek, comics, and so much more. RetroZappers Dennis Keithly, Beth Keithly, and Darth Taxus were in attendance and now share their experiences.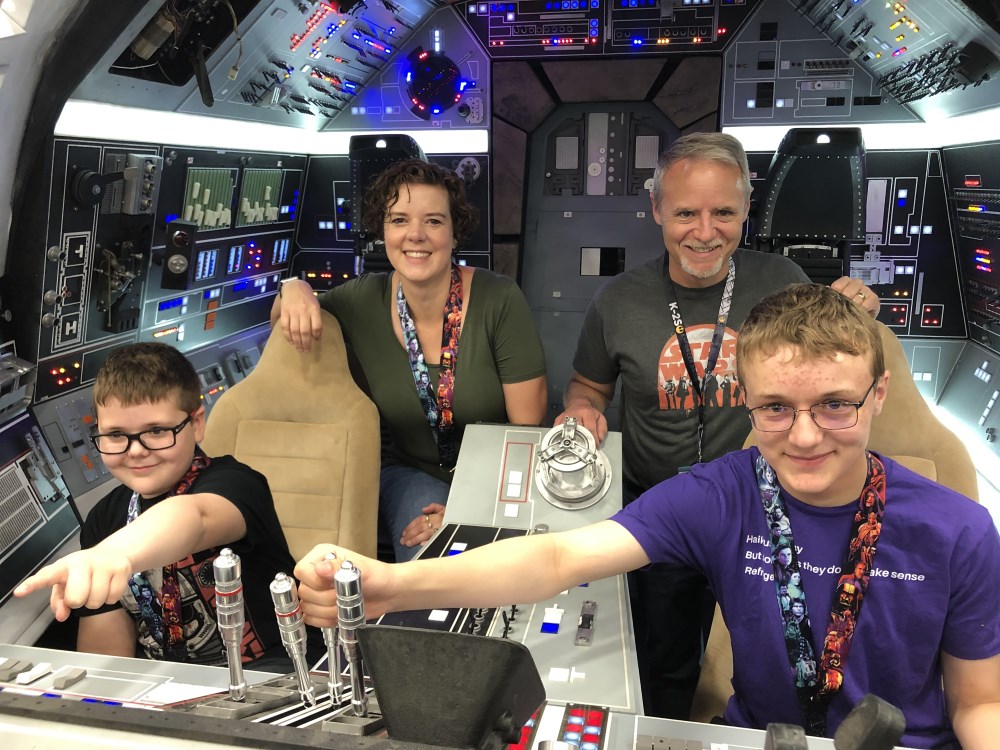 Peter Mayhew Remembered
Dennis Keithly (co-host of Starships, Sabers, and Scoundrels and Warp Trails) was primarily looking forward to Star Wars opportunities at Fan Expo Dallas, and he wasn't disappointed.
Fan Expo Dallas had a little less of a Star Wars presence in 2019 that usual, but for good reason. Of the announced guests, only Peter Mayhew and Vanessa Marshall were primarily identified with roles in Star Wars. Sadly, Mr. Mayhew's family announced that he passed away on April 30, just days before Fan Expo Dallas was to begin. Mr. Mayhew's absence was notable. The actor behind Chewbacca was a resident of north Texas and a veteran guest of several previous Fan Expo Dallas conventions.
The organizers for Fan Expo Dallas did an excellent job recognizing Mr. Mayhew and giving Star Wars fans an opportunity to pay their respects. Mr. Mayhew's booth was left where it was. Instead of hosting the larger than life presence of Mr. Mayhew, a tribute was set up in its place. Fans were given the opportunity to sign a book and leave their thoughts for Mr. Mayhew's family and make donations to Peter Mayhew's Foundation. Mr. Mayhew's booth had a line of fans wishing to leave their prayers, thanks, and thoughts all weekend long.
In addition, Fan Expo Dallas hosted a memorial for Mr. Mayhew at the end of the day on Saturday. It was a stark reminder that the cast of A New Hope is aging, and they won't be around forever. Therefore, if you have the opportunity to meet them at your local convention, take advantage of it while you can.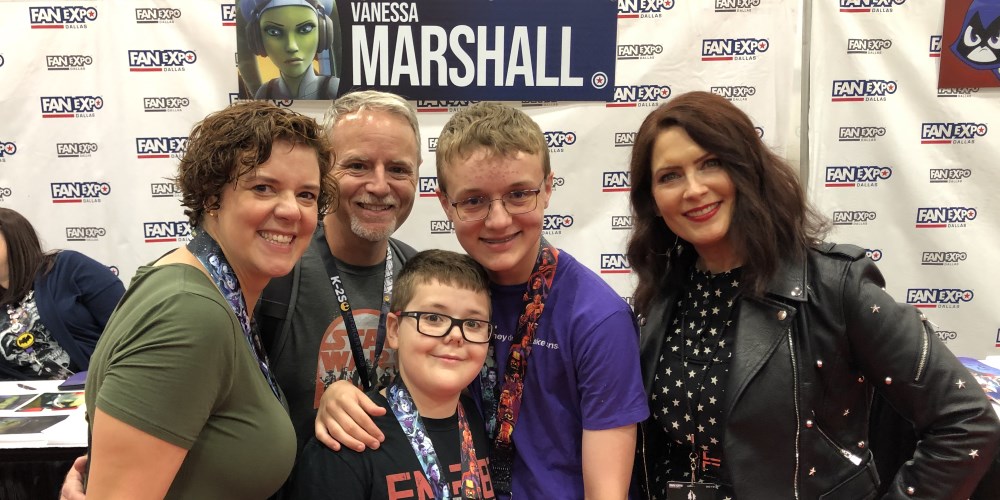 Vanessa Marshall – Hera from Rebels
With the absence of Peter Mayhew, the Star Wars presence at Fan Expo Dallas was carried by Vanessa Marshall from Rebels. The veteran voice actor voiced Hera in the animated successor to The Clone Wars. Ms. Marshall was available for autographs in the voice actor section of the autograph hall, and she could not have been more pleasant to visit with. She took her time with everyone that visited her booth and made the experience personable.
On Saturday, Ms. Marshall hosted a panel largely devoted to her experiences on Rebels. The panel lacked a moderator and didn't have a microphone to pass around, but Ms. Marshall managed the room like an expert and answered questions from the attendees. Some of the subjects of the panel included her suspicion she was auditioning for something Star Wars when she got a script for a project called "Wolf," what was a surprise ending to her when she saw the Rebels finale, her experience recording a line for Rogue One, and her excitement when General Syndulla was paged on the Rebel base at Yavin.
Even though Fan Expo Dallas may have lacked headliners from the saga films, Ms. Marshall was more than up to the task of representing Star Wars at the convention. Her enthusiasm for Star Wars was infectious, and her stories were fantastic.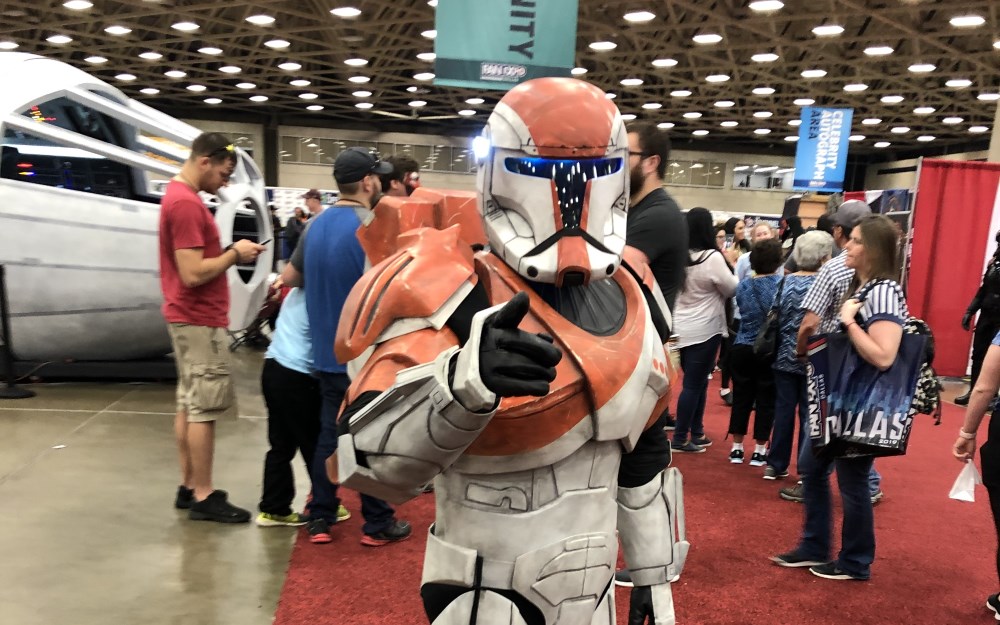 The 501st Legion and Other Star Wars Fan Groups
Although Fan Expo Dallas might not have had many Star Wars actors, Star Wars was still in abundance at Fan Expo Dallas. As with many conventions, the 501st invaded Fan Expo Dallas. The Star Garrison represented the 501st, the closest thing to an official costuming group Star Wars has. As always, they didn't disappoint. Stormtroopers and Darth Vader were in attendance and available for pictures for fans. The 501st is not just a costuming club, they are also known for their motto: "bad guys doing good." This year, they were raising money for Patriot Paws Service Dogs, a group devoted to training service dogs for disabled veterans. In support of their mission, the 501st took photos with convention attendees in front of a Star Destroyer bridge and gave fans an opportunity to make a donation.
Where the Empire goes, the Rebellion will follow. In addition to the 501st, the Rebels were represented at Fan Expo Dallas too. The Kessel Base of the Rebel Legion was also in attendance raising money for charity and participating in the memorial service for Peter Mayhew. Plus, a few scoundrels were there as well. The Mandalorian Mercs could be found on the convention floor.
Beyond the costuming organizations, Star Wars fans could visit with the Droid Builders club. R2-D2 was seen frequently roaming the convention floor. Plus, a number of fan made props were available for photo opportunities. A life size model of the cockpit of the Millennium Falcon was available for pictures for a charitable donation. Other props included a snowspeeder, as seen in The Empire Strikes Back, and Luke's landspeeder from A New Hope.
As one can see, even though Fan Expo Dallas didn't feature many Star Wars actors, Star Wars was still represented at the convention.
The Flash
Beth Keithly (co-host of Warp Trails) is an avid fan of the Arrowverse. The appearances of members of the cast of The Flash was high on her list of highlights from Dallas Fan Expo. In addition to attending a panel featuring the cast members at the end of the day on Saturday, she had the opportunity to meet both Ms. Panabaker and Mr. Valdes during a photo and autograph opportunities with her children.
The CW show The Flash was represented by Danielle Panabaker (Caitlin Snow, Killer Frost) and Carlos Valdes (Cisco Ramon, Vibe, Reverb, Pablo) who in addition to the usual photo opportunities and autographs, took part in a Q&A panel on Saturday evening. After a few questions from moderator and host Taffeta Darling, the two stars took a variety of questions from the audience.
Neither Panabaker nor Valdes is new to the con circuit, which was quite clear in how smoothly and engaged they were when answering questions. Valdes spoke about music, Panabaker discussed how much she enjoyed directing an episode, and both gave several audience members advice on getting into acting. There were several inside stories, especially about the antics of Tom Cavanagh and Grant Gustin while filming.  
Although no one asked Valdes directly about the rumors this is his last season on the Flash, probably due to the non-answer during the Vancouver con in March, Valdes did say, in what some took as a 'knowing voice' that he looked "forward to doing more with the character in the future."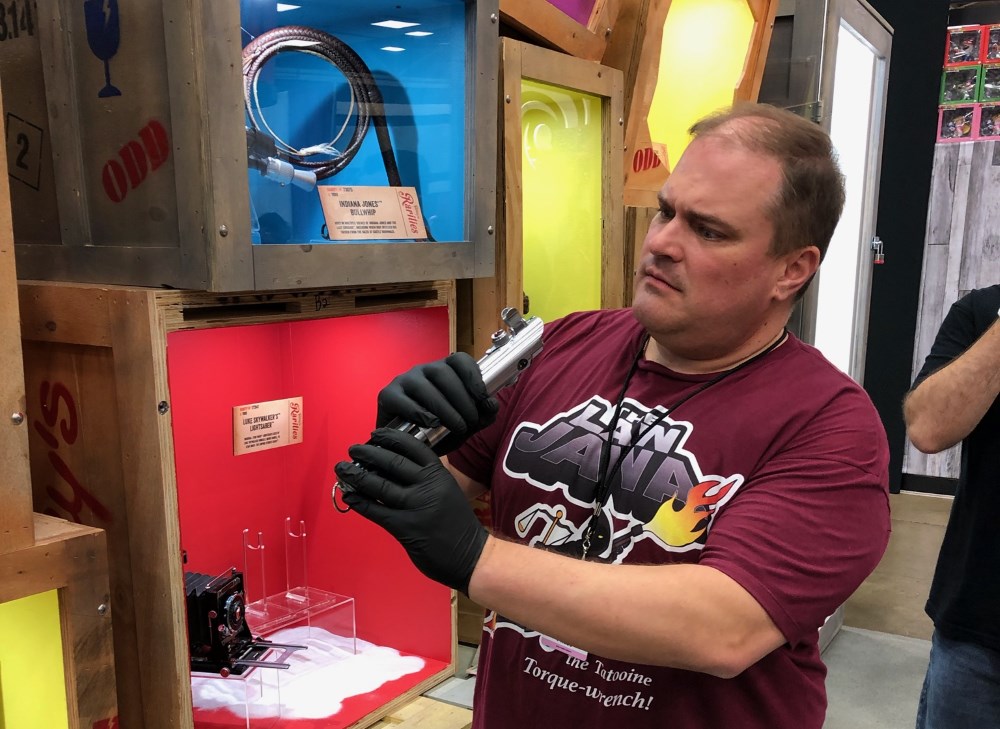 Taxus's Day at Fan Expo Dallas
Darth Taxus (co-host of Starships, Sabers, and Scoundrels) had a limited amount of time on the last day of Fan Expo Dallas, but he still found the options were plenty for the day and had some amazing experiences of his own. He shares his recap of his time at Fan Expo Dallas here.
Due to conflicting schedules, I was unable to attend until Sunday, but there was still a lot for us to do! Not only did we catch up on all the things Dennis experienced, we were able to fit in a couple of more bits of fun. My daughter desperately wanted to attend because some of the Funimation US voice actors for the hit anime series My Hero Academia were in attendance. We attended a fun panel with the voice actors for Deku and Bakugou, played by Justin Briner and Clifford Chapin respectively. The panel was packed with some having to stand to attend. The actors were energetic and had a lot of fun with the attendees' questions. Later my daughter received their autographs as well as autographs from famed anime alum Chris Sabat who plays All Might and Kristen McGuire who plays Nakagame Tatami.
Later, we had a good time exploring the show floor, including an area dedicated to the Ripley's Believe It or Not! franchise. They had a sampling of all sort of interesting items including a statue of an African hate god that strangely, I fell in love with. But emotional deities aside, we discovered that they had on display a lightsaber hilt that was confirmed to be screen used by Luke (Mark Hamill) during the Hoth scenes in The Empire Strikes Back. To top it all off, the staff allowed us to hold the sacred artifact, although we had to do so with gloves due to the prop's six figure value. Since I do not have the insurance to cover any incidents, I was extremely nervous to hold it, but quickly overcame my trepidation as euphoric waves of nostalgia washed over me. I have forgotten about all the cool things that Ripley's holds, and I plan on making a visit to our local museum this summer.
We had a wonderful time with friends, strangers, and events there this year and there was no problem at all doing what we wanted on Sunday first thing in the morning. We can't wait to see what waits for us next year, but until then, their Fan Days event in October will be here before we know it.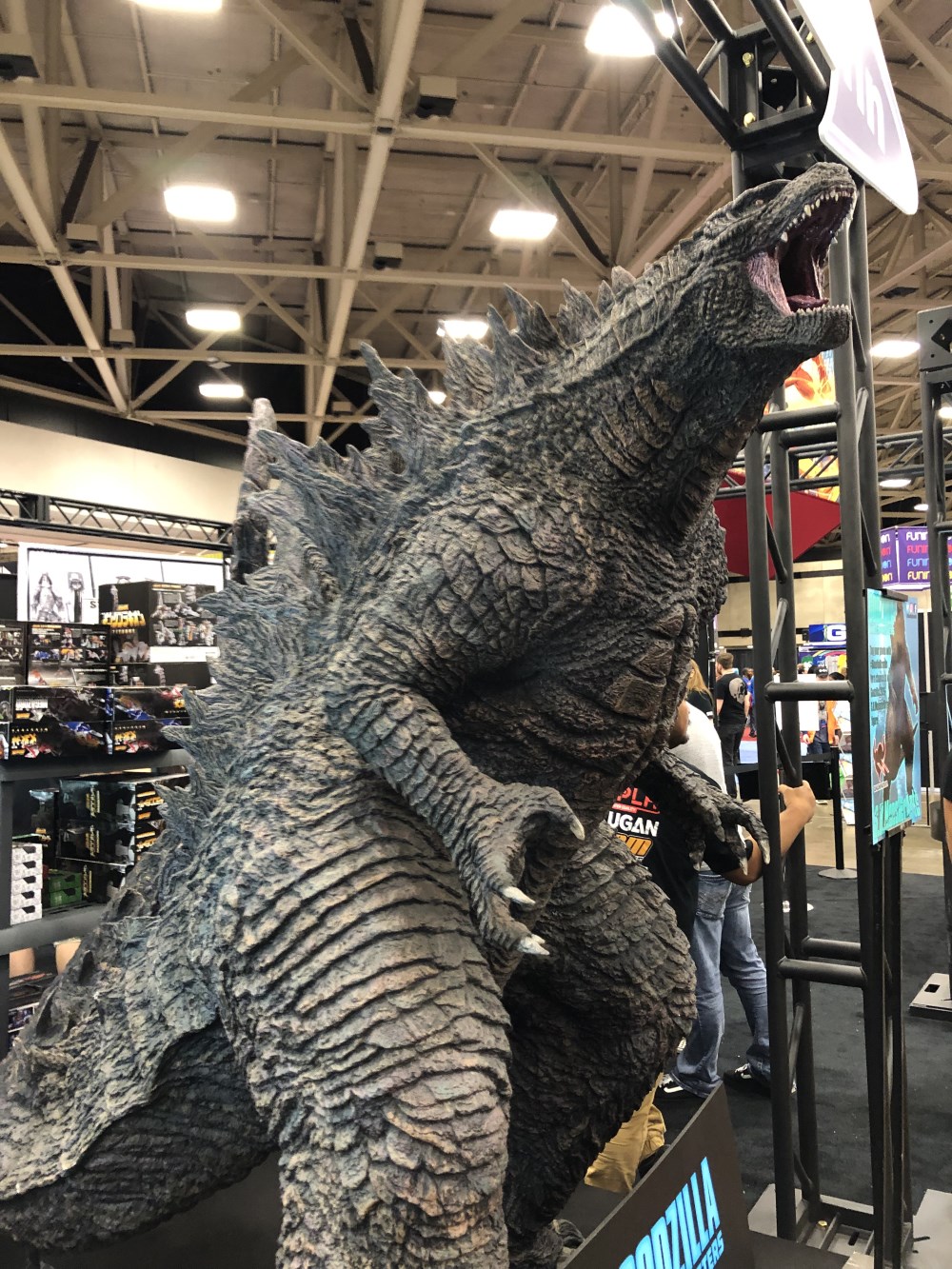 Overall Thoughts About Fan Expo Dallas
Beyond the specific interests Fan Expo Dallas served for Dennis, Beth, and Darth Taxus, there were other notable aspects of the convention.
As is usual, Fan Expo Dallas was held at the Kay Bailey Hutchison Convention Center in Dallas. With each successive year, the organizers of Fan Expo Dallas have found ways to optimize the use of the floor space to provide the best experience for attendees. This year was no different. Unlike last year, the convention largely took place on a single floor. It also seemed that considerable thought was given to common space on the convention floor. Pathways between booths and sections appeared larger than in the past. There were fewer bottlenecks on the convention floor as well. In addition, a food court was added on the end of floor near the ticket booth. Additional seating was added as well.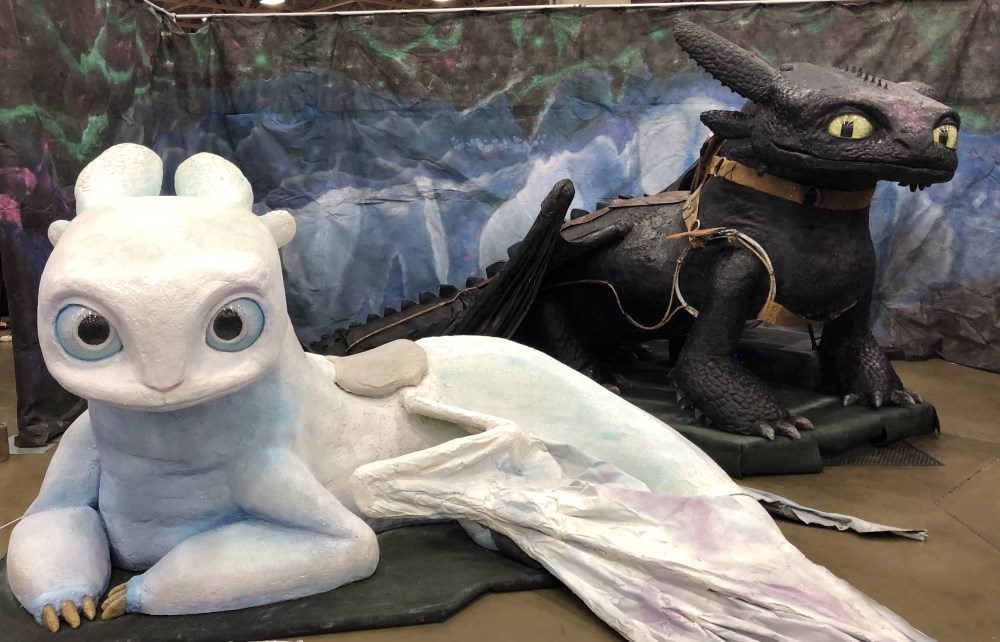 Opportunities to shop were in abundance. Whether you were looking for a new prop to finish your cosplay or a new piece of art for your bedroom wall, Fan Expo Dallas had you covered. Dozens of artists displayed their work near the autograph hall and nearly any superhero or pop culture topic was represented. In addition, several notable comic creators, such as Humberto Ramos, Jeph Loeb, Jim Lee, and John Byrne were in attendance.
As with most conventions of this type, Fan Expo Dallas was a haven for cosplay. As one might expect, Star Wars characters, particularly Rey and Kylo Ren from the sequel trilogy, were very popular choices. Other characters that were well represented were Spider-Man Deadpool, characters from The Flash and Game of Thrones.
Fan Expo Dallas had more than enough to do for anyone. Whether you were interested in cosplaying, shopping, celebrity photographs and autographs, or panels, there were plenty of options. The convention exhibits a lot of thought and care by the operators. Plenty of fandoms, from Star Wars and Star Trek, How to Train Your Dragon and Godzilla, to Back to the Future and the Goonies were represented. Indeed, Fan Expo Dallas had something for everyone.
Dennis Keithly is a graduate of the University of Missouri, North Texas attorney, husband, father of two, and co-host of Starships, Sabers, and Scoundrels. In addition to Star Wars, Dennis is a fan of science fiction, fantasy, and super heroes in general. When not engaged in fictional universes, Dennis is reading a good book or watching the NHL, football, or studying the NFL draft.