Aphra and her father explore the Temple of the Infinite Rur in Doctor Aphra #5.
Warning: The article contains spoilers for Doctor Aphra #5.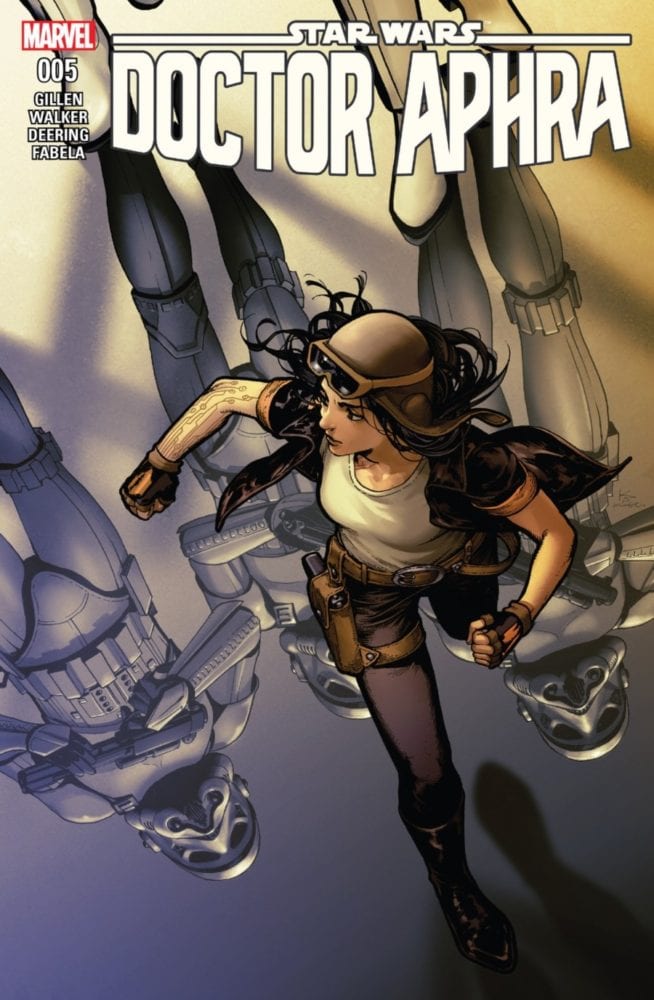 Doctor Aphra #5
Writer: Kieron Gillen | Pencils: Kev Walker | Inks: Marc Deering | Colors: Antonio Fabela | Cover Artist: Kamome Shirahama | Letterer: VC's Joe Caramagna | Assistant Editor: Heather Antos | Editor: Jordan D. White
The Citadel of Rur
In the previous issue, Doctor Aphra, her crew, and her father escaped the Empire on Yavin IV and made their way to the Citadel of Rur. It is there that Aphra's father believes the answers to the Ordu Aspectu lie. However, he is unaware of the Imperial pursuit. As he and Aphra explore the Citadel of Rur, the Empire, lead by Captain Talvin, are closing in. Additional secrets of the Citadel come to light in Doctor Aphra #5.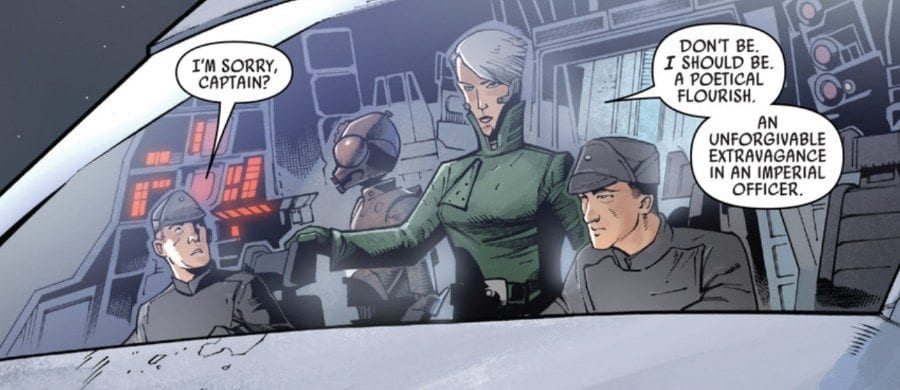 Assault by the Empire
As Aphra and her team explore the Cidtadel, they start dividing up. First, Aphra sends the droids to the ship to get a crystal modulator. Rur's crystals are needed to progress through the Citadel. However, they left most of them on Yavin IV when they fled. Therefore, they need a crystal modulator to make up for the crystals they don't have. Next, the Empire attacks. Talvin and a squad of snow troopers catch up to them. Krrsantan covers them while Aphra and her father flee.
Once Krrsantan is overrun, he abandons Aphra. He takes Aphra's ship, and, predictably, Aphra reacts angrily. In addition, both Triple Zero and BT-1 are on the ship. For the moment, Krrsantan stranded Aphra and her father on the Citadel. This gives them a chance to talk about the past.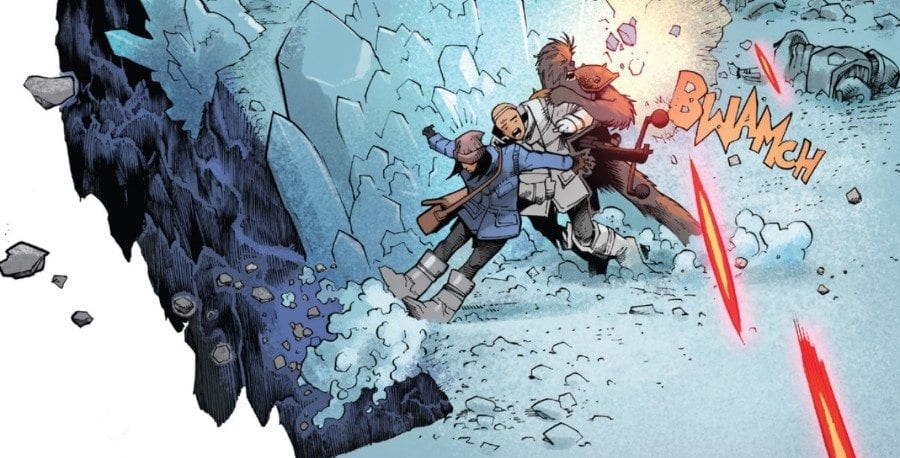 Mending Relationships
Much of this series concerns itself with mending the relationship between Aphra and her father. After all, there is a wide gulf between them. Aphra always resentment her father's family decisions. Ever since that day her mother was killed by raiders, Aphra blamed, to some extent, her father's absence. In her eyes, he chose the Ordu Aspectu over them.
To the contrary, Aphra's father has a different version of events. Yes, he did leave them. However, it was not for selfish reasons. If Aphra's parents agreed on one thing, it was that the galaxy was not safe. They disagreed on how to handle it though. Lona, Aphra's mother, "lived without compromise." According to her plan, the Aphra's would find a home on a deserted planet and live without fear.
Aphra's father's plan differed. Although he always had an interest in the Ordu Aspectu, he never pursued them. However, that changed when the Jedi fell and the Empire arose. He believed the Ordu Aspectu could restore justice to the galaxy. They would bring hope and light to the galaxy.
Ironically, neither plan worked. Lona perished on her deserted planet. Coincidentally, Aphra's father failed to find the Ordu Aspectue. Indeed, it was only recently that he truly picked up their path. The further irony is that Aprha's parents so feared becoming bad parents that they became "the worst parents."

Aphra's Burn Notice
The next big revelation of this issue is how Aphra's father caused the revocation of Aphra's archeological credentials. The Sava (professor) Aphra stole the symbiotes from, as told in Doctor Aphra #1, recently died. The Save suspected Aphra and her father shared a mutual hatred for one another. Therefore, he sent Aphra's father details of Aphra's theft. Aphra's father then leaked just enough to cast doubt on Aphra's credibility which lead the suspension of her doctorate.
Just as her father is about to reveal how to reverse this situation, Aphra stops him. Although she makes strides towards repairing her relationship with her father, she isn't all the way there yet. She still resents her father's decisions. Furthermore, she doesn't trust herself not to abandon him if he tells her how to fix things. Despite that, it does say something about her feelings. Deep down, she doesn't want to harm him. However, she just doesn't trust herself yet.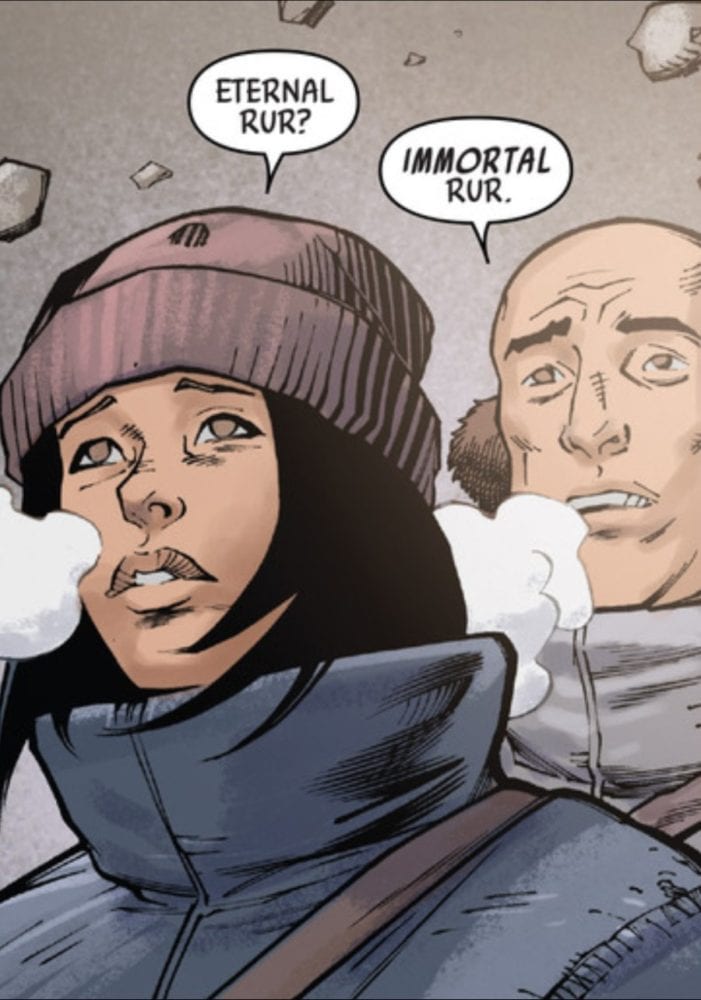 The Immortal Rur
It turns out Aphra held out on her father. After escaping Talvin and the Empire, at least temporarily, the entered the core of the Citadel of Rur. There they found a console and a dead body. However, activating the console is impossible without one of the Ordu's crystals. Aphra withheld the discovery of one such crystal until her father and she discussed their past.
They deduce that the body is that of "the Immortal Rur." Once their conversation ends, Aphra's father activates the console in the middle of the room. A disembodied image of a face speaks with them. First, it demands to know "when is this?" Then it insists it is Rur despite Aphra's father's claims to the contrary. To prove its point, the face claims the body was the false Rur as a large droid activates and proclaims itself "the Eternal Rur."
The revelations from this issue continue to resemble the story of Rur and the Order of the Terrible Glare from the now Legends universe. The review for issue four discussed this storyline. Even though it is not a precise retelling of that story, the Order of the Terrible Glare appears to be a clear influence. As Ahsoka Tano would say, "there is always a bit of truth in legends."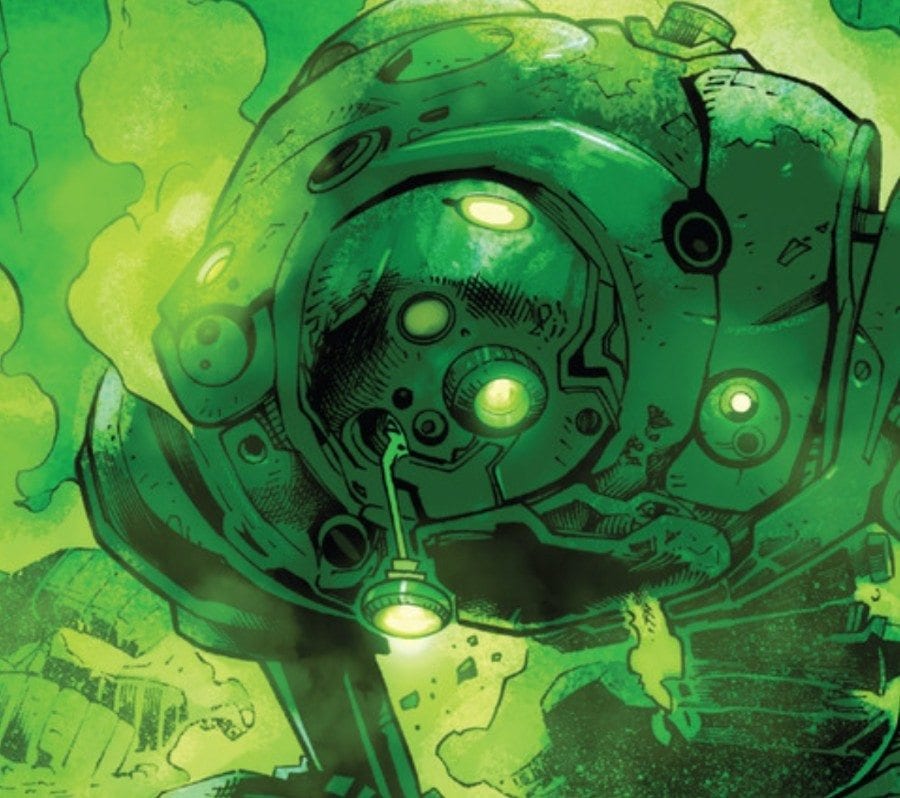 Conclusion
Although there are potential galaxy spanning consequences with this story arc, it is unlikely that is the case. Despite that, Aphra and her father's adventure is quite excellent. This series continually blends Star Wars and Indiana Jones nearly perfectly. Aphra's relationship with her father is a darker version of Indiana Jones's relationship with his. Aphra's motivations are less pure than those of Indiana, but like Dr. Jones, her actions frequently meet with the disapproval of her father. For instance, she collects the lightsabers of the fallen Jedi in the Citadel. Her father reacts with shock. She is robbing corpses. Dr. Jones the senior frequently disapproved of Indiana's methods. Granted, those methods were not as brutal as Aphra's.
There are other similarities. The Empire fills in for the Nazis quite well. Much like Indiana, Aphra finds herself frequenting lost civilizations. Also, she has a knack for getting out of trouble, just like Indiana. As a source of inspiration, Gillen could do much worse than Indiana Jones.
Favorite Panel of Doctor Aphra #5
Selecting the favorite panel for Doctor Aphra #5 was easy. Well, not too easy. The art continues to shine just as it has with each issue of this series. However, this issue has something no other issue of any Star Wars comic does. Galactic civil war era Snowtroopers. Kev Walker introduced them in this issue. They look fantastic. The panel where they finally catch up with Aphra was an almost instant selection for favorite panel for Doctor Aphra #5.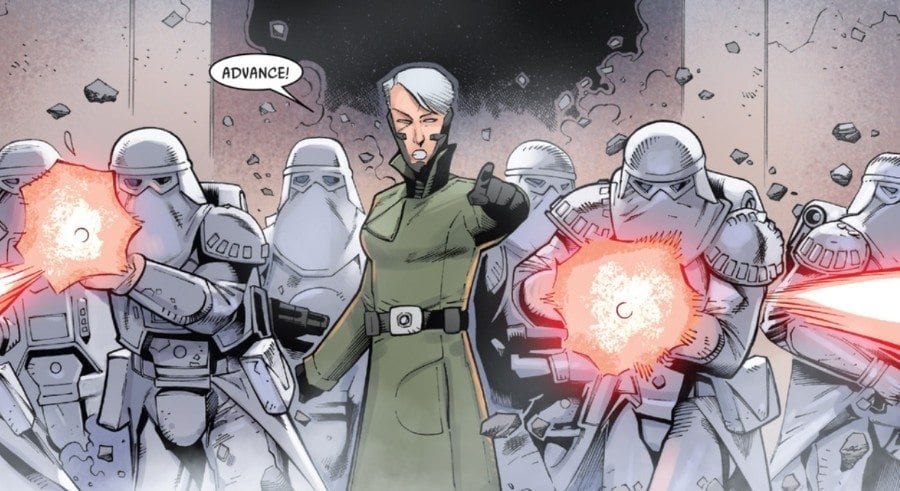 Dennis Keithly is a graduate of the University of Missouri, North Texas attorney, husband, father of two, and co-host of Starships, Sabers, and Scoundrels. In addition to Star Wars, Dennis is a fan of science fiction, fantasy, and super heroes in general. When not engaged in fictional universes, Dennis is reading a good book or watching the NHL, football, or studying the NFL draft.