A new player enters the game as Aphra and Triple Zero race against time to save their lives in Doctor Aphra #29.
This review contains plot points for Doctor Aphra #29.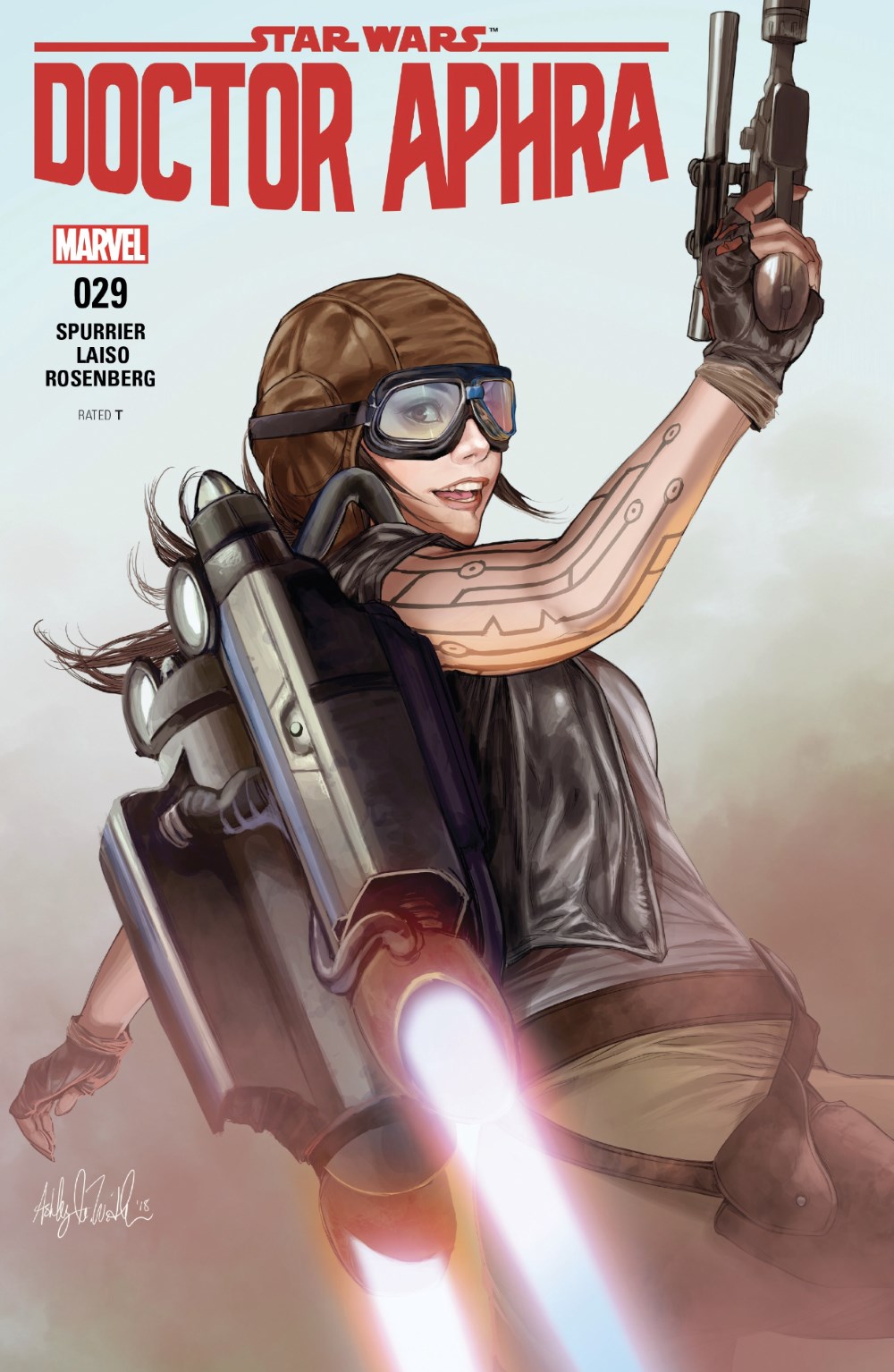 Doctor Aphra #29
Writers: Simon Spurrier | Art: Emilio Laiso | Colors: Rachelle Rosenberg | Cover Artist: Ashley Wittier | Letterer: VC's Joe Caramagna | Assistant Editor: Tom Groneman | Editor: Mark Paniccia
Fate has a way of intervening for Aphra. Sometimes, she makes her own luck. Other times, someone steps in and alters events. Since Aphra has an ability to manipulate those around her that most can't understand, it is somewhat surprising when someone intervenes for a reason for which Aphra isn't aware. That is the case in Doctor Aphra #29. Aphra's life hangs in the balance and depends on her and Triple Zero's ability to remove implanted bombs in their heads before time runs out. Plus, the bombs have a proximity trigger, so they can't get too far apart. The race against time, the law, and bounty hunters continues in Doctor Aphra #29.
The Empire Steps In
Aphra and Triple Zero have been looking for someone on the planet Milvayne to remove their implanted bombs. Their first attempt was a failure. The doctor made the mistake of trying to con them. That mistake was fatal…to him. When Triple Zero and Aphra found another candidate, a young orphan betrayed them to the authorities which resulted in their capture. Complicating matters is that Dr. Evazaan, who implanted the bombs in the first place, is now broadcasting their plight to the entire planet. Evazaan created a video feed from Triple Zero's optical sensors for his own amusement. Now, it's primary purpose is to put the law on Aphra's trail.
This is where the Empire intervenes in Doctor Aphra #29. The Imperial Propaganda Bureau ("IPB") has a ship in orbit above the planet. The IPB isn't happy. As their directors says, "[they] cannot allow a pair of raggedy hobos to infect the locals with mischievous deeds." However, the longer the IPB watches, the more they realize the public is actually rooting for Aphra and Triple Zero. This creates a problem. Milvayne is a model world. It's example lead other worlds to capitulate to the Empire without shots fired.
Milvayne has a somewhat unique relationship with the Empire. The world accepted Imperial rule as long as the Empire's presence is invisible. So, the IPB manages things from orbit. When things go badly, for Aphra and Triple Zero, the citizens begin to get upset and riot.

Things Go Badly
In their first panel of Doctor Aphra #29, Aphra and Triple Zero find themselves surrounded by the authorities. Tam Posla, possessed by the sentient force sensitive spores, lead the pursuit. Triple Zero and Aphra are clever though, and when they point out that Tam is a vigilante, the authorities turn on him rather than let Tam upstage them and claim credit for capturing these fugitives. Aphra, carrying Triple Zero on her back, make their get away.
Doctor Aphra #29 is where plot points from the previous episodes being to coalesce. They may have escaped from Milvayne's law enforcement with their trickery, but that is when the husband and wife team of Winloss and Nokk catch up. The monster hunters were hired by Evazaan in disguise and are eagerly seeking revenge on Aphra. Simon Spurrier cleverly interjected scenes in which the local population, watching events unfold at home, react to the action. Triple Zero and Aphra are indeed fan favorites.
The IPB can't stand for this. Therefore, the director orders that her underlings fire the rail gun. This works. Winloss and Nokk flee as their ship plummets towards the ground. Unfortunately, Triple Zero and Nokk are still imprisoned in the back as Doctor Aphra #29 concludes.

Final Thoughts on Doctor Aphra #29
Doctor Aphra #29 is a fun issue in the "Worst Among Equals" storyline. The series is rapidly headed towards its conclusion. Many of the pieces are moving into place for the story's resolution. Notably absent from this issue was Dr. Evazaan and Ponda Baba. The locals effectively took their place as the observers in this issue. This leads one to wonder if Evazaan and Baba are making a mistake, or whether they might arrive for the conclusion of the story.
There is a genuinely suspenseful moment in the middle of the issue. Triple Zero's legs are damaged. This prevents he and Aphra from making much ground let alone escape. Therefore, Aphra proposes to fix them. There is a catch though: Triple Zero will have to go offline. Naturally, Triple Zero doesn't trust Aphra to fix him and not alter him while he is effectively under anesthesia. But, what choice does he have? Furthermore, Milvayne loses Triple Zero's feed while he is deactivated. The procedure takes ten minutes and is framed by Triple Zero's view going to black and then powering back up. In between, the citizens of Milvayne wait anxiously for the results. When Triple Zero finally comes back online and the operation proves a success, everyone is visibly relieved. This is a fine instance of comic writing by Spurrier and illustration by Emilio Laiso.
Doctor Aphra #29 largely serves as a bridge to the conclusion of the story arc. The Imperial Propaganda Bureau was a nice addition though. In addition, the scenes between Triple Zero and Aphra demonstrate a growing and changing relationship. It is unlikely they'll become best friends after this, but Triple Zero might not be so inclined to kill Aphra when this is all over after all.
Dennis Keithly is a graduate of the University of Missouri, North Texas attorney, husband, father of two, and co-host of Starships, Sabers, and Scoundrels. In addition to Star Wars, Dennis is a fan of science fiction, fantasy, and super heroes in general. When not engaged in fictional universes, Dennis is reading a good book or watching the NHL, football, or studying the NFL draft.