Jocasta Nu makes a daring raid on the Jedi archives in Darth Vader #8.
This review contains plot details for Darth Vader #8 – The Dying Light Part II.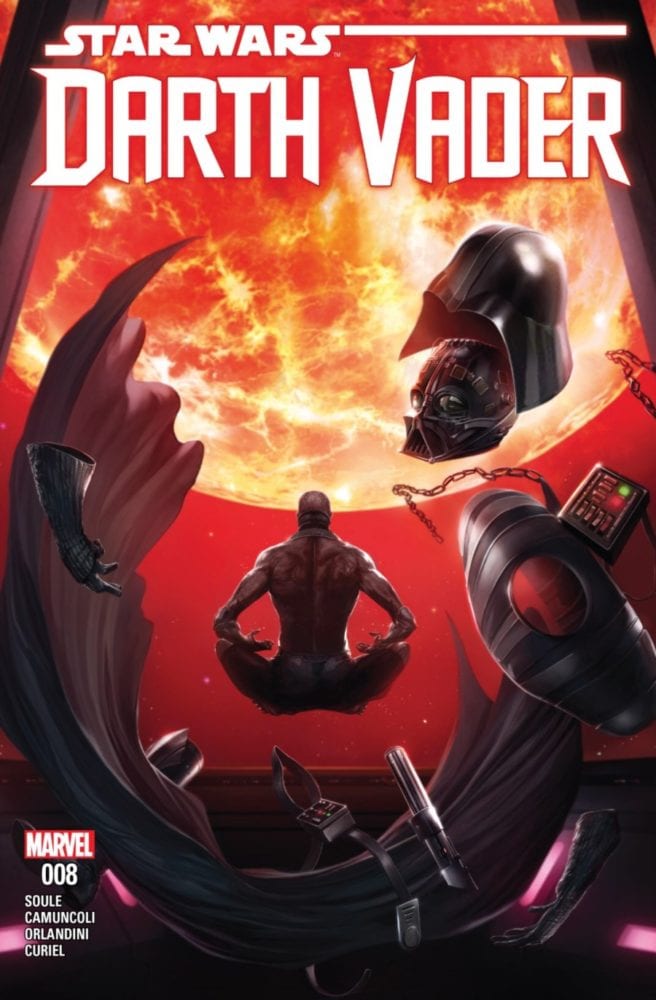 Darth Vader #8 – The Dying Light Part II
Writer: Charles Soule | Pencils: Giuseppe Camuncoli | Inks: Danielee Orlandini | Colorist: David Curiel | Letterer: VC's Joe Caramagna | Cover Artist: Giuseppe Camuncoli & Francesco Mattina | Assistant Editor: Heather Antos | Editor: Jordan B. White
It is still early in the days of Palpatine's new Empire. In addition, Darth Vader remains an unknown quantity to not only the galaxy, but to Palpatine's hierarchy. While he makes his way in the Empire, the new Sith Lord is also learning exactly what it means to be a Sith. Meanwhile, Jocasta Nu, the Jedi librarian and archivist, returns to Coruscant and the Jedi archives in search of the final piece for her new Jedi school. She nearly makes a clean getaway, but her impulses overpower her when she spies the Grand Inquisitor reading in her library. In addition, the Imperial Security Bureau alerts Vader to the possible presence of a Jedi after Jocasta's droid destroys her ship. The Dark Lord's latest mission moves into a higher gear as Charles Soule explores the Sith and Jedi's relationships with controlling their emotions in Darth Vader #8 – The Dying Light Part II.
The Emperor's Continuing Tutelage
It might surprise some readers that Emperor Palpatine (a/k/a Darth Sidious) isn't always a cruel master. As this issue begins, the Emperor and Vader receive a report from a colonel whose division struggles. Of course, Vader begins choking the life out of the beleaguered of the colonel. This is hardly surprising. In fact, Vader's harsh corrective methods for Imperial officers is legendary.
Despite this, the Emperor commands Vader to release the Colonel. He then expresses empathy for his student. Palpatine too understands his frustration of ruling a galaxy of lesser beings. Everyone deserves their hatred and contempt. While these emotions fuel a Sith's power, Palpatine cautions Vader not to let them control him.
Palpatine's advice amounts to "don't let your emotions control you." He combines that lesson with "master your tools, lest they master you." Vader and Sidious have a complicated relationship. Vader is not Sidious's first apprentice. In addition, Sidious seemingly treated his prior apprentices as expendable. Sidious often treats Vader harshly. However, he seems genuinely interested in training Vader as a proper Sith.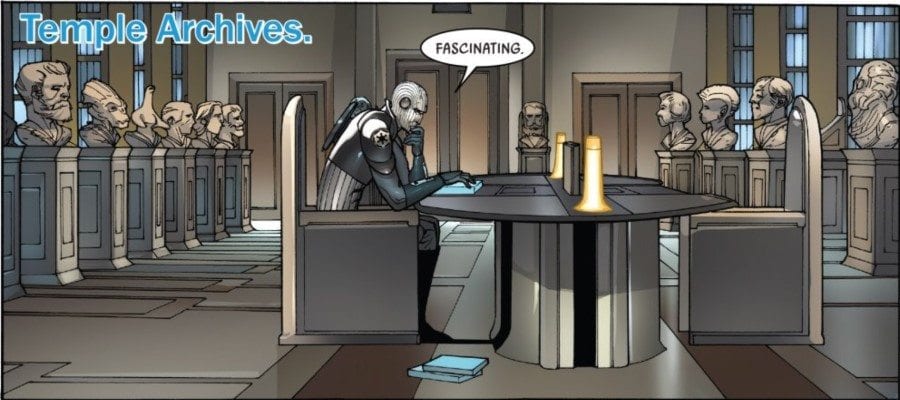 Jedi and Attachments
As Darth Vader once said when he was Anakin Skywalker, "attachment is forbidden" for the Jedi. This lesson is easier said than done. Jocasta Nu infiltrated the Jedi archives only to find the place desecrated  by the Sith and Empire. She nearly admits the pain of seeing the archive in its state of disrepair. However, she sticks to her mission and unlocks a secret vault of Jedi knowledge. Inside she finds a database of known force sensitive children held safe by the droid Castor.
As an aside, this vault is fascinating. At least a few Sith holocrons, other Jedi tomes, a spare Jedi fighter, and other artifacts remain therein. Most interesting is a helmet kept in the case with the Sith holocrons. It bears a striking resemblance to the helmet that appeared in Lando #3 and #4. That helmet apparently was a vessel of dark side power that corrupted Lando's companions after attempting to steal the Emperor's yacht. That it is in Jocasta's vault does not bode well for her.
Once Jocasta beings her exploration of the archive, she receives a message from her droid. The Imperial Security Bureau discovered her ship. Without any emotion, she thanks her droid and adjusts her plan. Her droid then detonates her ship and sacrifices himself. It seems that Jocasta mastered foregoing attachments. Not so fast. As she departs the Jedi Temple, she notices the Grand Inquisitor casually tossing away books of no interest to him. This she cannot abide. She ignites her blade and attacks.

Jedi and Sith – Relationship to Emotions and Attachment
Jocasta is the flip side of Darth Vader in this issue. When the Emperor counseled Vader, he advised him to use his emotions, but not let them get the best of him. Jocasta represents the Jedi take on this lesson gone bad. The Jedi largely refused any emotional influence in their lives. They experienced emotions, but they didn't use them.
Count Dooku chided Anakin about his emotions in Revenge of the Sith. Palpatine told Anakin emotions, such as a desire for revenge, were only natural in the same movie. Anakin knew well that wasn't the Jedi way. However, he succumbed to his fears, frustration, and emotions in the face of potentially losing Padme and threw in with the Sith.
Jocasta is making a similar mistake. She allows her emotions to get the best of her over the Grand Inquisitor's treatment of the books. Mere possessions trigger her. The Jedi ideal proves elusive even for one as ancient and practiced as Jocasta Nu.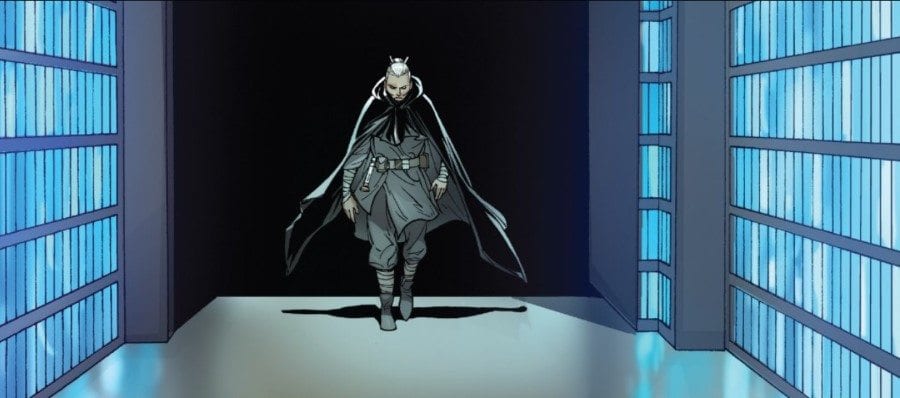 Concluding Thoughts on Darth Vader #8 – The Dying Light Part II
Darth Vader #8 – They Dying Light Part II is more than just the second issue in the current story arc. Charles Soule wrote an issue that subtly compares the Sith and Jedi. In addition, he carefully explores Vader's role in the developing Empire. After Jocasta's ship detonates, the Imperial Security Bureau invite him to the investigation as a courtesy. They have no idea who Vader is, or what he can do. Furthermore, they have no idea how to even address him. The officer in charge of the scene is more than a little shocked when Vader proves their working theory wrong using the Force (which was quite clever of Soule).
As for the database of Force-sensitive children, it might be what the Emperor was looking for in the last issue. Or, perhaps, he was looking for the artifact that made a brief appearance. Exactly what he wants from Jocasta remains a mystery. That said, Vader has his mission to rescue her from the Inquisitors. That story is about to begin.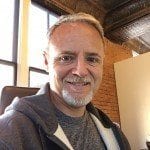 Dennis Keithly is a graduate of the University of Missouri, North Texas attorney, husband, father of two, and co-host of Starships, Sabers, and Scoundrels. In addition to Star Wars, Dennis is a fan of science fiction, fantasy, and super heroes in general. When not engaged in fictional universes, Dennis is reading a good book or watching the NHL, football, or studying the NFL draft.