One doesn't just bleed a Kyber crystal. Vader learns a Sith lesson in Darth Vader #5 – The Chosen One Part V.
This review contains plot details for Darth Vader #5 – The Chosen One Part V.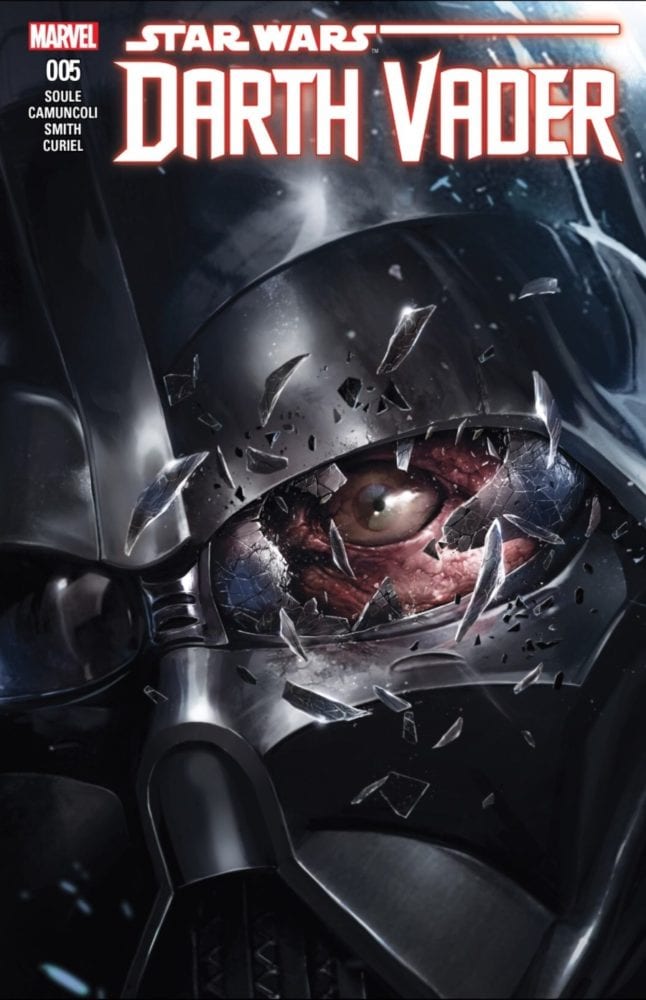 Darth Vader #5 – The Chosen One Part V
Writer: Charles Soule | Pencils: Giuseppe Camuncoli | Inks: Cam Smith | Colorist: David Curiel | Letterer: VC's Joe Caramagna | Cover Artist: Giuseppe Camuncoli & Francesco Mattina | Assistant Editor: Heather Antos | Editor: Jordan B. White
At long last, Darth Vader acquired a Jedi's Kyber crystal. Once aboard his ship, the droid in control sets off for Mustafar per Darth Sidious's instruction. When he arrives, Darth Vader must bend the Kyber crystal to his will. What appears a simple task proves to be otherwise in the pages of Darth Vader #5, The Chosen One Part V.
Return to Mustafar
Previously, Sidious explained that a Sith earned their crystals. They aren't gifts. A Sith seizes a crystals from a Jedi and then "bleeds" the crystal by pouring their hate and the dark side of the Force into it. Once that is done, the crystal breaks under the stress and it produces a crimson blade. It was a simple enough description by Darth Sidious. However, in practice is more difficult.
In fact, the task is difficult enough that Sidious sent Darth Vader back to Mustafar. Of course, in this part of the timeline, Vader left Mustafar only days ago. Obi-Wan Kenobi defeated him on the lava planet. It was, as Sidious says, the site of Vader's greatest defeat. In addition, Mustafar also harbors a locus for the dark side of the Force. It's power is there for Vader's exploitation.
Mustafar's inclusion in this story is poetic. It was on Mustafar that Anakin died. The fires of Mustafar transformed Anakin into Darth Vader. Rather than cleansing Anakin, Mustafar and his actions there seared his soul. A Dark Lord of the Sith emerged. However, the transformation is incomplete. Vader's subversion of the Kyber crystal changes that.
Bleeding the Crystal
As Vader flies to Mustafar, Sidious counsels him on the challenge at hand. First, Vader must find a place of darkness that calls to him. Once there, he must draw upon the dark side energy and combine with is own powers. After that, Vader must corrupt the crystal with this power. Sidious instructs him to "make it bleed."
The word choice is fascinating. The Sith don't shy away from the violence inherent in their nature. They choose words such as "corrupt," "hate," "pain," "anger," and "bleed."  They stand firmly against the light. Villains typically believe themselves the hero in their own story. However, their word choice and actions make it difficult at best to side with them.
Once Vader finds a suitable cave on Mustafar, he begins the process of bleeding the crystal. As Sidious counseled, the crystal has some life of its own. Furthermore, it fights back. In panels sure to be debated by Star Wars fans for weeks and months to come, the power of the crystal throws Vader across the cave. That is not all. Vader experiences an incredible vision.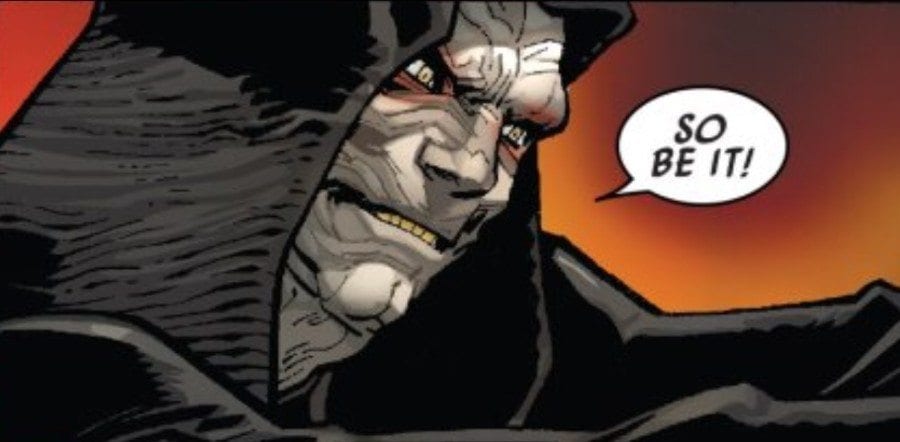 Vader's Vision
Vader either experiences a moment of doubt and desire or a vision. Determining which is difficult. In this vision, Vader sees himself questioning his actions. He reassembles the Jedi lightsaber and confronts Sidious. Once Vader reveals the green blade, Sidious attacks and the two clash. During the fight, Sidious accuses Vader of choosing weakness, and this decision is "such a waste." Vader slays Sidious, his master and emperor, and states "I agree." That isn't all. Next, he finds Obi-Wan. Once he finds his old mentor, he kneels and removes his helmet and simply begs, "please."
This vision is incredible. Did the crystal force this vision on Vader? Or, did the crystal bring Vader's doubts to the surface? Was this the crystal fighting back or was it the Force? There are so many possibilities here. In addition, what was Anakin asking Obi-Wan to do? Was he asking for a merciful death? Was he asking for forgiveness?
Vader's agreement with Sidious that this was "such a waste" answers part of the question. At least in this vision, Vader's choice was a waste. He wasted his life with Padme. In addition, he wasted his potential as a Jedi and someone that might bring peace to the galaxy. The Sith wouldn't see it that way. If this was the crystal's doing, then perhaps it went too far by suggesting Anakin might submit to Obi-Wan.
The Next Attempt
When the vision got to Anakin, Vader snapped out of it. He approaches the crystal and "refuses" what it showed him. In addition, he claims that "this" is all there is. Presumably, Vader means the life he now has now with Sidious, the Sith, and the Empire. Then he begins the process of bleeding the crystal anew. During this process, Vader struggles with the crystal. As Sidious instructed, he pours in his anger, pain, and hate. Visions of the life he left appear spliced between his battle of wills with the crystal. His conflict takes a toll on Mustafar as he draws on the locus of dark side power. The death of his mother, visions of Padme, and Sidious himself become part of the conflict. Finally, Vader cries out.
The Results
The scene shifts to the Emperor's throne room on Coruscant. As an aside, the Emperor is having a very interesting conversation with Mas Amedda and Grand Moff Tarkin. They speak of the schedule and process of an unnamed "weapon." Presumably, they mean the Death Star. Remember, these are the days following Revenge of the Sith, and as readers of the novel Catalyst remember, the Empire's work on the Death Star were already underway.
Also interesting, when Vader arrives, the Emperor's Royal Guard move and attack. They apparently didn't know who Vader was. Neither did Mas Amedda or Tarkin. The Emperor commands them to leave, but Tarkin pleads with the Emperor to consider his safety in the face of the terror that recently arrived. Sidious assures him he will be fine.
Vader then responds to the Emperor's greeting by igniting his saber. A bright crimson blade emerges and Vader salutes Sidious as "Master."

Concluding Thoughts on Darth Vader #5, The Chosen One Part V
Charles Soule outdid himself with Darth Vader #5, The Chosen One Part V. Not to mention, Giuseppe Camuncoli's art was perfect for this issue. This issue offered a tantalizing glimpse of "what if?" What if Anakin realized the error of his ways? What if it didn't take Luke to redeem him? The glimpse was all too brief. Instead of embracing the light, Anakin, now Vader, doubled down on the dark side. It was all he had left. Powerful issue. Great read.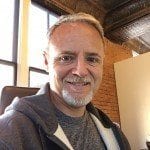 Dennis Keithly is a graduate of the University of Missouri, North Texas attorney, husband, father of two, and co-host of Starships, Sabers, and Scoundrels. In addition to Star Wars, Dennis is a fan of science fiction, fantasy, and super heroes in general. When not engaged in fictional universes, Dennis is reading a good book or watching the NHL, football, or studying the NFL draft.