Vader confront Momin and takes destiny back into his own hands as he defends his fortress in Darth Vader #24 – Fortress Vader Part VI.
Warning: This review contains plot details for Darth Vader #24 – Fortress Vader Part VI.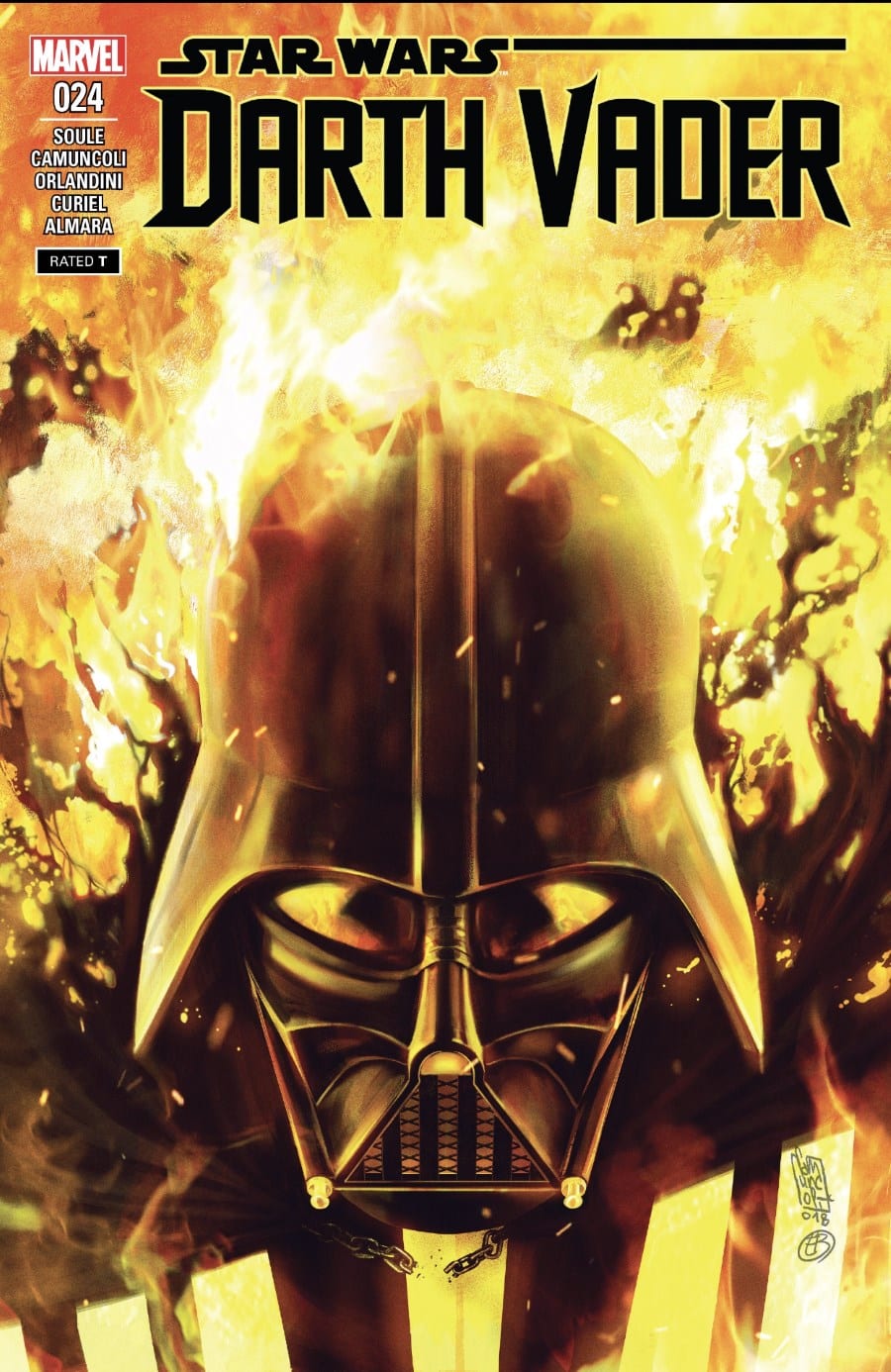 Darth Vader #24 – Fortress Vader Part VI
Writer: Charles Soule | Layouts: Giuseppe Camuncoli | Finishes: Daniele Orlandini | Colors: David Curiel and Dono Sanchez-Almara | Letterer: VC's Joe Caramagna| Cover Artists: Giuseppe Camuncoli & Elia Bonetti | Assistant Editor: Tom Groneman | Editor: Mark Paniccia
Volume 2 of Darth Vader is rapidly approaching its series finale with Darth Vader #25. The Dark Lord of the Sith has some unfinished business that needs his attention first. In Darth Vader #23, Lord Momin completed Vader's fortress on Mustafar just as the native Mustafarians attacked. This interrupted Vader's opening of a dark side portal and gave Momin an opportunity to reclaim his body. In Darth Vader #24 – "Fortress Vader Part VI," Darth Vader demonstrates the power of the dark side of the Force and the might of the Empire. 
The Power of the Dark Side
Charles Soule highlights Vader's talents with the Force in this issue. When the natives of Mustafar attack, he initially repels them by hurling lava at them with the Force. Next, the Mustafarians combined their powers and sent a tsunami of lava at the Imperial forces. All perished save Vader. He surrounded himself with a Force bubble. He then found purchase on the remains of an AT-AT and propelled himself back to the surface.
There is an obvious parallel to Revenge of the Sith in this scene. When Vader escapes the lava, he lands on the shore of the lava flow. His armor is smoldering. Unlike Anakin in Revenge of the Sith, he isn't helpless. He stands under his own power and re-enters the temple. If Revenge of the Sith was Anakin's formal baptism into the dark side, then Darth Vader #24 – "Fortress Vader Part VI" is his accepting mastery of it.
Once Vader returns to his fortress, he finds his altar to the dark side. There, Vader summons the fires of Mustafar and destroys his attackers. However, his challenges aren't complete.

Clash with Momin
After Vader defeats the Mustafarians, Momin confronts him. Momin chides Vader. He admonishes his belief that he is the chosen one. Momin also asks the logical question: "If the greatest power in the galaxy is actually yours to control, why are you a stub of charred meat in a cape?" Furthermore, if Vader were truly in command of the dark side, wouldn't Padmé still be alive?
While they clash, Momin argues that the error of the Sith is the belief that they control the dark side. Momin believes they serve the dark side. Through this service, the dark side rewards them with power and potentially eternal life. Momin's rant suggests he was in fact a Sith as well. He certainly is disgusted by their current obsession with the Jedi.
Momin makes a crucial mistake though. In his vanity, he lectures Vader on power and what it means to serve the dark side. This gives Vader an opportunity. While Momin is distracted, Vader crushes him with part of his altar. Whether the dark side can grant the power Momin suggests remains a mystery. However, the argument is over. Vader is the more powerful of the two. As the lights dim in Momin's mask, one wonders whether this was the last time Momin spoke to anyone prior to the Lando series.
Imperial Fanaticism
Another stand out element of Darth Vader #24 – "Fortress Vader Part VI" is the loyalty Vader inspires in his stormtroopers. When the Mustafarians attack, the Imperial forces prepare a retreat. Vader won't have it. He boldly declares "there will be no evacuation" and "there will be no retreat." Furthermore, he tells the assembled stormtroopers they will destroy the attackers. They will teach them the meaning of Empire. Furthermore, he will show them how. While he is telling them all this, he is combating their attackers.
This is inspiring in a dark kind of way. Vader got in front of his men and instilled confidence with his words and actions. It has been said that the stormtroopers were fanatically loyal to Vader. Up until now, that was often hard to understand. He often sacrificed them by the dozens. His ferocity is inspiring. Vader made them believe they were part of something unstoppable. That inspires loyalty. This has tones of Anakin leading the clonetroopers during the Clone Wars.

Final Thoughts on Darth Vader #24 – "Fortress Vader Part VI"
Darth Vader #24 – "Fortress Vader Part VI" accomplished many things. It is yet another example of Vader's power in the dark side of the Force. This issue also demonstrates how valuable Vader is as a leader, even if he no longer considers himself a general. In addition, this issue also vividly paints Vader's cunning and understanding of the Force.
"Fortress Vader Part VI" ends with Darth Vader once again activating his altar and opening a portal. As he does so, he states that his destiny is his own. The biggest question left is what Vader will find on the other side. The answer arrives with the final issue of the series in Darth Vader #25.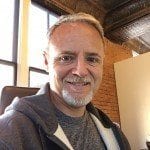 Dennis Keithly is a graduate of the University of Missouri, North Texas attorney, husband, father of two, and co-host of Starships, Sabers, and Scoundrels. In addition to Star Wars, Dennis is a fan of science fiction, fantasy, and super heroes in general. When not engaged in fictional universes, Dennis is reading a good book or watching the NHL, football, or studying the NFL draft.