The hunt for another Jedi has Vader contemplating his future in Darth Vader #19 – Fortress Vader Part I.
This review contains plot details for Darth Vader #19 – Fortress Vader Part I.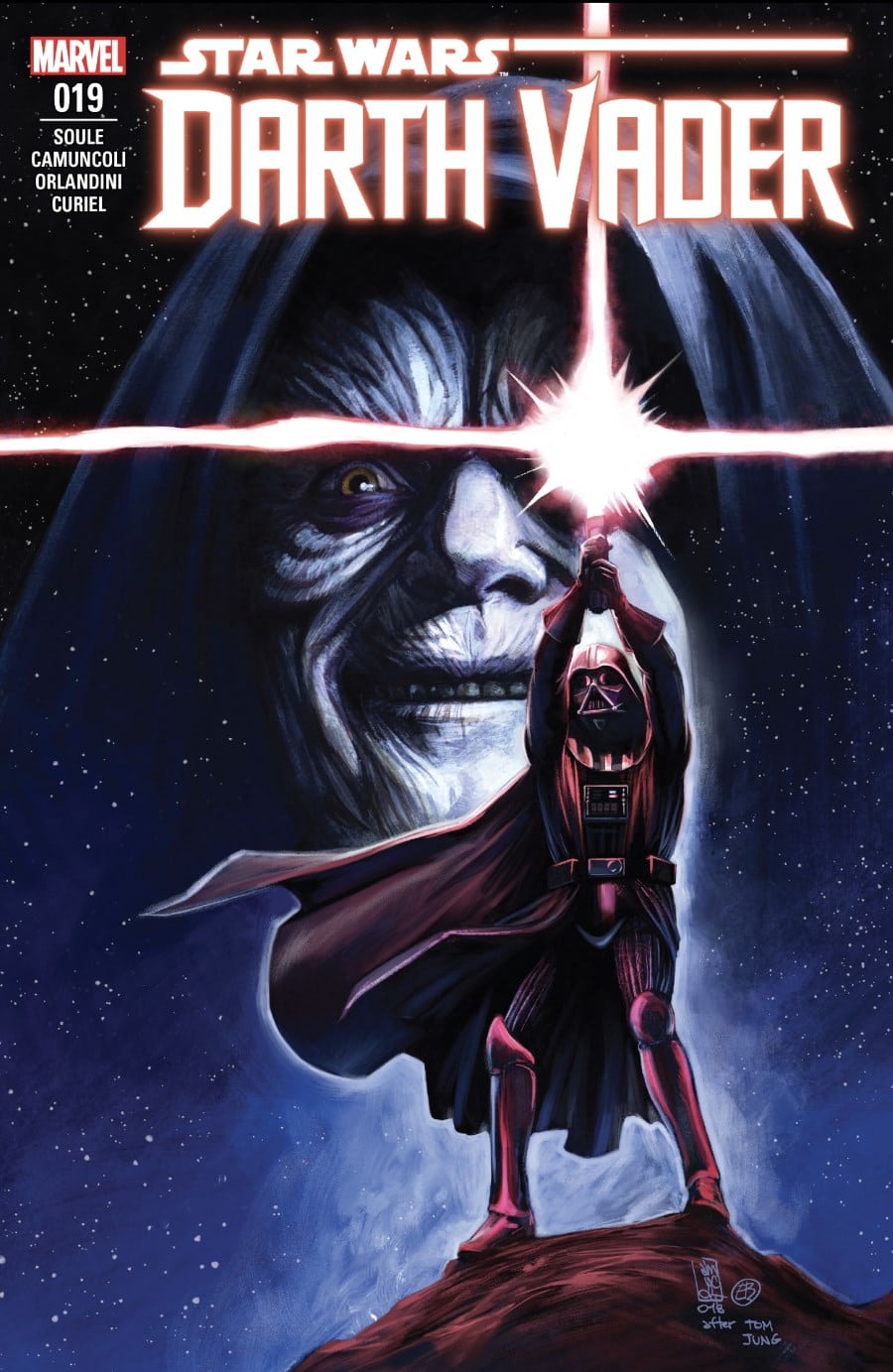 Darth Vader #19 – Fortress Vader Part I
Writer: Charles Soule | Layouts: Giuseppe Camuncoli | Finishes: Daniele Orlandini | Colors: David Curiel | Letterer: VC's Joe Caramagna | Cover Artists: Giuseppe Camuncoli & Elia Bonetti | Assistant Editors: Tom Groneman | Editors: Mark Paniccia
In the years after the birth of the Empire and Order 66, Darth Vader secured his place within the Imperial hierarchy. With his Inquisitors, he now works to eradicate the last of the Jedi. Many of the former guardians of peace and the Force have gone into hiding. Some adopted new identities. However, Darth Vader is driven. There is just one problem: at the rate the Jedi are dying, soon he won't have anymore to hunt. Vader eliminates another Jedi and contemplates this very predicament in Darth Vader #19 – Fortress Vader Part I. Along the way, Charles Soule removes any doubt that Vader is a villain yet to be redeemed.
Once a Jedi
This issue commences with the birth of a Zabrak child. As the proud father reaches out to hold his new daughter for the first time, disaster arrives. Darth Vader is there. He addresses the Zabrak man by his true name: Eeth Koth. This is an alias. Koth was a Jedi Master prior to his removal from the post by the Jedi Council. He then abandoned the name after Order 66 and took up the life of a priest in the Church of the Ganthic Enlightenment. He pleads with Vader to leave him and his family. Vader is unmoved.
A battle ensues. It comes as no surprise that Vader wouldn't spare Koth. Once a Jedi, there is always the potential to resume the cause. The followers of the light don't even need the title. Take Ahsoka Tano for example. She left the order only to aid the Republic and the Rebellion against Separatists and the Empire respectively. Vader's job is to eliminate that potential.

Project Harvester
Koth's elimination isn't Vader's only mission. He is also there for the child. As Koth fights Vader, he commands his wife, Mira, to flee with the baby. Vader then sends his Inquisitors after them. More specifically, they want the baby. Mira is irrelevant. They want the child for Project Harvester. This project was hinted at in The Clone Wars, and it might be an extension of a project started by the Emperor to convert force sensitive children into dark side agents. There may only be two Sith, but they make use of dark side servants, such as Asajj Ventress and the Inquisitors.
Despicable Vader
It is often easy to overlook the evil of Vader's deeds. After all, Vader is pretty cool with his black armor, crimson lightsaber, resonant voice, and power over the Force. He is one of the most iconic villains in science fiction and cinema and general. Anakin Skywalker's fall was a trajic one. However, his heroics in The Clone Wars make him sympathetic. Plus, many of Vader's deeds are done during war against armed opponents. But, Vader has done some pretty evil things. Just consider how he tortured Princess Leia aboard the Death Star. Also consider his torture of Han Solo on Cloud City just to draw Luke in. He is often stoic and silent.
Darth Vader #19 – Fortress Vader Part I exhibits how evil and despicable Vader can be. He and his servants ripped an infant from the arms of her mother. They weren't gentle with her either. One inquisitor held the baby by its skull. Vader then commanded it to cease crying and presumably used some sort of force power to compel the baby to do so. When they arrived on Coruscant, Vader presented the child to agents of the Harvester project. He wouldn't even touch the baby. Vader simply levitated her through the Force.
It is often easy to lose site of the fact that Vader is a villain. Charles Soule writes him brilliantly. Vader is the protagonist of this story. He is quiet and methodical. The Dark Lord frequently struggles against other agents of the Empire. He is clever and resourceful. Some of his qualities are those of the hero, but he is no hero. Darth Vader #19 – Fortress Vader Part I sets the record clear.

Fun with Aurabesh
Once Vader hands over the infant to the custodians of Project Harvester, he asks the Grand Inquisitor who is next.  The Inquisitor has some bad news. They are running out of Jedi to hunt. The Grand Inquisitor then shows him a list of confirmed surviving Jedi. There aren't many left and they are hiding. All they can do is wait for these Jedi to surface.
A list of the Jedi survivors is presented in hologram format and is in Aurabesh. The panel portrays the words backwards to the reader, but to Vader, they would read from left to right as he is on the far side of the panel. The readable names include: Obi-Wan Kenobi, Coleman Kcaj, Oppo Rancisis, Selrahc Eluos, and Ka-Moon Kholi. The first three are obviously Jedi from the movies. The last is an anagram or tuckerization for Charles Soule. There is one more Jedi listed: "Ka-Moon Kholi," but that is harder to make out. That appears to be a phonetic spelling of the artist for the issue: Giuseppe Camuncoli.
Final Thoughts on Darth Vader #19 – Fortress Vader Part I
Vader accepts the Grand Inquisitors news about the remaining Jedi. He then contemplates his next course of action from the solace of his bacta tank. When he emerges, he discovers two of the Inquisitors discussing how Vader will find something else to kill now that the Jedi are dying off. In response, Vader ignites his blade as the issue ends. Vader's motivation is unclear, but things don't look good for these particular Inquisitors.
Darth Vader #19 – Fortress Vader Part I continues Charles Soule's excellent run on this title. As previously discussed, Soule reminds the reader that Vader isn't a good person. However, Vader has other qualities. He is manipulative and observant. As he battles Eeth Koth, he notices how Koth lets his emotions rise to the surface. Vader stokes his anger and despair during the fight. The final pages also show how contemplative Vader is. In short, Vader is a very complex character.
One last thing: readers should remember Mira and her daughter. Soule's characters have a habit of showing up again elsewhere.  Mira might not be a factor in this story arc or even appear in the pages of another issue of Darth Vader, but don't be surprised if she emerges again someday.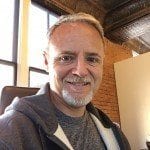 Dennis Keithly is a graduate of the University of Missouri, North Texas attorney, husband, father of two, and co-host of Starships, Sabers, and Scoundrels. In addition to Star Wars, Dennis is a fan of science fiction, fantasy, and super heroes in general. When not engaged in fictional universes, Dennis is reading a good book or watching the NHL, football, or studying the NFL draft.