I've done this a thousand times. In my head. Don't ruin the moment.
This review and commentary contains general spoilers for issue #2 of Lando.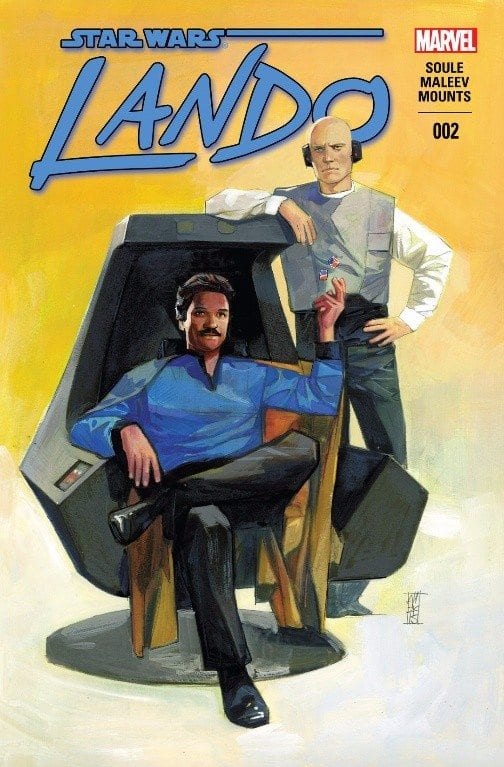 Lando #2
Writer: Charles Soule | Artist: Alex Maleev | Colors: Paul Mounts | Cover: Alex Maleev | Letterer: VC's Joe Caramagna
Some issues of comic books are all about story structure. Connective tissue, so to speak. When done right, they provide a lot of interesting story in the process, but anyone with a trained eye knows that it is clearly prelude to the main course. This issue of Lando was a classic act II of a five-act story sequence–the phrase most commonly associated with it?
The plot thickens.
On paper, things don't really move anywhere, although we are treated to plenty of interesting developments, information, and new characters. Lando escapes with the Emperor's ship, the Imperialis; Imperials get ready to accept punishment for their failure; a new bounty hunter is introduced and is in pursuit of the unaware Lando; and mysteries abound at the center of this mysterious, expensive ship that Lobot and Lando have swiped.
At the outset of the book, we get a fleeting nod to the Millennium Falcon. It's just a tease though: the legendary event where Han won the Falcon from Lando "fair and square" has yet to be revealed (although, when it happens, it will be glorious!). It's clear that the stolen ship Lando is flying is something truly special, but he is unaware of just how far the rabbit hole goes at this point. However, he gets a good idea of the importance of the ship when he finds he and Lobot staring down three Star Destroyers, who are not even trying to kill them–just capture them.
In a devastatingly iconic show of Imperial will, the Seinar Fleet Systems station that allowed the Imperialis to escape was cruelly destroyed by the Star Destroyers. And, even int he face of all the carnage, Lando remains as cool as ever.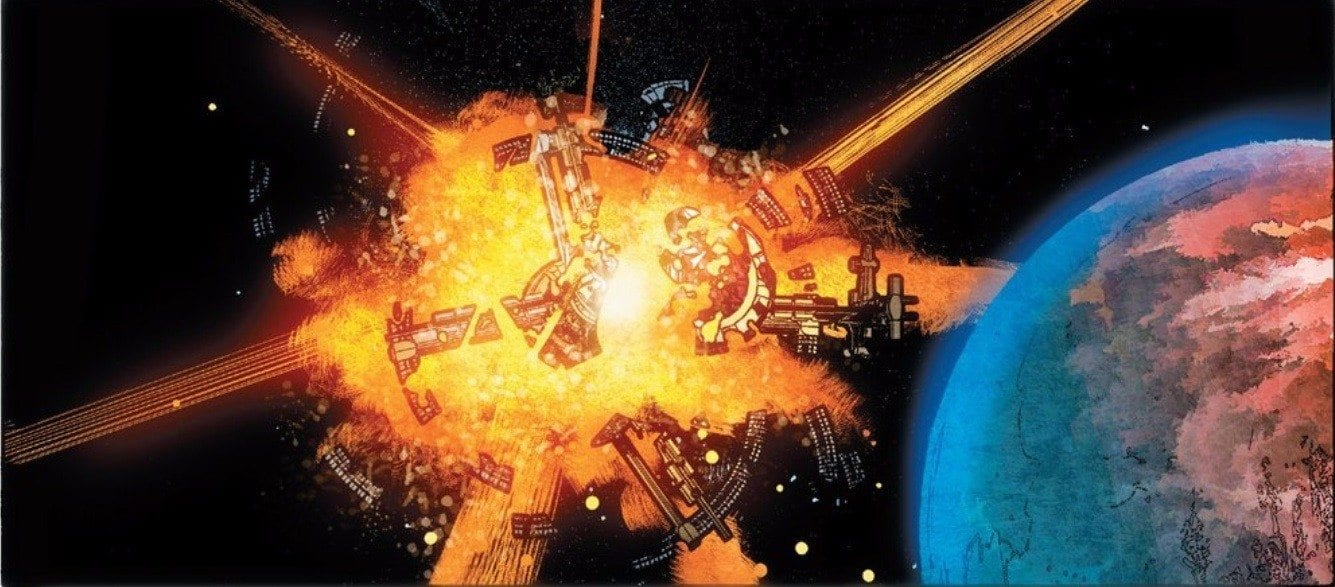 Seriously, I was waiting to see Colt .45 product placement as he maneuvered between two tractor beams so that they locked on to each other instead of the Imperialis. It's a great move, but I wonder who came up with it first: Lando or Han? We see a very similar technique in The Empire Strikes Back ("Never tell me the odds!").
And yet, although Lando makes a brilliant maneuver and proves yet again that he's an amazing pilot, there is a sense of foreboding throughout this entire ish. The cockpit of the Imperialis is bathed in an ominous orange-red, which strikes me as not just realistic, but also very unnerving. I can't help but notice the color symbolism, and it is another example of the unbelievable colors featured in this series. The art is moody, natural, and evocative, and combined with inks and colors that just dance off the page, these characters just come to life. I think John Hollis would be very pleased to see his likeness recreated so well in Lobot, and his character come to find new depth and purpose.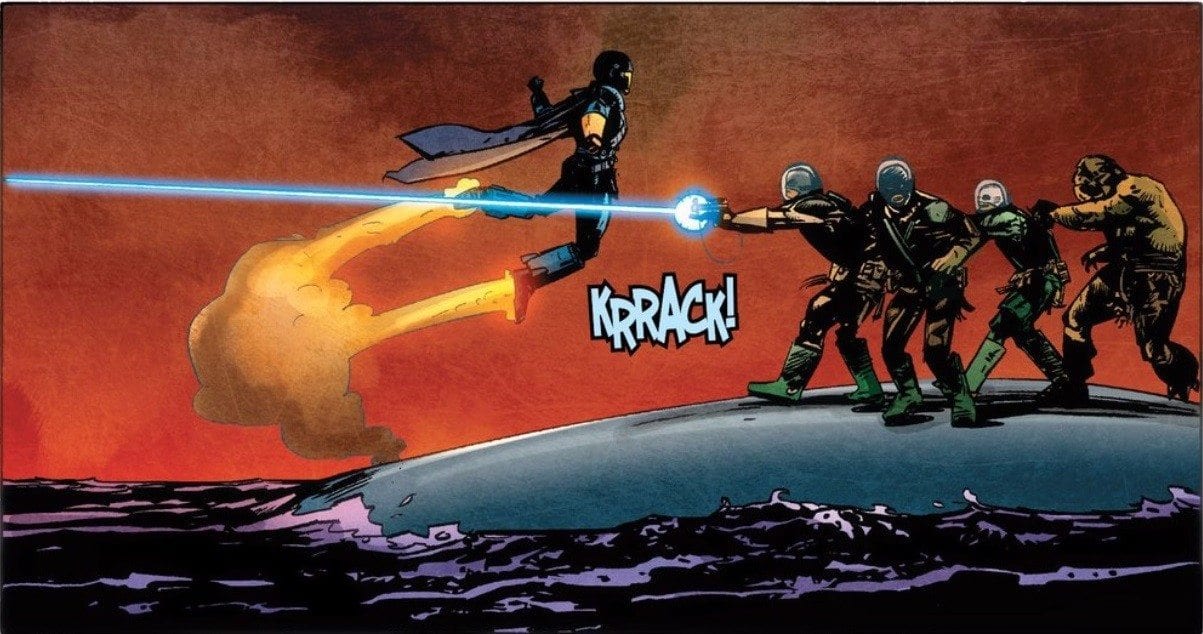 Speaking of characters with new purpose, we meet a fascinating new bounty hunter, who appears to be the best of the best. Well equipped, well trained, and on the Emperor's speedial, you know Chanath Cha is a person that gets the job done well and quietly. He works in the Inner Rim and has the best set of rocket boots ever seen in Star Wars. I wonder where the character design came from. Cha looks like he came off the pages of Buck Rogers: his uniform is Streamline Moderne in the fashion of Naboo cruisers (and the Rocketeer); it's like they put a Mandolorian in a wind tunnel.
All of this brings a question to the forefront: if this Chanath Cha is the baddest bounty hunter in the galaxy, then what exactly is Boba Fett? Is the Fett man all brute and bumbling after all? I'll always have a love for the character, but if Fett was truly the elite, then why wouldn't the Emperor have HIM on the speed dial instead of hanging with the dregs that Vader sneaks around with? In a few panels, there is clearly a grace and acumen that Boba Fett doesn't seem to possess; it make me wonder what the true pecking order is.

Back with the Imperials, we are witness to a scene that feels like it happens far more often than we ever see. In defeat, the commander of the Star Destroyer fleet tasked with acquiring the Imperialis decides decides to take personal responsibility for things, taking a blaster to the temple instead of receiving the wrath of his Emperor.
This issue has a great way of turning scenarios we thought once fully explored back on their head. I was fully prepared for these officers to skulk back to the Emperor in defeat, only to be tortured at the hands of Palpatine. However, we see the grim reality of failure in the Imperial navy: take yourself out or join the Rebel Alliance. The pacing was brilliant throughout the issue, so when the blaster was held aloft, I honestly was taken aback, and the action held the full weight of the scene.
Further proving the pacing was brilliant, I did not see the cliffhanger ending of this issues. Royal guards on board the entire time?! Who are they, how long have they been there, and what on earth could they be guarding? Is this how Lobot loses his ability to communicate? Is this Darth Plagueis' ship, first called the Woebegone?
I want Lobot to be ok. I want to hear a lot more from him. And I wanna know what's in that room.
One thing's for sure–it's going to hard for Lando to keep his cool.
JT
This article was written entirely while listening to the song "Escape" by Vince DiCola on repeat.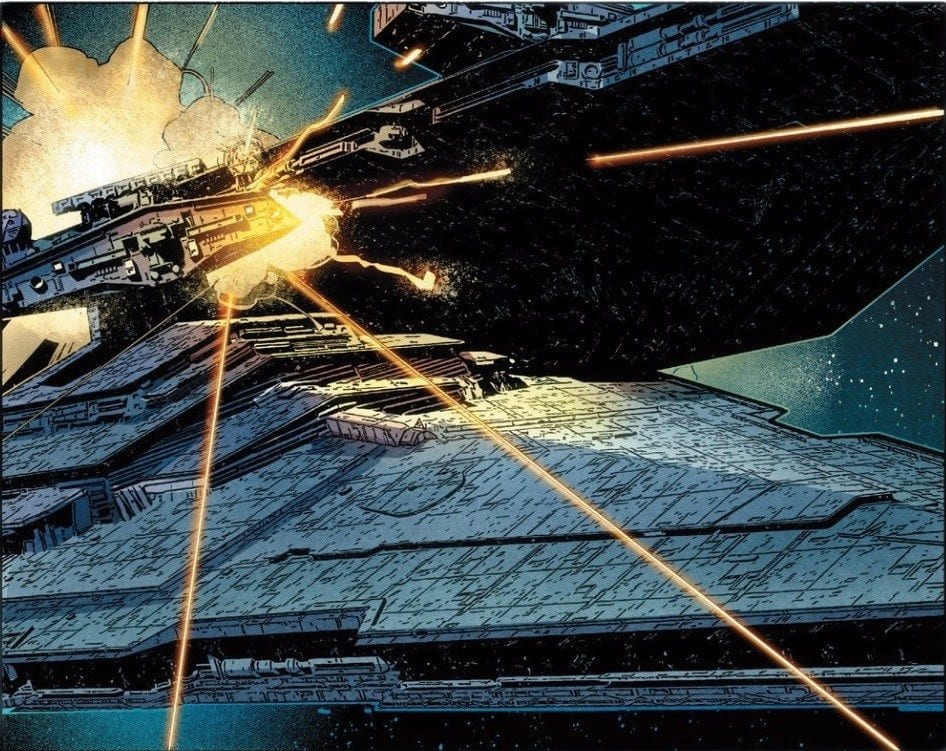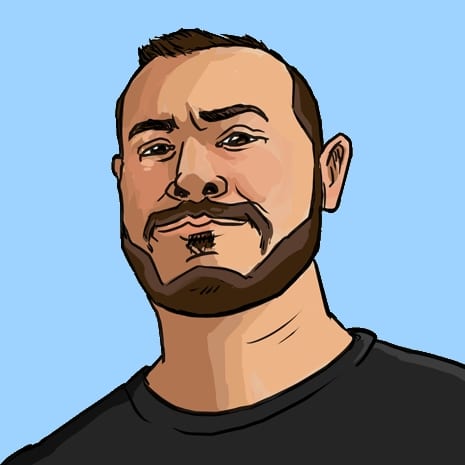 Joseph Tavano is the owner and editor in chief of RetroZap. Born just months before Luke found out who his father was, he has been fortunate to have had Star Wars in his life as long as he can remember. Growing up just outside of Boston, Massachusetts, he can remember substituting sticks for lightsabers and BMX bikes for speeders. He loves comics, retro games, vintage sci-fi paperbacks, and maps. Though an accomplished drummer, he doesn't crave adventure (as much) any more, and prefers his old haunts in Salem, Massachusetts, where he resides with his family. Buy him a glass of whiskey and he'll return it in kind.