Skywalking Through Neverland teams up with Star Wars Artist Randy Martinez to talk Classic Marvel Star Wars Comics from the 70s and 80s. This time, it's issue #13: "Day of the Dragon Lords!"
In this episode we look at Star Wars #13: "Day of the Dragon Lords!" Is this a "filler episode"? Why is Chewbacca about to kill Luke Skywalker?? Randy Martinez gives us an update on his Star Wars Celebration Orlando official Art Show exclusive art.
---
---
[iframe url="http://html5-player.libsyn.com/embed/episode/id/5251967/height/100/width/1000/theme/custom/autoplay/no/autonext/no/thumbnail/yes/preload/no/no_addthis/no/direction/backward/no-cache/true/render-playlist/yes/custom-color/089efc/" width="1000″ height="100″]
---
Join us as we review the story and get an artistic analysis from Randy Martinez. Learn more about Conic Book Legend and Artist John Byrne. We then go over our favorite panel, favorite line and most un-Star Wars moment from this issue. We asked for your opinions on the cover art and you came through with some great feedback.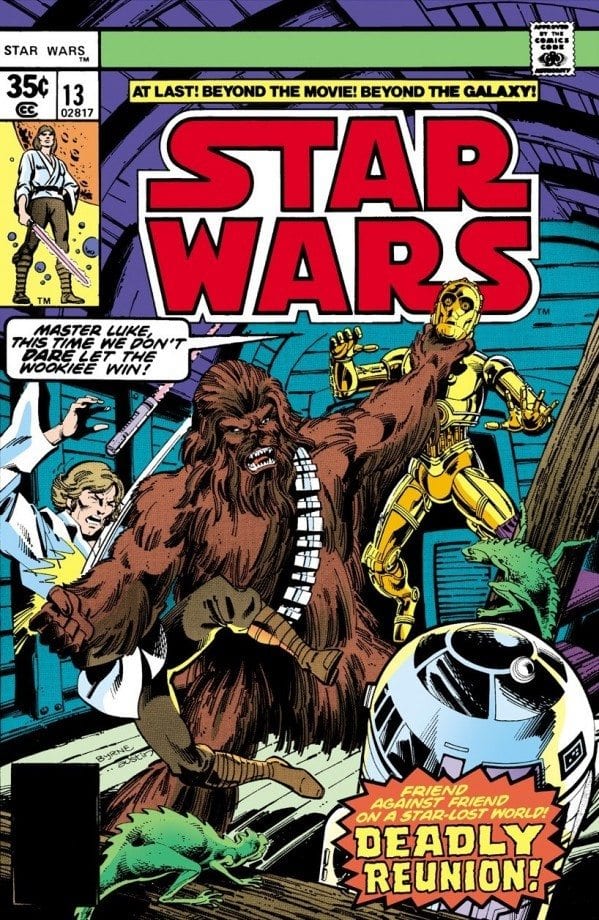 Classic Marvel Star Wars #13
Title: "Day of the Dragon Lords!"
Release Date: April 11, 1978
Writer: Archie Goodwin
Consulting Editor: Jim Shooter
Penciller: Carmine Infantino, Terry Austin
Cover Art: John Byrne
Synopsis: Luke Skywalker has been forced to join Governor Quarg's group in their battle against the Dragon Lords. Meanwhile aboard Crimson Jack's space cruiser, Han Solo is trying to talk his way out of trouble when Jack realizes that they have been duped into coming to Drexel. But Quarg's jamming equipment on the planet's surface causes a disruption on the space cruiser, which is enough of a diversion to allow Solo, Chewbacca, and Princess Leia Organa to escape in the Millennium Falcon to the surface below. The Falcon splashes onto the water covered surface of Drexel, right in the middle of an epic battle between Quarg's men and the Dragon Lords with Luke Skywalker caught right in the middle.

Have fun with us and may the classic comics be with you…
SUPPORT THE SHOW
Skywalking Through Neverland T-Shirts plus DESIGNS at TeePublic! Check them out HERE.
CONTACT US
tweet! tweet! @SkywalkingPod and @Randy_Martinez
Send emails to share@skywalkingthroughneverland.com and follow us on Facebook.
If you dug this episode, click over to iTunes | Stitcher | YouTube and leave us a review!