As the release of the second stand-alone film, Solo: A Star Wars Story, draws nearer, a barrage of images continue to take hold of my senses. Keeping it weird, along with the wacky alien creatures seen in TV spots, Topps trading cards, and various promotional material, one image stands out: Chewie with goggles!
Chewie has donned a blaster shield before in the original trilogy, but goggles? To quote Joe and Chris from Brews and Blasters, that's genius, genius, genius! Much like the movie itself, Chewie with goggles is a gift that I never knew I wanted and now I can't get enough.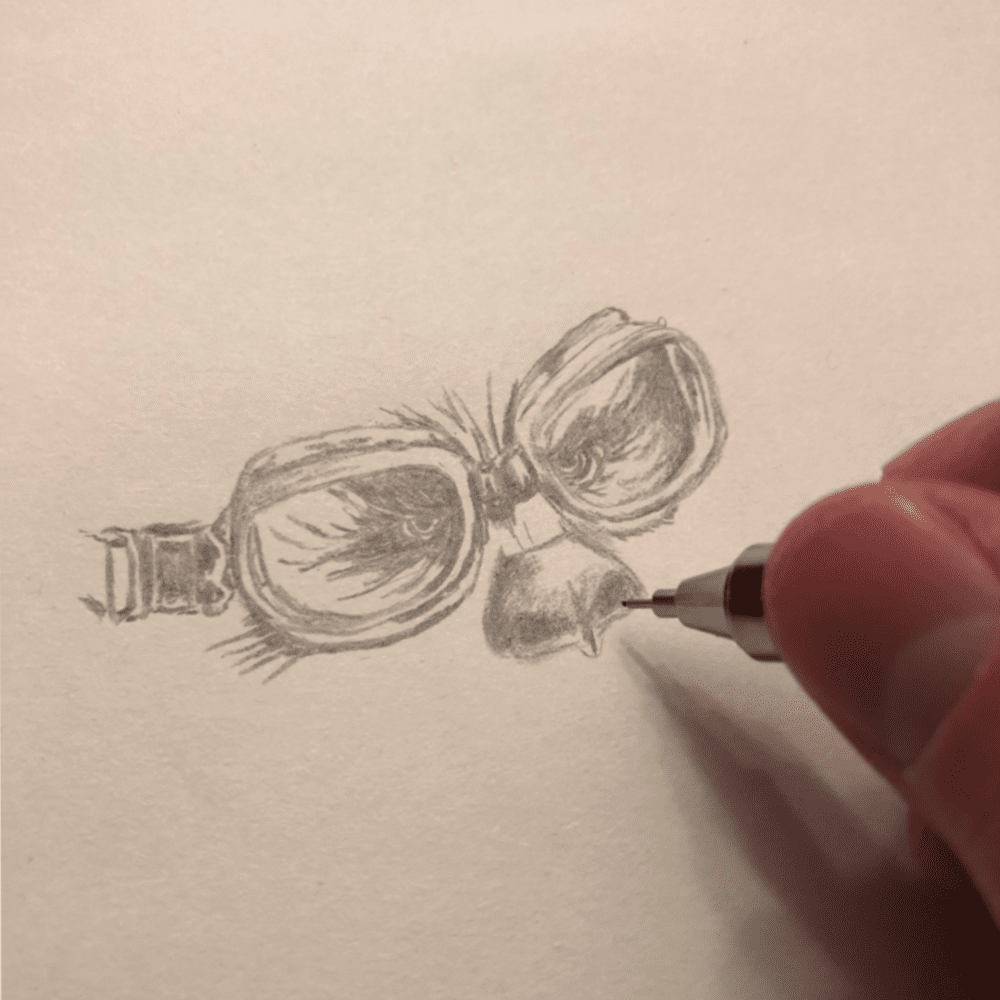 Chewie Source
I've been honing my illustration skills as I challenge myself to create one drawing a day leading up to the Solo: A Star Wars Story premiere. But, I've been reserving the main characters for closer to the release. However, I couldn't resist it any longer. I had to draw Chewie with goggles.
I scoured the stores for an action figure that would help me focus on the details. I paused the trailers and TV spots to try to find the right image to study. I searched the internet. It was not until I came across the Topps Star Wars trading cards did I find the source of my inspiration, Chewie with goggles firing his blaster rifle in all his glory!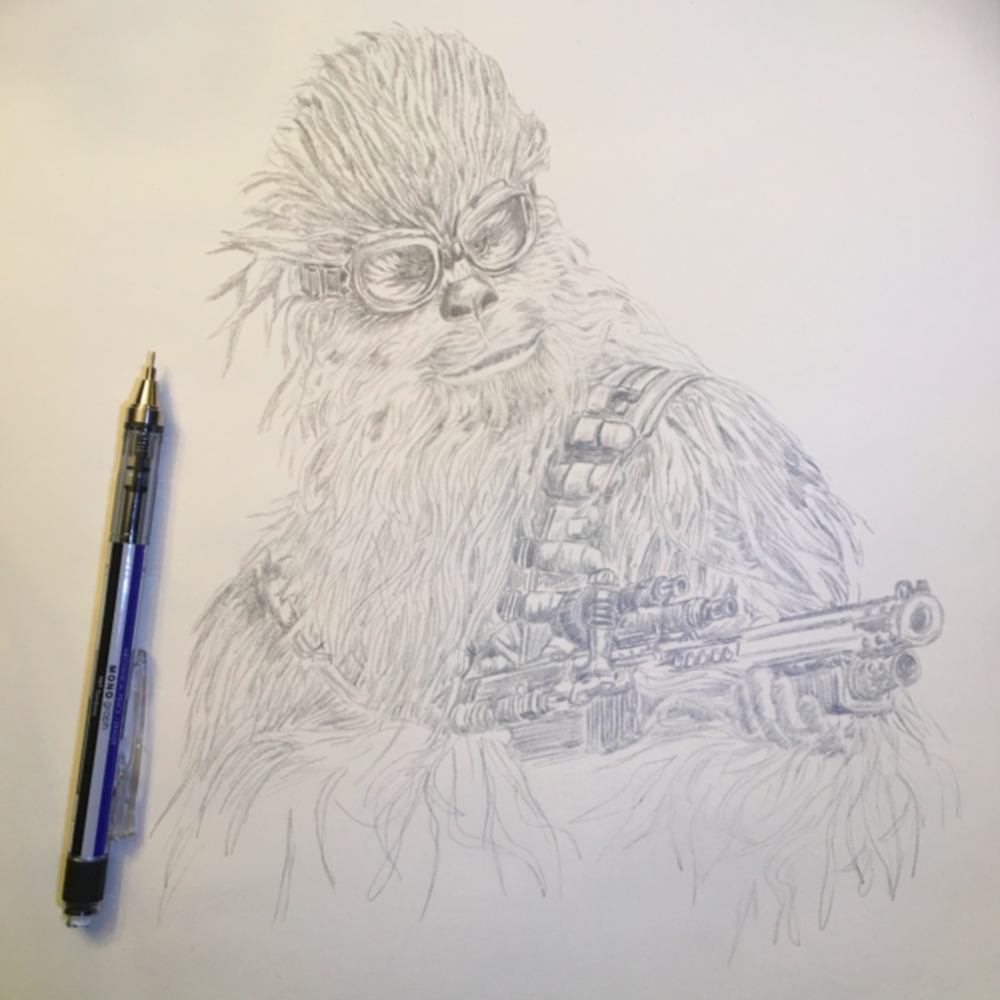 Chewie Pencil
I began with the goggles, of course. For my Solo: A Star Wars Story drawing challenge, I tried to only use ink and not sketch it out in pencil first for two reasons. First, I wanted it to be free flowing. I didn't want to be too focused on getting it perfect. Second, it takes extra time to sketch a pencil drawing and then go back over it with ink. My intentions were to create a drawing every day. And, if I wanted to do that, I didn't have the luxury of time. I chose to use my 0.5 Tombow MONO Graph Mechanical Pencil for the entire sketch. I don't often draw with mechanical pencils but the Tombow worked nicely. It's weighted well for a good balance and a comfortable feel in the hand. It allowed me to get the detail I needed.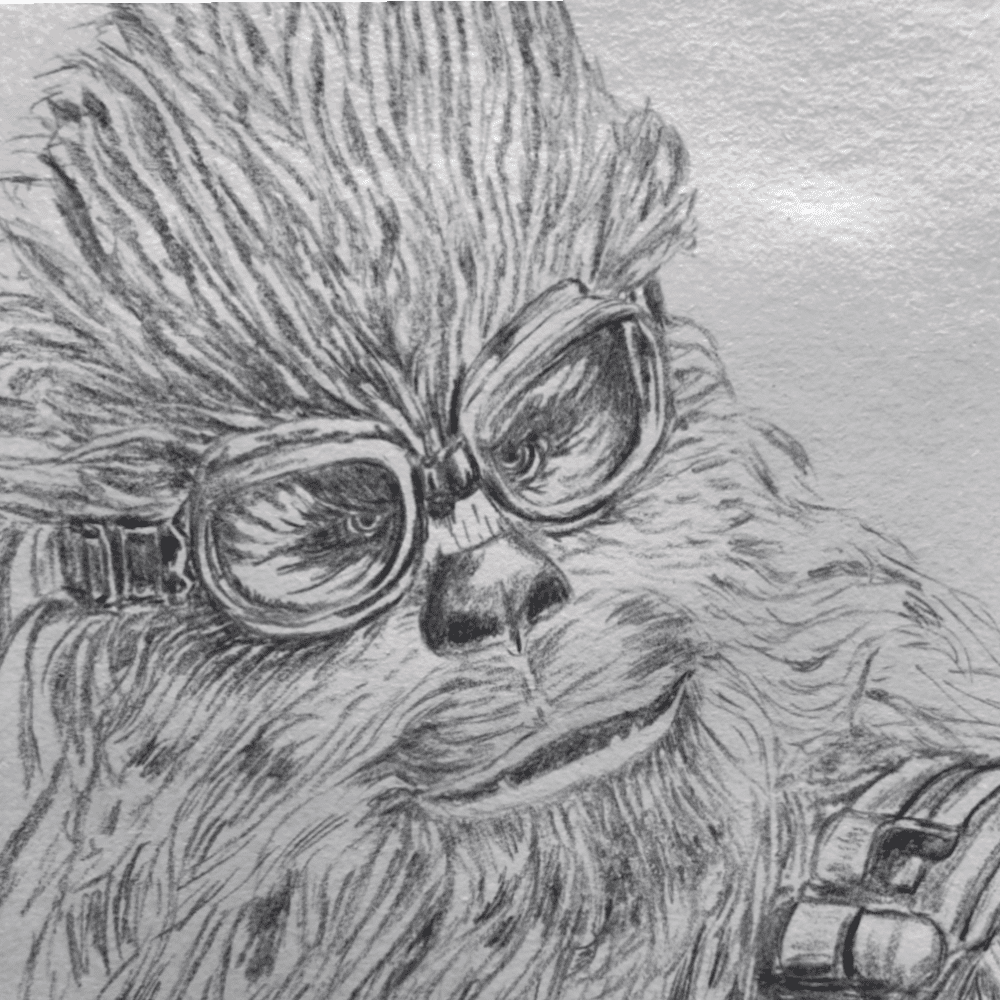 Chewie Paper
I created the drawing on an 11in (w) x 14in (l) lightweight 50lb sketch pad. For a wookie, you have to use large paper. I was ready to stop there. I was happy with the final drawing. I knew that I wanted to paint it but I was afraid I would mess it up somehow if I started inking it on the paper. So, I turned to my favorite app on my iPad, Procreate.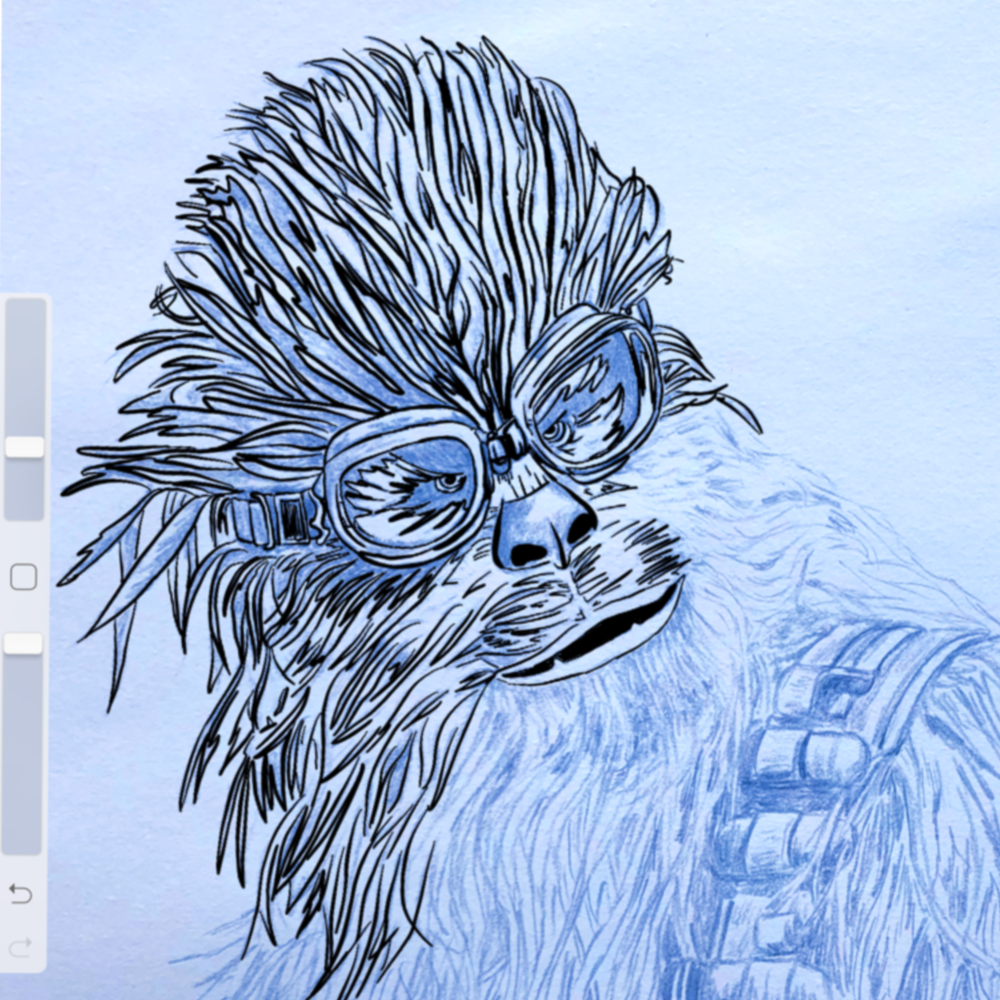 Chewie Paint
I uploaded a photo of my completed sketch into Procreate and created a blue line master to ink over. Once the inking was complete, I set the layer to multiply. This allows me to paint underneath the black line layer. Adding another layer, I began the painting process. I used the medium airbrush tool to apply most of the paint on this layer.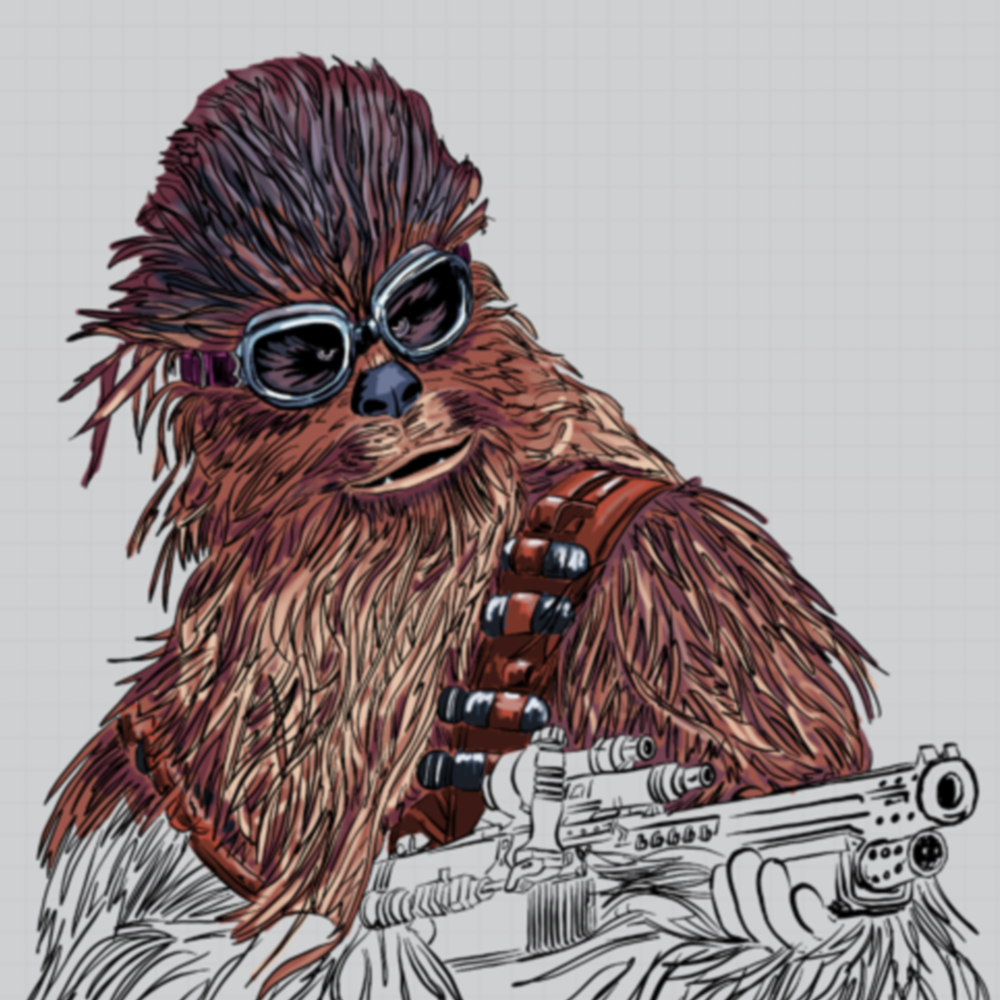 Chewie Background
Once the initial painting was complete, I added another layer to create highlights. But, there was still something missing. So, I added another layer for the background. I created a backdrop to represent the snowy world of Vandor, where presumably the train heist takes place in Solo: A Star Wars Story. The final addition was the cargo train, called the conveyex. I added the sketch that I had completed during my Solo drawing challenge. It fit in quite nicely.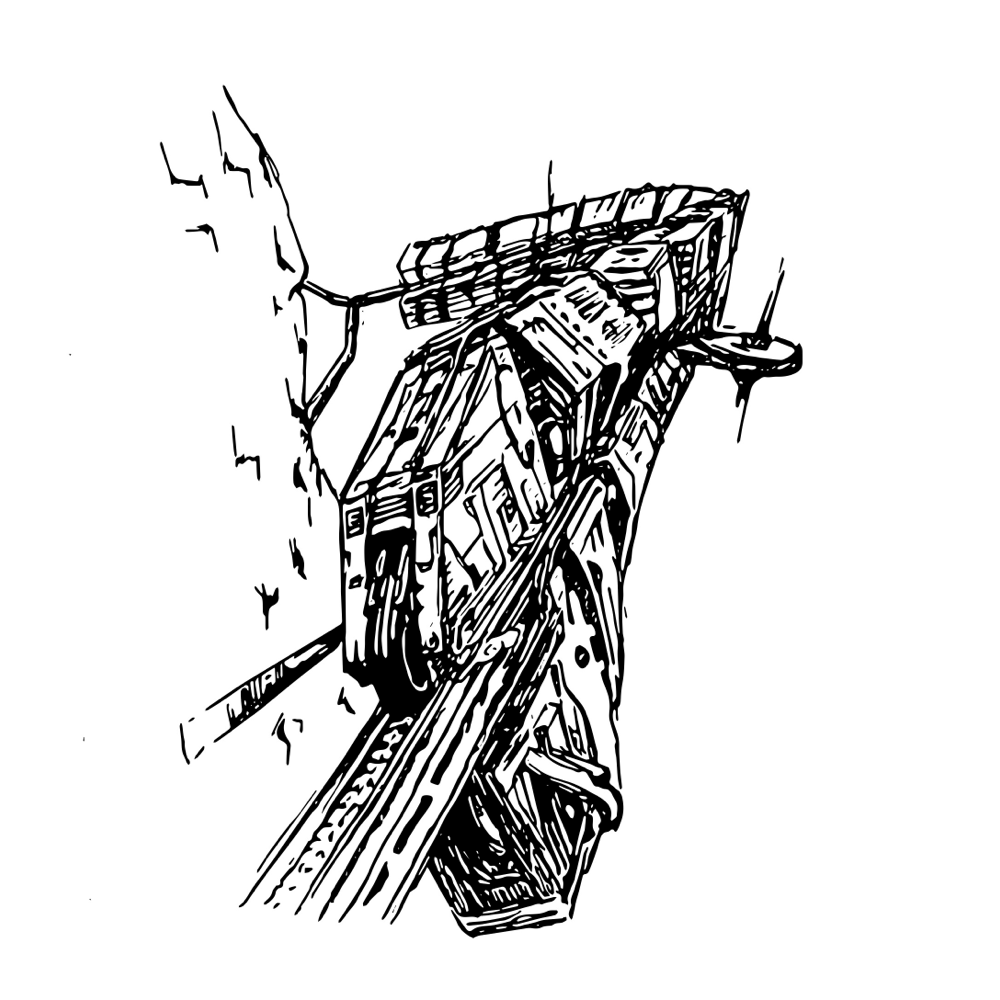 Chewie with Goggles
I'm looking forward to seeing Chewie in action when Solo: A Star Wars Story hits theaters on May 24! I have my tickets! Do you?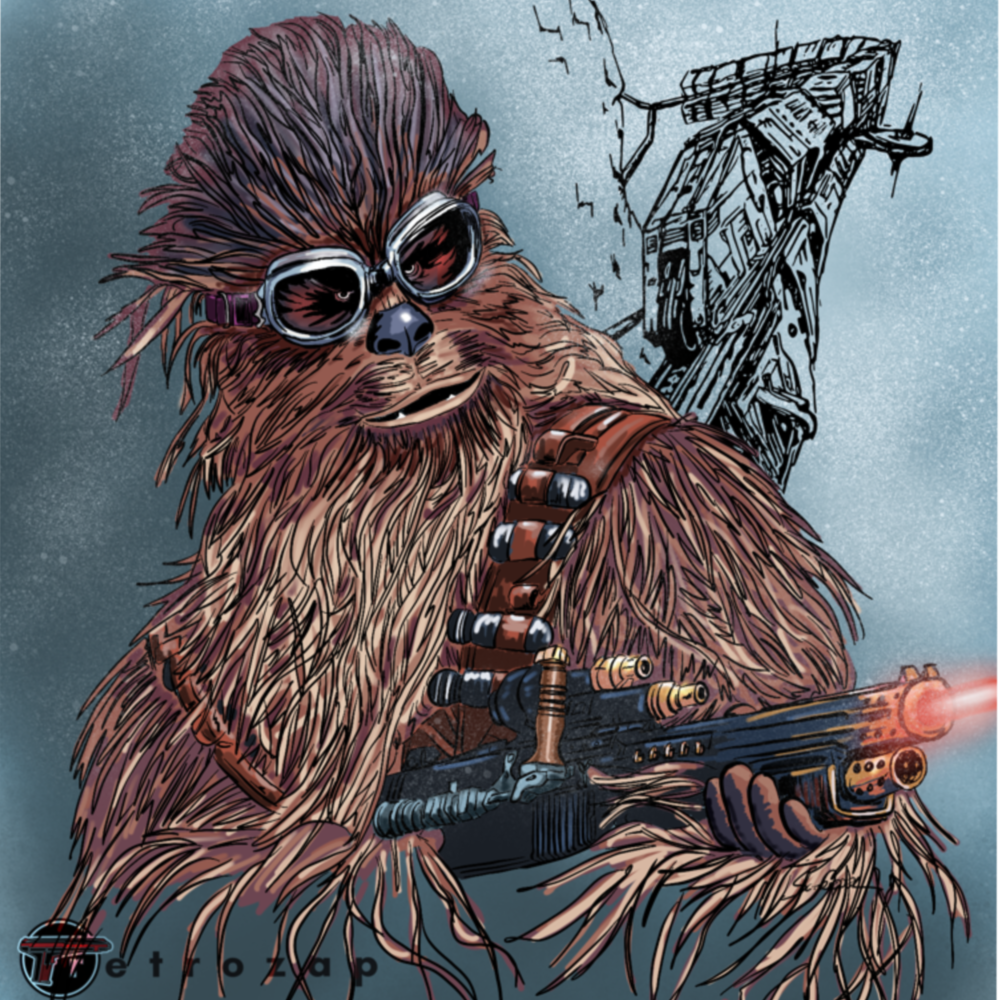 Kendall Schroeder saw the original Star Wars in a small theater in the summer of his 10th birthday and immediately fell in love with the Far Away Galaxy. Pretending to be either Jedi Luke Skywalker or Colonel Steve Austin, the Six Million Dollar Man, Kendall always believed he had special powers. Maybe that's why he truly believes there is good in all people. And, he will stop at nothing to help rid the world of evil. When Kendall is not creating art, he is leading educators as the head of an online school. Kendall lives in West Michigan with his wife and two kids.