Marvel presents the story of how Cassian and K-2SO met and became a team in Cassian & K-2SO.
This review discusses plot details for Cassian & K-2SO.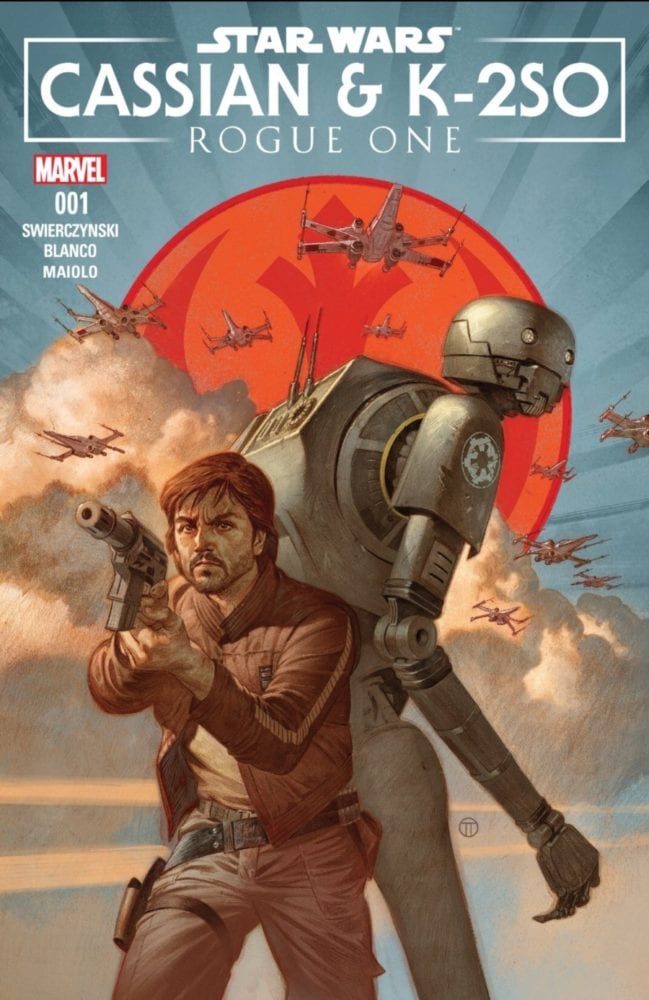 Cassian & K-2SO
 Writer: Duane Swiercyznski | Artist: Fernando Blanco | Colorist: Marcelo Maiolo | Letterer: VC's Clayton Cowles | Cover Artist: Julian Totino Tededsco | Production Design: Carlos Lao | Assistant Editor: Heather Antos | Editor: Jordan D. White
A Friendship Forged: Cassian & K-2SO
Rogue One featured a few notable partnerships. The most famous of which is Chirrut Imwe and Baze Malbus. Ranking slightly behind them are Cassian Andor and K-2SO. Chirrut and Baze's backstory was recently told in Guardian of the Whills, the novel by Greg Rucka. Now, the story of how Cassian and K-2SO came to meet is told in Cassian & K-2SO. This comic is an early peek that explains how the pair came to be in a brief adventure.
Summary: Cassian Acquires a Droid
Alerted to the possibility of acquiring Imperial data, Cassian sets out for the world of Wecacoe. Cassian brings Kertas and Rismor with him. They are aliens that primarily communicate by scent and "legendary" for the ability to ferret out Imperial information. When they arrive on Wecacoe, Cassian discovers he underestimated the Imperial presence. In addition, they inadvertently trip an alarm that summons the Imperial stormtroopers patrolling the area. While hiding behind a TIE fighter, they cause a fighter to crash an alert none other than K-2SO to their presence. After a brief fight, Cassian, Kertas, and Rismor deactivate K-2SO and wipe his memory. Actually, it takes several attempts. Eventually, K-2SO assists Cassian in his escape from Wecacoe with the Imperial data.

The Emergence of K-2SO's Personality
One of the more endearing characteristics of K-2SO from Rogue One was his bluntness. For instance, after telling Jyn Erso he would be there for her, he immediately admitted that Cassian was forcing him to. Similarly, K-2SO is a lousy liar and his improvisational skills are lacking. He could not effectively lie to the stormtroopers that questioned him about where he was taking Jyn and Cassian on Jedha.
The earliest stages of this behavior begin in Cassian & K-2SO. After Cassian finally successfully reprograms K-2SO, they attempt a return to his ship. Cassian instructs K-2SO that he must take out anyone that tries to stop them. However, K-2SO is not blessed with any subtlety. The first time they are questioned by stormtroopers, K-2SO freely explains he is escorting the Rebel spies to their ship, and if they attempt to stop them, he will take them both out. While he isn't wrong about his instructions, his frankness is not helpful, humorously so, to Cassian's mission.
Another habit of K-2SO was his affection for relaying the odds. What was his earliest instance of this behavior in Cassian's companionship is another facet of this comic. The delivery of the line was not particularly funny, but the follow up was.

Concluding Thoughts on Cassian & K-2SO
This issue tells the entire story. This is a rarity for Marvel's current run of Star Wars comics. However, it was a fun adventure. It might disappoint some readers looking for some sort of larger revelation. Despite that, it was fun watching K-2SO the Imperial security droid become K-2SO the blunt Rebel operative. By the end of this issue, the reader can almost hear Alan Tudyk's snarky voice in each of K-2SO's lines. Overall, Cassian & K-2SO is a fun story of the meeting of two companions. However, the mission might not have been as dynamic as the reader expected. Unfortunately, this a one shot, and the early adventures of Cassian and K-2SO end here for now.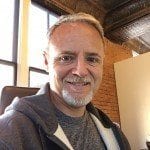 Dennis Keithly is a graduate of the University of Missouri, North Texas attorney, husband, father of two, and co-host of Starships, Sabers, and Scoundrels. In addition to Star Wars, Dennis is a fan of science fiction, fantasy, and super heroes in general. When not engaged in fictional universes, Dennis is reading a good book or watching the NHL, football, or studying the NFL draft.