The mission to Luprora comes to its inevitable conclusion in Captain Phasma #4.
This article contains plot details for Captain Phasma #4.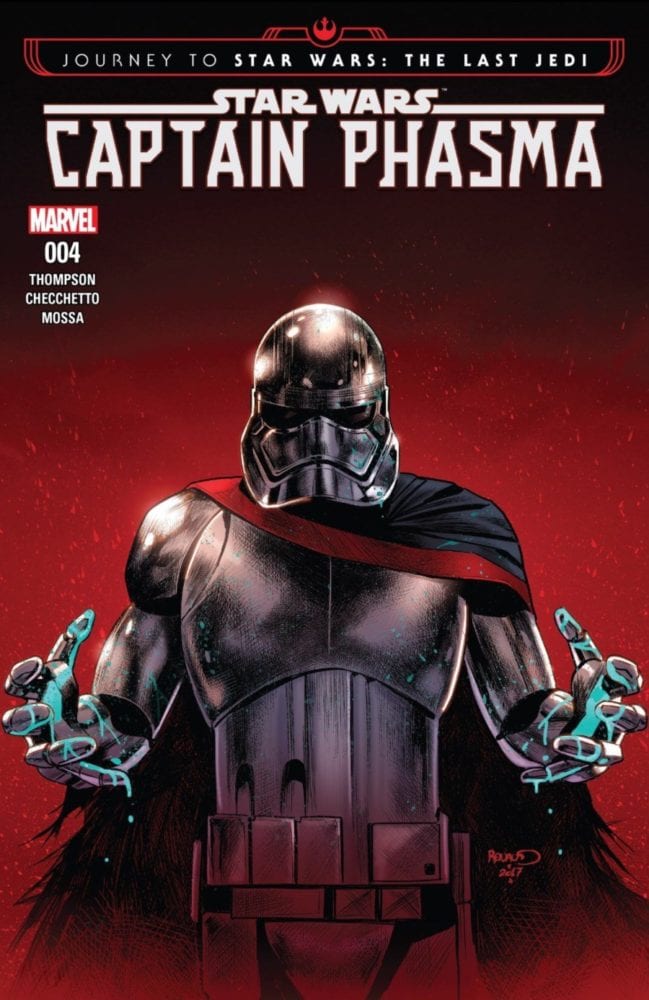 Captain Phasma #4
Writer: Kelly Thompson | Artist: Marco Checchetto | Colorist: Andres Mossa | Letterer: VC's Clayton Cowles | Cover: Paul Renaud | Assistant Editor: Heather Antos | Editor: Jordan D. White
It could end no other way. After tracking Lieutenant Rivas to Luprora, Captain Phasma finally hunts down her prey. Rivas never stood a chance. The R'ora, the indigenous population of Luprora, were merely an obstacle. The immigrant Lupr'or were nothing more than a tool. Furthermore, they weren't the only ones. Although previously hinted at, Captain Phasma #4 lays bare Phasma's motivations and priorities.
A Survivor
Phasma is a self-described survivor. At the conclusion of this issue, she explicitly admits as much. In fact, she is a survivor "no matter what the cost." Unfortunately for the Lupr'or, they were a means to an end. Despite TN-3465's advocacy on their behalf, Phasma declares, "We are here for Rivas, nothing more." Even after Rivas was dispatched, Phasma was unmoved. She offers a weak defense of her position. The Lupr'or are not evolutionarily fit for Luprora. They are doomed. They aren't worth saving.
First Order Ideals
Phasma's statements shock TN-3465, "Pilot" as Phasma came to call her. She felt a responsibility for the Lupr'or. After all, they lead the Lupr'or to battle under false pretenses. They promised safety and freedom. However, Phasma leaves the planet before their battle is over. The Lupr'or were only ever a distraction for the R'ora.
For Phasma, the Lupr'or have no potential. She gives no thought to absorbing them into the First Order. Her attitude and thinking are completely in line with her actions in Delilah S. Dawson's novel Phasma. That was an attitude shared by Brendol Hux, the First Order general that recruited Phasma on the planet of Parnassos. The question is: what is the real philosophy of the First Order? Who represents the First Order better, Phasma or TN-3465?
It is a difficult question. Fans of The Force Awakens demonstrates that the actions and morality were shocking to the likes of Finn. TN-3465 seems of a similar mindset. Armitage Hux decried the corruption of the Republic. Was he honest? In comparison to the common soldiers like Finn and TN-3465, Phasma presents a harsh "survival of the fittest" mentality. Therefore, the ideals expounded by the First Order leaderships may simply be nothing more than propaganda.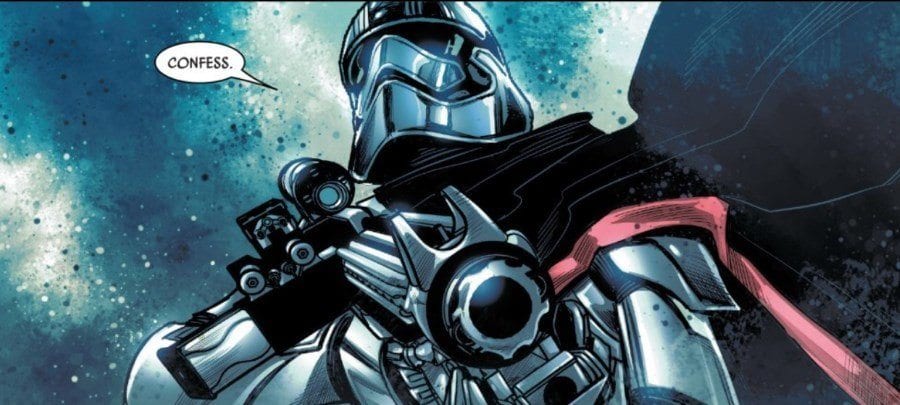 Loose Ends
Once Rivas is dead, Phasma commands TN-3465 to prepare for departure. As TN-3465 prepares their TIE fighter for departure, Phasma destroys BB-K8, their droid. She then orders TN-3465 to put her hands up and turn around. Despite her shock, TN-3465 suspected this. She begs Phasma to spare her. However, TN-3465 is another loose end. And, loose ends threaten Phasma's survival. Therefore, TN-3465 must die.
Even though Phasma is the First Order's model soldier, she shoots TN-3465 in the back, and thus proves her capability for cold blooded murder. After she returns to the Finalizer, Armitage Hux praises her commitment to the First Order upon hearing of her mission. In fact, he says, "I should have known that even an exploding planet could not kill you, nor impede your devotion to the First Order, Phasma." Her response: "Indeed."
Phasma's response may be interpreted in two ways. First, one might assume she agrees for the sake of duplicity. By agreeing with Hux, she hides her true intent. However, the contrary view is that she sees herself as the First Order. If she is the model to which all stormtroopers should aspire, then she is more than a commander of soldiers. She is an ideal. Devotion to the First Order is devotion to herself, which is perfectly in keeping with her character.
A Command for Confession
Previously, Rivas only appeared briefly in the first issue of this miniseries. Phasma tracks him down in Captain Phasma #4. When she finds him, he has his hand bound behind him. He is a prisoner. Phasma demands he confess. In response, he pleads ignorance. Eventually, he confesses he knows Phasma brought down the shields. This, obviously, is not what Phasma wanted. She insists he confess to her crime. Perhaps that would help Phasma believe she wasn't culpable. Ultimately Phasma executes him without the confession. TN-3465 overhead everything, and at that moment, she realized her own fate was sealed.

Minimalist Style
Captain Phasma #4 took a minimalist approach. A few pages contain a single panel, and many more contain as few as two or three. Despite that, this issue tells a complete story. It is very efficient. The outcome of the battle between the Lupr'or and the R'ora is unknown. After all, it was immaterial to Phasma. Despite fewer panels across the pages, Captain Phasma #4 is very efficient. This issue was about tying up loose ends, and it achieved exactly that. Phasma found the "traitor," executed him, and then eliminated anyone else that might know her actions. Kelly Thompson and Marco Checchetto combined their talents on an excellent issue.
Concluding Thoughts on Captain Phasma #4 and the Series
Captain Phasma #4 and the Phasma miniseries put Phasma in place for The Last Jedi. The final text of the issue states this story is "to be continued in Star Wars: The Last Jedi." Combined with the Phasma novel, readers now have an interesting portrait of the First Order's model soldier. She is a survivor. Plus, she is ruthless. Interestingly, she is not necessarily corrupt. Everything she does is in service to her own survival. Apparently, she is not interested in personal wealth.
TN-3465, "Pilot," was a sympathetic character. Fed a lie by a superior officer, she followed Captain Phasma on a mission to a remote world. Despite fulfilling her duty, Phasma murdered her. TN-3465 was a point of view character for the reader. Unlike Phasma, the reader saw her face. Even though she had no name beyond a number, Thompson and Checchetto humanized her. Abandoning the Lopr'or appalled her, but she had no choice. She had her own survival to consider. She was the common soldier of the First Order, likely taken as a child, and raised in the belief of the "righteousness" of the First Order's mission. Even though her participation in the Star Wars galaxy was brief, it was welcome.
The Captain Phasma series was unexpected. At no point does she combat anyone associated with the Resistance. Both her novel and her comic series focus on her character traits and her drive to survive. Her missions are purportedly taken to serve a larger purpose, but in the end, it is always about her survival. This series ranks among Marvel's best so far, and it is highly recommended.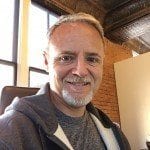 Dennis Keithly is a graduate of the University of Missouri, North Texas attorney, husband, father of two, and co-host of Starships, Sabers, and Scoundrels. In addition to Star Wars, Dennis is a fan of science fiction, fantasy, and super heroes in general. When not engaged in fictional universes, Dennis is reading a good book or watching the NHL, football, or studying the NFL draft.