It SEEMS like a simple question, but as it turns out, Max Rebo is one of the weirdest alien species ever put on screen.
We also talk about Star Wars Resistance and a boatload of Black Series figures. Get weird, Warheads! The Star Wars Party starts NOW! It's time for Brews and Blasters.
Show Notes
It's cold. We're bundled up.
Resistance: Fuel for the Fire
Is Jace Rucklin a con artist or a pilot?
Yeager's respect
Kaz's biggest flaw
What's up with that weird old creepy alien
Resistance: The High Tower
Why the Aces live so well
Captain Doza
The First Order Mafia
Hype Phaizon and the use of Celebrity voices
Does Max Rebo have arms?!
NeedEm GotEm
A special listener gift!
Contest #1! Win a Black Series Dengar!
Contest #2! Bespin Han Solo
Black Series Stand Questions
Black Series Val
Black Series Patrol Trooper
Black Series L337
Black Series Skiff Guard Lando
Black Series Hoth Princess Leia
Black Series Rio Durant: The Belle of the Ball
Wrap Up
Cover art Nick Brokenshire
Links
Join Our Community: Discord Server
Subscribe: Apple Podcasts | Spotify | Stitcher | Google Play | Soundcloud | iHeart Radio | TuneIn | RSS
RetroZap Podcast Network: Apple Podcasts | Google Play | RSS
Social:  BrewsAndBlasters.ninja | Facebook | Facebook Group | Twitter | Instagram
Email: [email protected]
Voicemail: (978) 219-6688
ALL NEW DESIGNS! T-Shirts: TeePublic Store
Support Brews and Blasters: If you like the show, please leave us an iTunes review. It helps, honestly, because more people will find the show. And if you take the time, we'll really, really appreciate it. Plus, you'll win an Oppo Award!
Support These Things, Too: Go to JediNews and Fantha Tracks for ALL your Star Wars information! And, for the best Star Wars podcast reviews out there, head over to Roqoo Depot.
---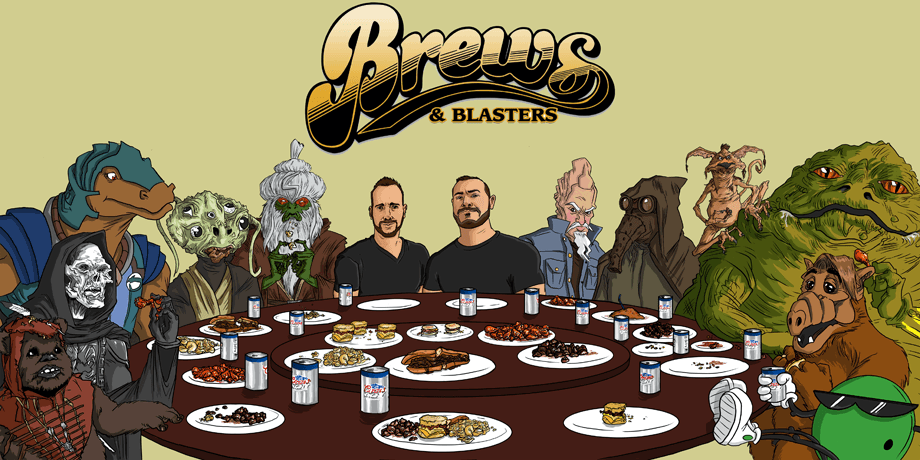 click the banner for all episodes and homepage
Born from the discussions between two friends at a local pub in the historic town of Salem, Massachusetts, Brews and Blasters is your chance to kick back, relax and then enjoy everything about that galaxy far, far away. Your hosts, Chris Salton (founder, The Collectors Hutt) as well as Joe Tavano (founder and editor in chief, RetroZap!) sit down every week to do what would be doing anyway–talk about all things Star Wars, tell some stories, and of course, have a good time. Join Joe and Chris as they share their love for Star Wars, the most obscure Star Wars characters, Boston's North Shore, 1980s pop culture and delicious food, and occasionally talk to fascinating people–and friends, like an anthropomorphic packet of crystallized lime.
Brews and Blasters 185: Max Rebo: Does He Have Arms?