Rebels Season Two Finale: A Star Wars event this big demands Blabba The Hutt to match it, so they called in the mercenaries.
                        
---
[iframe url="http://html5-player.libsyn.com/embed/episode/id/4279585/width/920/height/500/theme/custom/autoplay/no/autonext/no/preload/no/no_addthis/no/thumbnail/yes/no-cache/true/render-playlist/yes/custom-color/87A93A/" width="920″ height="500″]
This will be the second Blabba The Hutt Show since joining forces with RetroZap! and we thought the Star Wars Rebels season two finale outrageous in every way. We got 40 minutes of delight, fear,  sadness and laughter all at once. It was intense to say the least. People are suggesting that "Twilight of the Apprentice" is up there among the best Star Wars you'll see…  and they aren't wrong.
A Star Wars event this big demands a Blabba The Hutt to match it, so we called in the mercenaries…Jamie and Kate are joined in Blabba The Hutt Episode 19 by Gary(@SealTeam_Shells) Matt (@Matthew_O_Brien) and Rod (@OconorRoderick) to digest everything we see in "Twilight of the Apprentice," including:
Who is "The Apprentice?"

Ahsoka's fate?

The Sith Holocron: what is it? What's in it? Who made it, and what does it mean for Ezra?

The Return of Darth Maul…Or now known simply as "Maul"

Go Go Saber Chopper!

Kanan's new disability
Sit back and enjoy the next 1 hour and 40 minutes as Blabba The Hutt and company look back at the some of the best animated storytelling we've seen in this galaxy.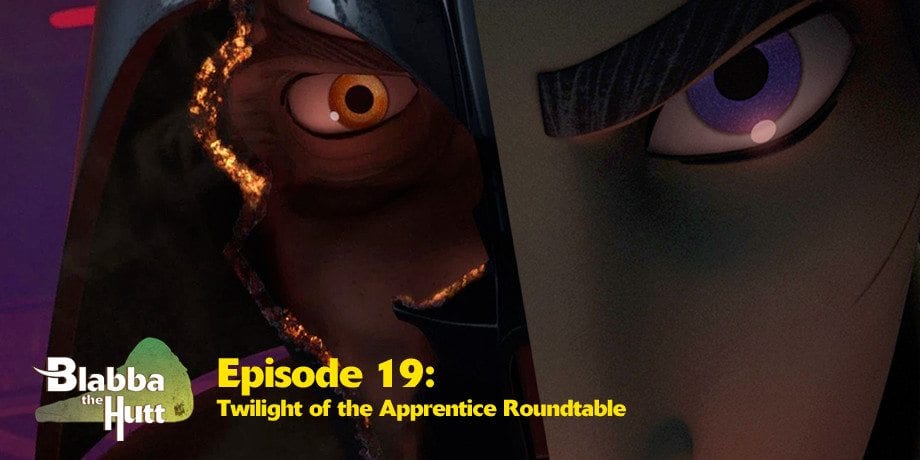 About Blabba the Hutt

Blabba The Hutt is a Star Wars podcast produced in Dublin, Ireland. On the show, you will be greeted by Jamie Hickey & Kate Dubinko, two Star Wars-mad individuals, each bringing a unique perspective and flair to the show.

Blabba the Hutt explores everything from that galaxy far far away, from comics, to books and movie digest–you'll find it here. Living in Ireland, Jamie is excited to bring a unique Irish slant to the listeners. Along the way Jamie has built great relationships with key individuals in Ireland, including production crew from The Force Awakens, representatives from the Emerald Garrison, and more–all of whom you will meet in the show. Sit back, relax and enjoy everything that Blabba has to offer.