We're excited to announce that Jaime and Kate from Blabba the Hutt will be podcasting LIVE at Celebration Europe!
We are so excited to reveal that Blabba The Hutt will be hosting our first live show in front of the best crowd in the world! Live on Friday, July 15, 2016 at Celebration Europe.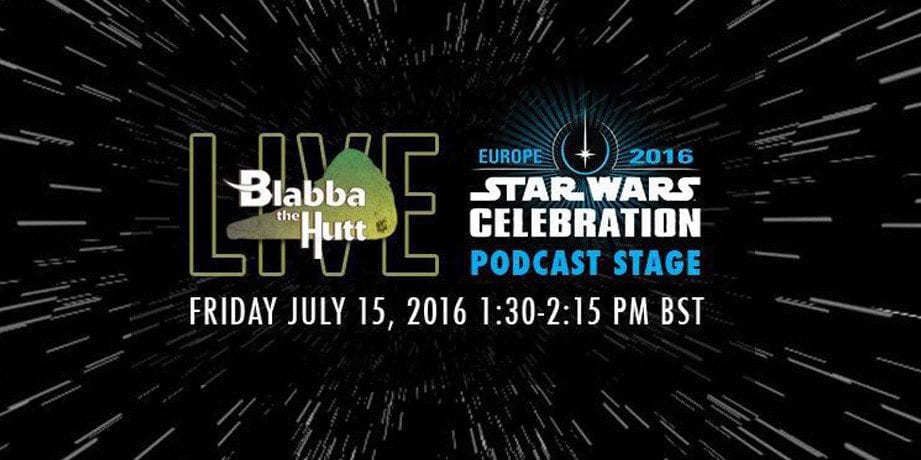 July also marks Blabba The Hutt's FIRST birthday! and it seems fitting to have a party with the best fandom in the world.
First birthday, First LIVE show, First Star Wars Celebration Europe appearance, and we have one more first to get excited about–this will be the first time that Jamie and Kate podcast from the same room, so this is definitely not one to miss! There are loads of plans in motion to make this show an interesting and fun show for everyone in the audience, and of course there will be loads of prizes and giveaway's on the day! We would really really appreciate it if you  could share the good news via the social buttons below!
Blabba The Hutt will be flying the RetroZap! flag with pride, as Kate and Jamie produce their first ever live show!
The details are as follows:
Blabba The Hutt will be live on the Podcasting Stage on Friday, July 15th at 1:30 pm. We would love to see you all there for Blabba The Hutt's first birthday bash! 
See all you crazy MotherHutters at Celebration Europe!
---
                     
About Blabba the Hutt
Blabba The Hutt is a Star Wars podcast produced in Dublin, Ireland. On the show, you will be greeted by Jamie Hickey & Kate Dubinko, two Star Wars-mad individuals, each bringing a unique perspective and flair to the show.
Blabba the Hutt explores everything from that galaxy far far away, from comics, to books and movie digest–you'll find it here. Living in Ireland, Jamie is excited to bring a unique Irish slant to the listeners. Along the way Jamie has built great relationships with key individuals in Ireland, including production crew from The Force Awakens, representatives from the Emerald Garrison, and more–all of whom you will meet in the show. Sit back, relax and enjoy everything that Blabba has to offer.
---
[iframe url="http://html5-player.libsyn.com/embed/destination/id/293603/width/920/height/500/theme/custom/autoplay/no/autonext/no/preload/no/no_addthis/no/thumbnail/yes/no-cache/true/render-playlist/yes/custom-color/87A93A/" width="920″ height="500″]
---