It's Christmas season, time to blow the dust off some of the classics! And Scrooged is one of the best, albeit slightly non-traditional.
The tale, which is more commonly known as A Christmas Carol has been a favorite of so many over the years, myself included, and has had more "remakes" than you can shake a cane at. There are a number of retellings and reimagining's but 1988's Scrooged is a truly unique and modern take on the original Charles Dickens classic.
Although now almost 30 years old, the message for the "present day" of 1988  is still relevant here at the end of 2017. A more relatable experience, the themes of greed, corruption and the pitfalls of capitalism hit home harder in a world that more resembles the society of the 21st century as opposed to the 19th.
The Scrooge of Scrooged
Playing the Ebenezer Scrooge of Scrooged is Bill Murray as Frank Cross. Frank is the President of IBC, a fictional television network, that will be airing its own production of A Christmas Carol. The portrayal Cross is very similar to the classic Scrooge. Wealthy, selfish and cold, cold hearted. He exhibits on the surface a complete disregard for the feelings and well-being of those around him. In fact he has dismissed most of his friends and family from his circle in his cutthroat ladder climbing.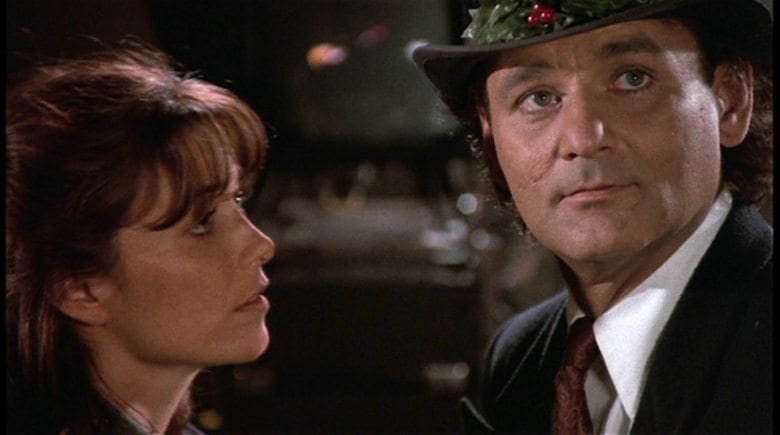 His version of A Christmas Carol is extravagant to say the least. And as for the marketing of the television special, it uses all of the unrelated trappings of what is all too common in today's advertisements. Sex, violence, war and death. Nothing to do with A Christmas Carol at all. This fact is pointed out to him at the end of an office meeting and the employee who voices his concern is summarily fired and removed from the building. The firing however is not done by Frank himself. He has his assistant Grace Cooley (Alfre Woodard) carry out the task for him. That's pretty cold, even for Frank.
Grace is this tales version of Bob Cratchit. An underpaid and neglected employee that is forced to work on Christmas Eve along with the other unfortunate employees of the network. Without a holiday bonus no less. Unless you count a cheap monogrammed towel. But deep down Grace holds out hope for him. She isn't ready to abandon her boss and can almost still see his younger self. Locked away deep down inside.
Much like the original story, Frank Cross is visited by three ghosts during the course of the evening, each one giving him a glimpse at his successes and failures and perhaps things he has neglected over the years.
Past
The ghosts in Scrooged are something else. Hilarious, yet still poignantly hammering home the heartfelt message they wish to convey to Frank. And for the viewers as well. After forcing his employees to work late on Christmas Eve, and firing the honest and well intentioned Eliot Loudermilk (Bobcat Goldthwait), Frank sees dead people. Or more specifically one; his former employer and personal hero Lew Hayward. Lew tries to impress on him the regret he has over a life obsessing over money and power. As this is the start of Frank's journey, it's completely lost on him.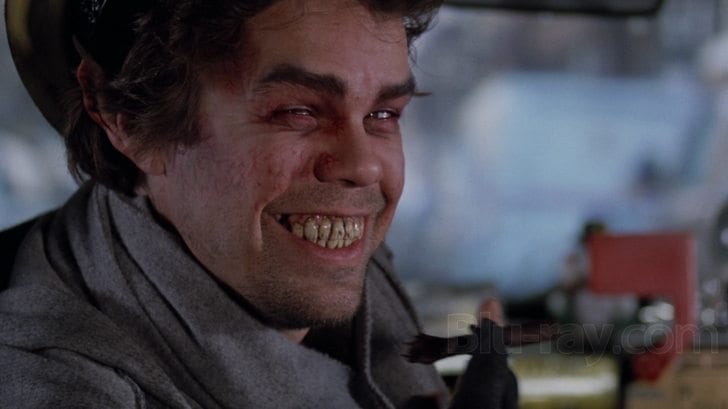 True to Hayward's promise, or threat, Frank is visited by the first of three ghosts. The ghost of Christmas' Past is a loud mouthed trashy cab driver played by the one and only David Johansen. The ghost takes Frank back first to his childhood before bringing him to his years as a young hopeful in the industry. It's here that Frank meets the one-time love of his life; Claire.
Claire (Karen Allen) is everything that Frank is not. While Frank is on the ground floor of trying to make it big, Claire is a compassionate and charitable soul. Although they fall in love, Frank continues to put his career ahead of Claire and her needs and ultimately pushes her away. After taxi ghost is done with him, Frank seeks out Claire back in the present to possibly rekindle their relationship. It doesn't go well. There is still a ways to go before he understands what has always been there right in front of him.
As with the Dickens original Scrooge, or in this case Cross, has not been a cold miser his entire life. He once felt love for others, Claire in particular. But the temptation of money and success and emulating his idol, Lew Hayward, was too much for him to resist. Thus began his spiral towards the wealthy but morally empty television mogul.
Present
The adorable yet aggressive ghost of Christmas Present is played here by Carol Kane. She forces Frank to take a good, hard look at what his lifestyle has done to the people around him. He is able to peek in on the home of his assistant and witness her complicated family dynamic. Overworked and underpaid. The real victim here though is her son Calvin. Calvin has been mute for years, ever since he witnessed his fathers death years earlier.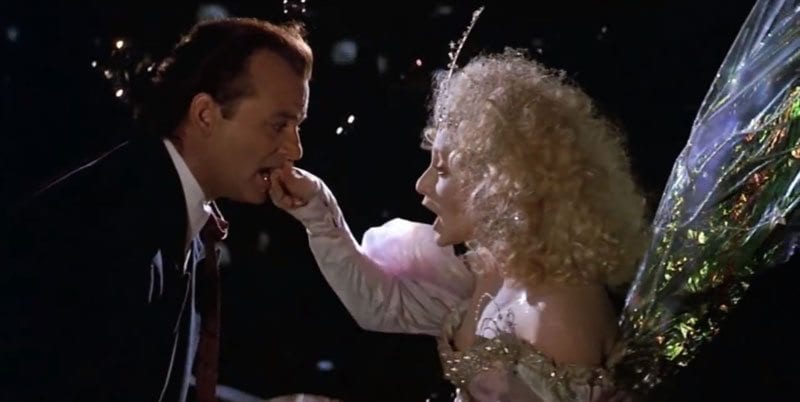 After this major guilt trip, the ghost kicks Frank around to their next stop; Franks brothers house. They've not spoken in some time, but James invites him over for Christmas every year. He never shows. He gets to see that rather than despising him, it's something more akin to sorrow or pity.
Cross's hardened exterior starts to show signs of cracking, that once kind and gentler human is still in there, buried deep. Meanwhile, Frank's boss (Robert Mitchum) starts to seriously doubt his sanity and ability to run the network. Unaware that Frank is undergoing a more supernatural crisis.
Future 
The spirit of Christmas' Future wears a horrifying facade. With a ribcage filled with lost souls and a tv for a face this ghost pulls out all the stops in a last ditch effort to help Frank before it's too late.
The ghosts forced vision plays out and is a depressing but accurate look at just what is in store for him if he doesn't change his ways. Ousted from his own network, his assistants son eventually committed, and dying alone with no one save his brother James by his side in the end. Finally Frank sees that he has wasted so much time wrapped up in his own personal obsession that he has lost sight of what truly matters in life.
And it's not too late.
Coming to literally at the barrel end of a shotgun courtesy of disgruntled ex-employee Eliot, Frank hires him back and enlists his help in stopping the airing of the hatchet job of a production that is currently airing. The speech he gives to the world, now that he is a changed man, is truly something:
Complete with the miracle of Calvin speaking. What a feeling! In a world rampant with greed, be greedy, but be greedy for something else. Something that actually matters.
Merry Christmas!
Scrooged may not be a traditional Christmas movie, but the best usually aren't. It's message is powerful and it delivers it in a unique and hilarious fashion. And Bill Murray in the Scrooge role is absolutely perfect. No one else could play it like him. It just wouldn't be the same.
So between National Lampoons Christmas Vacation and Home Alone toss in Scrooged and you won't regret it.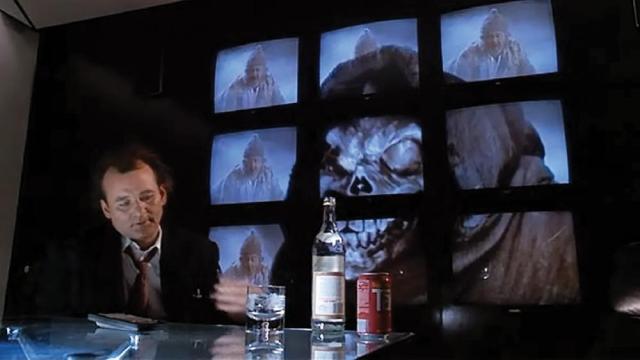 Mike Harris hails from the suburbs of Chicago and has been a fan for most of his life. Working as an industrial radiographer and raising a family with his wife take up most of his time, but there's always room for Star Wars books and podcasts! Just looking to give back to Star Wars and the fan community, it's been a source of fun and learning for him for so long.