The Artist Series showcases the talent of Jay Manchand and his impressive colored pencil artwork from Star Wars to Tree Frogs.
I recently had the pleasure of interviewing talented artist and activist Jay Manchand. After seeing the work he did for The Collectors Hutt, I fell in love with his colored pencil drawings and contacted him to commission a Greedo piece in his signature style. From there we started chatting and we decided the RetroZap Artist Series would be the perfect place to showcase his incredible talent.
Who are you and what do you do?
I'm Jay Manchand. I am a U.K.-based fine artist and MA student of fine art. You could say I have two practices: the more commercial side is rooted in my passion for Star Wars and other popular media such as Pokémon and The Walking Dead. The academic side of my practice explores amphibian conservation through more conceptual, contemporary work.
What is your artistic process like?
I thoroughly research a character I wish to draw and supply myself with plenty of reference images before choosing the most suitable. I roughly sketch a basic outline using a gray colored pencil and work area by area, layering colors to build tone and shading. When working on a human portrait, I usually begin with the eyes. If I can get the eyes to look like the character, the rest flows easier.
What is the best piece of advice another artist has ever given you?
"Do what you love, and you'll love what you do." I struggled to fit into some academic course expectations until I began to draw and paint what I love. Although Star Wars and Frogs may seem like an odd combination, they work in their own separate space. You could say I'm a multifaceted artist.
How did you get involved with Topps, and what was that experience like?
I follow an artist on Instagram whose artwork was hugely inspiring. They had worked on many Topps sets, so I reached out asking for advice on contacting the company. As it's all still very new to me–I'm only just beginning my third set–it's a little overwhelming. Being able to say I am producing licensed artwork for a well known company like Topps…and I'm drawing Star Wars! I feel incredibly lucky and excited to be a part of a fantastic group of talented artists.
What other professional work have you done?
I have two coloring books 'Endangered Lizards' and 'Endangered Frogs' published through MyFatFox, available on Amazon with a third of profits donated to conservation charities. I have done several small scale exhibitions, a local convention and a steady stream of commission-based work.
Are you currently taking more commissions?
Whilst I am keeping busy with the sketch cards and working on the Masters Degree, the wait for commissions is usually not too long – get in touch, I'll always try to make time for you as quickly as possible.
How can people get in touch with you?
---
Jay shares some of his favorite pieces.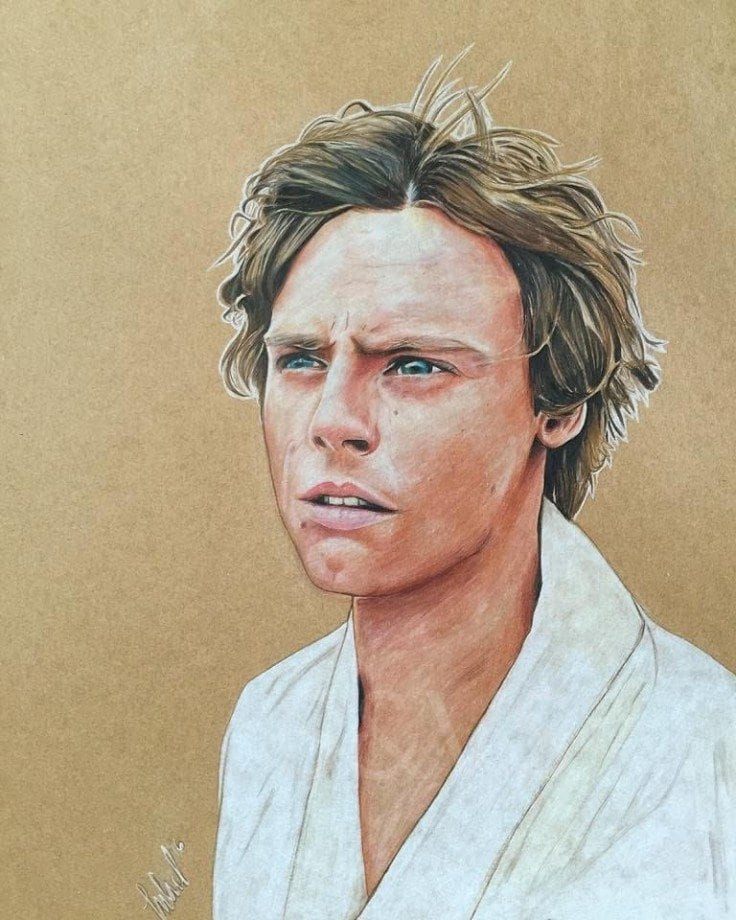 One of my favorite human Star Wars character drawings, I was lucky (and star struck!) enough to have Mark Hamill sign the back of this drawing, who was impressed with my work.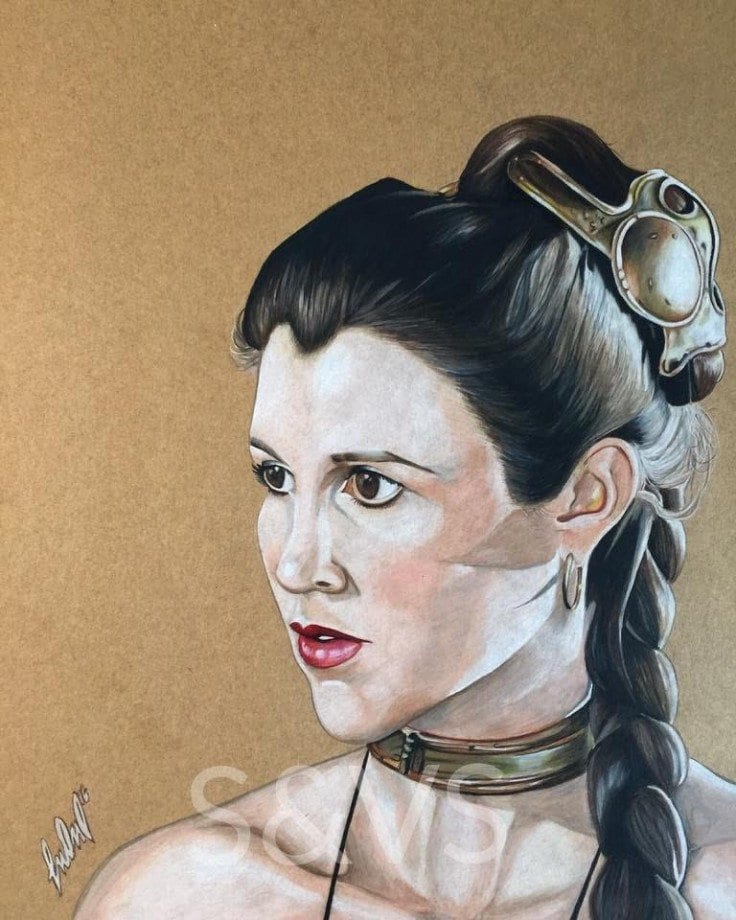 Another favorite, the late Carrie Fisher. I've always enjoyed depicting light reflection, the hair and head piece in this Leia drawing was a great challenge.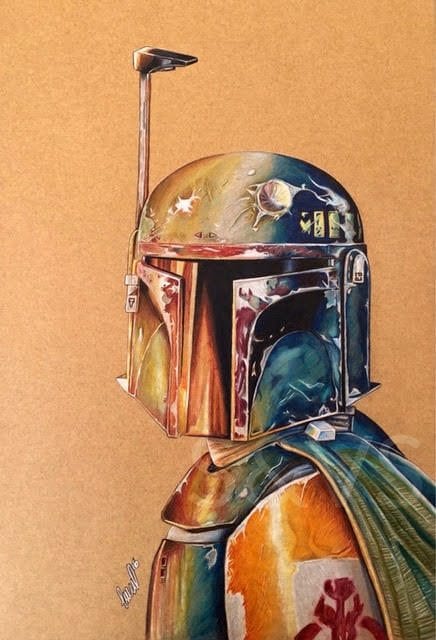 An obvious choice, who doesn't love Boba Fett?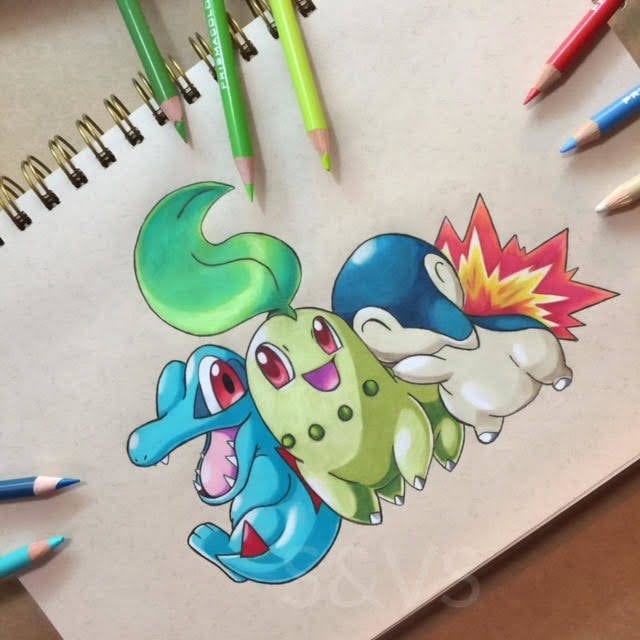 I also love drawing Pokemon, the colors are always so vibrant!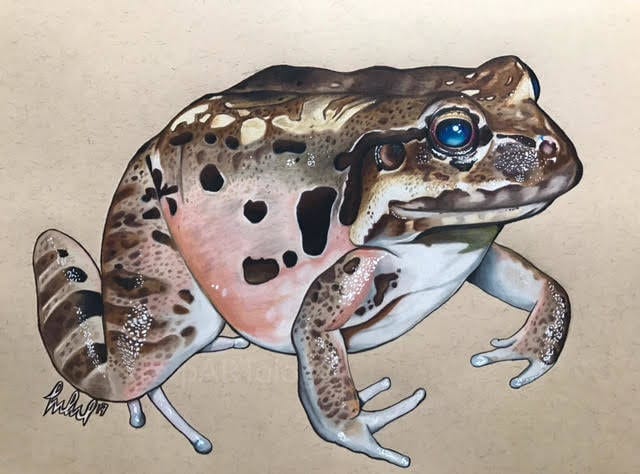 An example of my Amphibian related art, this endangered Mountain Chicken Frog was produced for a conservation charity fundraiser auction.
Born in 1976, Bill Drewnowski grew up surrounded by Star Wars, the likely reason for his love of a great story. Now a father living in New England, Bill teaches high school English, including courses in science fiction and fantasy. Bill enjoys collecting books, posters, action figures, trading cards (including a huge Magic the Gathering obsession), and of course all things Star Wars. His favorite book is Moby Dick by Herman Melville. You can follow Bill on Twitter @DorkLair and Instagram @TheDorkLair.