It's time for the Animanicast! Here's a discussion of episode 96 of Animaniacs "Hooray for North Hollywood" Part Two
Join your hosts Joey, Nathan and Kelly in the "Animanicast!" A podcast dedicated to the classic 90's cartoon show Animaniacs! Today your hosts discuss Animaniacs Episode 96″Hooray for North Hollywood" Part Two! The Warners get to make their movie, but unfortunately for Mr. Plotz it's not at Warner Bros. The Warners make a movie that audiences and critics love, but will they be able to use their success to save Mr. Plotz?

Each week, Joey, Nathan and Kelly revisit an episode of Animaniacs in the order in which they first premiered. They discuss their favorite jokes, gags, and discuss all the cultural references they can find. Today the hosts discuss "Hooray for North Hollywood" Part Two. The Warners are successful! They make their own movie but unfortunately for Thaddeus Plotz, it's not with Warner Bros. Plotz gets fired and it's up to the Warners to save him.
L.A. Dot
We are given a preview of the Warner's film and get to see the big musical number! Dot mistakes a bus with LADOT written on it as a salute to her being in Los Angeles and the cutest celebrity in Hollywood. A sample of the original draft of the song is played from Animaniacs in Concert. You can see the full video here or by going to the Animanicast YouTube page.
You Gotta Do the Schmooze
While waiting to see Mr Plotz, the Warners teach Wakko the art of schmoozing people in Hollywood to get what you want. Wakko doesn't quite get it, which leads to some funny lyrics and explanations.
It's New Years Eve
The Warners save Mr. Plotz from homelessness and celebrate the New Year with a fun song. Kelly and Joey discuss some of the celebrity cameos while Nathan proposes that the entire second act might be some sort of inception scenario!
Join the Party!
Head on over to Discord.Animanicast.com today to join our RetroZap discussion group. You'll get to chat with the hosts of this show as well as the hosts of other RetroZap podcasts!
Listener Survey

Help us determine what we should talk about next on our show once we're done talking about classic Animaniacs episodes. Go to Survey.Animanicast.com and let us know!
Different Ways to Support Our Show
If you'd like to support out show there's lots of ways to do it! First of all, you could go onto Apple Podcasts and leave us a five-star positive review.
Also, don't forget to tell a friend about the show! Your retweets and post shares help others find us.
By going to Amazon.Animanicast.com you can find some of the newest Animaniacs merchandise including clothing, toys, videos, and even books written by some of the original writers of the show. Get some great stuff and help support our show! You can even use Amazon.Animanicast.com as your portal to Amazon on your next shopping trip and you'll still be supporting our show with any purchase you make.
You could also purchase some hand prepared decals from Joey at Decals.Animanicast.com
Interested in getting some Animanicast MERCHANDISE? It's in stock now at TeePublic! Get yours at Teepublic.Animanicast.com
If you like this episode, check out the previous one!
---
The Animanicast is a podcast dedicated to the classic animated television series Animaniacs. Join your hosts Joey, Nathan and Kelly as they revisit each episode in the order in which they were released. They'll discuss their favorite moments, jokes, characters as well as their memories of first watching the episode. Pop cultural references are also discussed in detail. (You might just learn some cool facts!) In the end, each episode receives a "Water Tower Rating" from the hosts. Cue up an episode of Animaniacs on DVD or Hulu and then listen to the Animanicast to keep the fun going!
Cover art by @jedishua Intro Music performed by Kontra5t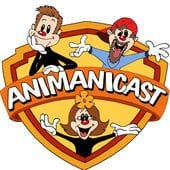 The Animanicast is a podcast dedicated to the classic animated television series Animaniacs. Join your hosts Joey, Nathan and Kelly as they revisit each episode in the order in which they were released. They'll discuss their favorite moments, jokes, characters as well as their memories of first watching the episode. Pop cultural references are also discussed in detail. (You might just learn some cool facts!) In the end, each episode receives a "Water Tower Rating" from the hosts. Cue up an episode of Animaniacs on DVD or Hulu and then listen to the Animanicast to keep the fun going! Cover art by @jedishua Intro Music performed by Kontra5t