It's time for the Animanicast! Here's episode seventy discussing "Super Strong Warner Siblings," "A Quake," "Wakko's New Gookie" and a Discussion of Animaniacs Reboot News.
Join your hosts Joey, Nathan and Kelly in the "Animanicast!" A podcast dedicated to the classic 90's cartoon show Animaniacs! Today's episode features the Warners parodying the Power Rangers in "Super Strong Warner Siblings," a catchy tune about an earthquake, and much more!
---
Animanicast #70: Discussing "Super Strong Warner Siblings," "Nutcracker Slappy" Wakko's New Gookie," "A Quake! A Quake!" and An Animaniacs Reboot Discussion
Each and every week, your hosts revisit an episode of the series in the order in which they first premiered. They discuss their favorite jokes, gags, and discuss all the cultural references they can find! Season three is off with a super strong start in this packed full episode.  This episode kicks off a new variation on the opening credits, which lead right in to our first segment. Then we have a new theme song for Skippy and Slappy. Will Wakko be able to come up with a new Gookie  as well? To finish the episode off we get a song about shaking things up!
Super Strong Warner Siblings/Nutcracker Slappy/Wakko's New Gookie/A Quake, a Quake!
Super Strong Warner Siblings
Picking up right after the shoot of their theme song, the Warners do a parody of Mighty Morphin' Power Rangers. The segment of course leads to the classic monster vs. Robot fight, with an animaniacs twist. Joey, Kelly, and Nathan discuss their memories of the Power Rangers, and are all impressed with how well they adapted the show into this very funny segment.
Wakko's New Gookie
Wakko has decided to kick it off the new season with a fresh new Gookie to replace his old one.  He tries it out for Yakko, Michaelangelo from "Hooked on a Ceiling", Bob Hope, Katharine Hepburn, and Larry King, but none of them like it as much as the old one.  The episode ends with Yakko's attempts at a new catch phrase for season three, and yes, another Speilberg reference.  
A Quake, A Quake!
The Warners sing a song about the 1994 Northridge earthquake to the tune of Schumann's "Happy Farmer". Joey is confused because these aren't the lyrics he remembers. Nathan is now concerned about living in earthquake ridden LA, and Kelly is impressed about the date we recorded the podcast.
News
Find out the latest about the Animanics reboot, and how Kelly, Nathan, and Joey are processing the information.  We also discuss the strange episode order on Hulu, and share some Listener Feedback!
CartoonBrew.com wrote more about the subject.
A fan created petition has been created, you can check it out and sign it HERE if interested.
Sending a polite, professional, and positive business to the producers at Warner Bros. and Steven Spielberg might be a good idea as well if you want to make your voice heard. Please try to represent the Animaniacs fan community in a positive light!
You can get tips on how to write a business letter HERE
Correspondence to Steven Spielberg can be mailed to
100 Universal City Plaza
Bldg. 5121
Universal City, CA 91608
Today's Sponsor: Teepublic.com!
Head over to our merchandise store to support the artists at TeePublic and our show as well! Simply check out the designs at teepublic.animanicast.com and then pick out a shirt, mug, cell phone case, or any other merchandise available!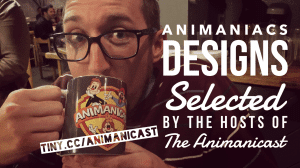 Different Ways to Support Our Show
If you'd like to support out show there's lots of ways to do it! First of all, you could go onto Apple Podcasts and leave us a five-star positive review.
Also, don't forget to tell a friend about the show! Your retweets and post shares help others find us.
You could also purchase some hand prepared decals from Joey at Decals.Animanicast.com
Interested in getting some Animanicast MERCHANDISE? It's in stock now at TeePublic! Get yours at Teepublic.Animanicast.com
If you like this episode, check out the previous one!
---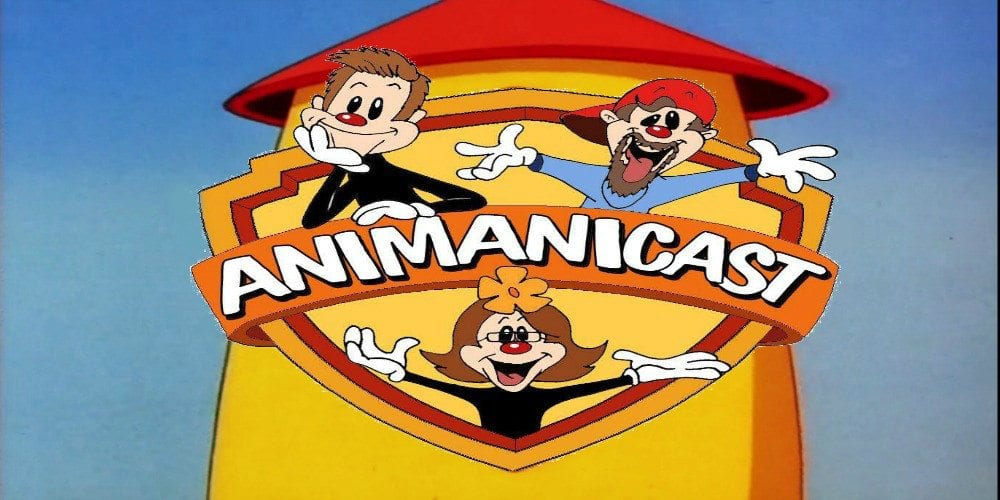 click banner for all episodes and homepage
The Animanicast is a podcast dedicated to the classic animated television series Animaniacs. Join your hosts Joey, Nathan and Kelly as they revisit each episode in the order in which they were released. They'll discuss their favorite moments, jokes, characters as well as their memories of first watching the episode. Pop cultural references are also discussed in detail. (You might just learn some cool facts!) In the end, each episode receives a "Water Tower Rating" from the hosts. Cue up an episode of Animaniacs on DVD or Hulu and then listen to the Animanicast to keep the fun going!
Cover art by @jedishua Intro Music performed by Kontra5t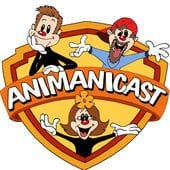 The Animanicast is a podcast dedicated to the classic animated television series Animaniacs. Join your hosts Joey, Nathan and Kelly as they revisit each episode in the order in which they were released. They'll discuss their favorite moments, jokes, characters as well as their memories of first watching the episode. Pop cultural references are also discussed in detail. (You might just learn some cool facts!) In the end, each episode receives a "Water Tower Rating" from the hosts. Cue up an episode of Animaniacs on DVD or Hulu and then listen to the Animanicast to keep the fun going! Cover art by @jedishua Intro Music performed by Kontra5t