It's time for the Animanicast! Here's episode sixty eight-a with Animaniacs creator, Tom Ruegger and his sons Nate Ruegger, Luke Ruegger, and Cody Ruegger!
Join your hosts Joey, Nathan and Kelly in the "Animanicast!" A podcast dedicated to the classic 90's cartoon show Animaniacs! Today's episode features an interview with Animaniacs creator and senior producer Tom Ruegger as well as his sons Nate, Luke and Cody Ruegger who all voiced different characters on the show.
---
Animanicast #68a with Animaniacs creator, Tom Ruegger and his sons Nate, Luke, and Cody
Each and every week, your hosts revisit an episode of the series in the order in which they first premiered. They discuss their favorite jokes, gags, and discuss all the cultural references they can find! Today's special episode features a discussion with Tom Ruegger and his sons. They discuss some of their memories of making the show and the origin of several stories and characters.
Behind the Scene Stories and Inspirations
The Ruegger brothers each describe how they got involved in Animaniacs and their memories of recording dialogue for the show. They discuss their acting process as well as how they were directed by their father and Andrea Romano. They also discuss how their personalities help shape the characters of Yakko, Wakko, and Dot. Some memories of working on Histeria are also discussed.
Nate shares his memories of meeting Steven Spielberg and working with Sherri Stoner. Tom Ruegger shares some of his favorite moments of working with his sons and how excited he was to have his sons work with the legendary Jonathan Winters.
Joey mentions that Nate was featured in Bop magazine when he was a teenager. Here is a scan of the interview from Nate's twitter feed.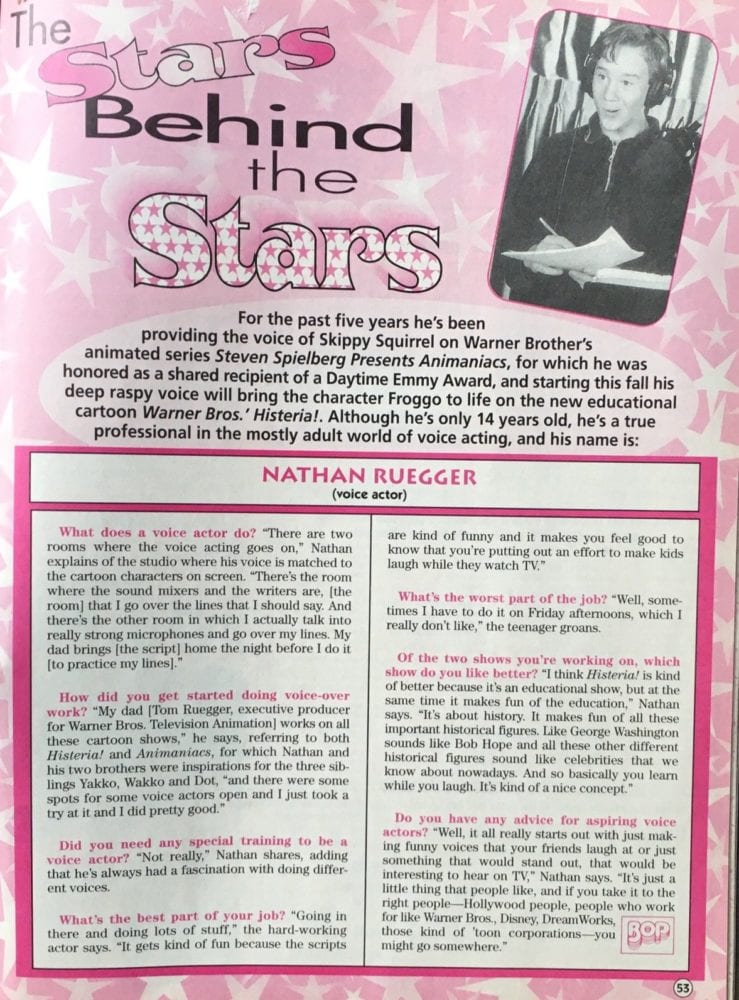 Nate Ruegger
Nate Ruegger has continued to work in show business writing and directing a couple short films, as well as currently working behind the scenes on the television series "The Real" which films on the Warner Bros. studio lot!
Nate wrote and directed his student film "Another Life"  which can be seen on YouTube HERE. 
He is currently in post production on his next short film "Trust Me: A Witness Account of the Goatman" which should be seen at several film festivals in 2018. For more information go to www.trustmemovie.com
You can learn more about everything Nate is doing by going to NateRuegger.com
Luke Ruegger
Luke Ruegger is currently working with his father Tom on several different pitches of different cartoon shows for varying age groups. Some pitch packets might be appropriate for adult swim and others might be appropriate for Disney. We look forward to seeing what happens!
Cody Ruegger
Cody is currently practicing Commercial Real Estate Law but also has a musical career as well. He sings whenever he can, is working on a musical, does musical improv and has released an album entitled "Unconfined" which is available on iTunes as well as YouTube and Spotify. You can learn more by going to www.codyalexandermusic.com.
Today's Sponsor: Teepublic.com!
Head over to our merchandise store to support the artists at TeePublic and our show as well! Simply check out the designs at teepublic.animanicast.com and then pick out a shirt, mug, cell phone case, or any other merchandise available!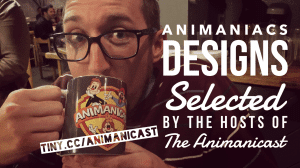 Different Ways to Support Our Show
If you'd like to support out show there's lots of ways to do it! First of all, you could go onto Apple Podcasts and leave us a five-star positive review.
Also, don't forget to tell a friend about the show! Your retweets and post shares help others find us.
You could also purchase some hand prepared decals from Joey at Decals.Animanicast.com
Interested in getting some Animanicast MERCHANDISE? It's in stock now at TeePublic! Get yours at Teepublic.Animanicast.com
If you like this episode, check out the previous one!
---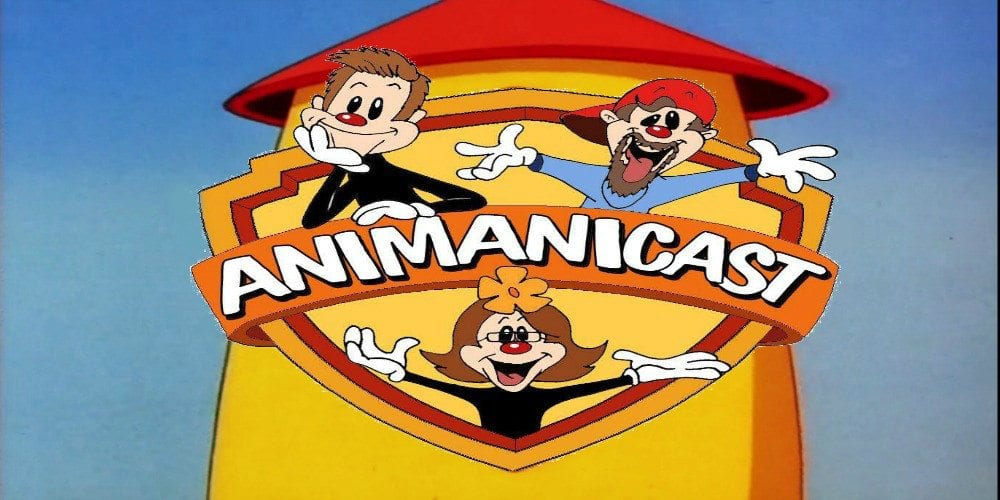 click banner for all episodes and homepage
The Animanicast is a podcast dedicated to the classic animated television series Animaniacs. Join your hosts Joey, Nathan and Kelly as they revisit each episode in the order in which they were released. They'll discuss their favorite moments, jokes, characters as well as their memories of first watching the episode. Pop cultural references are also discussed in detail. (You might just learn some cool facts!) In the end, each episode receives a "Water Tower Rating" from the hosts. Cue up an episode of Animaniacs and then listen to the Animanicast to keep the fun going!
Cover art by @jedishua Intro Music performed by Kontra5t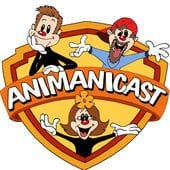 The Animanicast is a podcast dedicated to the classic animated television series Animaniacs. Join your hosts Joey, Nathan and Kelly as they revisit each episode in the order in which they were released. They'll discuss their favorite moments, jokes, characters as well as their memories of first watching the episode. Pop cultural references are also discussed in detail. (You might just learn some cool facts!) In the end, each episode receives a "Water Tower Rating" from the hosts. Cue up an episode of Animaniacs on DVD or Hulu and then listen to the Animanicast to keep the fun going! Cover art by @jedishua Intro Music performed by Kontra5t