It's time for the Animanicast! Here's episode sixty four discussing Animaniacs episode 64: "Lookit the Fuzzy Heads" and "No Face Like Home"
Join your hosts Joey, Nathan and Kelly in the "Animanicast!" A podcast dedicated to the classic 90's cartoon show Animaniacs! Today's episode features a the Warners getting  a visit from the infamous Elmyra in "Lookit the Fuzzy Heads,"  and Slappy contemplates getting plastic surgery in "No Face Like Home."
---
Animanicast #64: "Lookit the Fuzzy Heads" and "No Face Like Home"
Each and every week, your hosts revisit an episode of the series in the order in which they first premiered. They discuss their favorite jokes, gags, and discuss all the cultural references they can find! Today's episode features the Warners being visited by the infamous Elmyra and Slappy contimplates getting plastic surgery.
Filler!
Boy oh boy, there is a lot of filler in this episode and the hosts discuss it all. Randy Beaman segments, Newsreel of the Stars, Dot's Poetry Corner, the Wheel of Morality, and more!
Lookit the Fuzzy Heads
Dr. Scratchansniff invites Elmyra Duff from "Tiny Toon Adventures" into the Warners' therapy session! Elmyra quickly chases after the trio, following them into their water tower, a movie theater, and throughout Burbank. They eventually get rid of her by having her take over Button's job of chasing after Mindy.
This episode features brings up a discussion of "Jurassic Park" and "Petticoat Junction" which are both referenced in this cartoon.
No Face Like Home
Slappy decides to get plastic surgery to compete with all the young cartoon actresses. Walter Wolf sneaks into the operating room and tries to mangle her face but Slappy ends up switching places with Walter and he ends up looking like a Hello Nurse!
This cartoon comments on the "edutainment" cartoons of the 1990's and plastic surgery. The hosts talk a bit about after school specials and shows like "Captain Planet" in addition to some of their favorite moments in this very funny cartoon.
Today's Sponsor: Teepublic.com!
Head over to our merchandise store to support the artists at TeePublic and our show as well! Simply check out the designs at teepublic.animanicast.com and then pick out a shirt, mug, cell phone case, or any other merchandise available!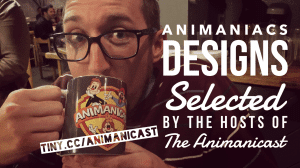 Different Ways to Support Our Show
If you'd like to support out show there's lots of ways to do it! First of all, you could go onto Apple Podcasts and leave us a five-star positive review.
Also, don't forget to tell a friend about the show! Your retweets and post shares help others find us.
You could also purchase some hand prepared decals from Joey HERE. (Say that you're a listener of the Animanicast and get an extra decal!)
Interested in getting some Animanicast MERCHANDISE? It's in stock now at TeePublic! Get yours HERE.
If you like this episode, check out the previous one!
---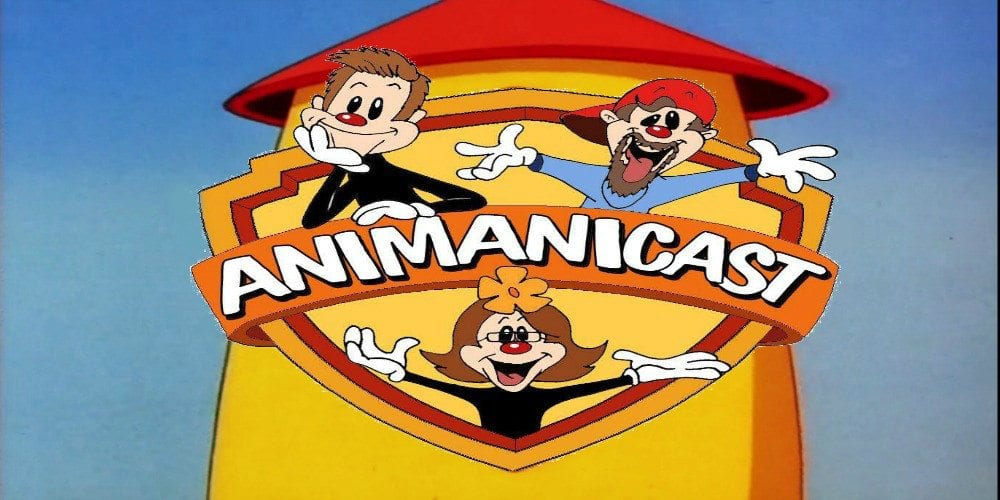 click banner for all episodes and homepage
The Animanicast is a podcast dedicated to the classic animated television series Animaniacs. Join your hosts Joey, Nathan and Kelly as they revisit each episode in the order in which they were released. They'll discuss their favorite moments, jokes, characters as well as their memories of first watching the episode. Pop cultural references are also discussed in detail. (You might just learn some cool facts!) In the end, each episode receives a "Water Tower Rating" from the hosts. Cue up an episode of Animaniacs and then listen to the Animanicast to keep the fun going!
Cover art by @jedishua Intro Music performed by Kontra5t
Animanicast #64 with Animaniacs "Lookit the Fuzzy Heads" and "No Face Like Home"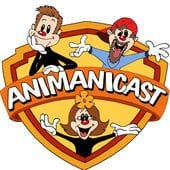 The Animanicast is a podcast dedicated to the classic animated television series Animaniacs. Join your hosts Joey, Nathan and Kelly as they revisit each episode in the order in which they were released. They'll discuss their favorite moments, jokes, characters as well as their memories of first watching the episode. Pop cultural references are also discussed in detail. (You might just learn some cool facts!) In the end, each episode receives a "Water Tower Rating" from the hosts. Cue up an episode of Animaniacs on DVD or Hulu and then listen to the Animanicast to keep the fun going! Cover art by @jedishua Intro Music performed by Kontra5t